All Mucked Up: 2012 World Series of Poker Day 16 Live Blog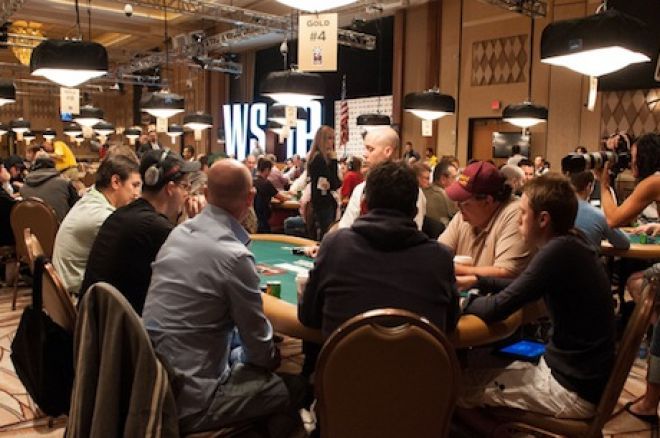 All Mucked Up is a live blog of all the stuff you want to know at the 2012 World Series of Poker, besides hand histories and bad beats. Well, we might add a few in here, everyone loves a good bad beat story — unless it happened to you. Check back often for polls, soundbites, celebrity sightings, and who knows what else!
Bust Out Bounty
For years Barry Greenstein has been giving away his book, Ace on the River for those lucky players who knock him out of a tournament. Well, it seems like Greenstein has been one upped by Adam Junglen.

Hal Lubarsky in the Field
You may recognize Hal Lubarsky from ESPN's coverage of the World Series of Poker Main Event in 2007 and 2008. Lubarsky has a condition known as retinitis pigmentosa, making him blind. Lubarsky has been able to compete at the world series since 2007 with the help of a hand reader, who whispers him his cards.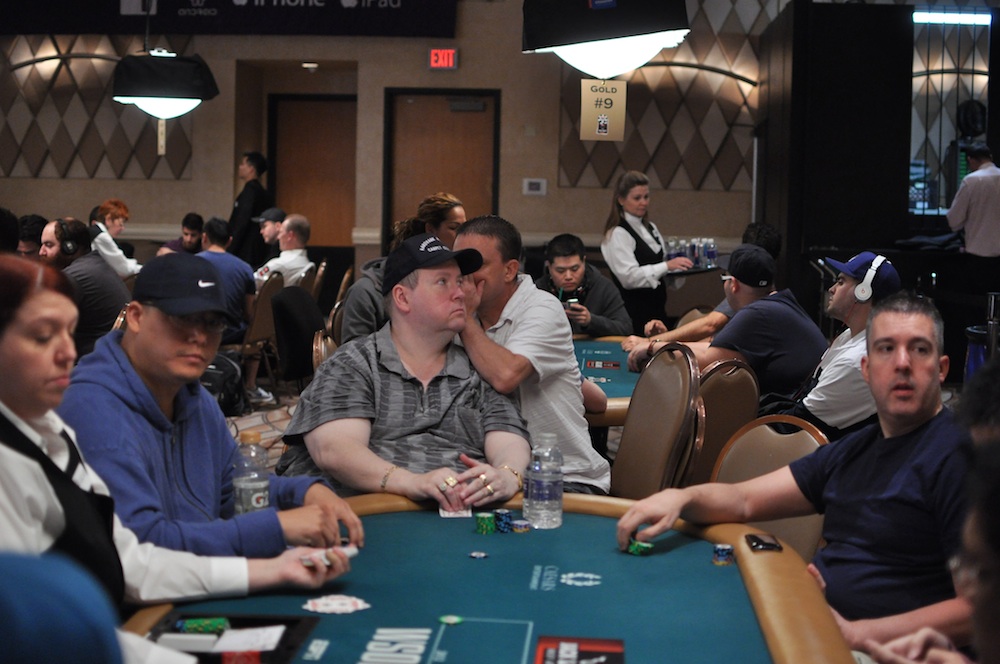 Before losing his sight, Lubarsky moved to Las Vegas with dreams of becoming a professional poker player. For 15 years he played in a $150-$300 H.O.R.S.E. game with some of the biggest names in poker. Lubarsky is playing in Event #25: $1,500 Limit Hold'em Shootout, an event which he finished 11th in last year.
To keep an eye on Lubarsky's, or anyone else's, progress, make sure you check out the live reporting blog.
I Used To Play You Heads Up When You Were A Little Boy
Antonio Esfandiari and J.J. Liu are sitting at the same table today in Event #25: $1,500 Limit Hold'em. Esfandiari is never one to shy away from conversation, but today him and Liu were talking about times gone by.
"I used to play you heads-up when you were just a little boy," Liu said to Esfandiari. "You must've been 19 or 20 years old."
"Yeah, that was 14 years ago J.J.," Esfandiari said. "I think you're the only woman I can say has gotten prettier since then."
J.J., flattered by the comment, blushed, smiled, then flexed her muscles. This table dynamic is rather interesting so we'll be sure to keep an eye on them throughout the day.
#winning
Aaron 'aejones' Jones had a rather cool shirt on today. Here's a photo: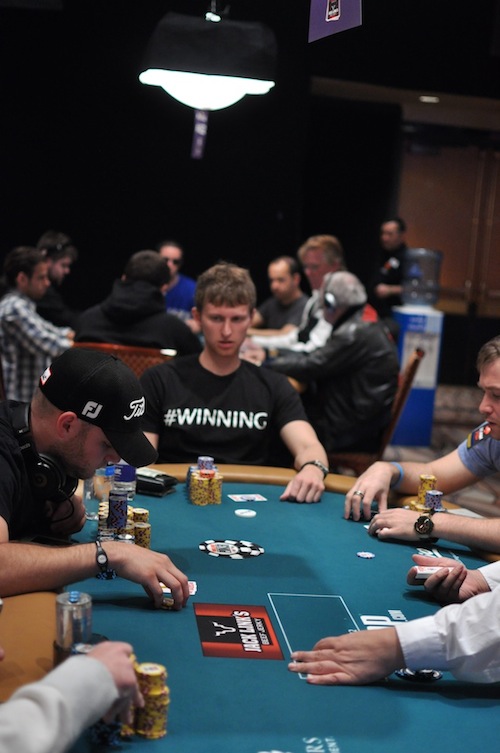 Jones is on the money bubble in Event #23: $3,000 No-Limit Hold'em - Six-Handed, so he should be #winning at least a little bit today. We'll keep an eye out for any more cool shirts through our days at the World Series of Poker, so stay tuned.
On Break in Event #25: $1,500 Limit Hold'em Shootout
We were able to catch up with Bill Chen and Tony Dunst who were on break in Event #25: $1,500 Limit Hold'em Shootout for some quick lessons and poker tips regarding the event.
"These require a different set of skills," Chen said. "We actually started short handed, then we went to full ring, and now we're going back to short handed. But these take a different set of skills than a full tournament. That's part of the reason I like mixed games so much too, it's a different set of skills."
We asked Chen what some of the biggest mistakes people make in early stages of the tournament are."People don't buy into these events on time," Will said. "You can lose a lot of chips just blinding out. They just think, 'if I come later, I can just play short handed,' but that's not right. You're going to have to play full ring and accumulate chips if you want to win."
Tony Dunst said that his favorite part of this tournament is that he gets to find out quickly if he's going to cash or not. "You're not here for that long, and you don't have to subject yourself to suffer through hours of limit hold'em torture. You only have to play for a few hours and you'll know if you're going to cash or not."
We also asked him what some of biggest mistakes people make in early stages of these kind of tournaments are. "People are limping too much, which is never good. They are cold calling with too many hands. They are folding post flop when they shouldn't. People are folding in spots where they have a lot of equity to peel one off."
Finally, we asked Dunst what tournaments he was looking forward to playing. "The $3,000 six max was a really good tournament, with a good mix of players. There is a $2,500 four max that is coming up that should have a similar field, so I'm really looking forward to that."
Stacked Tables in the Brasilia Room
Two days ago Phil Hellmuth and Phil Ivey were both battling heads-up for bracelets in two different events. Today, the two Phils are battling each other. The two have drawn the same table in Event #25: $1,500 Limit Hold'em Shootout. Both Phils are all smiles though and seem to be enjoying each other's company.
At another table, good friends Daniel Negreanu and Jennifer Harman are seated together as well. Also at the table isEric Froehlich.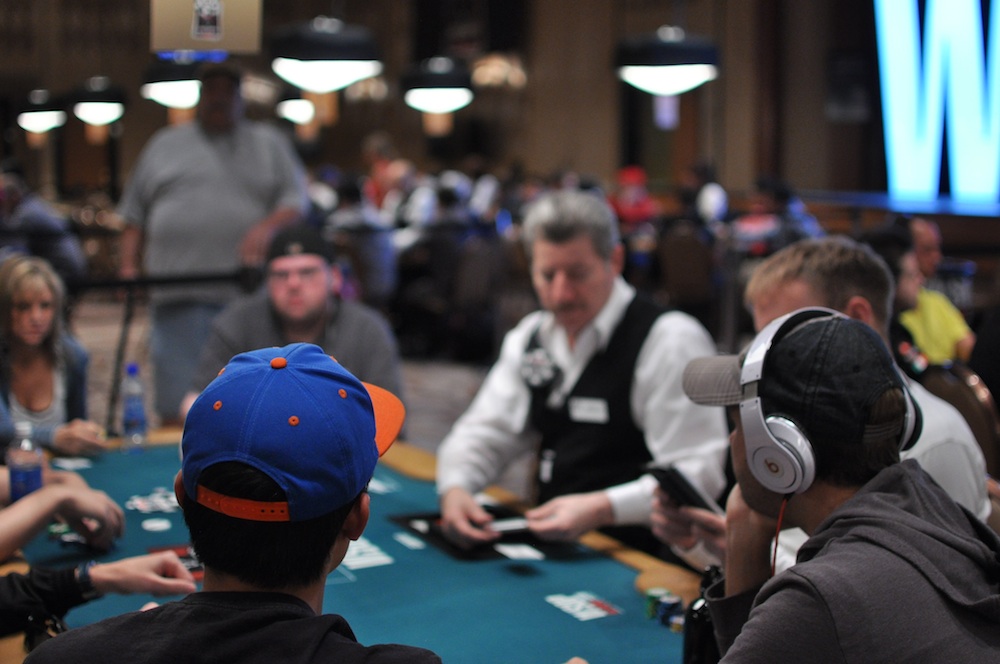 Truly these are two tables you would not want to find yourself seated at today.
Crazy Mike in the House
There's never a dull moment when "Crazy" Mike Thorpe is at a poker table. And today is no exception.
Thorpe, who plays some of the biggest mixed cash games in Las Vegas, is seated at a table with Barry Greenstein here in the first round. With just five players left at the table, Thorpe is leaned back in his seat with his feet on the chair next to Barry.
"Do I have to smell his feet?" Greenstein asked a nearby floorperson.
"Hey, I'm comfortable," Thorpe responded. "I'm a seven-star customer so I should be able to put my feet where I please!"
Matt Glantz threw in a zinger from the next table over: "You're an idiot star."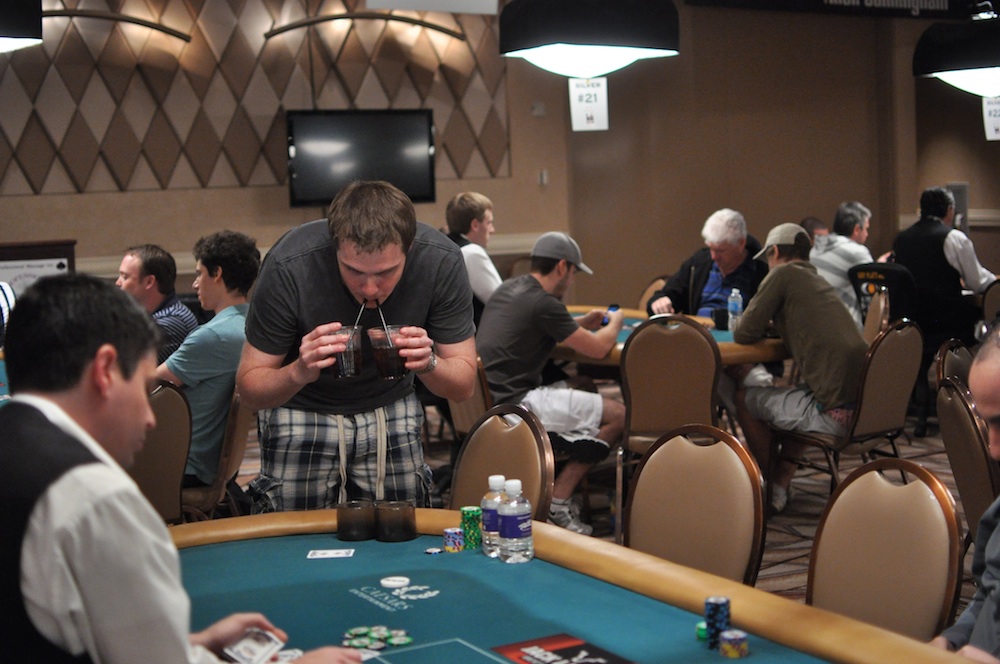 Thorpe and Greenstein were just playing a hand when we saw him. Thorpe called from the small blind and Greenstein quietly checked.
"Did you check Barry?" Mike asked, nearly yelling. "See Scott," he said to Scott Seiver who was sitting behind him. "I wasn't kidding when I told you I was playing with geriatrics at the table. He can't even tell if the action's on him."
Thorpe has been running back and forth between tables sipping out of two cups of what appears to be coke. We'll be sure to add any interesting updates on Thorpe to All Mucked Up today.
That's Twelve Baby!
Two days ago now, Phil Hellmuth won his twelfth bracelet. Today when he first sat down at this $1,500 Limit Hold'em Shootout table he was wearing a hat with the number 11 still printed on it. Somewhere between then and now he's picked up a couple hats that have the number 12 printed on them: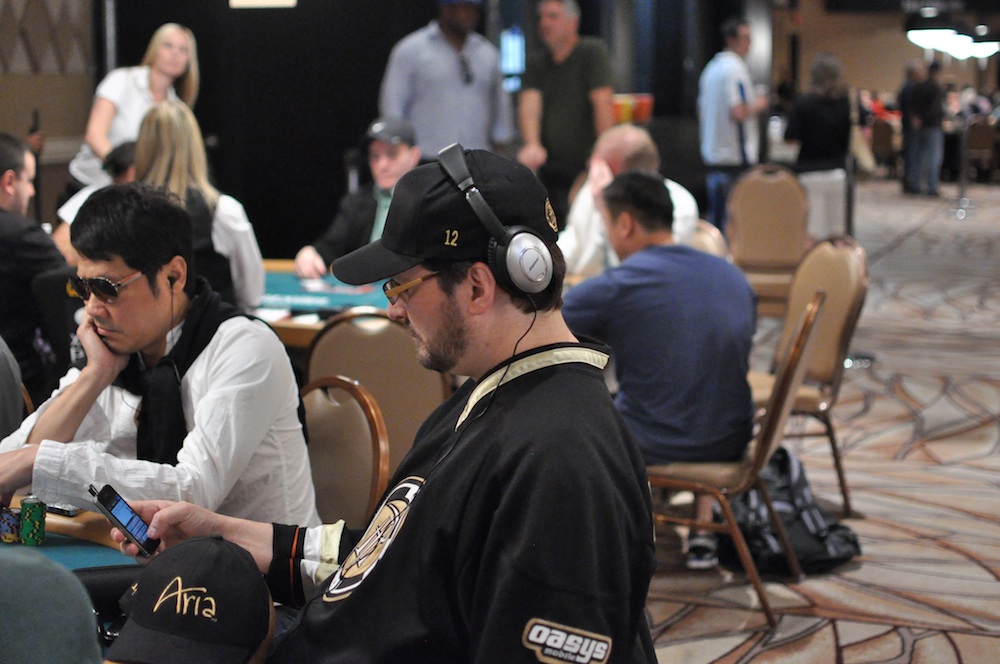 We're not sure when, or where he got them, but we do know that he did not start off the day wearing them. He was just recently eliminated from the limit hold'em shootout event, and we saw him carrying at least 3 hats.
It's a Pukefest in the Amazon Room
Apparently, there are a couple players who are sick in the Amazon room who are playing in Event #24: $5,000 Omaha Hi-Low Split 8-or-Better. One of those players is Mike "The Mouth" Matusow, who claims to have food poisoning. Here's the tweet describing the experience from William Reynolds:
Just when I thought I heard everything come out of Mike @themouthmatusow's mouth i hear him vomiting in amazon room from 100meters away

— William A. Reynolds (@ReynoldsXO)
We'll try to keep an eye out and see if there is any more puke flying today.
Interesting Heads-Up Matches in the Limit Hold'em Shootout
Shootouts always bring out some of the most interesting heads-up matches. Here are a few from today's event.
We found Viktor Blom and Mike Leah playing against each other: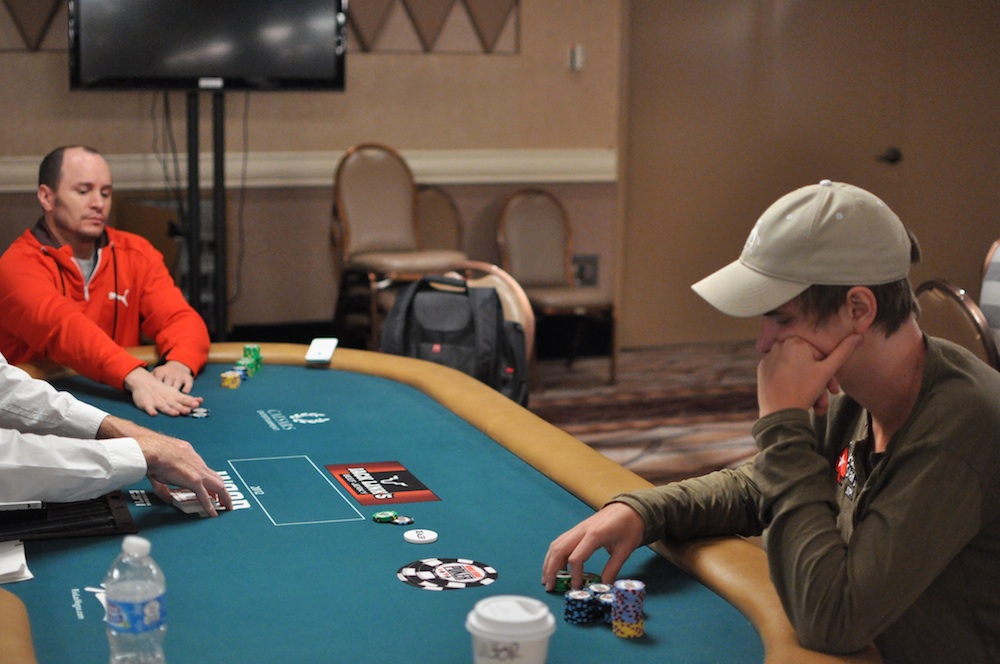 Then there was Ari Engle and Jonathan Little who also did some tweeting about their match: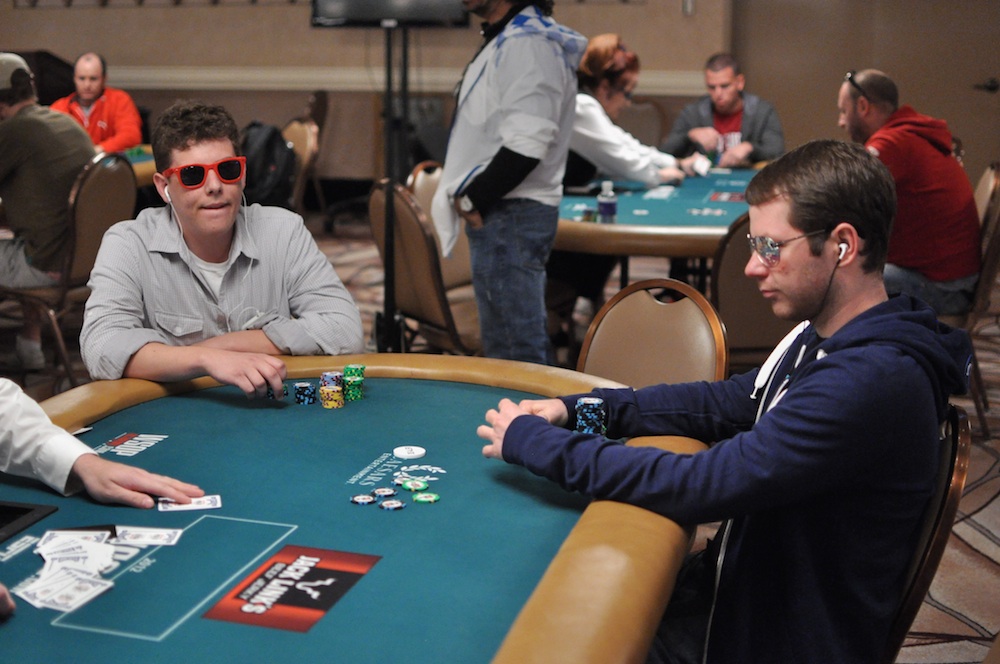 After 40 minutes of heads up play, I have 11500 and @realAriEngel has 20000. Playing 300/600 when we return I think.

— Jonathan Little (@JonathanLittle)
The last two matches going on were between McLean Karr and Matt Matros,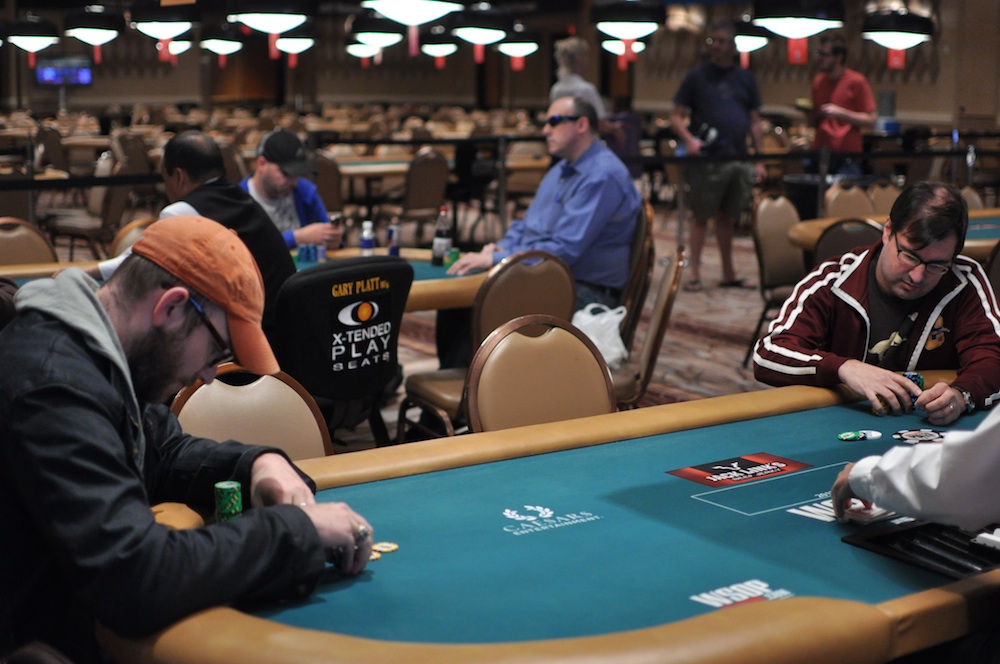 And Greg Mueller and Andrey Zaichenko: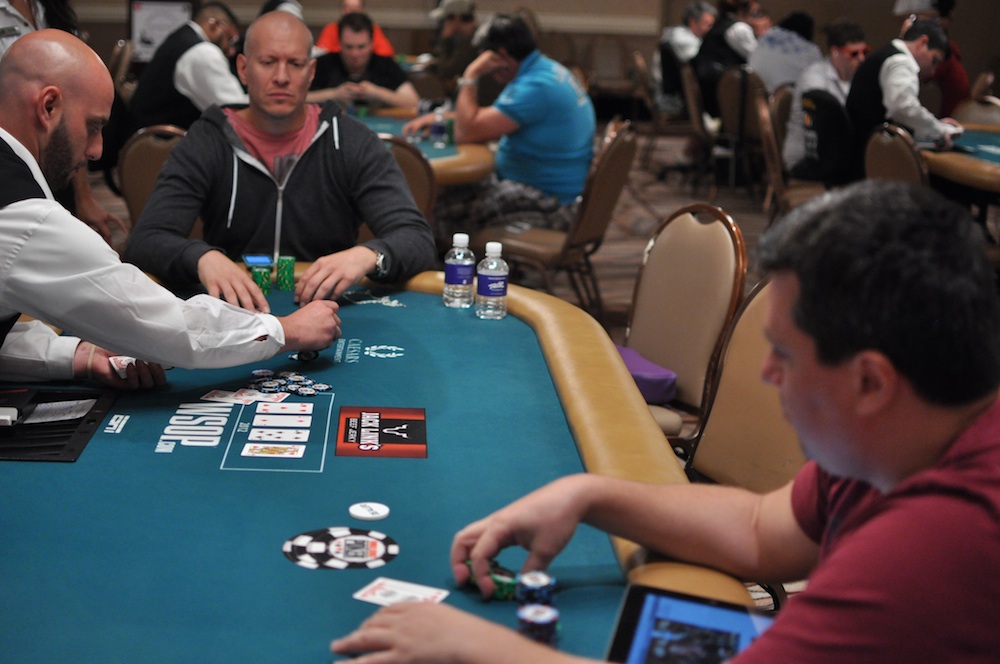 Because this is a shootout event there are bound to be more and more great heads-up matches, so we'll keep an eye out.
World Series of Bromace
Earlier in the week, Andrew Lichtenberger and Aaron Jonestalked about how they are both good friends and consider themselves to be each other's best poker friend.
Today they were presented with an interesting table dynamic as they are seated right across from each other: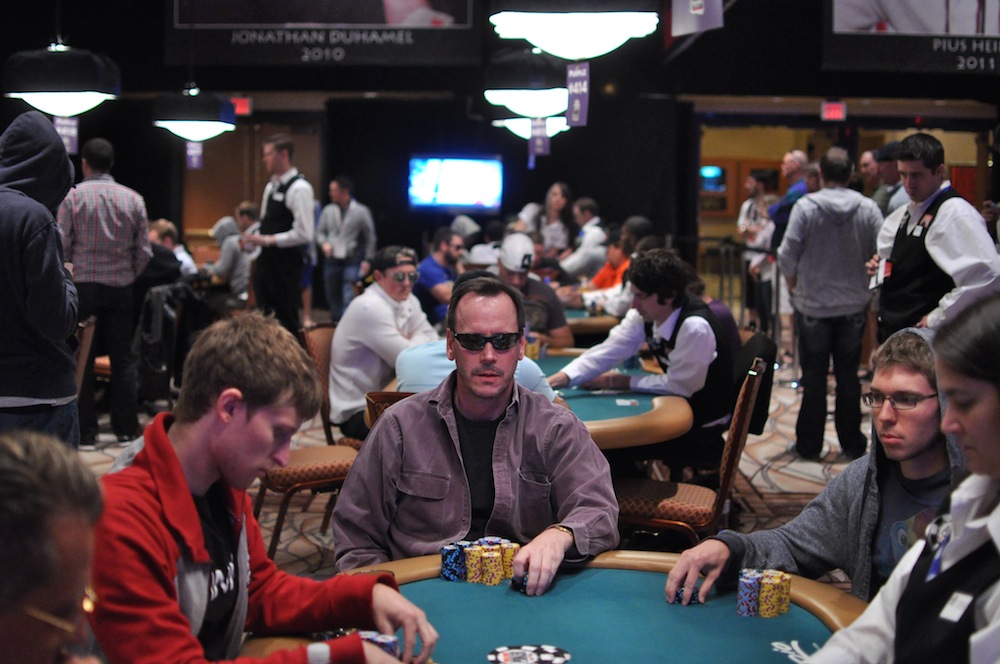 We're still watching for more bromances, so let us know who you think are some of the best by sending an email to themuck@pokernews.com
REBUY! REBUY!!!!
It's no secret that Pot-Limit Omaha is a game of action and there's been plenty of it here in the first level already. The call of "Rebuy!" has been heard over and over from the dealers, and also from players in Event #26: $3,000 Pot-Limit Omaha with Rebuys. When a player busts one of their stacks, they call for a rebuy and use one of the add-on lammer chips to get another 3,000, or 6,000 if they choose. The tournament staff is certainly working extra hard and sometimes running from table to table in order to get all the chips distributed back into play so as to not slow the action.
Here is a clip of what it sounds like in the Amazon room right now. Amongst the chirping of the chip crickets, you can hear the call of "Rebuy!" being yelled throughout the room.
This One Seems Self Explanatory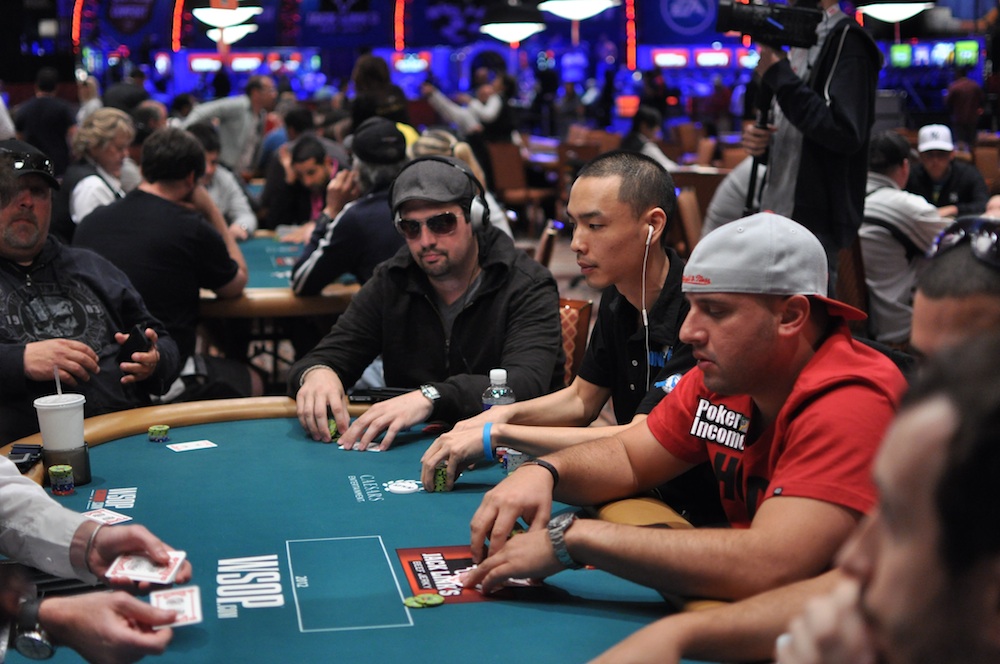 Even poker pro Kevin Saul had a couple tweets about this one:
Starting table for 3k plo, the grinder, 2 unknowns, and double legendary Brad Booth next to Chino #irony

— Kevin Saul (@KevinSauLivePro)
Chino doubles 1st hand, everyone rushes to cash in a rebuy to cover him #lol

— Kevin Saul (@KevinSauLivePro)
We'll let you guys come up with the caption for this one. If you can think of any great captions for this picture, post them in the comments below or email them to themuck@pokernews.com
Some More Great Heads-Up Matches From The Limit Shootout
We talked about Hal Lubarsky earlier today in All Mucked Up. Well now he is heads-up against Victor Ramdin to move on to tomorrow: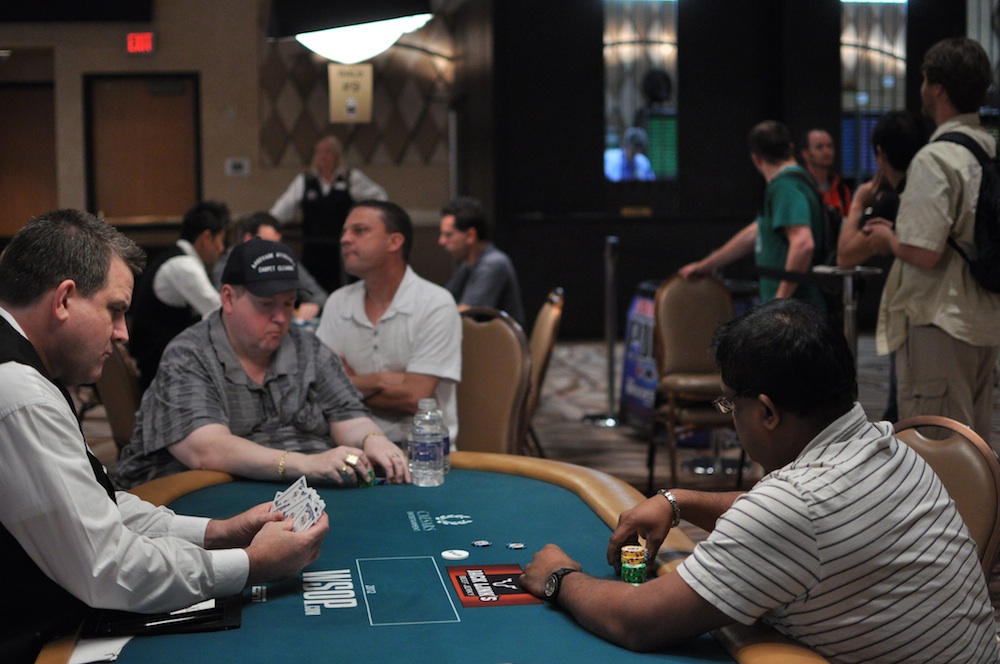 Also heads-up are Barry Greenstein and "Crazy" Mike Thorpe who we talked about earlier as well: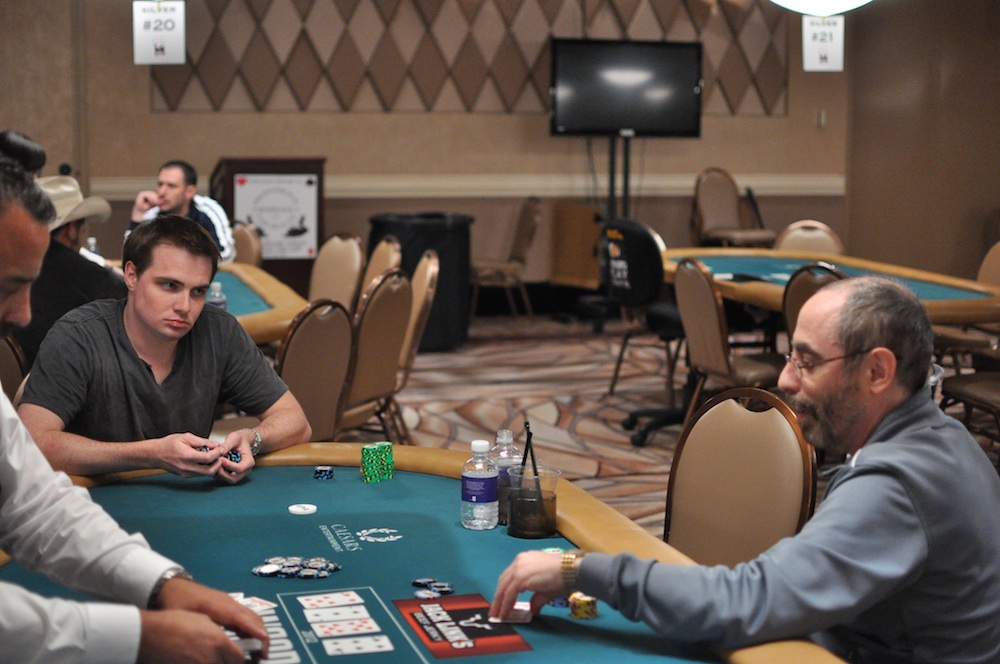 Greenstein has the chip lead, so the "geriatric" might be the one to take home a victory today.
Frankenberger Makes the Wall Street Journal
Andy Frankenberger has apparently made it into the Wall Street Journal after his victory over Phil Ivey on Sunday night. Here's his tweet about it:
Who would have thought THIS is how I'd make the Wall Street Journal one day!! Will be in Wednesday's print edition. http://t.co/aiHcBRim

— Andy Frankenberger (@AMFrankenberger)
You can read the article at online.wsj.com .
The Run Good Continues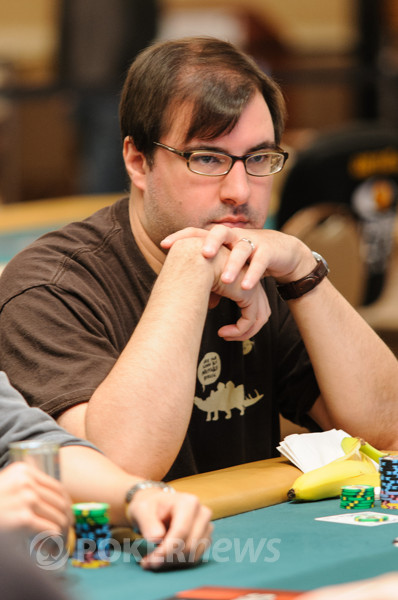 Matt 'Jacksup' Matros went on to win his heads-up match in Event #25 $1,500 Limit Hold'em Shootout, putting him in a position to challenge for another bracelet. Matros' luck doesn't seem to have run out as he predicted it would after winning Event #16 $1,500 No-Limit Hold'em / Six Handed.
Having already won 3 bracelets in the same number of years, Matros is the first to acknowledge that the poker gods have smiled down upon him. He will be hoping, but probably not expecting, that this continues for tomorrow and for the rest of the series
@WSOP Back in action today, and won my first table in the $1500 Limit Hold 'Em shootout. #stillrunningabsurd #wsop25

— Matt Matros (@Matt_Matros)
Tweet Of The Day
Check out this hilarious tweet from Mike 'Timex' McDonald, playing in Event #26 $3,000 Pot-Limit Omaha
3k plo: Old guy doubles and kisses his cards, villain: "don't kiss the cards I'll have to touch" old guy: "don't worry my syphillis is gone"

— Mike McDonald (@MikeMcDonald89)
In The Money
Mike Thorpe was able to leap frog Barry Greenstein's chip lead to cash in Event #25 $1,500 Limit Hold'em Shootout and secure his place in Day 2 of the event. Thorpe's celebration was reportedly a little over zealous, but anyone who knows him will know that it's just his personality. Barry took the beat with poise and professionalism as people have come to expect from him.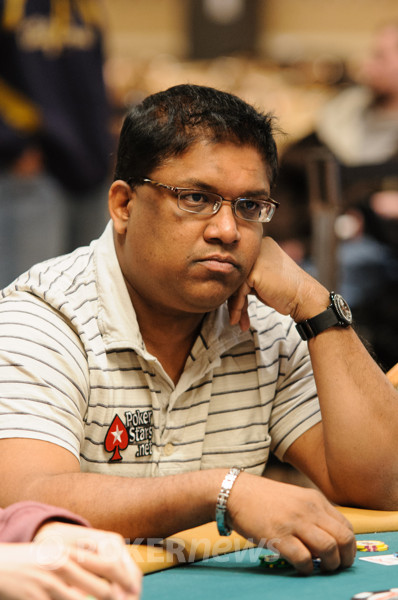 Elsewhere, Victor Ramdin beat Hal Lubarsky to proceed to day 2 as well. Victor can now be seen in the high-limit cash game section, hoping to make today even more profitable.
First Time For Everything
A table in Event #26 $3,000 Pot-Limit Omaha had no players turn up after dinner, and then played one handed after a single player showed up. According to Daniel Negreanu's tweet, this was the first time he'd seen this in all his time in poker. The situation appears to have righted itself now, as all tables in the PLO event are currently at least close to full. We'll try to swing by and find out just how a one handed poker game works a bit later on.
Never seen this in my life. 8 handed table not one player showed up after dinner break. Now one guy showed up and gets to play alone.

— Daniel Negreanu (@RealKidPoker)
Who Ya Got?
We saw Brian 'Stinger' Hastings walking around the Rio earlier today decked out in OKC colors. Another notable fan today was Jason Mercier, who follows tonights losing team, the Miami Heat. It would appear from some tweets that have been going around that Mercier lost a little money to fellow pros Clint Tolbert and Kyle Julius.
RT @SoonerCT22: Me & @KJulius10 counting the best $$$ in the world!!! @JasonMercier dollars are worth so much more than reg dollars ...

— Jason Mercier (@JasonMercier)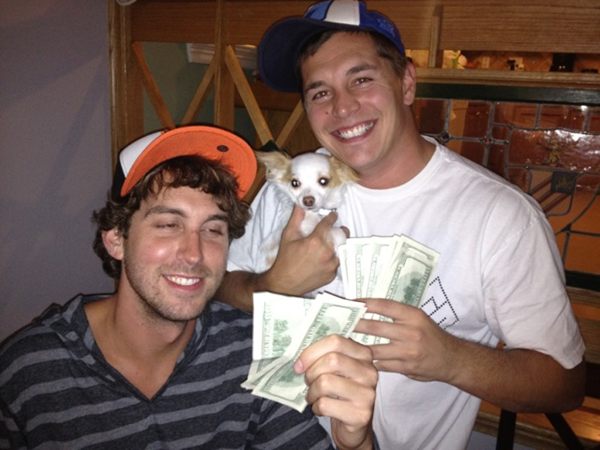 Railin' Ain't Easy!
Check out this picture of a speculator on the rail of Event #21 $1,000 No-Limit Hold'em dozing off. Those chairs are pretty comfortable in all fairness to him!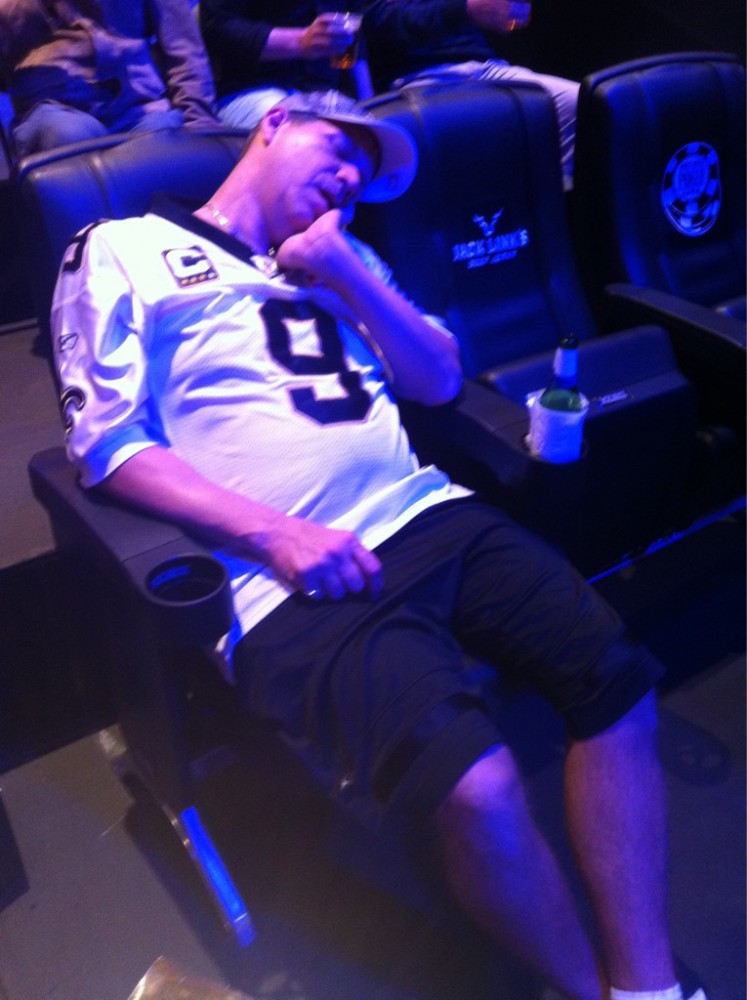 The Evening Grind
We usually see the biggest rails on an evening when Phil Ivey is going deep in a tournament, and tonight is no exception - except that nobody's at Ivey's table.
All of the young poker fans seem to be gathering at the other side of the amazon room, watching a star studded line up battle it out for Event #23 $3,000 No-Limit Hold'em / Six Handed. Pictured below isBertrand 'Elky' Grospellier, who has a lot of chips, sitting opposite Andrew 'LuckyChewy' Lichtenberger. Why most of the fans have gathered here is anyones guess - perhaps Ivey's recent deep runs have taken away some of the novelty for poker fans... or perhaps people simply don't know the rules to Event #24: Omaha Hi-Low Split-8 or Better!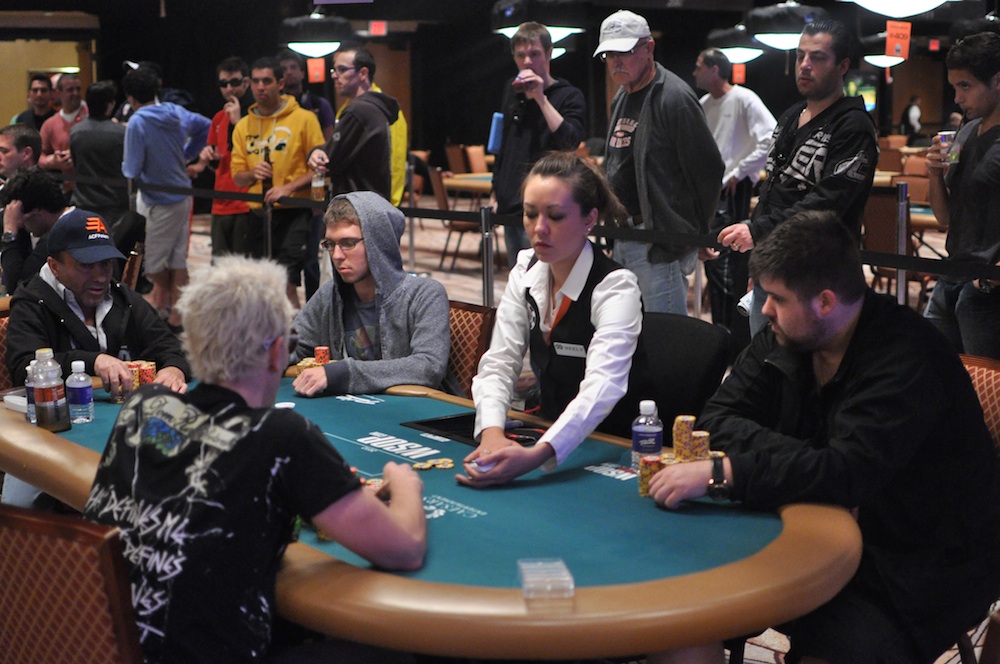 Whatever the dynamic, Ivey's exploits seem to be slipping out of focus, for tonight at least.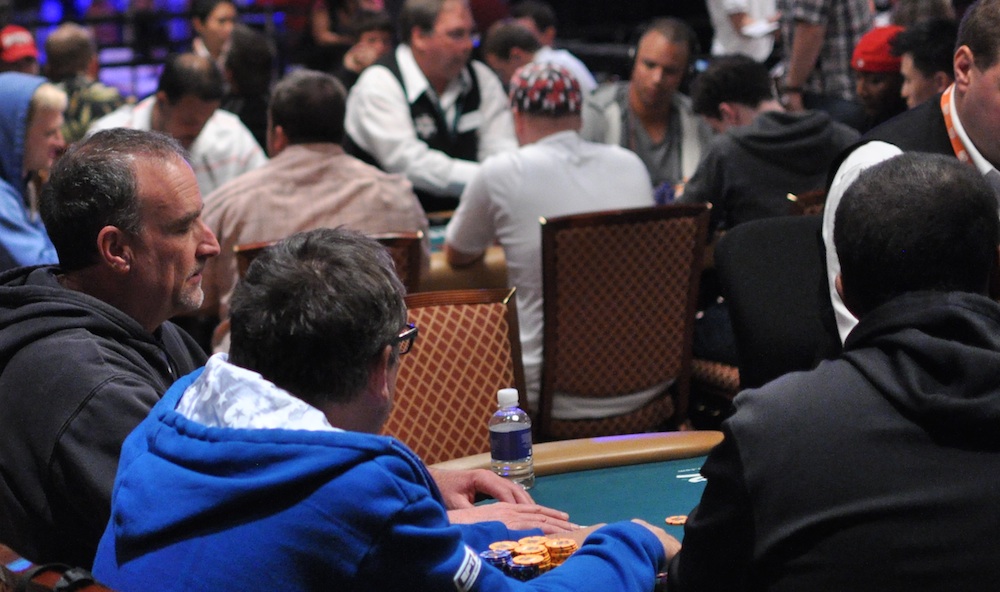 Castle Building
We caught this snap of Event #23 $3,000 No-Limit Hold'em / Six Handed chip leader Artem Metalidi right before they racked up the small chips. Metalidi seemed unenthusiastic about racking up his mountain of chips - having a lot of chips is always more fun!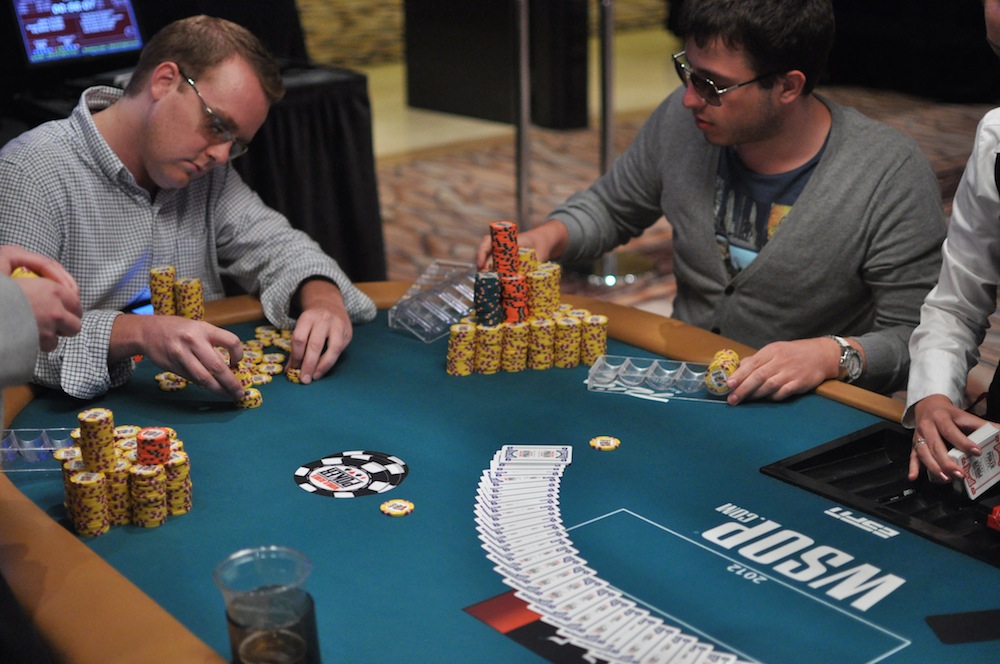 For anyone who is wondering, that is 1.1 Million in chips pictured. Metalidi has come a long way, starting yesterday with just 9 thousand in chips.
Whioutfit of the Day
Railing the final table of Event #22 $2,500 2-7 Triple Draw Lowball, we noticed that one of the contestants - Benjamin Lazer - was wearing head to foot white. We're proud to issue todays whioutfit of the day to Lazer. He will hope that the time he put into wardrobe coordination doesn't go to waste and he can ship this 2-7 event!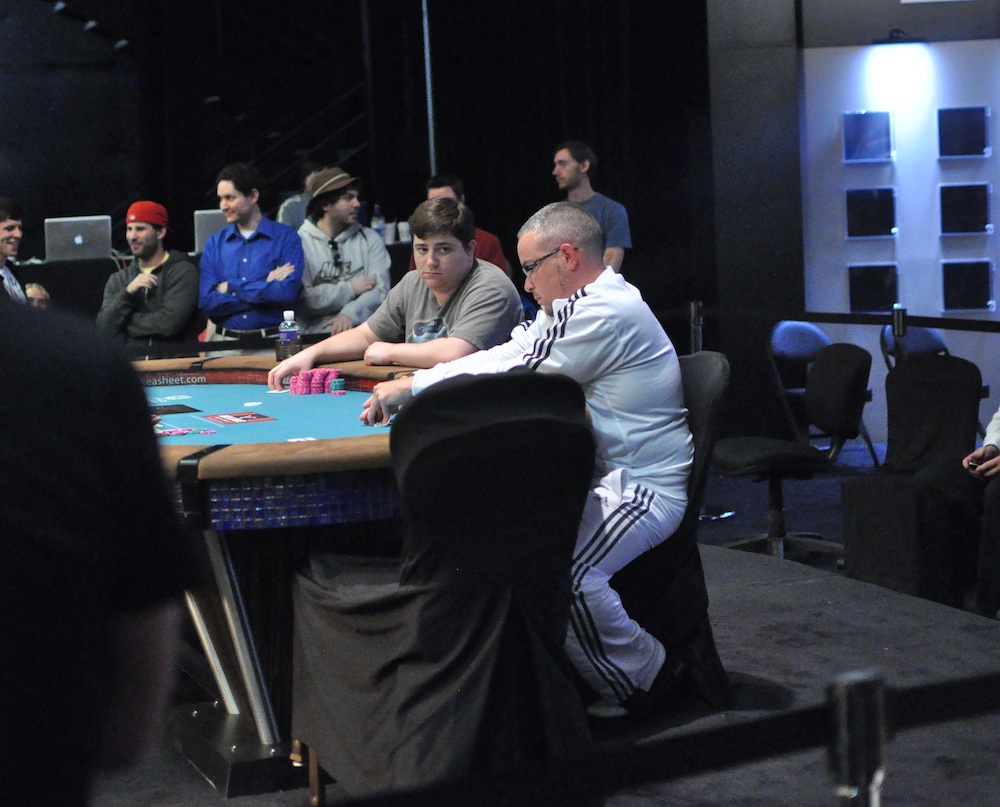 Junglen U-Turn
Adam Junglen had a bit of a change of heart this afternoon, and decided not to give away his signed prosthetic limb as a souvenir to whoever knocked him out. He seems to think he spoke too rashly yesterday, and that he can't just give away his limbs in this economic (poker) climate.
Sorry I didn't give away my spare leg to the girl who busted me. Can't afford to give away spare limbs, especially in this economy. #ftp

— Adam Junglen (@adamjunglen)
I'm sure 'the girl' who missed out on it will be very disappointed.
Actually, Junglen did give us a little more info about 'the girl', tweeting that she was named Monette, she was attractive and that she likes to get it in with flush draws. We're not trying to play Muck Matchmakers here, but it sounds like there could be a spark...
Busto PLO. Got it in with the nuts vs. two ppl, an old man with two pair and this pretty girl named Monette? Well she made a flush. Call me!

— Adam Junglen (@adamjunglen)
We encourage everyone to get involved with "The Muck." See something you think is Muck worthy? Send it to themuck@pokernews.com. We accept all media including photos and videos.