All Mucked Up: 2012 World Series of Poker Day 17 Live Blog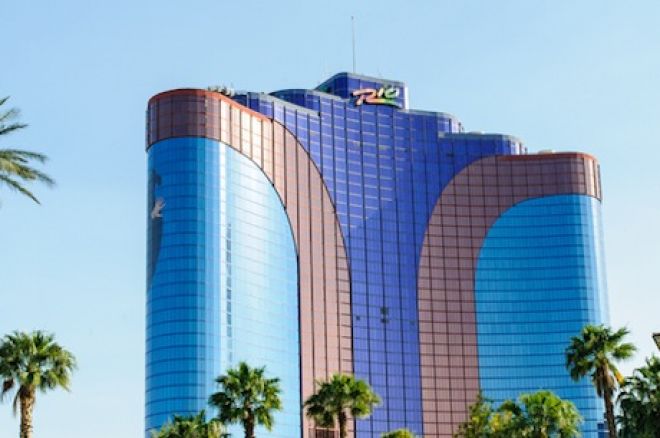 All Mucked Up is a live blog of all the stuff you want to know at the 2012 World Series of Poker, besides hand histories and bad beats. Well, we might add a few in here, everyone loves a good bad beat story — unless it happened to you. Check back often for polls, soundbites, celebrity sightings, and who knows what else!
Horsing Around
The $1,500 H.O.R.S.E tournament is under way. Classic rock tunes from The Who and Eric Clapton were heard thought the Brasilia room so it was fitting running into veteran and two-time WSOP bracelet winner Mel "The Silver Fox" Judah.
We asked him what disciplines of poker he feels players are most deficient at in a H.O.R.S.E. tournament.
"Stud hi-low, and limit hold'em," said Judah. Especially for no-limit hold'em players making the adjustment to Limit Hold'em."
We also ran into Maria "Maridu" Mayrinck and posed the same question. "I don't know, I don't have any experience in H.O.R.S.E. (laughs)."
She says stud and stud hi-low are her weakest games.
PokerNews' own Rich Ryan is playing in the tournament as well. We had some fun with Ryan and played a game of "Would You Rather" play HORSE the basketball game or H.O.R.S.E the card game against the following players:
Team Poker Stars Pro Jason Mercier: "I've played basketball with Jason and I think he's lost a step so I'll go with basketball with him."
Brent Hanks: "The card game."
Olivier Busquet: "Neither!"
Team PokerStars Pro Bertran "ElkY" Grospellier: "Definitely basketball."
Team PokerStars Pro Jonathan Duhamel: "Basketball."
Stay tuned, as we'll be engaging other pros in "would you rather?"
Six Max Chat
Day 3 of Event #23: $3,000 No-Limit Hold'em- Six Handed is under way. We ran into Freddy Deeb who's currently seventh in chips with 18 remaining.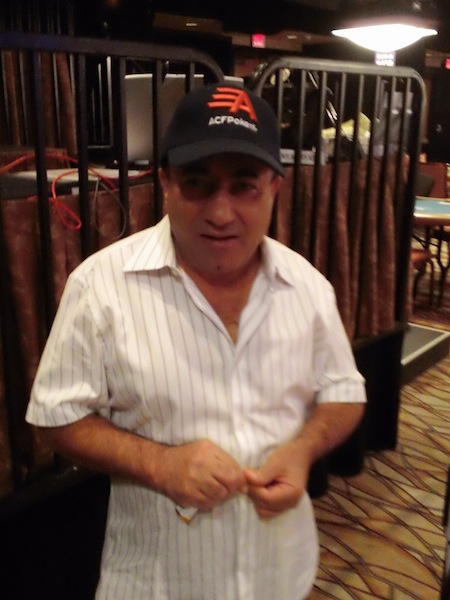 We asked Deeb if he has any concerns about his table draw today, which includes Team PokerStars Pro Eugene Katchalov.
"I'm the only one that will get in my own way," said Deeb, confidently.
Deeb has played tournaments all around the world and we asked him what place besides Vegas does he enjoy the most.
"Aviation Club in France. The games are good, the action is good, and the food is great. The city is beautiful. "
The feature table of Event #23 is full of notables, including Team PokerStars Pro Bertran "ElkY" Grospellier, Andrew "LuckyChewy" Lichtenberger and Scott Montgomery.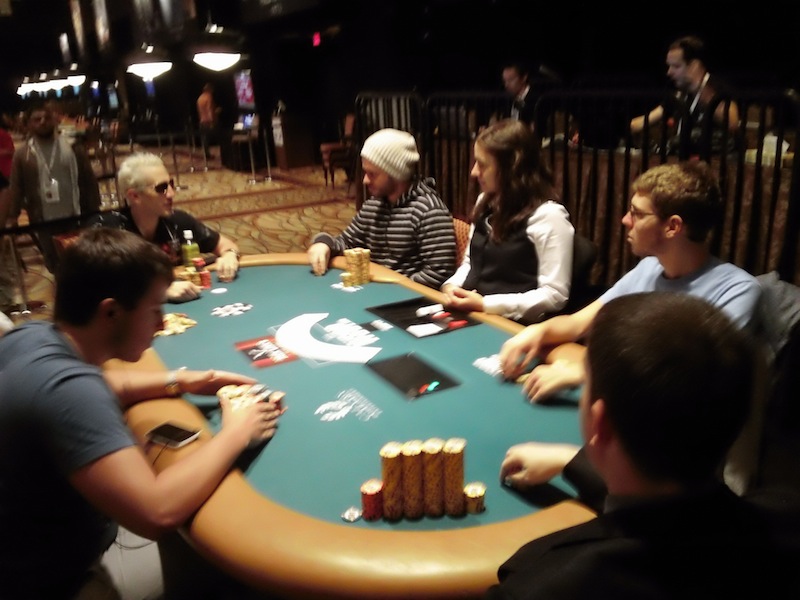 Just before the cards were dealt we asked Grospellier, if he would rather win a second bracelet or have France win the European Soccer Championship.
"I'd rather have a bracelet. It's not even close!"
France played England in their last match to a 1-1 draw.
Would You Rather
We caught up with Team PokerStars Pro Chad Brown, on break from the H.O.R.S.E. event, for a round of "Would You Rather" play a specified opponent in a basketball game of HORSE or a card game of H.O.R.S.E.
Team PokerStars Pro Jason Mercier: "Basketball."
Team PokerStars Pro Bertrand "ElkY" Grospellier: "Basketball. However, Grospellier is playing more mixed games so if he keeps playing them he'll be a champion in them."
Shaun Deeb: "Basketball."
Team PokerStars Pro Vanessa Selbst: "Basketball"
Olivier Busquet: "Either or."
"I'm pretty good at basketball," said Brown.
Brown also indulged us in a story that took place a few years ago at a PokerStars PCA event. It involved a rock-climbing contest and the person who made it to the top in the least amount of time was crowned the winner.
"It was me, Jason [Jason Mercier], and Dario Minieri. Dennis Phillips was keeping time. Jason and I are both athletic and very competitive. Poor Dario was just praying to make it to the top without falling, but he made it. He's a fighter especially since he has a fear of heights."
According to Brown, Minieri took the longest, but Mercier climbed up the rock quickly.
"After Mercier came down from his climb he rushed over to Phillips and asked him if he beat me," said Brown.
Phillips broke the news to Mercier that Brown beat him by eight seconds.
Car Of The Day
We're always on the lookout for the coolest cars in the Rio valet.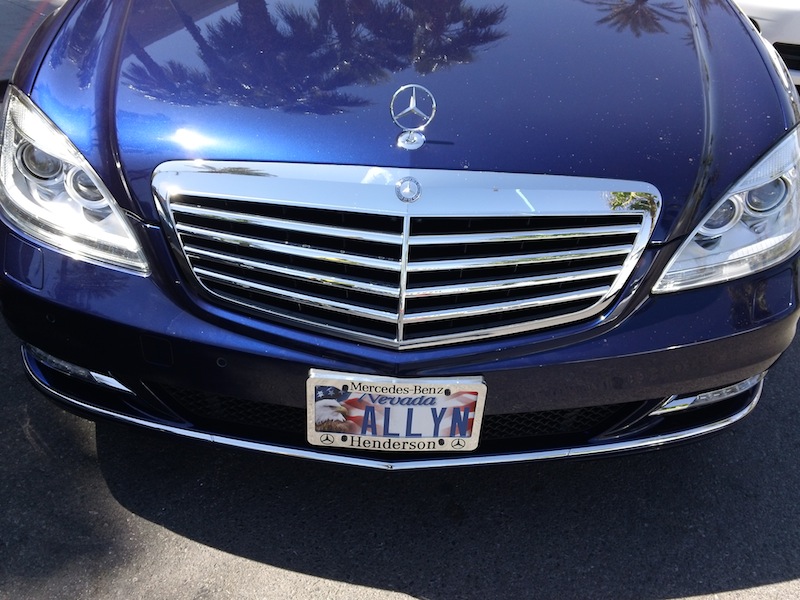 The valets weren't at liberty to reveal the owner of the car, but from their vanity plate, they don't mind getting their chips "ALLYN."
Can You See With Those Things On?
We saw this gentleman playing in Event #27: $1,500 H.O.R.S.E. wearing rainbow colored glasses that flip down into shades. They definitely aren't a $200 pair of Oakleys, or a $500 pair of Ray Bans, but they are our favorite pair that we've seen today.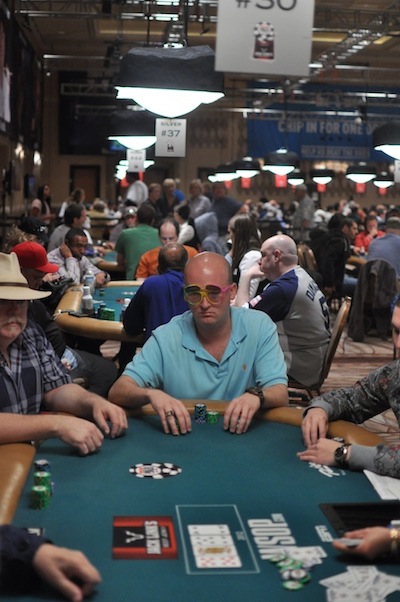 Who Wore It Better: Suited Up Edition
There were three players suited up for Event #23: $3,000 No-Limit Hold'em Six Handed today.
One of them was recently eliminated leaving only Scott Montgomery and Foster Hays: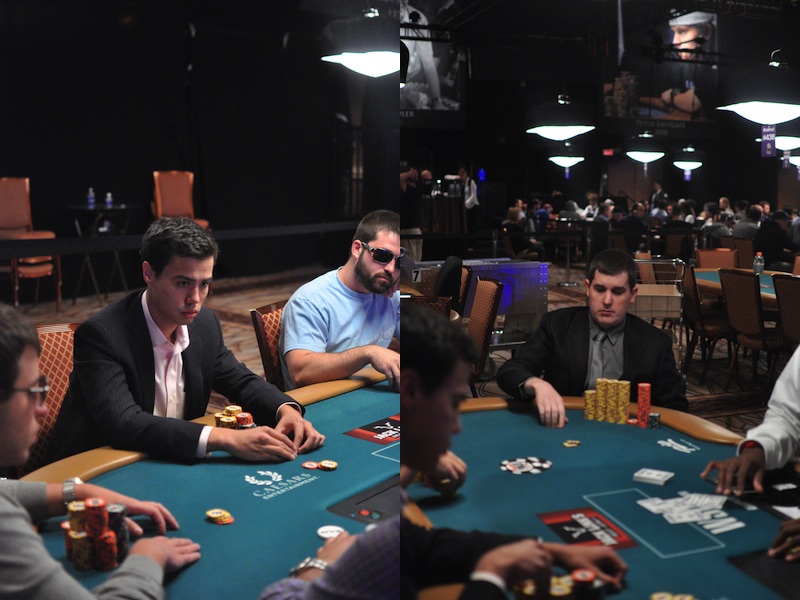 We want to know who you think wore it better.
Poll
Who Looks Better In A Suit?
The Table of Death, Omaha Edition
We've talked often about tables of death, but the rail birds led us to this one. Most of the rail in the Amazon room today is either gathered around ElkY's table in the six handed event, or this table in Event #24: $3,000 Omaha Hi-Low Split 8-or-Better.
On one side of the table, we havePhil Ivey, Mike Matusow, and Joe Cassidy: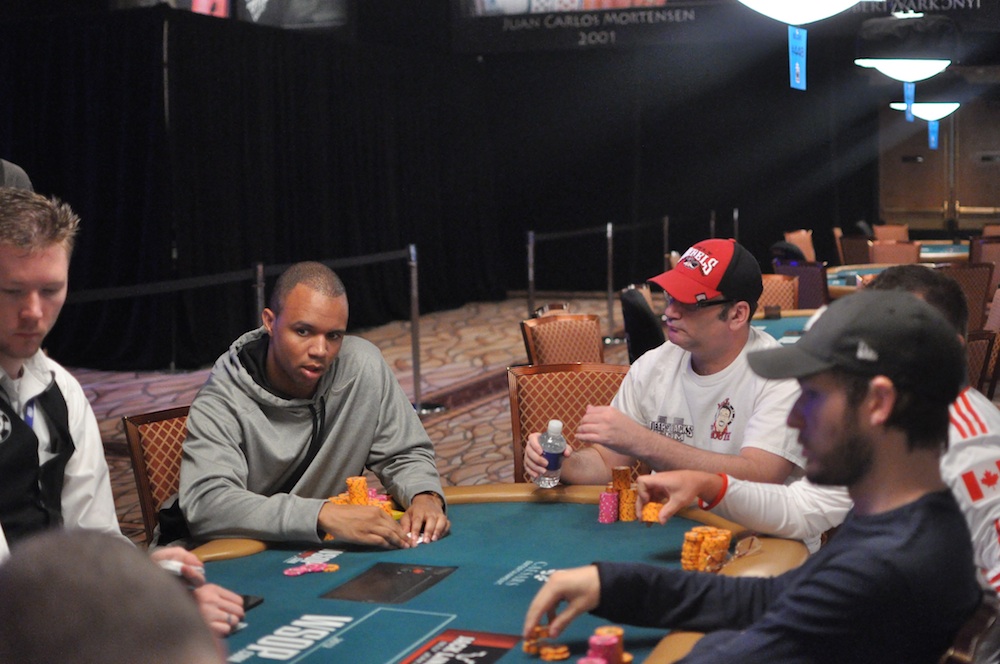 And on the other side of the table we found the "Prince of Poker" himself, Scotty Nguyen: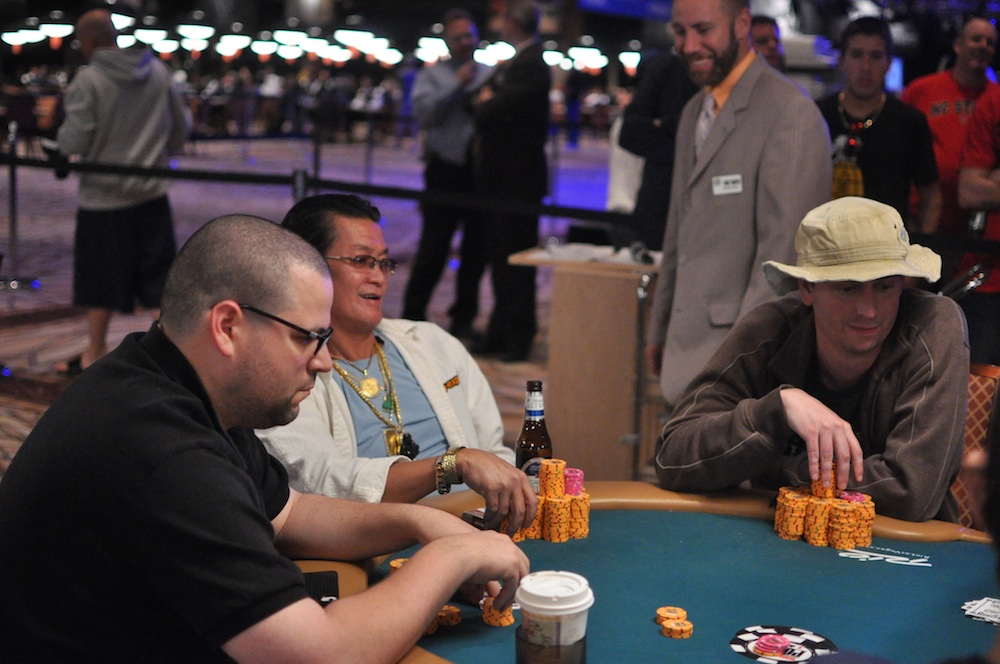 Also, right in the middle of the table, with a heap of chips is the brother of one of our live reporters, 123md, Elie Doft. Either way, it's not the table you want to be sat at.
Wimpy At The Rio
I'll gladly pay you Tuesday for an AllAmericanDave meal today. According to Team PokerStars Pro David William's twitter somebody intercepted his AllAmericanDave meal and ate it.
Williams broke down the events in a series of tweets:
Some dbag stopped the delivery person for @AllAmericanDave and told them they were me and ate my lunch. Dave replaced it for me but...

— David Williams (@dwpoker)
When he went over to the guy who stole my lunch the guy said he took it "cause he was hungry" and didn't feel he should pay.

— David Williams (@dwpoker)
He finally settled on paying $20 when individual meals (not part of a package) are $30.

— David Williams (@dwpoker)
The thief just came and tapped me on the shoulder and said "you just cost me $20. Because of your delicious lunch" smiling....

— David Williams (@dwpoker)
Williams later tweeted the culprit's seat number and we went ahead of snapped a picture of him. According to the Rio staff the person's name is William Harrington.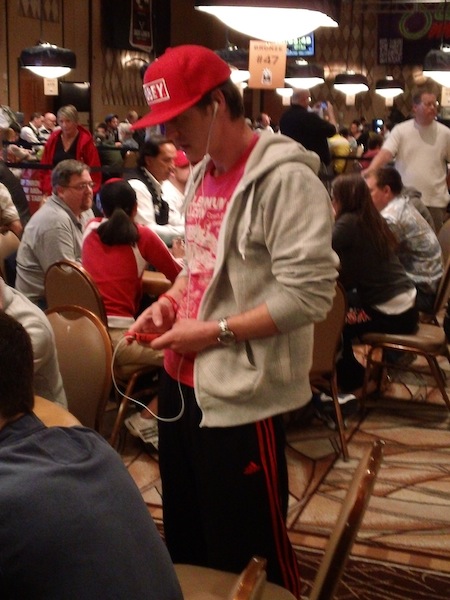 Can You See With Those Things On: Part 2
Here's another gentleman in Event 27: $1,500 H.O.R.S.E. wearing an interesting set of Kanye-esque shades.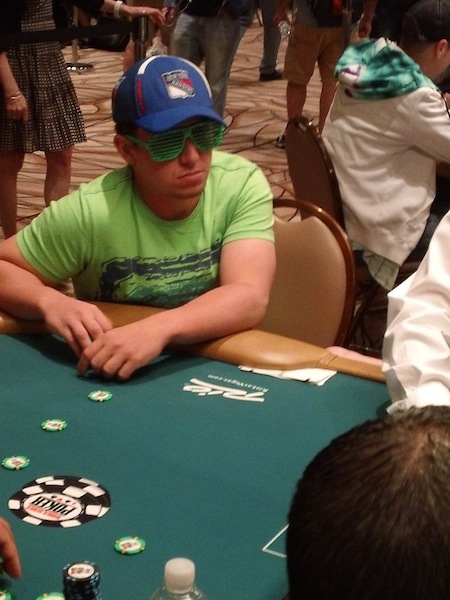 We're not sure if he has to open them up like a set of venetian blinds when he wants to peek at his cards.
The Man With The Binoculars in Action
For the past few days we've been bringing you updates on the man with binoculars, who has been at several final tables, and could be seen staring down Phil Ivey on multiple occasions.
Well today may be the day the man in binoculars gets his own fan base as we caught him playing in Event #27: $1,500 H.O.R.S.E.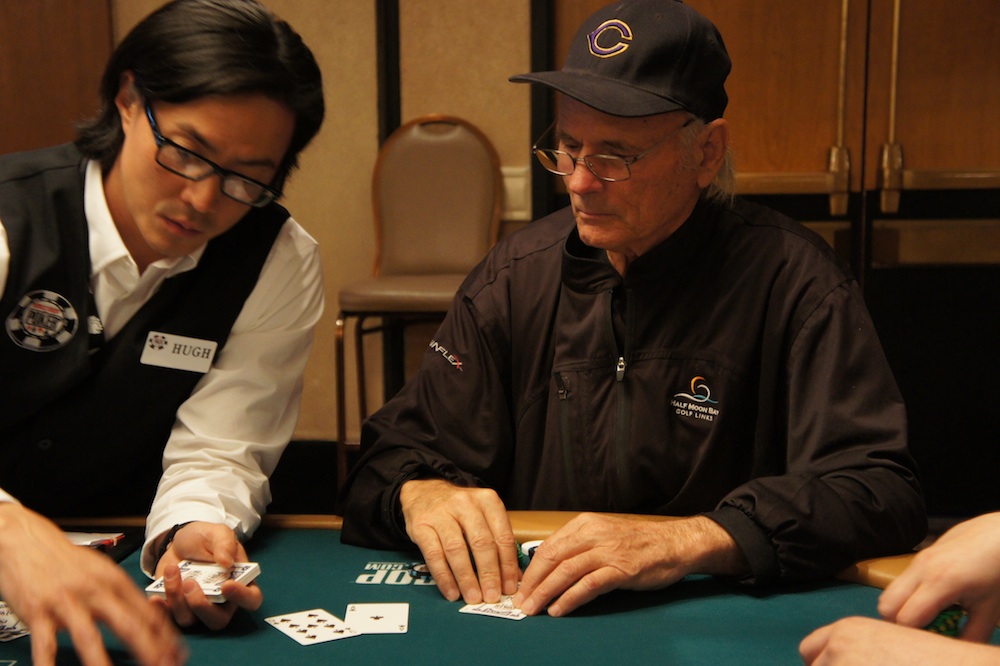 We'll try to keep an eye on his progress throughout the tournament as today may be the day the man becomes a legend.
What Game Are We Playing?
We caught this gentleman playing in Event #27: $1,500 H.O.R.S.E.. We don't know if he couldn't see the game plaques, or if he just needed a friendly reminder, but he had a few pieces of paper on top of his chips with the game they were currently playing.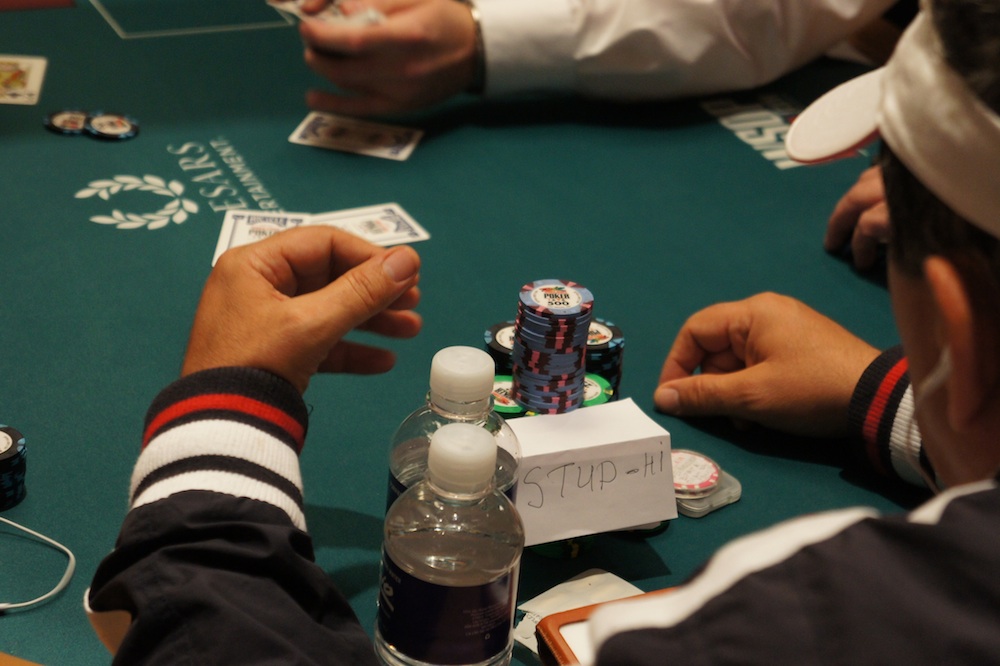 Phil Ivey's Magic
"Every time Phil Ivey wins a pot a unicorn and leprechaun are born," we just heard Maridu Mayrinck say from the rail ofEvent #24: Omaha Hi-Low Split 8-or-better. We all know Ivey has amazing poker skills, but apparently he can do a lot more than just rake in chips!
The main feature table set has been filling up ever since word got out Ivey was gunning for his ninth bracelet, and we expect a lot more famous faces as the night goes on.
The Straddle
If you haven't seen Kristy Arnett's video "The Straddle," it's a must watch. Arnett gives a behind the scenes look at the 43rd annual World Series of Poker. In this weeks Straddle, Hellmuth disappears, "Crazy" Mike Thorpe makes an appearance, and we see some hostess bloopers.
The All-Singing, All-Dancing H.O.R.S.E. Event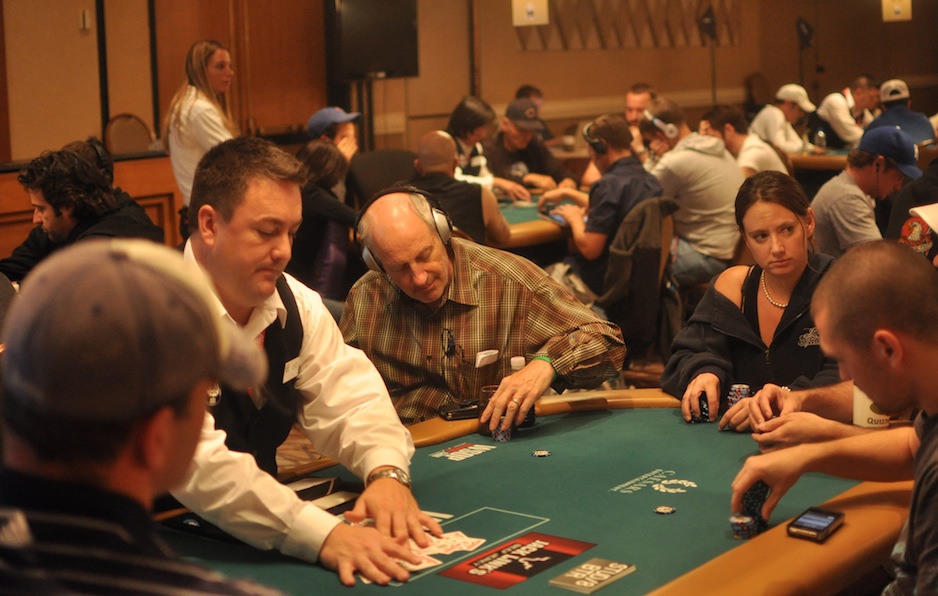 We know only the most multi-talented poker players play Event #27 $1,500 H.O.R.S.E, but one man is taking the definition to new extremes, regularly breaking into song at his table.
The songs are often embellished by his choice dance moves, a sort of shuffle, clearly designed to put his opponents on chip-spewing suicide tilt.
The man could be heard belting out an old country number that he had in his heads phones from across the room. When we arrived on scene, his tablemates were trying to get him to take requests.
"I'll sing some requests if you boys send me some of those chips," our hero says.
"Tighten up fellas!" Remarks his nearest neighbor, to raucous laughter from the players, the dealer and even surrounding table.
Celebrity Look-Alike!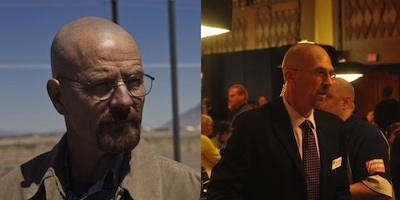 We spotted a celebrity look-alike today in the form of Rio Floor Manager Bob Smith. We think he is the absolute splitting image of Walter White from the hit TV show 'Breaking Bad'. What do you guys think?
World Series of Bromance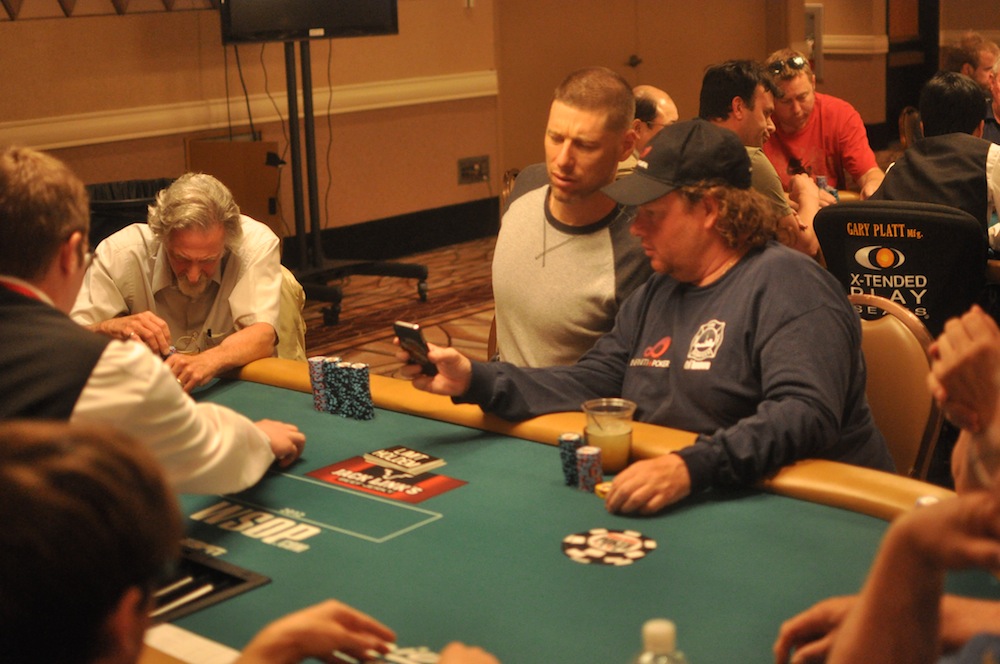 We spotted Gavin Smith and Huck Seed a bit earlier on, chatting away during Event #27 $1,500 H.O.R.S.E. Smith is shown above giving Seed a tutorial on one of his apps on his iPhone.
Smith and Seed have played a lot of poker with each other over the years, I wonder how this makes the dynamic at the table?
Here We Go Again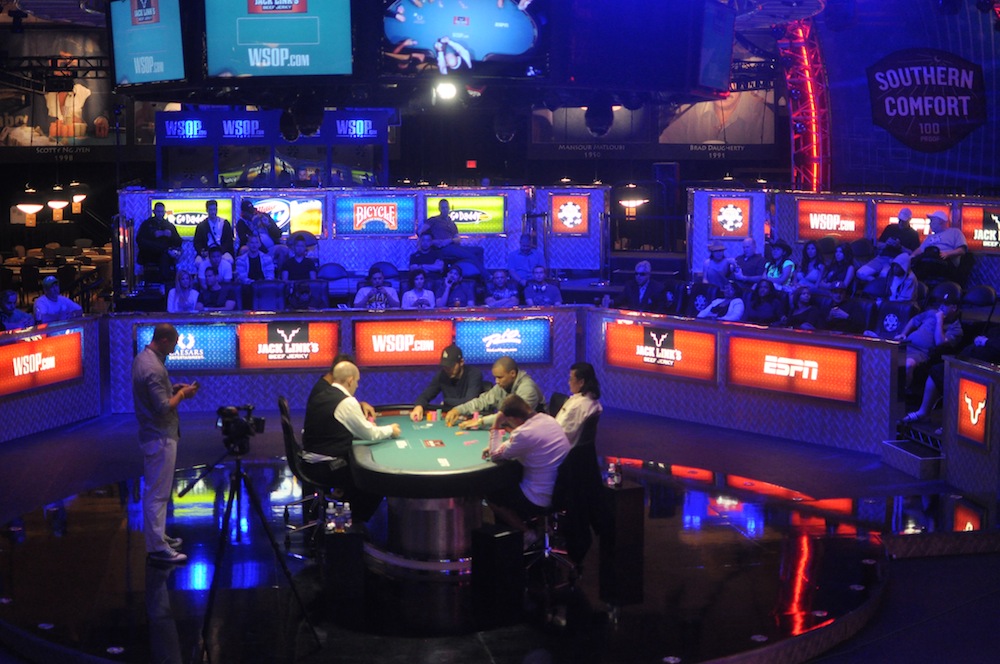 The rail is teeming as we prepare for a long night at the final table for Event #24 $1,500 Omaha Hi-Low Split-8 or Better, where Phil Ivey, Scotty Nguyen and other big names battle it out for nearly $300,000 and, more importantly for Ivey, a gold bracelet.
The field starting this afternoon was one of the most stacked we've seen in recent history with Ivey, Nguyen, Mike Matusow, Brian Hastings, Bart Hanson andDan 'djk123' Kelly. Hastings was second in chips behind Ivey early on, but crashed out in sixteenth after a bad run of cards. His tweet below highlights just how tough it is out there!
Busto 16th. Running bad vs world class players is a deadly combo. Might play cash, might do something fun. Not sure next #WSOP event.

— Brian Hastings (@brianchastings)
We'll hang around the rail all night and keep you posted on the rail's mood and any of the players antics!
Finally, A Sweet Chip Stack!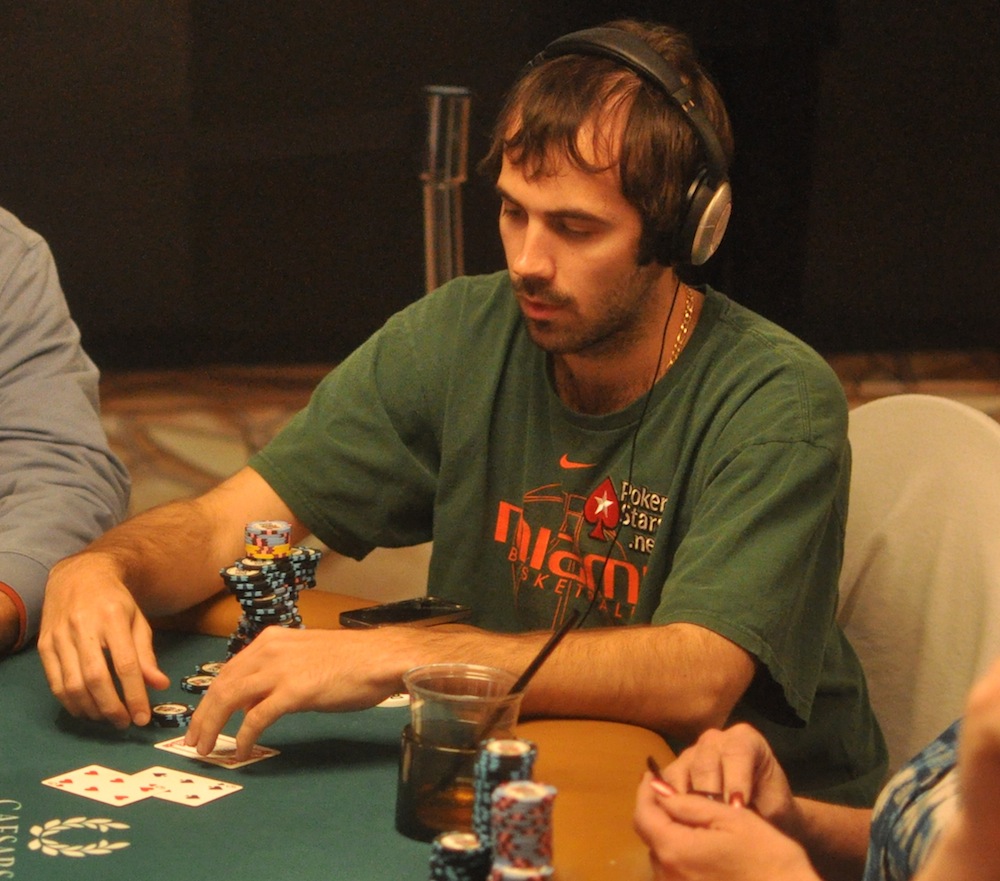 We've been sweeping the Brasilia and the Amazon room every night for the first 17 days of the series, trying to find someone putting some effort into their chips. Finally, Jason Mercier has come through for us. Mercier is playing in Event #27 $1,500 H.O.R.S.E and coming to the end of day one is doing well. Well enough to make an interesting stack anyway!
The twisting structure is pictured below next to Mercier's infamous cracked iPhone.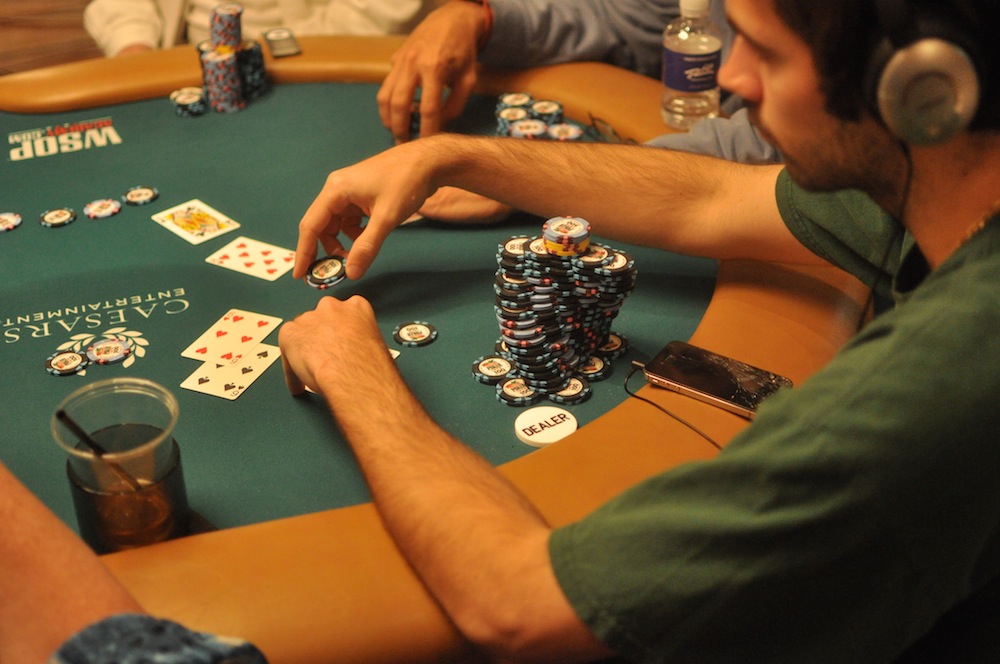 Side Action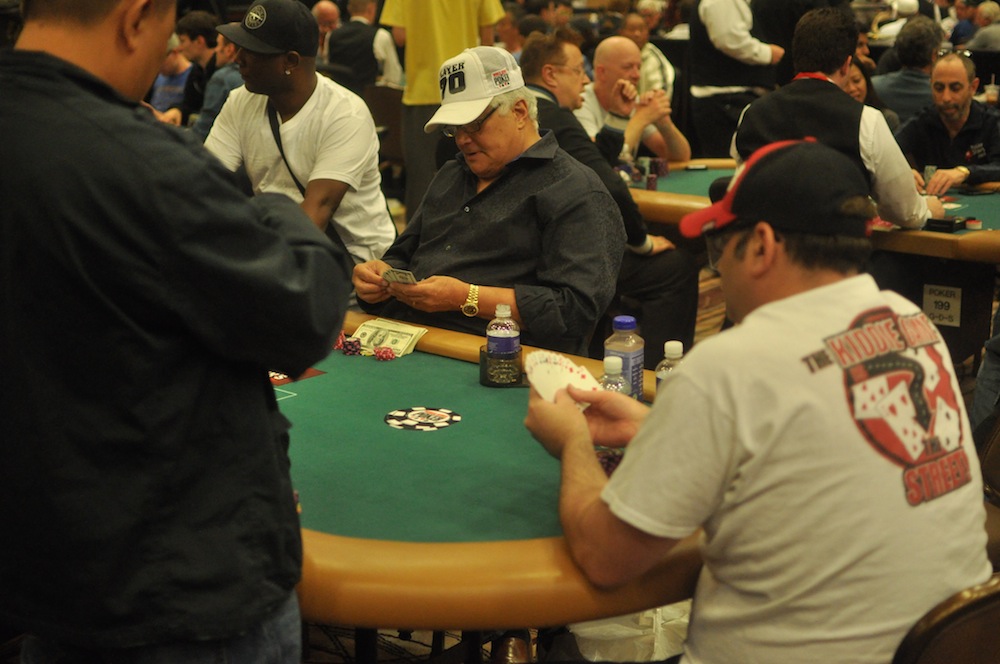 We spotted Jennifer Harman and Mike Matusow playing some Chinese poker in the high-limit cash game section in the Pavilion room here at the Rio. The pair are trying to turn their day around after disappointing busts in Event #27 $1,500 H.O.R.S.E and Event #24 $5,000 Omaha Hi-Low Split-8 or Better respectively. Harmon's husband Marco Traniello was sweating her from the rail.
Also putting in some big hours in the side games is Barry Greenstein, who's been there since early this afternoon, also playing Chinese. His wife, however, was sitting directly behind him sweating his cards. The rail gathered to watch the games is growing as the evening grows old.
Tweet Of The Day
Sometimes a poker tweet comes our way that needs to be printed here in the muck. Congratulations to Faraz Jaka for Tweet Of The Day, Day 17.
"@chicagocards1: @FarazJaka just busted a guy in PLO and he sat there for 30 seconds after I wonder why #needatermforthat" BUSTOUT BONER!

— Faraz Jaka (@FarazJaka)
The Experts
We have Jeff Madsen and Jean-Robert Bellande in the booth at the moment, talking about the final table of Event #24 $5,000 Omaha Hi-Low Split-8 or Better.
Daniel just tweeted in:
@WSOP @TuckonSports @WhoJedi ask JRB if he would be the 4th or 5th best player at the table right now.

— Daniel Negreanu (@RealKidPoker)
To which Jean-Robert replied "That dealer looks pretty sharp, I could well be the fifth".
Tune in Here to hear Madsen and Bellende's commentary.
The Other Game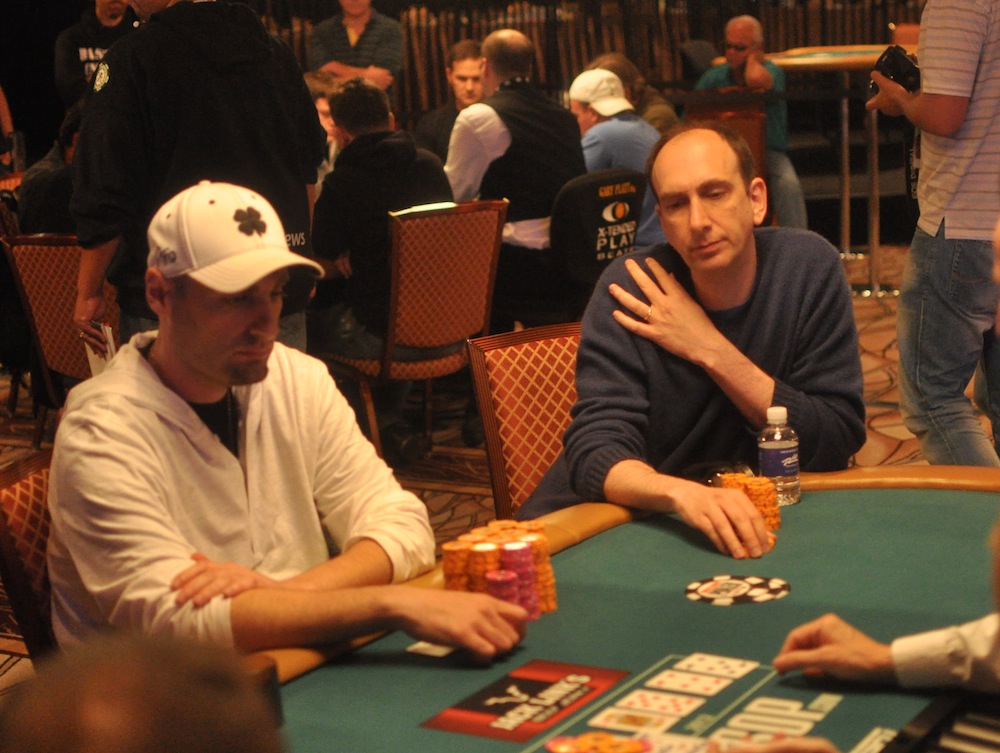 With all the talk the last few days of Phil Hellmuth's 12 bracelets and Phil Ivey's search for number nine, one man has been overlooked. Running deep in Event #26 $3,000 Pot-Limit Omaha, Erik Seidel is in with a real chance of winning his ninth bracelet tomorrow evening!
Seidel has been on a strong run the last few years, winning several high profile non-World Series Of Poker events all around the world, but hasn't won a bracelet since 2007. He will be hoping this is his year. Phil Hellmuth, who is desperate to keep his all time bracelet record, will be hoping that it isn't.
Rowdy Rail: The Scotty Nguyen Effect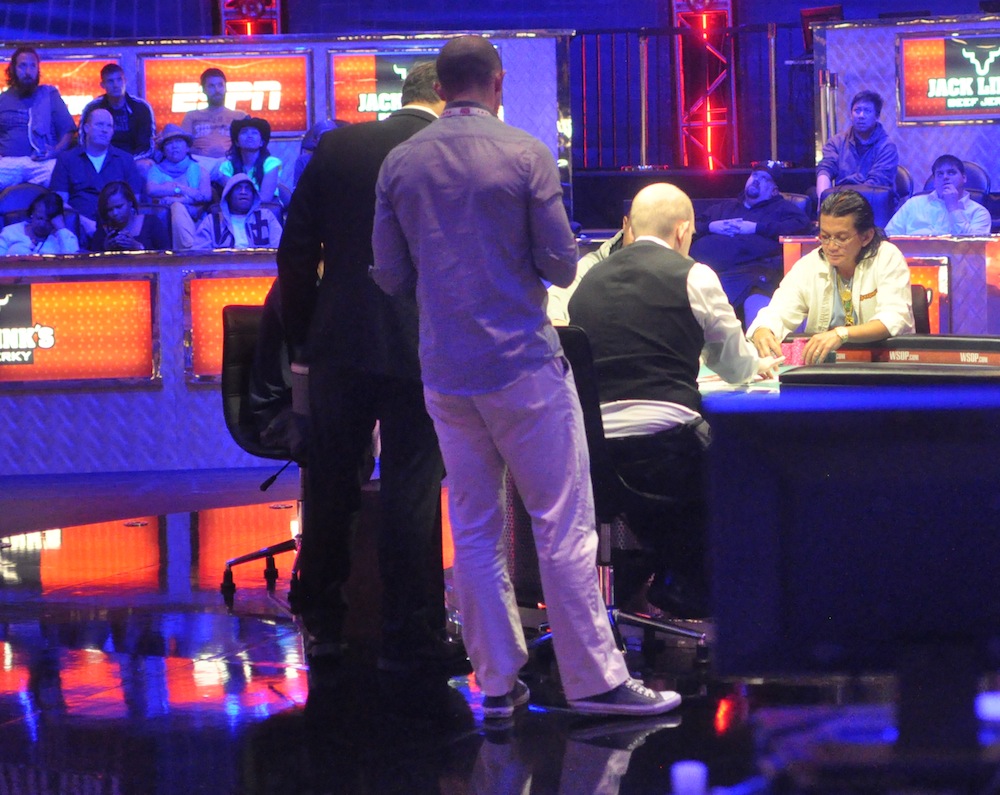 This has been by far the most active rail for a final table yet. Everyone seems to have a beer in front of them, and every pot that is awarded is accompanied by a big cheer (and in the case of Scotty Nguyen, a yell of "SCOTTTTAYYYY" from an unidentified spectator).
We like to chalk this rowdy atmosphere up to 'The Scotty Nguyen Effect'. Scotty has been drinking beers and interacting with the rail for hours. He's playing an all-action style and the 3 WSOP bracelets on his wrist accentuate his outfit nicely. Ivey may draw the spectators like no other, but Scotty knows who to get them going. It's going to be an exciting night no matter what happens.
We encourage everyone to get involved with "The Muck." See something you think is Muck worthy? Send it to themuck@pokernews.com. We accept all media including photos and videos.