Cash vs. Comfort: Poker Pro Nick DiVella Discusses $22,500 Bathtub Prop Bet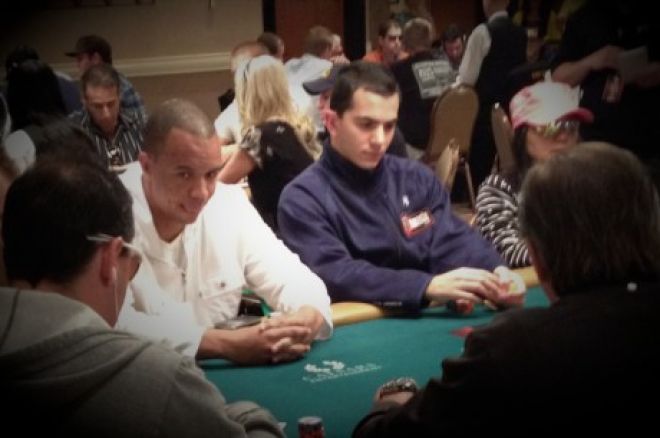 Las Vegas cash game grinder Nick DiVella is well known for his skillset in the $2/$5 and $5/$10 no-limit cash games. However, he should also be recognized for his antics off the felt. No stranger to propositional betting, DiVella has found himself in the middle of another high-dollar wager.
Last weekend, a Texas millionaire named Andy challenged DiVella to a "backbreaking bathroom bet" that could see DiVella win $22,500 if he is successful or lose $4,000 if he fails to complete the task.
Booked a backbreaking bet for next month. Here are the rules. Bring on the boredom... http://t.co/eobbpQN3qp

— Nick DiVella (@NickDiVella)
Starting Sept. 15, DiVella will spend six days living in a hotel bathtub. The location has yet to be determined and the rules are still being adjusted, but it is apparent that it will most certainly happen.
"All bets kind of start the same," DiVella told PokerNews when asked about how the bet was formed. "Some random conversation starts, and people offer opinions, and it evolves from an idea to a reality. That's how this one pretty much got started also."
The rules have changed a little bit since DiVella originally posted the bet on Twitter. Here are the terms as of Aug. 15, according to DiVella:
Allowed to bring a few books
No visitation hours
Can eat the same type of sandwich up to five times a day and can change it the day after if he chooses
Allowed to bring only 20 sheets of writing paper and one marker
Can only use the clothes on his back. "I don't know how many pieces of clothing I can bring, but I'm sure Andy won't let me overdo it."
Won't be able to use soap
Won't have any towels
Allowed to bring one plastic zip-lock bag for bathroom purposes
Can use phone from 12 p.m. to 1:30 p.m. everyday
Restricted to leaving the temperature on one setting
Have to keep the light on at all times
"Initially it was his $10,000 to my $1,500, but I was allowed to use a laptop," said Divella. "He doubled the money and took away use of the laptop, and I couldn't pass up on it."
DiVella has been involved in quite a few bets in the past but none perhaps as difficult as this. Earlier this year, he put cupcake icing on his face while playing $5/$10 at Aria. The bet was that another $5/$10 player would have to lick it off his face for two and a half hours. Both followed through and so $1,260 was awarded to DiVella, while the other player received $600.
In another instance, DiVella was bet that he could not eat one pound of chocolate cake and down an entire bottle of Acqua Panna in nine and a half minutes. He succeeded with 15 seconds to go and earned $300. However, he threw it up soon after.
Recalling his former bets, DiVella said, "I do think this will probably be the toughest one I've had. I think sleeping will be most difficult. I've spent a few hours practicing and sleep seems to be the toughest part to find a comfortable position. Next will be comfort and then boredom. I'm sure after day three my back will be torched and I'll be exhausted."
Perhaps one of the easier bets DiVella has faced was when he was paid $1,000 to have Powerade poured on his head. "Like, how easy," said DiVella. The bet was documented and placed on YouTube.
"Prop bets are just always so fun," DiVella told PokerNews. "It'll just be another great story of this one thing I once did. Plus, $20,000 doesn't mean anything to him and $4,000 doesn't mean anything to me."
Although he believes the bet will be a challenge, DiVella will be using the money and public recognition as motivation to push through. "It's more of an incentive to complete the challenge now because it has received a lot of attention. I don't want to fail in front of the public eye. That almost means more to me than the money."
Surprisingly, DiVella has actually passed on some wagers before. In fact, he turned down $17,000 to walk to Los Angeles. The caveat was that he couldn't stand inside of a building for more than a half hour at a time. Thinking it was too dangerous, he passed on the opportunity.
It's not uncommon for poker players to be involved in such extravagant bets. Big-time names like poker-legend Ted Forrest and Huck Seed were often in the spotlight for their off-the-felt action. When asked if he compares himself to such high-caliber prop gamblers DiVella said, "I don't compare myself to those guys at all. Ted Forrest has some pretty incredible stories that exceed anything I've ever done. Besides, Andy comes into town every few months so I don't get involved with bets too much if he doesn't have a hand in it. When he's in Las Vegas though, we definitely mess around and have fun."
Just a few weeks before his big six-day challenge begins, DiVella has undertaken a trial run to test the waters before fully diving in. He noted that he spent 45 minutes in the tub to figure out comfortable positions. "I put the pillow underneath my butt as opposed to my back and used my clothes instead to give me some comfort around my shoulders. I haven't practiced using the one baggie. I think I'll just wing it and see what happens. I guess it could be a lot worse, but this bet isn't meant to be brutal. It's meant to be fun and silly, and so I'm looking forward to it," he finished.
For more off-the-felt stories involving your favorite poker players, be sure to visit The Muck. And remember to follow us on Twitter and find us on Facebook and Google+!