Off the Felt WSOP Edition with Marvin Rettenmaier: Music, Stoney's, and Travel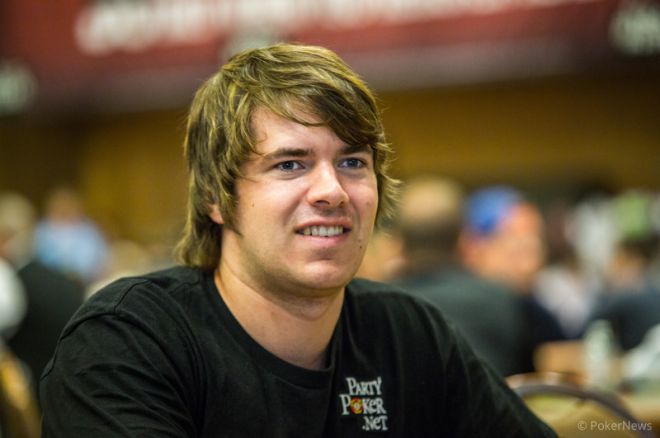 Off the Felt is interviewing your favorite players to find out a little bit about their lives, you got it, off the felt. Two-time World Poker Tour Champion and talented guitarist Marvin Rettenmaier recently sat down with PokerNews to tell us a little about how he got into music by playing the keyboard and guitar, his interest in backing players, and his plans for future travels.
People may not know that you sing and play the guitar. What style of music do you like to perform?
I like all kinds of music, really. I play anything from country to R&B; really anything is within my repertoire. If it has a good melody then it snags my interest. As far as listening to music, I really like Matchbox 20 and Hootie & the Blowfish.
How did you fall into music?
I started playing the keyboard when I was really young, maybe at seven or eight years old. My parents just asked me if I wanted to play the keyboards and sadly they didn't have much of a clue about music. I would have preferred to start with the piano but I am still thankful that they gave me the chance to jump into some sorts of music. Then when I spent a year in the United States during high school, my host played the guitar and taught me how to play. We would jam together and that's when I started singing as well. He told me that my voice didn't suck so I started singing more and more. I then spent half a year in San Diego while in college and instead of focusing on my studies I devoted more time to teaching myself to play the guitar and improving my singing. It's obviously easier to carry a guitar around then a piano so I just stuck with that.
Is there any chance that you'll bring your guitar to the Rio and perform for the players?
There is actually a chance. I can see it happening maybe before the series is over. I might be railing someone with my guitar in hand.
We know you are backing some players this summer. How did you get into it?
I think it's just a fun thing to do. I've had some good sweats already this summer. I actually started backing some players last summer but it didn't go too well.
Will you be vacationing after the WSOP?
I'm not sure, although I do have a couple of options. One option is to go to Chicago with Faraz Jaka and Mohsin Charania. Another option is to go to Martha's Vineyard with Jesse Sylvia. I should be going back to Europe at some time to visit family. I do know I will be going to Florida for the WPT $5K with $10 million guarantee in August. I'm sure after my travels I'll head to Europe and stay there awhile.
Being here in Las Vegas for the summer, what is your favorite bar, club, or hangout spot?
A group of us have been going to Stoney's a lot lately. It's a country bar and really fun. I don't know how to line dance or anything but it's really fun to see other people dance. They have beer pong, bikini bull riding, and all sorts of fun stuff. It's a great, fun crowd. Typically, a lot of Brits go often, like Jake Cody and Chris Moorman. I've been going with Mike DeGilio and we just really enjoy ourselves. Thursdays are the best nights to go; it's ladies night and it is the absolute best.
When you're not playing poker this summer, what are you doing?
Railing. All my buddies are doing a lot better than me so I've spent a lot of time in the Thunderdome sweating my friends. I've been spending quite some time at the pool at The Palms. I'm trying to work out a little bit but it's hard to find the time. I've been doing a pretty good job of busting early in events but there's everyone else making final tables and I feel like I need to support them by watching.
If you weren't playing poker what else would you be doing?
I would probably be doing something in the business world, hopefully self-employed. I've always been interested in the concept of entrepreneurship and I finished my studies in business at a very good business school in Germany.
A lot of players decide to drop out of college to pursue poker professionally. Why did you decide to complete your education?
Honestly, a huge part of it was to make my parents and grandparents happy. They were worried that if poker didn't work out then I would be end up on the streets or something awful for not finishing school. If it wasn't so important to them, then I might have never finished. I didn't have the best grades, and I barely put any focus on finishing, but somehow I got through and completed my studies.
What is your favorite American city and why?
I haven't been to too many places for a long period of time but I have to go with San Diego, Calif. I spent one semester there attending University of California San Diego and had a great time. I partied every single day, there was always something to do, and the beaches were just so nice. The weather was awesome and I really can't think of anything bad to say about that place, it's great.
Aside from playing guitar, what are some other hobbies?
I used to play a lot of sports back in the day, like tennis. However, I had an issue with my heart muscle so I couldn't play sports for like almost a year. I couldn't drink, either. I think that helped me though to get more into poker since I couldn't party and couldn't be active. That's when I spent a lot of time playing poker and just really immersing myself into the game. I am fully recovered and well though. A couple of poker players get together on Sunday nights to play soccer. I may participate if I bust the $1K early.
As a German, what is your favorite alcoholic beverage?
Ooh, it's tough. My drink preference is always changing for me. It depends what I'm in the mood for but I always enjoy a good whiskey like Jack Daniels. With some coke though, I don't prefer it on the rocks.
Is poker something you can see yourself doing forever?
I can see myself playing for a long time but I don't know if I can say forever. If I start to lose interest in the game, which I don't think I will, then I will call it quits and pursue something else. At some point I would like to have a family at which point I will cut back for sure. I don't think that I will ever fully stop playing though.
You've accomplished a lot in your career. What else would you like to accomplish either in life or in poker?
I would like to win a bracelet. I'd like to just win more titles, really. Continue to play well is important. In life, I just want to be happy and make other people happy.
Do you prefer WPT events to WSOP events?
It's a tough one. I'm doing a lot better in WPT events and I think it's because you can just focus on that one event. During the WSOP though, you could be playing one event but you'll have in the back of your head that it if it doesn't go well then there's five other events you could jump into the next day or later that day. Which do I like better? I mean I like the fact that I can stay here for six months at a time and have a place that I can make a home, but then again the structures of the WPT are a lot better than the standard WSOP events. It's tough because both have pros and cons. Overall, I probably prefer WPT events.
For more Off The Felt pieces, check out, check out The Muck.