Talking H.O.R.S.E. and Basketball with Huck Seed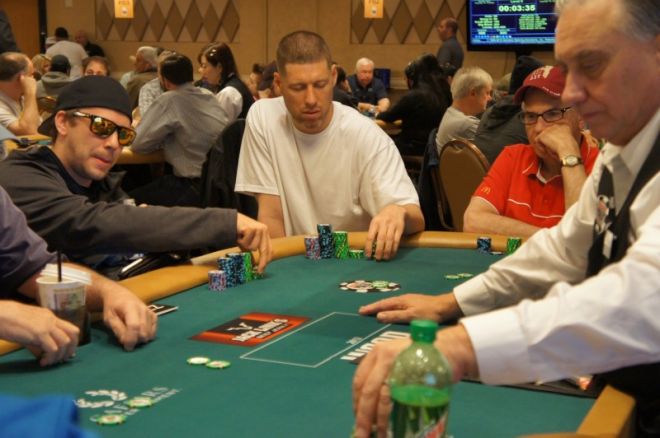 We got a chance to catch up with 1996 World Series of Poker Main Event Winner Huck Seed earlier who was on break in Event #27: $1,500 H.O.R.S.E.  We asked Seed a little bit about the H.O.R.S.E. tournament, and a little bit about basketball as well. When we saw Seed, he was talking with John Hennigan about a recent bad streak.
"Let me ask you something," Hennigan said to us. "Do you think a good player can play 30 tournaments and not cash?"
Hennigan was poking fun at Seed for his recent luck in the World Series of Poker.
We asked Seed what his least favorite part of the H.O.R.S.E. event was. "The amount of the buy-in," Seed joked.
That was not the answer we were looking for, so we asked Seed what his least favorite game was in the H.O.R.S.E. structure. "It's like if you had five children," Seed said to us. "You can't say you love any one less than the others."
We asked Seed what game he thought people playing the tournament were the worst at. "Probably stud, razz, or 8-or-better," he replied.
We followed up by asking Huck if he thought he was better at poker or basketball right now. "I'm pretty worn out from playing tournaments all the time right now," Seed said. "But I've been trying to play basketball for a while now. I just haven't had time. Probably at midnight after this gets out, I can go play some. The best scenario would be if someone at my table challenged me to a one-on-one match for some money.
"Vanessa Rousso has this really nice outdoor court that I love to play at," he continued. "It has this matting that has some really nice grip. I'm gonna go out and get some shots on her court later. It's my new favorite outdoor court."
Following up on that, we asked Huck about some players and whether he'd rather play H.O.R.S.E. basketball or H.O.R.S.E. poker against them.
Jason Mercier: "Basketball."
Chad Brown: "Basketball."
Phil Hellmuth: "Basketball."
Olivier Busquet, "Olivier actually challenged me to a one-on-one match, we just never got around to it. I think I'd actually rather play him in H.O.R.S.E poker because he doesn't play limit games. There's not many people who could beat me at shooting right now. Another guy I'd probably rather play in poker is Prahlad Friedman. Prahlad played Paul Pierce in a game of H.O.R.S.E once and he beat him."
We'll have to catch up with "Spirit Rock" later on in the series when we see him to verify this one, but if it's true, it's a pretty awesome story.