A 22 Year Old World Poker Tour Winner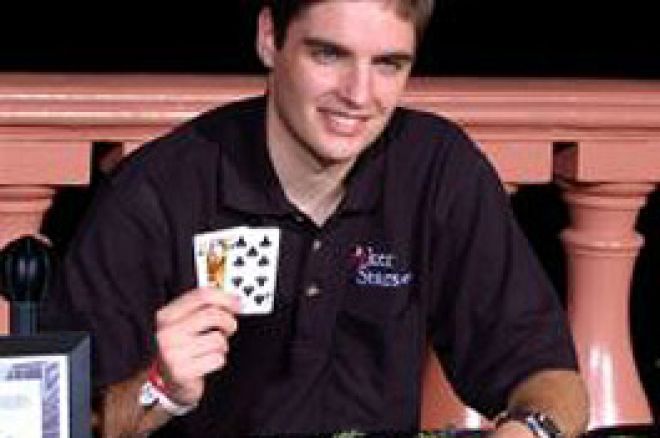 A few months ago, Steve Paul-Ambrose was an unknown college student playing $22 tournaments. Today, he ranks sixth place in the Player of the Year race, and has recently added over a million dollars to his poker bankroll.
Poker sure is fun.
On January 10th of this year, Steve became the latest champion on the World Poker Tour, winning The PokerStars Caribbean Adventure (PCA) at the Atlantis Resort in the Bahamas, and collecting a 1.3 million dollar paycheck. The 22 year old attends The University of Waterloo in Waterloo, Canada, and was kind enough to allow us an interview.
PN: How long have you been playing poker?
SA: I started in January '04, so it was almost exactly 2 years when I won the PCA. This was my first WPT event.
PN: How did you qualify for the tournament?
SA: I played a bunch of $22 turbos on PokerStars and won a few seats to the $650 (PCA satellite). I was lucky enough to qualify for the PCA in the first $650 I played.
PN: Were you nervous when first sitting down on day one?
SA: Very. I picked up QQ on the first hand of the tournament and my heart was pounding as I raised. I was pretty happy no one called. I'm not sure I was thinking clearly.
PN: We all dream of making a final table at a WPT event. Were you able to sleep very well the night before the final table?
SA: I slept really well every night. We played so much, I was always exhausted.
PN: Did you have a plan for the final table?
SA: Not really, other than planning to get lucky. PokerStars sent Joe Hachem to talk to all the Stars qualifiers. He pretty much just told me to play, have fun, and hope to get lucky. The blinds get big so fast so there's really only so much you can do.
PN: What was going through your mind after the last card was dealt when you realized that you had won?
SA: I really don't know. I gave a fist pump and gave my family a hug and my first real thought was that I should go shake Brook's hand. (2nd place finisher Brook Lyter). I'm still not sure it has completely sunk in.
PN: When the final table of a World Poker Tour event gets heads-up, they dump all the money on the table. Is that money real?
SA: Unfortunately no. It all says, "For Production Purposes Only" on it and doesn't really feel like real money. I was really hoping it was going to be real.
PN: Does PokerStars just write you a check for your winnings?
SA: They deposited it all (1.3 million), in my Stars account, so I had a large balance there for awhile.
PN: You have several months before the episode will be aired. Do you think you will get a lot more attention after the show appears on t.v?
SA: I'm not sure. I think there are two hands I misplayed pretty badly, so hopefully there won't be too much talk about those. It won't air in Canada for even longer, so I guess I'll have to wait and see.
PN: It's none of our business, but what have you done, or what are you going to do with all of the money?
SA: I haven't done anything yet, and don't really plan to do anything for awhile. I've spoken to some investment people so for the next few years its just going to be invested. Sometime in the near future I'll probably buy a house or something.
PN: Since you are still number six in the Player of the Year standings, are you going to play in more big tournaments?
SA: So many of the events conflict with school, so I doubt I'll end up playing in many. I'm taking the summer off, so maybe I'll play a few of them. Regardless, I don't think anyone has much of a chance catching Mizrachi. What he's done is pretty impressive to say the least. At least I can say that for a couple of weeks, I was #1 in the Player of the Year race.
PN: With your victory, you got a free $25,000 entry into the WPT Championship next month. How do you like your chances?
SA: It depends heavily on how many people there are. I doubt I'm all that much better than the average player in that tournament. So if there's 500 people, I'll set my odds pretty close to 499-1.
With a pleasant demeanor, humble approach, and apparent sound bankroll management skills, Steve Paul-Ambrose could be described as a throwback to a different time. We thank Steve for his time and for letting us experience a WPT victory through the eyes of a new champion.