The PokerNews Interview: Sami 'LarsLuzak' Kelopuro
Barry Carter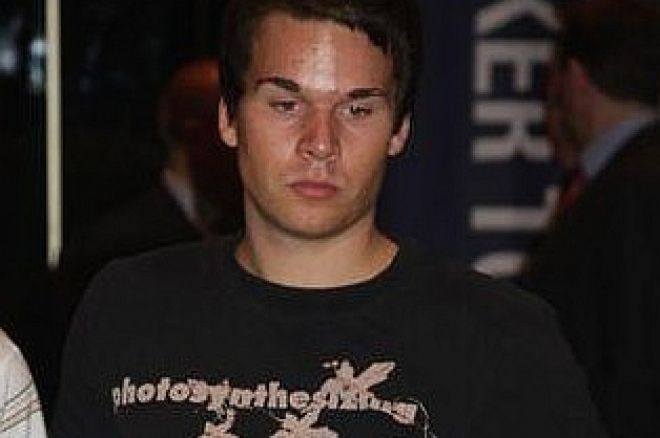 Sami "LarsLuzak" Kelopuro is one of the big winners in the ultra-high-stakes no-limit hold'em and PLO cash games on Full Tilt Poker. The young Finn has a reputation for being one of the most aggressive and fearless cash-game players in the world, and is one of the few players who seems prepared to take on all competition, no matter how tough. Despite being a railbird favorite, he had previously shied away from the spotlight until recently, when he started blogging alongside fellow Finnish high stakes pro Ilari "Ziigmund" Sahamies on their new venture Coinflip.
<I>PokerNews: You were absent from some of the high-stakes tables on Full Tilt for a lot of last year. Were you taking a break from poker?</I>
Sami Kelopuro: I didn't take a break from poker, actually. I just didn't play at Full Tilt for a while. I still played Betfair and some other sites. Sometimes I play a lot, sometimes I play only a little, but I don't usually take breaks longer than a few days.
<I>PN: When you returned at the end of the year you were involved in some of the biggest online cash games ever seen. Just how much bigger do you think these games can get?</I>
Kelopuro: There is a big gap between the highest and the second-highest level: You can't really find anything between $25/$50 and $500/$1000 anymore. The same players who were playing $200/$400 are now playing $500/$1000. Did everyone double their bankroll while going from $200/$400 to $500/$1000? Probably not. So, maybe the games are too high already; I don't see $1000/$2000 running anytime soon.
We're not that far from a million-dollar pot, really. I think the biggest so far has been $724,000. All you need is two $500,000 stacks and a setup. I think it's possible, the games are crazy enough and the stacks are getting deep enough because of the gambling nature of PLO.
<I>PN: The sums of money that exchange hands on the tables are mind blowing. Are you guys aware that there is a recession going on right now? Is it affecting the games at all?</I>
Kelopuro: Unfortunately, there are not too many rich amateurs playing high-stakes online. The same 10-15 guys are playing the highest games year after year and I think they don't really care about recession. Of course there are some new, upcoming stars rising to high stakes every now and then, and sometimes some of the regulars go broke, but I don't think it has much to do with recession. It's probably affecting more middle than high stakes.
<I>PN: You have a reputation for taking on the best players in the world. Do you think you have an edge or is it all about the challenge?</I>
Kelopuro: I don't think I'm the best, no way. I like to challenge myself and play with the best players. If I feel someone has a big edge on me I will probably stop playing. With the best players the money goes back and forth a lot, the actual edge is usually very small in the long run. But the thing is there are no easier games running regularly, unless I go down to $25/$50, which seems impossible after $500/$1000. I could wait for more players to come before joining a game, but sometimes it just takes forever. If there is, let's say, Phil Ivey sitting in a table by himself and no other action, of course I'm gonna play him!
<I>PN: You are also known for having a solid game and never showing signs of tilting. How hard is it to keep hold of your emotions in such high-stakes and high-pressure games?</I>
Kelopuro: Everybody tilts sometimes, but I guess I'm not one of the worst cases. You can't think of the actual money; in a way it just has to be numbers on the screen. It's easier to handle hundreds of thousands like that; you can't think "Oh, I just lost a couple of Ferraris." Also, I've improved my quitting Kelopuroills. If I don't feel comfortable playing I'm capable of taking a break. The games are not running all the time, though, so in that sense you should always play whenever there is a good game on. If there's a fish at the table, and you're tilting after a couple of beats, you just have to deal with it and calm down. Sometimes it's not that easy... a lot of people can't handle the pressure.
<I>PN: You are a young, good-looking guy that can earn a million dollars in a few clicks of a mouse, so how do you maintain a level, grounded head?</I>
Kelopuro: I don't think money has changed me much, really. I have a lot of new friends thanks to poker, but I still hang out a lot with my childhood friends. Of course I spend more money than I used to, but I think I still live a pretty normal life and do a lot normal stuff like anybody else. Money is just money; it shouldn't change who you are and how you relate to people.
<I>PN: You have hundreds of people watching you from the rail at Full Tilt at any one time, does that make you feel like a celebrity?</I>
Kelopuro: I'm aware that a lot of people are watching the games, but most of them just know my nickname. I haven't won any live tournaments, I haven't been in any TV cash games, yet. People don't recognize me that much, really. I think that's gonna change a little in the future, I'm going to do more interviews and get involved with a lot more poker-related stuff. The good thing about poker fame is, it doesn't get out of hand - most of the people who don't play poker will never know who you are.
<I>PN: Does the idea of winning a major tournament like a WSOP bracelet appeal to you at all?</I>
Kelopuro: It does! The only problem is that I'm a huge tournament fish. Still, I'm going to play at least a few WSOP events this year and it would be a great accomplishment to be the first Finnish WSOP bracelet winner.
<I>PN: There may not be a Finnish WSOP bracelet yet, but the biggest three cash players in Scandinavia — and Europe, for that matter — are all Finns. You, Patrik Antonius and Ziigmund [Ilari Sahamies]. What's the secret?</I>
Kelopuro: I don't know if we have a secret. There are a lot of good players from Sweden, Norway and Denmark as well. But it's true that all the three Europeans in the highest games are Finnish. To be honest I think it's just a coincidence."
<I>PN: Your good friend Ziigmund is known for his high-stakes 'flips' with people like Phil Ivey. Do you take part in this culture of high-stakes prop bets?</I>
Kelopuro: I have done some silly bets, but I try to take it easy. I don't want to gamble for too much money, as a lot of good players have lost all their money betting on something stupid. I started playing golf like a year ago; I have to be really careful with that — I don't want to get involved with any $500,000 bets at the golf course anytime soon!"
Sami "LarsLuzak" Kelopuro is one of a small handful of players — along with Ziigmund, Patrik Antonius, Phil Ivey and Tom "durrrr" Dwan — who are always willing to take on any opponent. Kelopuro is the latest professional blogger at Coinflip.com.