The Nightly Turbo: FTOPS Results, PokerStars EPT, and a Seemingly Impossible Prop Bet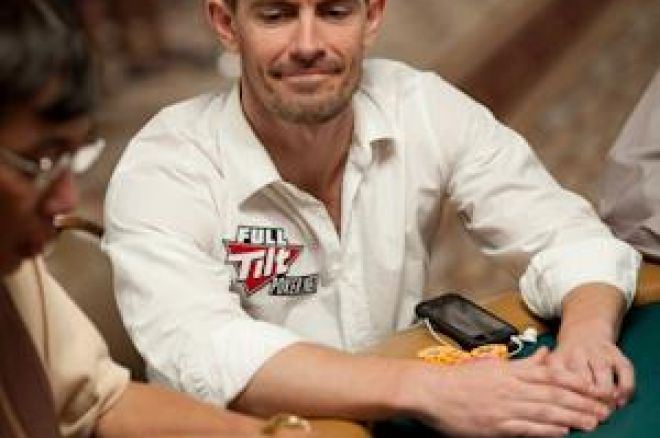 It's time again for The Nightly Turbo. We've found the day's most interesting poker news so you don't have to. Leaving you more time to work on your game.
FTOPS XIII Update
Two FTOPS events were held last night on Full Tilt Poker. Both events exceeded their guarantees, meaning there hasn't been a single overlay in this FTOPS series. Recession? What recession?
We made some predictions and picks to win last week, and we're running pretty hot so far (insert pat on back here). Kevin "GetPWN3D" Saul won his title in Event #11 and last night we had two of our predictions, Dave "Doc Sands" Sands and Chris "moorman1" Moorman, make pretty deep runs.
FTOPS XIII Event #16 Results
PL Omaha/8 Knockout
Players: 1,247
Buy-in: $240+$16
Prize Pool: $249,400
1. TheRipcurl - $54,868.00
2. SoulCollector22 - $34,916.00
3. Doc Sands - $25,251.75
4. Bhanks11 - $20,263.75
5. gottaBetheShoes - $15,288.22
6. BETFISHANDCHIPS - $11,223.00
7. skanky980 - $7,232.60
8. Lucky_Lupine - $5,237.40
9. ScaredSayScared - $3,741.00
FTOPS XIII Event #17 Results
NL Hold'em 6-max Rebuy
Players: 1,134
Buy-in: $300+$22
Prize Pool: $1,180,200
1.* xqsays - $206,119.50
2.* MoormanI - $204,000.00
3. footwork - $116,839.80
4. David Pham - $87,334.80
5. rjinnj - $62,550.60
6. Wretchy - $40,126.80
* Winnings reflect post-deal payout amounts.
Notables: solohomer, 11th-$12,982.20, Auranzeb "Ozzy 87" Sheikh, 12th-$12,982.20, Jeff "crazysavage" Gressard, 14th-$9,441.60, Shane "HateItOrLoveIt" Schleger, 26th-$5,310.90, Matt "NoBadBeatsPlz" Kay, 27th-$5,310.90, Josh Arieh, 29th-$5,310.90, Christian "charder30" Harder, 30th-$5,310.90
There are only a few days left for you to claim your FTOPS title. Sign up for Full Tilt Poker now.
PokerStars EPT London Schedule Announced
PokerStars has just released their schedule for the EPT London event. It will run from September 30 - October 7 at the Hilton Metropole Hotel. There are sixteen seperate events scheduled, making this the biggest PokerStars EPT Poker Festival ever.
Returning to the lineup is the popular three-day EPT London £20k High Roller event. For the first time a £2k European 8-Game Championship will be introduced as well several lower buy-in events. This Festival follows two weeks of preliminary events that will run throughout London.
"The PokerStars.com EPT London Poker Festival will have a rich mix of games and buy-ins to cater to the most players possible in a compelling schedule - by poker players, for poker players," said EPT Chief Executive, John Duthie. "This continues on the fundamental programming shift made for last season's EPT Grand Final where we tried to create the best opportunity for all our players, not just higher-rollers, to play a wide mix of poker games and formats at a variety of accessible buy-ins."
The EPT London Festival is being run together with the Grosvenor Victoria Casino. The event has been moved to the London Hilton Metropole Hotel in order to accommodate the increased number of players expected. The new venue will be able to accommodate more than 800 players and the event will have an estimated prize pool of over £4 million.
Want to win your way to London? Sign up for a PokerStars account and check out their online satellites.
Gus Hansen's Downswing
We wish we were talking about his golf swing, but we're not. Full Tilt Pro, Gus "The Great Dane" Hansen has had a bad past few months. Big swings in bankrolls are something the nosebleeds players are accustomed to, but this one is pretty bad.
For the first three months of the year, Hansen was the most profitable player on Full Tilt. He was up over $3 million. Things changed in April however, and have not looked back. Hansen has played 93,975 hands from April 1st to August 12th and has reportedly come into the red about $5 million. Here's to hoping Hansen has one of his extraordinary comebacks up his sleeve.
PokerKing has the rest of the story.
Boku87 Challenge #2
In March, Boku87 decided he was going to turn $100 into $10,000 in fourteen days. He did just that. He's going a step further this time and has decided he will turn $5 into $100,000, in just twelve months.
Boku87 will be playing exclusively on PokerStars, starting out with 10 cent SNG's and .02/.04 limit hold'em cash games. He'll be grinding away for eight hours a day. This challenge has prompted a (as of now) 128 page thread on TwoPlusTwo. The challenge began on July 15th and according to the thread today, Boku87 has already made $13,756.33. He's got a long road ahead, but 13K is a pretty significant start. Mid-stakes grinders, beware.
You can read more about the challenge atPokerStars.
Scotty Being Scotty
RawVegas.tv's video series Scotty Being Scotty gives viewers a glimpse in to the life of Scotty Nguyen. Scotty films a commercial in the latest video. We can't advise you to play poker on your laptop in the pool like Scotty, but if you're into chicks that look like Megan Fox, and want to laugh a little, check out the video below.
Get your chance to beat Scotty at the tables and sign up for an Expekt.com account.
Watch Expekt.com Commercial Day 1 on RawVegas.tv
Like getting your news this way? Let us know below. Show us you care by becoming our fan on Facebook.