The Monkey off his Back: Devo Dishes about his WSOPC Win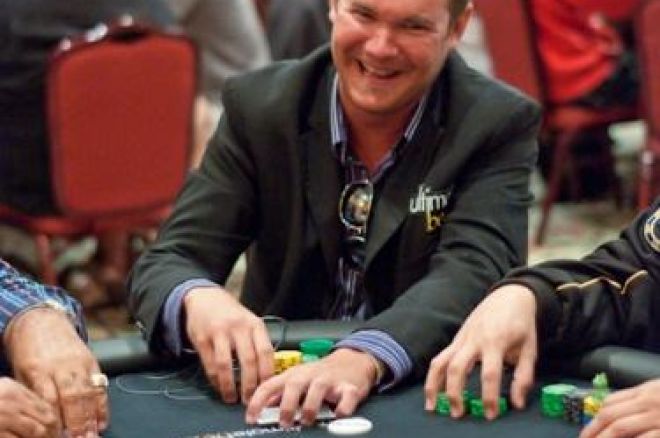 Bryan "Devo" Devonshire finished second in the Casino Employee tournament at the 2006 World Series of Poker and won himself a career on the high-stakes tournament circuit. After scoring that second-place finish in his first big event, Devo set his sights on a major tournament victory. But for the last four years, the affable pro has suffered from chronic bridesmaid syndrome. He was one spot away from a bracelet again in an Omaha high-low split event in the 2007 WSOP and finished runner-up to Lee Markholt at the WPT World Poker Challenge in 2008.
Devo also took second at a Wynn Classic event at the beginning of March. Three weeks later, he found himself heads up once again, this time at the $5,000 WSOP Circuit Main Event in Rincon. Determined to break the second-place cycle, Bryan proved that history doesn't have to repeat itself. Devonshire won his first major title, earning confidence and peace of mind along with $114,975, a circuit ring, and a WSOP Main Event seat.
Bryan turns to nature and a solid group of friends to keep his life in balance no matter what the balance on his bankroll reads. While PokerNews spoke to him about his big win and the evolution of his game, Devo was on the road to the Colorado River for a few days of boating, relaxing, and of course, a healthy dose of drinking. He was "pretty stoked for the first lake trip of the year," and he's got a lot to celebrate on this one.
How does it feel to finally have a big win under your belt? How focused were you on adding a "W" to your resume?
The win mattered a lot to me because it was good to finally win one of these damn things. It was my fourth major event final table, and I got second in the other three, so I guess I was kinda due. I got down nine-to-one against Dan [Schreiber], so coming back from that against a guy who has a heads-up bracelet felt really good. (Schreiber won the $5,000 Heads-Up World Championship at the 2007 WSOP.)
Your March cashes put you over the $1 million mark in lifetime live tournament winnings. Does that mean anything to you?
It's a fun milestone. I certainly don't have a million f*&%ing dollars, so it doesn't really matter that much.
How did you handle the frustration from so many near misses?
I felt cursed for a while, especially since the '08 Series. I just felt like I was running significantly below expectation in those big pots that matter at the end. The variance in live poker is so pronounced, and I understand that. In a week online, I can play the equivalent of what I can play in an entire year live.
I don't know how some live players stand it. The stretches of not winning can be so long. You're always looking at your game and trying to play better, but variance just is what it is. It's a fact that you start making mistakes and letting it affect your play a little. You just have to focus on games where your edge is greater so your win rate is higher.
(At this point, Devo paused the conversation to stop at a grocery store and stock up on water and beer - a lot of beer - for the weekend on the river. Then back on the road, and back to the interview.)
This circuit ring has been a long time coming. Did you ever get discouraged?
It's definitely discouraging when you're not putting up results. We're human beings. You can't really help it. I've been around this game a long time, and every single year the ups and downs are bigger than the year before. But that's a good thing. It means that you're getting better and moving up and playing bigger. Live poker is a long-term game, and one year certainly isn't long term.
Did you change your approach to the game at all before Rincon?
I started an experiment during the Wynn event where I was trying out a more loose aggressive style. I'm usually on the more nitty side, but I think I've opened up my game enough to compensate for where the game has come to now. The meta-game is just so dynamic. You constantly have to stay one step ahead of it, and I think I may have lucked out by trying to be loose aggressive at the right time. Maybe the game has come full circle, and we're back to more like 2005, where it's easier to play laggy again.
I also think game selection is a really important aspect of the game that not many people talk about. There are still lots of good spots and lots of good games to make money in, but there are also a lot more good players these days. You can get yourself in some not great spots or you can take your time and find some good ones.
So Rincon was a good spot?
I thought Rincon would be good because not many circuit regulars would show up, and I was right. Of course, I thought the same thing about Lawrenceburg, Indiana, and I was wrong. Everybody and their mother showed up there.
How did you feel during the Rincon event? Did it feel different from the other final tables you've played?
I felt like I'd be able to make the top three or four no problem, but the way Dan was running, there wasn't a damn thing I could do to get any more chips than I did on the way to heads up. I felt great at the final table. I made the nut full house on the first hand and got paid. But as soon as we got heads up, he was just hitting everything. I got down nine-to-one and got a little bitter about things, but then I flopped trips and doubled up and won a race and battled for an hour, and that was that.
Do you feel less pressure now that you've won a major event?
I think it's just a springboard. It's a pretty small title. It's the smallest circuit main event field ever. It's not like it validates me as a poker player or anything. Nolan Dalla wrote that it was my breakthrough victory. No it's not. It was just a confidence builder and got the monkey off my back. And now I can just run forward faster without all that stuff to worry about. Now I'm just super pumped for the Series, and I feel really good about the year.
Can Devo keep his momentum going? Follow him and all of your other favorite pros at WSOPC Caesars starting April 27th and the World Series of Poker beginning in June with live, up-to-the-minute coverage on PokerNews.
Follow us on Twitter for up-to-the-minute news, and also become our fan on Facebook.