The Nightly Turbo: Joran van der Sloot in Peru, Norway's New Gambling Laws, and More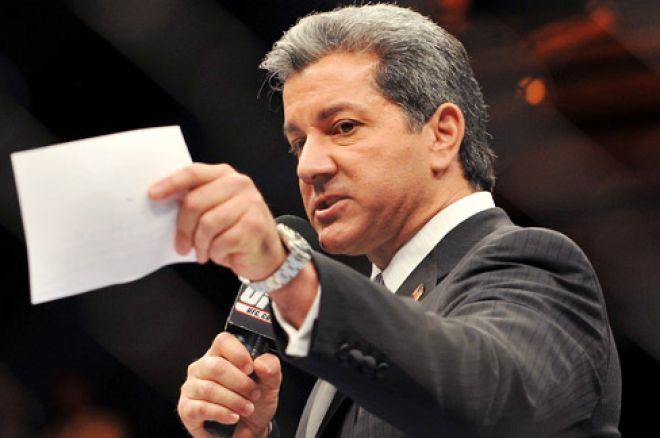 Wondering what's going on in the poker world today? Well, Joran van der Sloot was in Peru for the Latin American Poker Tour and was arrested for the murder of another young woman, Norway's new gambling laws have gone into effect, and Bruce Buffer has a poker room in Vegas. Read on to find out more.
In Case You Missed It
The World Series of Poker has been called "just like high school" by many. We like to think of it as a soap opera. As the World Series Turns will be bringing you the most memorable scenes from the halls and rooms of the Rio at the 2010 WSOP. Here is the first episode.
Two bracelets were won yesterday and fields were trimmed. What happened on Day 6 of the WSOP? You'll have to read this to find out.
It's that time of year again, when a lot of poker players make a lot of bracelet bets.Tom Dwan is one of those players and if he wins, it'll be his biggest winning day yet. Check this out for more.
Wanted: Joran van der Sloot
Exactly five years after the disappearance of Natalee Holloway in Aruba, another murder occurred that was linked to Joran van der Sloot. Stephany Flores was killed Sunday in a Lima hotel and police connected van der Sloot to the tragedy. What does all this have to do with poker? Well, the LAPT Peru was being held there and rumor has it that van der Sloot was in town to play.
An international arrest warrant was issued by Interpol. Van der Sloot crossed into Chile at the Santa Rosa border on Monday. At the time of this writing, reports have come out stating that he was apprehended by the Chilean police and was being detained.
Reuters has more.
Norway's Newest Gambling Laws
June 1 wasn't just a day that poker players in the U.S. were fearing, it turns out, Norway's players also had some laws go into effect that could disrupt gambling transactions. The Norwegian laws that went into effect are similar to the ones in the U.S. Norwegian based financial institutions have been told not to accept transactions from online casinos that haven't been approved by the Norwegian government. Two have been approved so far: Norske Tipping and Rikstoto.
Find out more here.
Buffer Room
The Luxor has just opened the Bruce Buffer Poker Room. Buffer is known as the "voice of the UFC" and is also a Friend of Full Tilt Poker. The room will host a variety of tournaments and activities that are sure to pick up around fight weekends in Las Vegas. Buffer will make appearances throughout the summer and there will also be special tournaments in which players will get to take him on in a heads-up match.
The Bruce Buffer High Stakes Poker Lounge will house one table for high-limit games and is available upon request, so if you're jonesing for Buffer-inspired gear, you can check out the Buffer Zone Retail Shop in the LX Logo Shop.
Yahoo! Sports has more.
All in 4 Autism
The Third Annual Grand Poker Series at the Golden Nugget kicks off this weekend with the inauguralAll In 4 Autism Charity Poker Tournament. Former Miss USA Shanna Moakler will host the event, which begins at 6 p.m. on June 4. The buy-in is $220 with $100 rebuys and all proceeds will go to autism services in Las Vegas. The winner of the tournament will take home $10,000.
"We are very happy to be partnering with the Golden Nugget, its Grand Poker Series and many of Las Vegas' finest poker pros and celebrities to host this very special and important charity event," said Karina Jett, pro poker player and national spokesperson for the nonprofit organization. "All monies raised will go to increasing awareness of the limited services for autism in Las Vegas."
Scheduled to appear are Jason Alexander, Dan Henderson, Erik Seidel, Adam Schoenfeld, Joe Rietman, Miss Nevada USA Julianna Erdesz, Mike Swick Lee Watkinson, and many more.
If you want to get out of the Rio for a day, head on over to the Golden Nugget Friday and help out a great cause.
You Missed Out
Last night the Hard Rock Poker Room hosted the weekly PokerNews $4/$8-limit hold'em half-kill game. If you weren't there, you missed out. Annette Obrestad came out to play as did DeucesCracked's TV stars Jay Rosenkrantz and Emil "WhiteLime" Patel from Two Months Two Million. They weren't the only DeucesCracked members to show up. Chuck "danzasmack" Danielsson and Joe Tall were also present. And, of course, Team PokerNews was there with Matthew Parvis, Gloria Balding and Nicole Gordon scooping pots while the rest of the team was busy bringing youall the WSOP coverage you could ask for.
If you didn't get a chance to come out, don't worry. PokerNews has two games running weekly. The $4/$8-limit half-kill runs every Wednesday, and Sunday's have been dubbed sit-n-go Sundays. Not only are these games fun, but you could win an iPad.
The Hard Rock is Team PokerNews' home for the WSOP. Make it yours with the special promotion we're offering to PokerNews readers.
Calling the Clock: JRB
Kristy Arnett called the clock on Jean-Robert Bellande on break of the $1,500 event that started yesterday. Lag or Tag? Is he a good listener? And what would he do for $42 million?
Your Facebook page can use another friend, so add us, and follow us on Twitter for up-to-the-minute news.