The Nightly Turbo: A Seven-Year-Old Poker Prodigy, a Casting Call for a Poker Reality Show, and More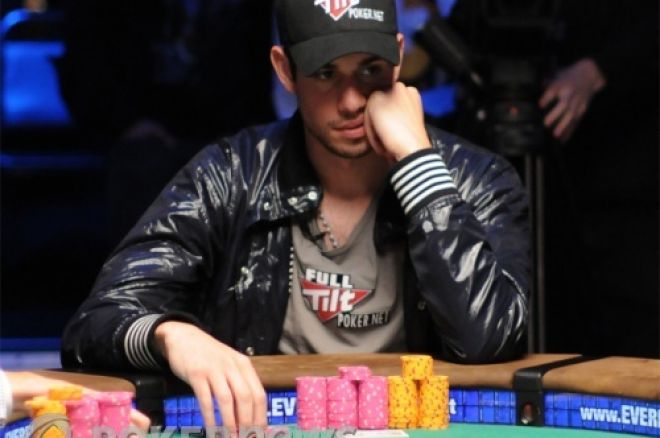 Your friggatriskaidekaphobia might be kicking in today, but here at PokerNews HQ, it's just another day. We're going to bring you the news so you have something to talk about, and we're going to take credit for teaching you a new word (see: friggatriskaidekaphobia). In the line-up tonight, we're going to tell you about a seven-year-old poker prodigy, a casting call you might be interested in, and a new show on MTV (don't dismiss this just yet) called the World of Jenks that features Nick Schulman in one episode. Let's get on with the show.
In Case You Missed It
Wondering what it takes to make Supernova Elite on PokerStars? Dusty "Leatherass" Schmidt give us his advice on making SNE and what it takes to get there.
With Day 1b of the PokerStars European Poker Tour Tallinn in the books, that means the final numbers are in. How many showed up and who's hopes for the first title of season seven of the EPT are still alive?You'll have to read the recap.
While Las Vegas casinos might not be faring well, the casinos in Macau are making up for it. Inside Gaming has your Macau report this week.
We sat down with Rayan Nathan earlier to discuss petanque, the November Nine, and more. Didn't catch it earlier today? Check out Off the Felt for more.
Can you smell fall in the air yet? No? You're right, it's probably a bit too far away for that. But you can feel it, because preseason football is on the TV. Thinking about joining that fantasy league in your office finally? If you are, you'll need to check out the Pigskin Diaries first.
Youngster on the Felt
If you spent any time at the World Series of Poker this year, you may have noticed a little girl wearing a signed t-shirt who was walking around the halls with her father. You may have walked by the next WSOP Main Event winner. Her name is Alexa Fisher, she's seven-years-old, and she loves poker.
Alexa chose to go to the WSOP this year for her family vacation. The pint-sized poker player started watching poker on TV at age three. To teach her counting and numbers, her father used a deck of playing cards. In the last two years, Alexa has spent her time learning all the games that are played at the WSOP.
In an interview with Card Player Magazine, Alexa said: "I know how to shuffle and deal the cards, raise, check, fold, and bluff. I also know how to play deuce-to-seven lowball, H.O.R.S.E., and badugi. I can now play any poker game with the best poker players in the world!"
Read more about Alexa on the BodogBeat.
Beauty and the Beasts
We told you about the Fatty's Poker Team last month, well they're back, hosting a casting call for their reality television show. Fatty's: Where Poker Gets REAL, which is currently in production, is focusing on the relationships on and off the felt of some of the East Coast's top pros.
Lacey Jones is involved in the project and will be on site to evaluate the auditioning hopefuls. "We are all thrilled to have Lacey Jones involved in this project. She is a highly regarded poker player with a great personality and will be a perfect fit with the unique characters that play at our members-only club. Lacey has a flare for bridging the gap between amateur poker players and the top pros of the world," Fatty's club founder Mike Castaldo said.
Find out more here.
World of Jenks
The series premiere of World of Jenks is September 13 at 10 p.m. EST on MTV. You might ask yourself, "Why are they telling me this?" Well, Andrew Jenks, the director and host of the show is bringing us this documentary to show us what it's like to live the lives of people in all parts of the U.S., from all walks of life. Jenks moves in with these strangers for a week to bring us a glimpse into their lives, whether they are a MMA fighter, a homeless teen, an NFL cheerleader, and you guessed it, even a poker player.
Jenks followed Nick Schulman around during this year's World Series of Poker. We're not sure when his episode will air, but we've got the trailer below for you.
And you can check out the World of Jenks Facebook page for more.
Want a Piece of the Action?
It's always more entertaining to watch poker when you have a little vested interest. Tony G is offering shares of himself on ChipMeUp for an upcoming tournament on PokerStars and if you buy a share, you get a one month subscription to PokerNews Strategy.
So what we're telling you, is you get the opportunity to win if Tony wins, but you essentially win anyway, because the knowledge you'll gain from your subscription to PokerNews Strategy will help you win more than you already do.
Head on over to ChipMeUp to get in on the action.
Coinflip Challenge
Think you're a triple threat? The Coinflip Challenge is offering one player the chance to play against some of the world's best in poker, chess, and backgammon.
Here's the deal: you wager $10,000 and if you beat all three players, you win $100,000. The competition takes place October 8 through 10. Who do you have to beat? Your backgammon opponent will be 2004 World Champion Peter "World Champ" Hallberg. As for your match-up in chess, that will be Sune "GrandMaster" Berg Hansen. Then you'll be take on Ilari "Ziigmund" Sahamies in pot-limit Omaha sit-n-go action.
Think you have what it takes? Coinflip.com has more information.
Picking Favorites
How many times have we told you that season seven of the European Poker Tour kicked off in Tallinn, Estonia, this week? Well, Gloria Balding went on a mission to find out what season was the pros' favorite. Here's what they had to say.
Your Facebook page can use another friend, so add us, and follow us on Twitter for up-to-the-minute news.