The Nightly Turbo: Mizrachi Joins DeepStacks Live, Ivey's Still the Nuts, and More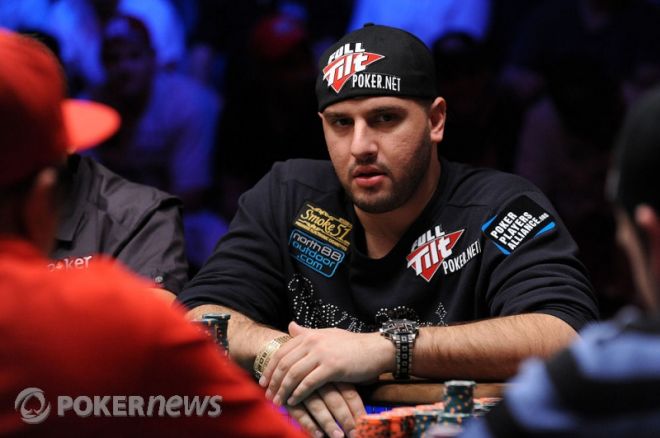 Wondering how Michael Mizrachi won the Player's Championship this year and final-tabled the 2010 World Series of Poker Main Event? Well, Mizrachi has signed on as an instructor for the poker training site DeepStacks Live. In other news, as if most of you didn't know this already, Phil Ivey is still the nuts, and the PokerNews Team is in Brazil for the latest stop on the PokerStars Latin American Poker Tour, so we're bringing you a little tour of Florianopolis.
In Case You Missed It
Adam Junglen talked strategy with us recently and we brought you Part 1 of his hand analysis from the WSOP. What good would we be if we didn't bring you the second part. Here you go.
Lynn Gilmartin travels the world bringing you interviews with poker players traveling the circuit. What you don't get to see is the behind-the-scenes stuff. Lynn has begun blogging her travels to give you a glimpse of the destinations she visits, and like her latest trip to Brazil, traveling isn't always sunshine and rainbows.
The FTOPS XVII got under way Wednesday with the first event attracting a field of 4,591, surpassing its $750,000 guarantee. Who came out of it on top? Find out here.
Bankroll looking a little slim? Love Rush Poker? Our latest edition of Bankroll Builders will give you the scoop on the Rush Poker sit-n-goes and how they could help you out.
Sorel Mizzi's poker schedule is packed with events this year. Where is he headed? What are some of his pre-tournament superstitions? Check out Off the Felt to find out.
Learning from The Grinder
So, he won the $50,000 Poker Player's Championship, and he final tabled the 2010 World Series of Poker Main Event, and now Michael "The Grinder" Mizrachi wants you to learn how to play poker. He has signed on as the newest instructor for DeepStacks Live.
"I had a lot of options after the WSOP, but DeepStacks Live was the right fit for how I play and how I want to teach others to play. They are the most innovative and hands-on training company," Mizrachi said. "The other Team DeepStacks Pros I'll be teaching with include Hall of Famers and poker legends, guys who I've really respected for a long time and joining their team was a no-brainer for me."
Most of Mizrachi's classes will be taught in Florida where new laws were enacted in July allowing for uncapped play and extended hours of operation for card rooms. Mizrachi joins the team, which includes Justin Smith, Adam Levy, and Mike Matusow.
Training classes are coming up in California, Florida, Nevada, and elsewhere. Find out where the next one will be by heading over to DeepStacks.com.
Google Search: Poker
The video below is classic. Lee Przytula took the Google Search commercial and tailored it to poker. Where can you end up with a harmless "Matt Damon movies" search? Check it out.
The Nuts
It's time again for the latest installment of ESPN's the Nuts, the monthly blog post that ranks the best players at the moment. The Panel includes PokerNews' Editor-in-Chief Matthew Parvis, PokerNews' Tournament Reporting Manager Don Peters, ESPN's Andrew Feldman, Gary Wise, and Bernard Lee,Bluff Magazine's Editor-in-Chief Lance Bradley and Bluff Magazine's senior writer Jessica Welman, PokerRoad's Court Harrington, and ESPN Deportes poker editor Nahuel Ponce.
The top spot on the list hasn't wavered in quite some time. Phil Ivey is holding strong to that spot. Jason Mercier, who in June's rankings was in second place, fell to the fourth spot, with Michael Mizrachi taking over those honors for him.
Daniel Negreanu and Scott Seiver fell from the rankings while Alexander Kostritsyn and John Juanda filled the two spots.
Were there any major shake-ups? Head on over to ESPN to find out.
Viva Mexico!
PokerStars Team Pro Mexico is now another member stronger. Wednesday night at the PokerStars.net Latin American Poker Tour Florianopolis welcome party, LAPT President David Carrion announced that Christian de Leon would be joining Angel Guillén on Team PokerStars Mexico.
Congratulations David! Want to play with the pros? Sign up for a PokerStars account today!
LAPT Florianopolis
The PokerNews Live Reporting Team is in the Southern Hemisphere covering the PokerStars.net Latin American Poker Tour Florianopolis. Lynn Gilmartin brings you the Day 1 update from the tournament floor and some clips from Wednesday night's welcome party. Also, Nacho Barbero seems to think he has a shot of going back-to-back-to-back and he even wagered on it.
Following us on Twitter is a really good idea. Another good idea? Facebook.