The Nightly Turbo: Legal Troubles for Mizrachi, PartyPoker World Open Update, and More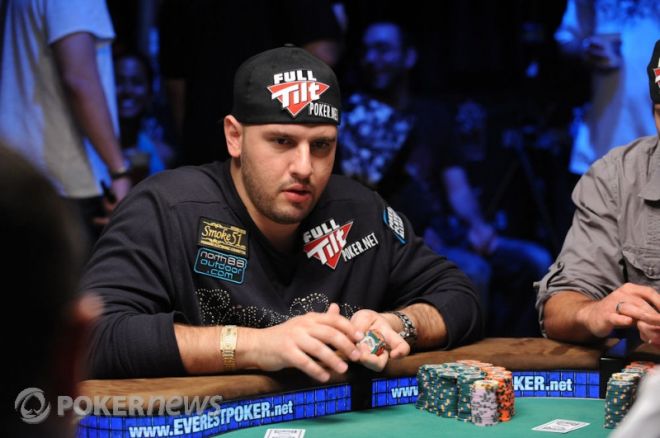 In tonight's Nightly Turbo, we're bringing you the news on Michael Mizrachi's latest legal woes, an update from the PartyPoker World Open, and more.
In Case You Missed It
If you're headed to London for all the poker that is going on in September, then you might need a traveler's guide. Good thing Lynn Gilmartin has been to London and can tell you about the best places to go. Check out Around the World with Lynn for more.
The fourth day of the 2010 PokerStars WCOOP is out of the way. Looking for the results? We've got them for you in the WCOOP recap.
There are plenty of online poker sites out there. In Poker Skins Undressed, we break it down for you and give you the information you need to know.
Kristy Arnett gives you a sneak peek at her life in Las Vegas. Check out Las Vegas Life for more.
What happened to the final table players at the 2003 WSOP Main Event? We have your answers in the first edition of Where are They Now.
Mizrachi Delivered
Before a major poker tournament, (that you've been preparing for for a few months) you would probably want to have a clear head so that you could focus on your game and the task ahead. Michael Mizrachi has been hit with a lawsuit from a Texas company called Deliverance Poker.
The company states that Mizrachi agreed to sign with it in July of 2009 and by doing so received $150,000, a 1.75 percent interest in the company, and "advance expenses related to poker tournaments in which Defendant Mizrachi would participate." Mizrachi was seen sporting Deliverance patches throughout some of the 2010 World Series of Poker, but if you recall, he is now donning a Full Tilt Poker patch, a deal which he signed after he made a deep run in the Main Event.
Tiltware, Full Tilt's software and marketing company has also been named in the suit. Neither Mizrachi nor Tiltware has commented on the matter yet.
The Cake Poker Blog has more.
PartyPoker World Open
The PartyPoker World Open VI is under way in London. There are eight heats and currently the sixth one is being played at the Palm Beach Casino in Mayfair. Sam Trickett won the first heat, Andrew Robl took the second, John Duthie came out on top of the third heat, Yevgeniy Timoshenko the fourth, and Dale Hoy won the fifth.
Eight players took their seats Thursday for heat six: Mike Sexton, Bruno Fitoussi, Sorel Mizzi, Fabrice Soulier, Sandra Naujoks, Juha Helppi, Roberto Romanello, and Jennifer Tilly. At the time of writing this, Soulier, Helppi, and Mizzi had all made their exits.
Want live updates from the set? Head on over to the PartyPoker Blog.
On the Tube
A new episode of the Doubles Poker Championship is coming your way on GSN on Saturday night at 9 p.m. EDT. In case you're not well-versed in the DPC, two players share a hand and alternate playing each street. The preliminary rounds are half-way done and Johnny Chan and Huck Seed are the only two players who have won both of their first two matches. There are 28 other players in the mix and they will need 35 points to reach the playoffs.
This week's episode features two matches. Match 9 has Phil Hellmuth paired with Toto Leonidas, Annette Obrestad with Annie Duke, Phil Laak with Phil Ivey, and Jennifer Harman with Phil Gordon. Match 10's line up looks like this: Huck Seed and Carlos Mortensen, Mike Matusow and Allen Cunningham, Tony G and Johnny Chan, and Tom Dwan and Antonio Esfandiari.
We've given you the lineups, now you just have to remember to watch the show on GSN at 9 p.m. EDT.
Petition to Play
Poker halls in Portsmouth, Virginia, have bene shut down by the Commonwealth's attorney Earle C. Mobley, who had previously declined prosecuting the halls, but has since reversed his stance saying that, "he didn't want Portsmouth to become a gambling center." One of the poker halls affected was Charles Daniels' Poker Palace.
Daniels petitioned the courts on Tuesday to resume the games at his hall. Daniels offered tournaments and cash games and claims in his petition that the games have generated more than $700,000 for charities. Daniels' attorney plans to show that Texas hold'em is a game of skill, which would make it legal under the state's gambling laws.
Mobley and Attorney General Ken Cuccinelli are named as defendants in the petition.
Read more on HamptonRoads.com.
What Not to Do
Kristy Arnett caught up with Thuy Doan to come up with a list of things not to do or say to a woman at the poker table. We have to say, we've seen some of these things happen firsthand, so this list is not too far off.
Following us on Twitter is a really good idea. Another good idea? Facebook.