The Nightly Turbo: ESPN's The Nuts Rankings, Tony G Nominated for European Poker Award, and More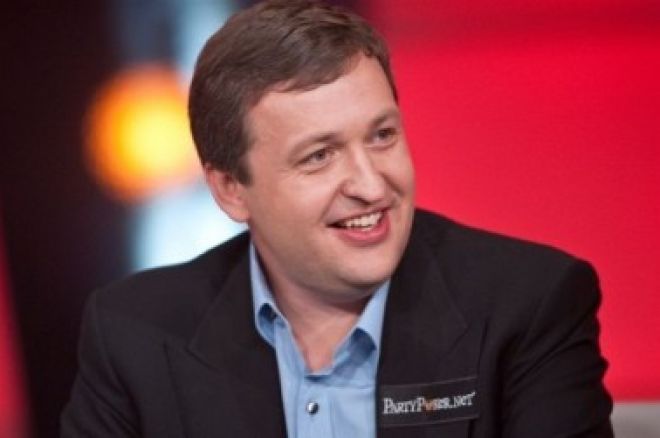 Unlike your New Year's resolutions that probably won't last through March, we'll be here daily, bringing you the top poker stories of the day. Today is no different, so read on to find out who topped the last ESPN The Nuts rankings of 2010, PokerNews' Tony G's nomination, and more.
In Case You Missed It
Kristy Arnett, Donnie Peters, and Rich Ryan are joined by Team PokerStars Pro Lex Veldhuis to discuss PCA, Tony G and Isildur1, and UB. Listen to all in the latest PokerNews Podcast.
It's not all poker all the time here at PokerNews HQ. We like to keep abreast of the latest poker news in the gaming industry and then bring it to you. This keeps you well-rounded. Check out Inside Gaming for more.
If you're wondering how your favorite nosebleeds players did in 2010, look no further. The Online Railbird Report has the 2010 winners and losers, as well as some of the 2011 action from the weekend.
Tom "durrrr" Dwan and Daniel "jungleman12" Cates met for a little "durrrr" Challenge session on Monday. Close to 3,000 hands were played and 14 six-figure pots were made. Who came out on top? You'll have to check out the "durrrr" Challenge recap for that.
We sure do hope when we look back on this story in a year that we won't look like fools. Check out our 11 Predictions for 2011 and let us know what you think.
We're expanding our on-air family, so we're looking for two hostesses to add to our roster. Think you have what it takes to hang with Lynn, Kristy and Gloria? Then you'll want to read more on the PokerNews Hostess Hunt and send in your audition video.
The Nuts
The latest installment of ESPN's The Nuts is back. The monthly blog post ranks the best players in poker at the moment. The rating panel includes PokerNews' Editor in Chief Matthew Parvis, PokerNews' Tournament Reporting Manager Don Peters, ESPN's Andrew Feldman, Gary Wise, and Bernard Lee, Bluff Magazine's Editor in Chief Lance Bradley and Bluff Magazine's Managing Editor Jessica Welman, PokerRoad's Court Harrington, PokerNewsDaily's Dan Cypra, and ESPN Deportes poker editor Nahuel Ponce.
The top spot went to none other than Mr. Phil Ivey. He received eight of the ten number one votes. "The bottom line is, until someone proves he or she can beat Ivey, you can't knock him out of the top spot," Peters said. Jason Mercier sits in the number two spot again, and Patrik Antonius maintained his spot at number ten. The rest of the list saw a little movement.
Vanessa Selbst moved up three spots from eight to five as did Tom Marchese who moved from sixth to third. On the downswing was Michael Mizrachi who moved from third to seventh, and Sorel Mizzi who is sitting in ninth place on the list for December.
Check out the entire list and what the panel had to say at ESPN.com.
And the Nominees Are....
Nominations for the 10th Annual European Poker Awards have been announced and our very own Tony G is up for an award. Tony is up against Jesse May and Anthony Holden for the Rob Gardner Memorial Award for Poker Personality of 2010. We'll be rooting for him to take this one home.
Also nominated are Liv Boeree and Annette Obrestad for Europe's Leading Lady, and James Bord, Jake Cody, 2010 November Niner Filippo Candio, Liv Boeree, Tobias Rinkemeier, and David Vamplew for Outstanding Tournament Performance.
Other categories include Rookie of the Year, Lifetime Achievement, Internet Player of the Year, Poker Staff Person of the Year, and Player of the Year. The awards will take place in Paris on February 13.
UK.PokerNews.com has the entire list of nominations.
Live at the Bike!
From early in 2005 through 2008, poker fans were able to watch a live cash game that ran at the Bicycle Casino. Live at the Bike! was unscripted, had no set cast, and viewers could see the players hole cards. After a hiatus, the show is back.
The first episode will air Tuesday, January 4 at 7:30 p.m. and is scheduled to be a $5/$10, $500 buy-in no-limit hold'em game. Former Live at the Bike! regulars, Corporation Mike, Barry Woods, and Action Mo are already confirmed. The show is aired on a ten-minute delay and the 17 cameras that have been set up in and around the table will capture every flop, turn, and river, including the player's hole cards, while Nichoel Jurgens, Adam Strohl, Bart Hanson, and David Tuchman call the action.
You can watch the show on PokerNetCast.com
PokerStars Macau 2011 Schedule Announced
Five years ago, no-limit Texas hold'em made its debut at the Grand Lisboa Casino in Macau, and since then, the casino has become the leader for live poker tournaments in Asia. The largest poker room in continental Asia, PokerStars Macau, has announced its 2011 schedule of events.
First up is the Macau Poker Cup, which gets under way February 22 with a HKD $1,000 Charity Event. The buy-in for the Red Dragon Main Event has been increased to HKD $11,000, and there is a HKD $3 million guarantee!
From there, the Macau Millions will kick off in April, the Macau Poker Cup Finale in October, and the Asia Pacific Poker Tour Macau will return in November for its fifth installment.
Recently, the high-stakes cash games have picked up in Macau, with the likes of Tom Dwan, Phil Ivey, and John Juanda making their presence known there. We don't think we're stretching by saying we might be seeing more of that in the future.
The PokerStars Blog has more on the Macau Poker Cup schedule.
Have you seen our new $40,000 Freeroll Series from Lock Poker? Lock Pro Supremacy not only has four $7,500 Freerolls but it also has 25 $100 Lock Pro Bounties in each tournament, so you can boost your bankroll even if you don't make the money.