The Nightly Turbo: PokerNews Big Game Interactive, Multi-Entry Drama, and More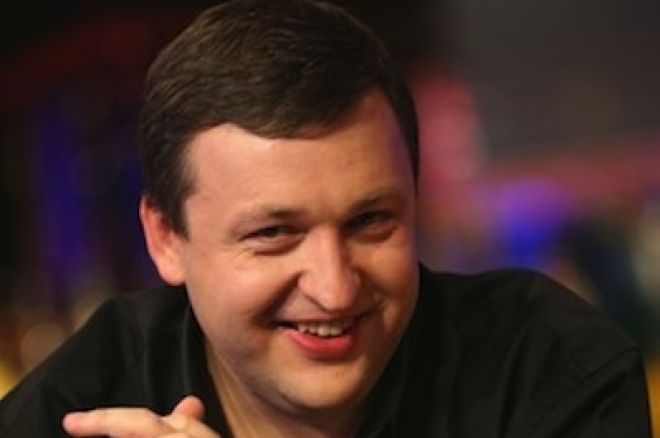 Tony G is just one of the players scheduled to take part in the PartyPoker Big Game V this weekend. Want the power to vote someone off the show or watch it live with hole cards? We'll tell you how, catch you up on the Full Tilt Poker $1K Monday drama, and more in this edition of the Nightly Turbo.
In Case You Missed It
There has been plenty of talk regarding AB 258, a bill regarding online poker that was introduced into the Nevada Legislature. The bill has passed through the state assembly judiciary committee, but very much altered than the way it was introduced.
Do you sometimes raise after only looking at one card?Ronnie Bardah does, and in this hand he recounts from the NAPT Mohegan Sun, it worked out for him, maybe we should add this poker strategy to our repertoire.
The World Poker Tour Hollywood Poker Open was set Tuesday night and Erik Seidel has found himself there, although not leading. Check out the WPT recap to find out who else made the final table and who's sitting with a monster stack.
Last month, the 6th Annual Full Tilt Poker Miriam Foundation Montreal Open was held in Quebec, Canada. If you missed it, you missed playing with the pros, and your shot at one of five WSOP Main Event seats. Here's a look at the event, and who's headed to Las Vegas to play for the WSOP seats.
The PartyPoker Big Game V kicks off this weekend. We've got some pretty cool promotions running during the event, and we'll be streaming it live with hole cards.
Greg Raymer was at the WSOP Circuit stop in St. Louis to play, and host a Fossilman Training course. We always wondered about his split with PokerStars, so we asked him.
Watch | Play | Win
If you skipped down to this, then you missed the link to the article telling you all about the PokerNews Big Game Interactive. You should already know that the PartyPoker Big Game V is kicking off on April 15, (that's Friday) at 1900 GMT, and you might be wishing you could be there to watch it. Don't worry, PokerNews will be streaming it live with hole cards. And if you don't like a player on the show, you'll have your say in evicting him or her. Not only that, but we'll also be running $5,000 in exclusive promotions during the 48-hour cash game.
"The innovation of introducing streaming and evictions will make for engaging viewing. This is no ordinary poker live stream, you will get hole cards, graphics and the TV commentary from Jesse May and a variety of co-commentators over 48 hours – it will be like watching it on TV. Who's a nit? Who don't you like? You have influence! The only exceptions to eviction are that statistically the most active player is exempt and that each of the "PartyPoker.com Wildcard" online qualifiers are guaranteed four hours play. You will be able to watch the stream, get involved with the action, and vote on all PokerNews.com home pages worldwide," a PartyPoker spokesperson said.

Click here for a breakdown of the $5,000 in exclusive promotions, and more on the coverage of the PartyPoker Big Game V we'll be bringing you beginning Friday.
$1K Monday Drama
On Monday, the Full Tilt Poker $1K Monday ran as a Multi-Entry tournament with a $1 million guaranteed prize pool. The tournament drew 995 entries, with $225,000 up for grabs for outlasting the field. Things were business as usual until, the final three players were told the servers were being reset at 0600 EDT and the tournament would be cancelled if it wasn't over before then and the players would be paid out by a chip chop if a deal wasn't made.
The dialogue (too long to post here) that ensued after that announcement is in a thread on PocketFives, but you should know that a deal was not reached and the tournament was canceled. Through all the angry posts in that thread, FTPDoug, the Full Tilt director who was involved in this situation, posted his explanation and mentioned that he would be willing to work with the three players to make it up to them. He also said he is working on getting the site maintenance moved to Wednesday to avoid any future complications.
Read the entire thread on PocketFives.com.
Failed to Get There
Both Florida and Hawaii had introduced bills to legalize online poker (and in Hawaii, live poker as well). However, it seems that both bills have been killed.
Florida
The sun is no longer shining on the online poker bill Sen. Miguel Diaz de la Portilla sponsored, which would have regulated intrastate poker. The bill was voted on by the Senate Criminal Justice Committee and with a 2-2 tie, it was stopped in its tracks.
"What we're trying to do here is create Florida intrastate poker network and do it with Florida companies with regulations here — protecting from identity theft and protecting the consumer — and having revenue go to the state," Diaz de la Portilla said.
Half of the committee didn't see it that way. According to Bradenton.com, Frank Messersmith, with the opposition, called it "Internet crack" and a "form of digital escape to the anti-social people."
Hawaii
According to BusinessWeek.com, the legislation that would have legalized poker, both online and live, in Hawaii didn't get a hearing in the House Finance Committee before the deadline for bills to advance.
Hawaii is one of two states (Utah is the other) that have no form of legalized gambling. According to Finance Committee Chairman Marcus Oshiro, "there wasn't enough public interest in the bill to merit additional consideration."
"For the silent working majority of Hawaii, this offered revenue to the state without the social ills of other types of gaming, and it was a way to avoid nasty tax increases," Rep. Angus McKelvey, chairman for the House Economic Revitalization & Business Committee, the committee the bill made it though, said.
Chippin' Up
So, as you know, the PartyPoker Big Game V is coming up this Friday (yes, we've mentioned it a couple of times today). While you're watching the action, why not have a little vested interest in what goes on. Tony G has put up 10 percent of his buy-in on ChipMeUp.
You can buy a share (0.01%) for $3.05. There are currently 871 shares still available and you have just under two days left to buy some.
Head on over to ChipMeUp to get in on the action.
Hall of Famer
While at the Mohegan Sun for the PokerStars North American Poker Tour, Sarah Grant checked out the Michael Jordan Sports Cafe where she talked to the executive chef and laid her eyes on the monster that is the Hall of Famer burger.
If you aren't following us on Twitter, we don't know what to say, except follow us on Twitter. How else are you planning on getting up-to-the-minute news?