The Nightly Turbo: Furst's Open Letter, Epic Poker Suspends Lederer & Ferguson, and More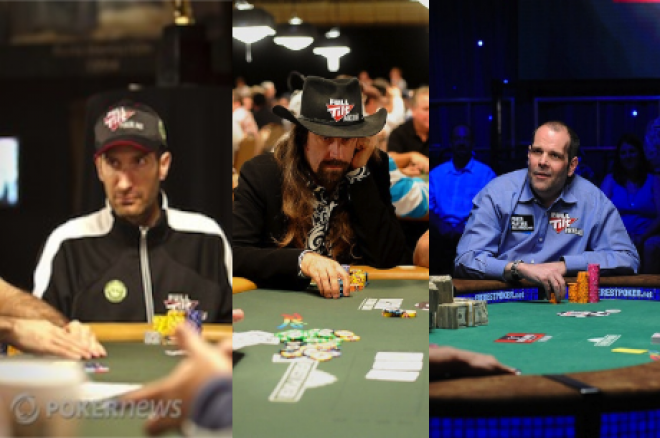 On Tuesday, the U.S. Attorney's Office amended the Black Friday complaint to add Howard Lederer, Chris Ferguson, and Rafe Furst. There wasn't much bigger news than that, so we stayed on top of it, spoke with Tom "durrrr" Dwan and tried to keep you all updated. This edition of the Turbo has everything you missed on Tuesday, plus everything that happened Wednesday. We'll tell you what Rafe Furst's open letter said, give you the details on Lederer and Ferguson's suspension from the Epic Poker League, and even bring you a poker documentary you might want to check out. Enjoy!
In Case You Missed It
Day 2 of the World Poker Tour Borgata Poker Open saw the field cut to 170 by the end of play. David Williams ended up bagging the most chips. Find out who else is left in the WPT recap.
Oh, look another World Poker Tour stop is running. WPT Malta kicked off on Tuesday and 101 players took their seats at the felt for Day 1a. Read the WPT Malta recap to find out who was eliminated and would need to fire another buy-in off on Day 1b.
On Tuesday, Tom "durrrr" Dwan spoke with PokerNews regarding Full Tilt Poker. Read an excerpt of the interview and then listen to the entire podcast, where he discusses player funds, DOJ actions, and more.
ESPN continued its coverage of the 2011 World Series of Poker Main Event on Tuesday. If you missed any of it, you should read our WSOP on ESPN recap and find out who came out of Day 5 with the biggest stack.
The 2011 World Championship of Online Poker is creeping close to the end of the series, but there are plenty of bracelets left up for grabs. History was almost made on Day 17, but you'll have to read the WCOOP recap to find out more.
Last week, Germany made strides in its online gaming legislation. Not only that, but Caesars' CEO Gary Loveman was appointed to Republican presidential candidate Jon Huntsman's business advisory council and you can read all about it in the latest Inside Gaming.
Furst's Open Letter
On Tuesday, the U.S. Attorney's Office announced it was amending the original Black Friday indictments to include Ray Bitar, Chris Ferguson, Howard Lederer, and Rafe Furst.
We're used to silence regarding the Full Tilt Poker drama, so we weren't planning on hearing from Lederer, Ferguson, or Furst, so color us surprised when Furst tweeted the link to an open letter on his blog.
Rather than post the entire letter, here's an excerpt:
"What I would like to express here is concern for my family, friends, colleagues and supporters who believe in me and who feel my pain as if it were their own. It sucks to have to endure the character assassination and potshots being taken at me in the media and social networks without being able to defend myself. Privately though I have received incredible support from many of you, and I can't tell you how much it means to me. May you never have to endure something like this, but if you do, I hope you have friends as good as mine."
"To the skeptics, please consider that not everything you read is true, and our society is built on a presumption of innocence until proven otherwise. It's difficult to take back hurtful things that you might later regret, when the damage has already been done."
You can make your own conclusions, and if you'd like to read the entire letter, you can, at EmergentFool.com.
Suspended Indefinitely
We can't say we didn't see this coming. On Wednesday, the Epic Poker League announced that the Standards and Conduct Committee suspended Howard Lederer and Chris Ferguson indefinitely.
"The Committee voted to suspend Howard Lederer and Chris Ferguson indefinitely, pending the outcome of the Department of Justice's action," said EPL's Standard and Conduct Committee's chairman Stephen Martin.
Even though the complaint filed against Lederer and Ferguson is civil and not criminal, the committee deemed that "the specificity of the allegations and the fact they came from the United States government made this the right course of action in the best interests of the players in the League."
The committee also said that it would continue to monitor the actions of the DOJ and should any other League members be named, "the Committee will consider additional disciplinary action."
According to the committee, Lederer has signed his League documents granting him a 5-year card, however, Ferguson has not yet signed the League documents. Regardless, Ferguson's card has been suspended.
It should also be noted that Andy Bloch, who is on the Standards and Conduct Committee refused to take part in the consideration of the issue and commissioner Annie Duke does not take part in any committee discussions.
Read more at EpicPoker.com.
Epic Poker Broadcast Schedule
The Epic Poker League recently announced its broadcast schedule for its inaugural season. According to the press release, 20 hours of programming are planned, seven of them airing on CBS and the rest on the Velocity Network.
The premiere episode will air on Oct. 7 at 10 p.m. EDT on Velocity; the first CBS episode will run on Oct. 8 at 1 p.m. EDT.
"Players and fans have been asking when they can tune-in to watch the Epic Poker League, so we're pleased to share our national telecast schedule for CBS and Velocity," said Jeffrey Pollack, executive chairman of the Epic Poker League and its parent company, Federated Sports + Gaming. "Epic Poker offers an innovative take on America's favorite card game and our telecasts put an entirely new spotlight on many of the world's finest players."
The broadcasts will be hosted by Pat O'Brien along with co-host Ali Nejad.
"The broadcasts of Epic Poker on CBS and Velocity will offer viewers a new and innovative experience that will take poker programming to the next level," said David Neal, executive producer of Epic Poker League. "Epic Poker productions take a page from the best professional sports programming."
You can check out the rest of the television broadcast schedule on the press release, and watch a teaser video below.
Team Bodog's New Member
In May, we told you that Evelyn Ng had renewed her sponsorship with Bodog, and Team Bodog added Tatjana Pasalic. A new name has been added to the roster — Amanda Leatherman.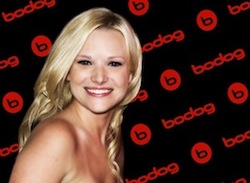 "I am excited to have signed with Team Bodog and look forward to representing the Bodog brand and lifestyle," Leatherman said. "It is hard to believe that being part of a brand known for fun and exotic affairs can be considered work. I look forward to playing more poker for Bodog, especially in the upcoming November Punta Cana Poker Classic event, as well as representing Bodog at social events around the world. It's going to be fun."
According to the press release, Leatherman, who previously interviewed players for the World Poker Tour and hosted the PokerStars Big Game, is a single, ex-cheerleader, who will be hitting the felts soon.
"The Bodog life and my own are scarily similar. I can't wait to do the Bodog photo shoot. I'll be posting those shots on my facebook as soon as I have them but in the meantime I'll see you all at the tables, both live and online," she said.
Read the press release for more.
PokerStars "Rush?"
According to a post on TwoPlusTwo by PokerStars Steve, "PokerStars is developing a fast-moving ring games product. We expect it to be available for public beta testing in a few months."
Steve was replying to a question from a TwoPlusTwo community member asking whether PokerStars was "adding something like Rush or testing it."
Dale "Daleroxxu" Philip took to his Twitter to voice his excitement for the new feature:
Awesome News -> "PokerStars is developing a fast moving ring games product.... public beta testing in a few months." - PokerStars Stefan

— Dale Philip (@Daleroxxu)
Reactions in the form have been mixed and you can bet some players weren't too happy with the news. Giovanni "ei8htyei8ht" Pellegrini tweeted:
Just saw 2p2 post: http://t.co/T29x8q4C & am insta-deeply-concerned. Rush poker was an unholy abomination for the industry in the long term

— Giovanni Pellegrini (@ei8htyei8ht)
What do you guys think? Let us know below.
The Big Blind
If you're looking for a documentary that looks at poker from Black Friday forward, and follows Alec Torelli as "he strives to even greater heights in his poker career," then we've got the piece for you — The Big Blind.
The documentary is an official selection for the 2011 New York Television Festival, and according to the Vimeo page, is an A&E unscripted pilot selection.
You can watch Part 1 of the documentary on Vimeo, but below, is Part 2, which includes interviews with Phil Hellmuth, Annie Duke, Brian Rast, and Dan Bilzerian.
We're hooked and want to see the rest.
Follow us on Twitter and like us on Facebook for up-to-the-minute news.