The Nightly Turbo: Secret Service Seizes Funds, More Changes at Epic Poker, and More

Brett Collson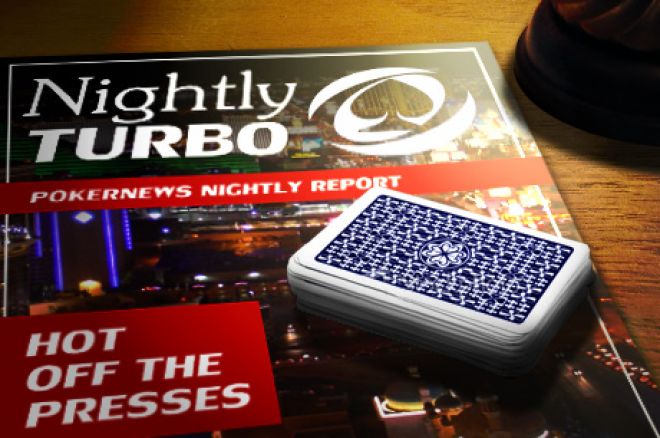 Funds tied to online poker are being seized all over the world lately. Two days after we reported that the Justice of Geneva seized an estimated $20 million from a Swiss Bank (possibly belonging to Full Tilt Poker board members), the Secret Service snatched more than $2 million connected with online poker transactions in South Carolina. Also in this edition of the Nightly Turbo, the Epic Poker League has added a new member to its Standards and Conduct Committee, Eva Longoria is hosting a charity poker event, and more.
In Case You Missed It
Event #4 at the World Series of Poker Europe featured one of the toughest final tables we've seen in awhile. Find out which player claimed victory to win his first WSOP bracelet.
How was the high-stakes action at the PokerStars tables this week? Read the Online Railbird Report to find out the week's biggest winners and losers.
Day 1a of the PokerStars Latin American Poker Tour Colombia is in the books. All of the action can be found in our daily recap.
ThePokerNews Podcast hit Cannes this week.Kristy Arnett, Donnie Peters and Remko Rinkema discussed the latest news and caught up with Tony G to find out more about his claim against the Alderney Gaming Control Commission.
You may not know much about Vont Limited, the company handling Tony G's claim against the AGCC. That's what we're here for. In our first edition of The Insiders, Vont CEO Jon Sykes discusses his relationship with Tony G and Vont's role in the e-gaming industry.
Sunday is almost here and that means football. Find out how football and roulette are similar in the latest Pigskin Diaries.
Secret Service Seizes $2M from Online Poker Shell Companies
The Secret Service and the Greenville County Sheriff's Office have seized more than $2 million tied to online poker operations following an investigation that uncovered two shell companies connected to money-laundering schemes.
U.S. Attorney Bill Nettles said Thursday that Prime Investment, LTD andTrading 24/7 LTD were used as fronts to transfer large amounts of money into the country in order to process online poker transactions. The sheriff's office had five officers work with the Secret Service to contact online poker players in upstate South Carolina who were receiving payouts. Nettles said the focus of the investigation was not on the players, but to prevent any money laundering from taking place.
"The companies used a scheme of deception to hide the true source of the money, a violation of federal laws including bank fraud, money laundering and the Unlawful Internet Gambling Enforcement Act," Nettles said in a press conference.
Nettles also said in a press release that two foreign-based companies sent more than $40 million into the United States to make payments to players in South Carolina and elsewhere in the country. The names of the two companies were not mentioned.
For its help in the investigation, more than $700,000 was given to the Greenville County Sheriff's Office. Nettles said the money will be used for local law enforcement purposes, such as the K9 program and forensic computer lab, which aren't funded by taxpayer money.
Get more on this story at FoxCarolina.com.
Matt Glantz Joins Epic Poker League Committee
The Epic Poker League Standards and Conduct Committee has been busy since the inaugural event kicked off in August. The league's first champion, Chino Rheem, was placed on league probation because of "ongoing personal financial obligations" that impacted the EPL. Then, after a scandal involving a former sex offender being banned from an EPL Main Event, the league "indefinitely" suspended Chris Ferguson and Howard Lederer following their naming in an amended indictment.
On Wednesday, Matt Glantz replaced Nick Schulman on the ten-member Standards and Conduct Committee, joining Duke, Joe Hachem, Chad Brown, Alec Torelli, Eric Baldwin, Mike McDonald, Andy Bloch, tournament director Matt Savage, and committee chair Stephen Martin. The decision was announced on the league's website in the form of a letter from Glantz to the committee.
"I am extremely honored to accept this request by the Epic Poker League to join the select group of members that currently sit upon its Standards and Conduct Committee. I will be taking this position with the understanding that it will be my great responsibility to continuously deliver the voice of the poker community. When determinations are made in these important matters, my mission will not only be to support the league, but also to better the entire poker industry as a whole."
View the full letter at EpicPoker.com.
Eva Longoria Charity Poker Tournament
Desperate Housewives star Eva Longoria is returning to the felt for her annual Celebrity Casino night on Oct. 29. The event, presented by Xbox LIVE, will take place in San Antonio, Texas, and benefit Eva's Heroes.
Guests can take part in blackjack, roulette, craps, live and silent auctions, casino prizes, and a Texas hold'em tournament. Among the guests expected in attendance include poker pro Phil Hellmuth, poker host Leann Tweeden, and NBA player Malik Rose.
Individual tickets for the event cost $200, which includes cuisine by celebrity chefs and chips to use at the casino. The charity poker tournament has an additional entry fee of $200.
Check out the Eva's Heroes website for more information.
Win a WSOP Main Event Seat at SouthPointPoker.com
Brand new online poker room SouthPointPoker.com is celebrating its launch by handing out a seat to the World Series of Poker Main Event every week starting in November.
Nine online qualifiers each week will be given accommodations at the South Point Hotel Casino & Spa and duke it out in the South Point poker room, with each winner earning entrance into the WSOP Main Event in 2012. Online tournaments begin Monday, Oct. 17 at 7 p.m. The first live final table from South Point is scheduled for Saturday, Nov. 12, and will continue weekly thereafter.
The site became the first fully branded by a Las Vegas gaming property last week and has already seen thousands of players flock to the virtual tables. "Early registrations have been very encouraging," said South Point Casino owner Michael Gaughan. "Our Club players have responded in surprising numbers. Now with the introduction of our Main Event 2012 promotion, poker players across America and throughout the world can play to win a $10,000 seat for free every week."
Visit SouthPointPoker.com for more information.
Bienvenidos a Medellín
The PokerStars.net Latin American Poker Tour is in Colombia for the first time ever. Lynn Gilmartin takes a look around the cosmopolitan city of Medellín.
Are you following PokerNews on Twitter? Like us on Facebook while you're at it, and sign up for the newsletter. You know you want to.