Inside Gaming Breaking News: MA Passes Casino Bill, Caesars IPO, and More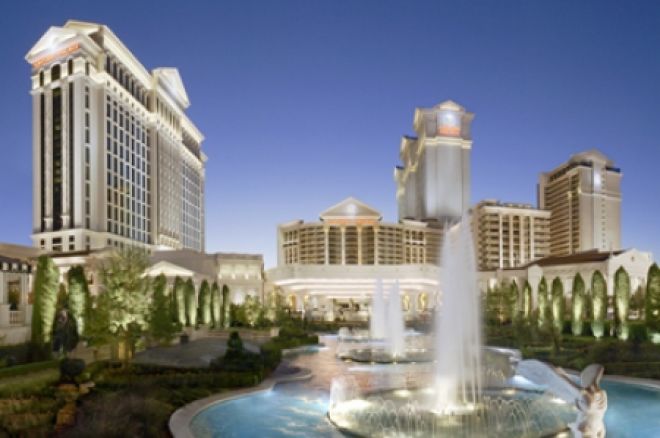 The gaming world came back from the weekend ready for action. On Monday, Caesars made headlines by announcing its plans to go public a year after canceling its first public offering. Then, on Tuesday, Massachusetts passed a bill, which state legislators finalized Wednesday morning, allowing the construction of three full-scale casino resorts and a slot parlor. The bidding wars should be intense, and Ameristar aimed to get a jump on the competition by buying land for its proposed development before Wednesday's votes were even counted. And in other news, The Cosmopolitan of Las Vegas made Fodor's list of the 100 best hotels in the world but still couldn't get out of the red in the third quarter. We have all the latest for you here.
Massachusetts Passes Bill Allowing Three Casino-Resorts; Ameristar Already Buying Land
Massachusetts state legislators voted Wednesday morning to pass a bill allowing the licensing of up to three Las Vegas-style casinos and one slots parlor in the state. Now the bill awaits Gov. Deval Patrick's signature, which will be a triumphant moment for a man who has fought since 2007 to bring casinos to the state.
Let the bidding games begin! Casino license bids start at $85 million. Slot parlor bids start at a mere $25 million. The bill claims 25 percent of casino revenue and 40 percent of slot revenue for state and city taxes. A version of the bill earmarking 5 percent of annual gaming revenue to buoy the horse racing industry passed all but a final procedural hurdle on Tuesday. Before the final vote on Wednesday, the bill was amended to reduce the racing subsidy to 2.5 percent.
Patrick argued that gaming expansion would bring much-needed revenue to the state, but he may not have anticipated the money would show up quite so fast. Shortly before Wednesday's vote, Ameristar Casinos agreed to pay $16 million for 41 acres of land in Springfield. Ameristar says it will apply for a license to build a luxury hotel and entertainment resort in western Massachusetts.
"This is a great opportunity for Ameristar to build on a one-of-a-kind site within the city limits of Springfield, a city that would greatly benefit from an economic development project of this magnitude," Ameristar's CEO, Gordon Kanofsky, said. "There are not many attractive new-market growth opportunities for casino companies, and this one in particular fits Ameristar."
But Ameristar will have to compete with Mohegan Sun's proposal to build a casino resort in nearby Palmer. Caesars Entertainment Corp. and the Las Vegas Sands Corp. are also expected to show interest in Massachusetts licenses. Both companies' CEOs live in Boston.
Rep. Joseph Wagner, a member of the committee that worked on the bill, said several reasonable compromises were required to secure Tuesday's success, including an amendment that allows cities to veto casino licenses for their area. The provision only applies to Boston, Worcester, and Springfield, where Ameristar plans to purchase land. Another compromise dropped a provision that allowed bars and restaurants in the casinos to offer free drinks. Instead, only the casino will be able to give away alcohol.
The Senate added an amendment that bars state, county, and local government officials from working in the casino industry for at least a year after leaving office. The Statehouse is still dealing with several corruption scandals and some were wary of the potential for conflicts of interest.
Supporters of the bill have said three new casinos and a slot parlor could create up to 9,000 permanent jobs and 6,000 temporary construction jobs. They estimate the new gaming properties will bring in $300 million in annual tax revenue. Of course, some lawmakers expect gaming to bring on the apocalypse too. "We know that crime will increase. We know that homelessness will increase. We know that incarceration will increase," Rep. Ruth Balser said. "this is the wrong direction for Massachusetts." Whichever direction the state is going, it will likely be several years before the first casino-resort gets there.
The Boston Globe discusses the details of the bill, and The Boston Herald has more on the Ameristar deal.
Caesars Restarting IPO Process on Smaller Scale
Caesars Entertainment Corp. announced on Tuesday that it is planning a small initial public offering on the Nasdaq exchange to raise $50 million, less than 10 percent of what the company was hoping to raise from the IPO it canceled last year. Named Harrah's at the time, the company scrapped plans to sell 9 percent in 2010 as the market struggled and investors showed concern over Caesars' debt burden. Now that Caesars has filed the initial papers, the U.S. Securities and Exchange Commission has up to three months to pass judgement on the IPO.
This time, while Wall Street is in the midst of an IPO frenzy fueled by Groupon and Zynga, Caesars is starting slowly to test market reaction before potentially offering more shares. Last year, when it hoped to raise more than $530 million, the total company was valued at $5.2 billion and held $21 billion in debt. At Caesars most recent filing on Sept. 30, it held debt of $18.8 billion. Caesars, which operates 52 casinos, reported a $467 million loss on $6.6 billion in revenue for the first nine months of 2011.
According to the Wall Street Journal, Caesars CEO Gary Loveman said six months ago that the company would not attempt to go public again unless there was "a clear catalyst for growth," such as opportunities to open a casino in Asia or legal changes related to online poker. Last week Loveman said he thought the industry could bring U.S. companies more than $5 billion a year in revenue. Caesars, which owns the World Series of Poker, signed a partnership with U.K.-based online gaming company 888 Holdings to prepare Caesars to enter the U.S. market as quickly as possible if legislation passes.
While Caesars appears to have found a growth opportunity, $50 million in new capital isn't going to go very far. Some analysts have suggested that private-equity owners Apollo Management LP and TPG Inc. are using the IPO to test an exit strategy. They spent $27.9 billion to acquire Harrah's in a leveraged buyout in 2007, several months before the economy tanked.
Caesars is moving forward with plans for Project Linq, a $550 million outdoor retail-entertainment complex on the Las Vegas Strip that will feature a 550-foot observation wheel modeled after the London Eye. Caesars said it has already completed financing for that project.
Caesars will trade on the Nasdaq under the symbol CZR, though we're not sure cubic zirconia is the branding they're looking for. Read more in the Wall Street Journal and Business Week.
Cosmopolitan Gets Rave Reviews, Not Revenues
The Cosmopolitan of Las Vegas opened on the Strip in December 2010 and instantly earned a reputation as a top hotel with exciting new restaurants, a hot club, and a host of popular bars. But the property continues to struggle to turn that buzz into profit. In the first nine months of 2011, the $3.9 billion casino was named one of Fodor's 100 best hotels in the world, yet it lost $169.9 million on net revenues of $357.7 million.
"Design innovation is at the center of the Cosmopolitan, the sleekest new hotel on the Vegas Strip," wrote Fodor's editors. But with so much entertainment innovation to enjoy, who wants to gamble? The casino only generated $83.1 million in gaming revenues from January through September 2011. Despite additional focus on gaming dollars, the property generated $23.8 million in gaming revenue in the third quarter compared to $28.2 million in the second quarter. Getting unlucky at the table didn't help. The Cosmopolitan's third-quarter hold was 7.6 percent, about half of what the company expects.
The Cosmopolitan, owned by Deutsche Bank's Nevada Property 1 LLC, has an uphill battle to vie for gaming customers on the strip. While MGM and Harrah's have huge customer databases and offer rewards programs across dozens of properties in Las Vegas and around the world, Deutsche Bank only owns one casino with only a year-old Rolodex. To help court high-rollers, the Cosmopolitan cleared space for a 15-table high-roller area called the Talon Club that is expected to open by the end of the month.
"We expect that the opening of this additional gaming space will help improve table-games volume with the benefits likely impacting results beginning in the first half of 2012," Nevada Property 1 said in a statement. The company also hopes that a generous promotional budget, including $22.2 million in third-quarter comps, will pay off in the future.
Hotel and food and beverage revenues continued to grow in the third quarter. The hotel brought on line 448 additional rooms, bringing its total to 2,995 rooms. Average daily room rate of $233 is among the highest on the strip.
"Who says gambling getaways can't inspire?" said Fodor's. Now it's time for the Cosmopolitan to inspire guests to gamble.
The Las Vegas Review-Journal has more from Fodor's and the rest of the Cosmopolitan's recent numbers.
Follow PokerNews on Twitter for up-to-the-minute news.
*Photo courtesy of LasVegasFamilyTravel.com