Inside Gaming: Super Bowl Sweat, Sands Stock Dividends, and Online Gaming Deals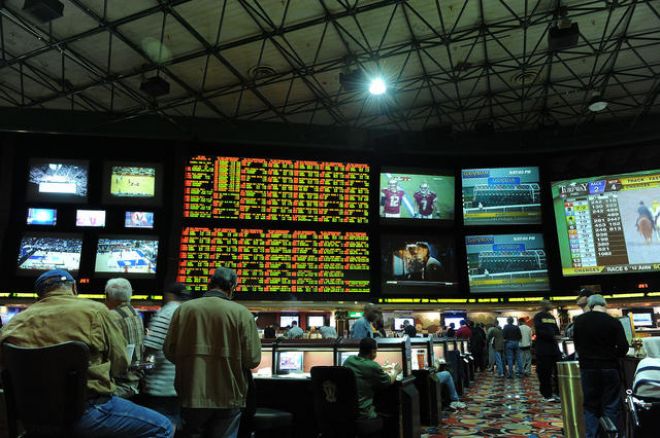 It's been a busy week for gaming companies. PokerNews special reports have kept you well-informed about developments in the Department of Justice's charges against Full Tilt Poker and has kept you up-to-date on the latest online gaming deals. Traders are spending the week sweating financial announcements from Sands China and Las Vegas Sands, and Nevada sports books are holding their collective breath over the outcome of the upcoming Super Bowl.
Super Bowl Could Mean Giant Loss for Sports Books
And you think you're sweating football bets. Las Vegas sports books are calling in their "one times" for a New England Patriots win on Sunday to avoid paying gamblers who bet on the New York Giants when they were extreme long shots to win the Super Bowl. As recently as December, odds on the Giants winning the championship were as high as 100-1.
"We're pretty strung out on the Giants and we're not alone," said Chris Andrews, director of Cal Neva's race and sports book. "As far as the future book goes, we certainly don't want to see the Giants win." Andrews said one patron placed a futures bet of "well over four figures" on the Giants at 60-1. Bloomberg helpfully points out that a $5,000 bet would pay $300,000.
This is a familiar spot for book makers; one that didn't work out so well four years ago. Nevada sports books suffered their biggest losses in over 20 years when the New York Giants upset the Patriots in the 2008 Super Bowl. The game drew $92 million in wagers, and cost the state's sports books nearly $2.6 million. Books have only lost money on the Super Bowl one other time since 1991.
The Giants lost to the Green Bay Packers on Dec. 4, giving them a 6-6 record. "We were at 100-1 after they lost to Green Bay," Andrews said. "We're actually pretty aggressive with the futures. We move them quite a bit from one week to the next if a team looks bad or good. In retrospect, we probably went too high."
Andrews said that since the Super Bowl matchup was set, his sports book has taken nearly twice as many bets on the Giants as on the Patriots. New England is favored by a spread of two and a half to three points depending on the casino.
Sands China to Pay First Dividend as Traders Question Las Vegas Sands Growth
Sands China Ltd. announced on Tuesday that the company will pay its first dividend to stockholders in the amount of HKD$.58 per share. The Macau division of Las Vegas Sands Corp. went public on Hong Kong's stock exchange in 2009. The stock rose 19.6 percent in January. Las Vegas Sands followed the announcement on Wednesday by releasing impressive growth numbers for the fourth quarter of 2011.
Sands China, which operates the enormous and enormously profitable Venetian Macao, said it "has determined that it has sufficient reserves, after the payment of the interim dividend, to finance operations and the expansion of its business, including the development of additional integrated resorts."
Sands China is the third of Macau's six casino operators to pay a dividend, and analysts have predicted that MGM China is likely to follow suit this year. SJM Holdings was the first, followed last November by Wynn Macau Ltd.
On the other side of the world, Las Vegas Sands Corp's stock, traded on the New York Stock Exchange, is up 17 percent this year. On Wednesday, the company revealed a 17 percent jump in 2011's year-over-year fourth-quarter net income. Sands brought in $320.1 million, a company revenue record that reflects large growth in its Asian operations, as well as rebounding U.S. income. Sands China's fourth-quarter net income rose 43.8 percent. Sands' Singapore complex brought in 44 percent more revenue. Even Las Vegas saw growth. Venetian and Palazzo fourth-quarter revenues grew by 9.3 percent to $339.5 million.
Total net income for 2011 came in at $1.64 billion or $2.02 per share, a few cents ahead of analyst predictions. Net income for 2010 was $775 million or $.98 per share.
"Important to note, our growth is not just fueled by a single revenue source, either," said Sheldon Adelson, Chairman and CEO of Las Vegas Sands. "You could point to strong growth in retail, food and beverage, meetings and conventions, or the $1 billion of room revenue the company did in 2011 as clear evidence that we are much better described as an international integrated resort developer rather than simply a gaming company."
While some analysts are concerned that Sands will be hurt by a slowdown in growth in Macau, Chinese gamblers haven't gotten the memo. Macau gaming revenue in January missed projections calling for an all-time-high take but still showed a 35 percent jump over revenue in January of last year. Revenues were helped by Chinese New Year, which fell in January this year but in February in 2011.
Bloomberg has the details on Sands China's dividend, and the Las Vegas Review-Journal covers Macau's January numbers and the Sands fourth-quarter revenue announcement.
Online Gaming Companies Position Themselves for U.S. Regulation
Caesars and 888 Extend Partnership
On Tuesday, Caesars Entertainment Inc. and 888 Holdings announced that they plan to replicate their U.K. licensing agreement in the U.S. 888's business-to-business division, Dogfish, will operate Caesars online poker sites when and where online poker becomes legal in the U.S.

Check out this PokerNews Breaking News bulletin for more.
Playtech Inks Forward-Thinking Deals
U.K.-based gaming firm Playtech formed partnerships with a German company and a South African company to prepare for upcoming online gaming regulation in those countries.
PokerNews has the story.
Zynga Reconsiders Real-Money Gaming
It had to happen. Social media gaming giant Zynga went public with its change of heart about real-money gaming. The company previously claimed it had no interest in the play-for-cash market, but it's hard to maintain that position when potential revenue estimates have so many zeros.
PokerNews covers it. (Seeing a theme here?)
Ladbrokes Buys Stake in Las Vegas Online Gaming Company
Ladbrokes PLC, a British bookmaker and online casino operator, spent $3 million to acquire 65 percent of Stadium Technology Group, a Las Vegas company that supplies software and in-game betting technology to sports books. Cantor Gaming uses Stadium's products. Ladbrokes has the option to buy the rest of the company over the next five years.
For more on the deal's implications, check out the Las Vegas Review-Journal.
Follow PokerNews on Twitter for up-to-the-minute news.
*Photo courtesy of LasVegasVegas.com