The Nightly Turbo: UKIPT Nottingham, WSOPC St. Louis Breaks Record, and More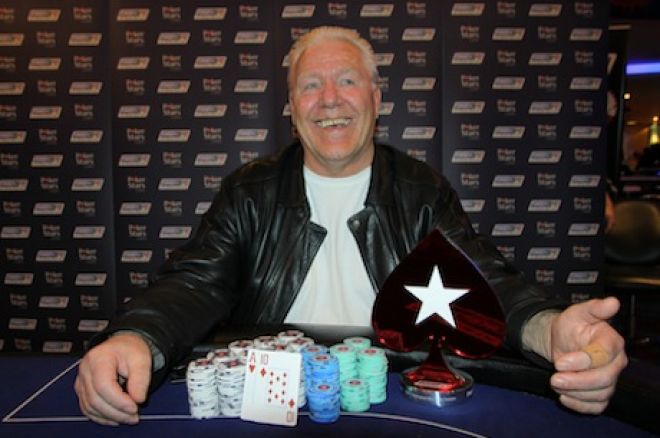 We've officially begun life after the first anniversary of Black Friday, and while there have been no significant announcements regarding Full Tilt Poker as of late, there has been plenty going on in the poker world. In this edition of the Nightly Turbo, we take a look at the results of UKIPT Nottingham, the record-breaking tournament at the WSOPC, and a new poker movie with Ben Affleck and Justin Timberlake.
In Case You Missed It
Black Friday didn't just affect poker players in the United States, it affected players worldwide. Lynn Gilmartin spoke with some of the top pros in the Asia-Pacific region about the effect of Black Friday on their careers.
The writers of Rounders, David Levien and Brian Koppelman, are working on a new film. The poker thriller will showcase Ben Affleck and Justin Timberlake in the world of illegal online gambling.
You've already checked out the Black Friday Timeline, but what about the ramifications of the events of April 15, 2011? Brett Collson and Chad Holloway take a look back at Black Friday and how it changed the lives of poker players forever.
Television coverage of Season X of the World Poker Tour continued this weekend on the Fox Sports Network with the Borgata Poker Open. Did you miss the episode? Check out the WPT on FSN recap for all the action.
Sunday's online action was headlined by "jmc8609" taking down the PokerStars Sunday Million. See who else booked big scores in The Sunday Briefing.
When events are so significant, they affect entire communities, people often ask where you were when they happened. Black Friday was that event for the poker community. Where were you when you heard about Black Friday?
Baguley Wins UKIPT Nottingham
Day 3 of the PokerStars UK & Ireland Poker Tour (UKIPT) Nottingham took place on Sunday. Only 76 players of the 1,625-player field remained to begin the day, and by the end of play, the final table of eight remained. Leading the final eight was Iqbal Ahmed, a young British player who captured the chip lead early on Day 2 and never looked back.
It took almost two hours for the first elimination to occur on Day 4. Ian Senior was eliminated at the hands of Grant Pirie in a cooler. Pirie held kings and Senior held queens, but found no help on the board. About four hours after the first elimination of the day, a winner was crowned. Robert Baguley defeated Iqbal Ahmed heads up for the title.
UKIPT Nottingham Results
| Place | Player | Prize |
| --- | --- | --- |
| 1 | Robert Baguley | £210,400 |
| 2 | Iqbal Ahmed | £125,000 |
| 3 | Grant Pirie | £96,700 |
| 4 | Barry McMahon | £79,600 |
| 5 | Hasmukh Khodiyara | £62,500 |
| 6 | Nick Woodward | £45,500 |
| 7 | James Cummings | £34,000 |
| 8 | Ian Senior | £22,750 |
For all the action, check out the PokerStars Blog.
WSOP Circuit Holds Largest Tournament in Missouri History
Last Thursday, the 2011-2012 World Series of Poker Circuit kicked off at Harrah's St. Louis, and while the stop's Main Event won't take place until Saturday, the stop is already making headlines. It recently hosted the largest tournament in Missouri's history.
The tournament was Event #4: $355 No-Limit Hold'em Re-Entry, which attracted 1,066 players and created a prize pool of $310,206. That number was up considerably from 843 entries the year prior, and saw Roy Riley defeat Javier Zarco in heads-up action.
In the final hand, Zarco, a 27-year-old student from Madrid, Spain, studying in the U.S., moved all in with
on an
flop. Riley made the call with a pair of sevens and held as the
appeared on the turn followed by the
on the river.
Zarco finished as runner-up for $35,327, while Riley became the champ and took down the $57,139 top prize. "I have the perfect life right now," the 26-year-old physical education teacher and star of NBC's Ironman World Championship reality show said after his win. "This was a great victory."
WSOP Circuit Harrah's St. Louis Ring Event #4: No-Limit Hold'em Re-entry
| Buy-in | Entrants | Prize Pool |
| --- | --- | --- |
| $300+$55 | 1,066 | $310,206 |
| Place | Player | Hometown | Prize |
| --- | --- | --- | --- |
| 1 | Roy Riley | Savoy, IL | $57,139 |
| 2 | Javier Zarco | Godfrey, IL | $35,327 |
| 3 | Tripp Kirk | Atlanta, GA | $26,253 |
| 4 | Douglas Campbell | Highland, IL | $19,736 |
| 5 | Aaron Wilson | Ballwin, MO | $15,007 |
| 6 | Matt Lawrence | Tulsa, OK | $11,545 |
| 7 | William Diepenbrock | Columbia, IL | $8,985 |
| 8 | Bradley Lipsey | Franklin, TN | $7,073 |
| 9 | Matthew Clerk | De Soto, IL | $5,634 |
For a look at the final table recap, visit WSOP.com.
Black Friday Burns Bright!
The effects of Black Friday continue to be far reaching — even after a whole year without online poker. Some of the top pros in the game were able to move out of the United States to continue playing, but there are a number of players who didn't have that freedom.
Linda Geenen's latest piece on PokerWorks throws a punch at the U.S. government, saying "the entire complex mess" of Black Friday is "the fault of the U.S. government."
Find out what else Geenen has to say, and a Black Friday snippet of All In: The Poker Movie on PokerWorks.com.
"DOJ, You Took My Sundays Away From Me"
Poker rappers now have even more competition than Phralad Friedman, Jeff Madsen, and "Da Pokerz" creator Emceewhitenoise. After a feud with SrslySirius, the autotune poker music specialist, QuadJacks.com has added some new talent to its roster.
DRybes and Sonny Caine released a new poker hip-hop tribute to Black Friday recently, called New Sunday. The track laments on life after Black Friday and the unfortunate events surrounding Full Tilt Poker.
There are some lyrical gems in this one that you won't want to miss.
"30 inch screens are the memories. They don't even remember me. 24 tables with no delay, but now all I see is Black Friday..."
Grinder Gear Clothing Co. and the Poker Players Alliance Join Forces
The Poker Players Alliance and Grinder Gear Clothing Co. have teamed up in support of poker players by launching a "Live and Let Grind" campaign. The announcement coincides with the PPA's "Never Fold" campaign on the one-year anniversary of Black Friday.
Grinder Gear has created a special edition men's and women's version of "Live and Let Grind" t-shirts that feature the PPA logo on the sleeve, and will be donating 20 percent of all sales to the PPA to help aid the fight for new poker legislation.
"Being so deeply involved in the poker community it just occurred to me one day I had a powerful battle cry on my hands with our trademarked slogan, 'Live & Let Grind,' said Jeff Griffith, owner and CEO of Grinder Gear and Bustout Poker.
To learn more, head on over to www.liveandletgrind.com.
Sword Flush?
Poker and nerdom have formed a brand new partnership and since a lot of you can't play online anymore, you might as well spice up your home game with some cool customized decks, right?
Deviantart user "Nelde" has designed a new deck of playing cards complete with artwork inspired by the Legend of Zelda. The decks can be purchased from Fangamer for $15.
According to the description on Fangamer these cards "are said to have close ties with destiny." And the cards "depict those whose destinies are intertwined with each other."
We know you guys can't wait to grab a deck for your home game, but unfortunately the decks may not be available for shipping until May.
Check own the Zelda playing cards at Fangamer.com.
Willkommen in Berlin!
Team PokerNews is in Berlin for the PokerStars European Poker Tour. Some of us weren't lucky enough to make it out there (yes, we're bummed), but at least we can live vicariously through Lynn Gilmartin and the rest of the team.
Here's what you're we're missing — a least regarding the sights around the city.
Follow PokerNews on Twitter for up-to-the-minute news.