The WSOP on ESPN: Plenty of Eliminations Including Defending Champ Greg Merson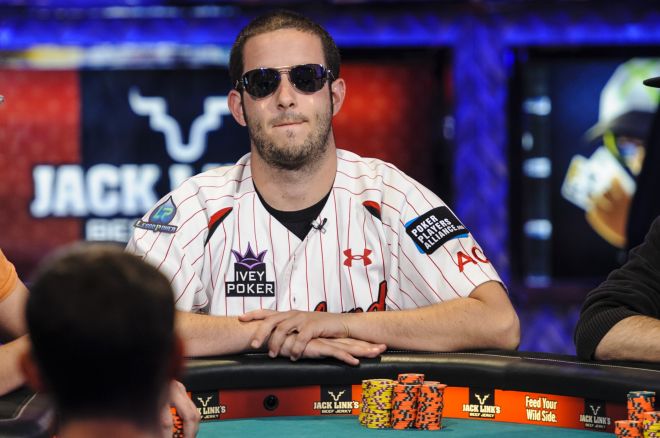 After a two-week hiatus, ESPN's coverage of the 2013 World Series of Poker continued Tuesday night with two new episodes of the Main Event showcasing Day 5 of play.
The last episode saw 2012 WSOP Main Event eighth-place finisher Rob Salaburu make his way to the payout desk in 355th place collecting $32,242. Also knocked out of the competition was Carter Gill, who was made famous for his notorious reaction after his opponent David Paredes rivered a better two pair against his flopped top two pair. Gill was knocked out of 371st place.
This week's coverage jumped into Day 5 with 239 players remaining and an average stack of about 700,000. Only two 2013 Octo-Niners were still alive going in champion Greg Merson and ninth-place finisher Steve Gee.
Here's a look at the top 10 chip counts from the start of the broadcast:
| Rank | Player | Chip Count |
| --- | --- | --- |
| 1 | Jonathan Lane | 2,839,000 |
| 2 | Sami Rustom | 2,485,000 |
| 3 | Grayson Ramage | 2,438,000 |
| 4 | Victor Cianelli | 2,197,000 |
| 5 | Seaver Kyaw | 2,060,000 |
| 6 | Yann Dion | 2,025,000 |
| 7 | Kevin Williams | 2,007,000 |
| 8 | Vincent Robert | 1,976,000 |
| 9 | Robert Sichelstiel | 1,910,000 |
| 10 | Ami Alibay | 1,890,000 |
Amongst other notable stacks were two women still in contention including, Jackie Glazier with 1,595,00 and Annette Obrestad with 1,186,000.
Matador Charges With Full Force: Action kicked off in high gear. Blinds were set at 8,000/16,000/2,000 as action folded to Robin Ylitalo on the button. He min-raised to 32,000 holding the
. Carlos Mortensen was in the big blind and was stacking chips from the hand won right before. He immediately announced "all in" with the
for his remaining 300,000. Ylitalo asked for a count, then called without much hesitation. The board ran
and Mortensen doubled.
Rajkumar Flushed Away: Over to the feature table, Jonathan Jaffe opened to 32,000 with the
. Action folded all the way to the big blind, and Vivek Rajkumar called the 16,000 holding the
. Going into heads-up action, Rajkumar checked dark to a
flop. Jaffe, favored with two-live cards and a flush draw, bet 42,000. Rajkumar called. The
came on the turn and Rajkumar checked once again. Jaffe took the free card and checked behind. The
completed the board giving Jaffe the flush and Rajkumar top pair with top kicker. Rajkumar checked a third time, and Jaffe announced "218" overbetting the pot for 218,000. Rajkumar said, "You're too good, Jon" as he called, saw the flush, and mucked.
Shortly thereafter, Rajkumar picked up pocket queens —
— and raised to 35,000. Action turned to Florida poker pro Nick Schwarmann in middle position holding the
and he reraised to 82,000. Rajkumar then four-bet to 202,000, and Schwarmann called. With Schwarmann marked with the slight chip advantage, the flop came
. Rajkumar checked, and Schwarmann casually announced all in resulting in quick call from Rajkumar. The
turn card, helped neither player, but the
on the river completed Schwarmann's flush. Just like that, two rivered flush cards sent Rajkumar home in 197th place for $42,990.
Straight Flush Wins: Jason Cohen's story was told in a previous episode; Cohen's wife purchased his WSOP seat as a gift for his 40th birthday. Cohen was surely making a name for himself and putting his gift to good use as he was at one point in the top 10 chip counts behind Max Steinberg and Jay Farber. On this hand, the action picked up on the flop, which showed
and Cohen at risk. Cohen was all in with a monster draw, an open-ended straight-flush draw holding the
. Somar Al-Darwich had a flopped set of eights. With both players up from their seats, the
spiked on the turn, killing Al-Darwich's hand and giving Cohen a straight flush. He doubled up to 1,406,000.
Defending Champ Among Those Eliminated: As the first episode came to a close, a number of players were eliminated from the field. Greg Mueller was knocked out in 226th place collecting $37,019, marking four cashes and three final tables for him at the 2013 WSOP. Shawn Sheikhan (224th - $42,990), Tommy Chen (220th - $42,990), and David Pecaski (208th - $42,990) were three more bust outs, then Kyle Julius was eliminated in 176th place for $42,990 after losing to JC Tran's pocket eights with
.
The biggest name eliminated was defending champion Merson. He fell in 124th place for $42,990 after getting in for his last 481,000 with the
and losing against Brett Richey's
. In his exit interview Merson said, "Being in the spotlight as much as I have been is not something I really enjoy. It's kind of a relief busting. I'm happy with how far I went and how I played."
The second episode saw eliminations from Ola Okelola (154th - $50,752), David Cossio (147th - $50,752), Steinberg (131st - $50,752), and Ronnie Bardah (124th - $50,752).
Keep Away from the Ladies: Yi Fang was the highlight of the second episode. He was boisterous, commanding, and great for the camera. As cards were being dealt, Fang was being moved over to the feature table. Jaffe picked up pocket aces from early position and opened to 45,000. Fang still had his chips racked and hadn't even had an opportunity to sit down, but asked if he could play his hand. Fang assembled a few orange stacks and one yellow stack before reraising to 70,000 with the
. It quickly became the Yang show as he shouted from across the table, "Sir, I tell you, I'm a lucky man." Jaffe, with a look of concentration and focus, reraised to 240,000. Fang hit the ground running by calling Jaffe's four-bet, and the two were off to a flop.
The table was surely interested as the flop came
. Jaffe quickly bet 300,00, and Fang shoved all in, but was met with a snap-call from Jaffe. "I love lady! Lady coming!" Fang repeated with confidence and then shouted, "Please lady! Lady! Lady!" But no lady could save Fang from an overexcited three-bet, called four-bet and shove as the board ran out with the
and
. The aces for Jaffe held up, doubling him to over 2,800,000 and resulting in Fang losing 73 percent of his stack to drop to 504,000.
Fang was later eliminated by David Benefield after his
failed to win against Benefield's pocket jacks. Fang was out in 138th place to collect $50,752.
All That For a Chop? In perhaps the biggest hand between the two episodes this week, Marvin Rettenmaier came face to face against Alexander Livingston in a blind-versus-blind dispute. The action picked up with Livingston four-betting with pocket queens against Rettenmaier's pocket kings. Rettenmaier five-bet all in for 1,472,000 with his kings and Livingston showed disgust. After some contemplating, Livingston called and quickly showed regret once seeing his opponent's kings. Livingston shook his head as he said, "Sorry in advance if I suck out." With Rettenmaier as the player at risk, a queen flopped with
giving Livingston a flopped set and Rettenmaier a fighting chance with an up-and-down straight draw. The crowd and commentators went crazy as the
spiked the turn giving Rettenmaier the bigger set and now, both players a straight draw. With any nine or ace on the river, it would be a split pot. The
completed the board for a chopped pot. "That's so sick," is all Rettenmaier could say as Lon McEachern finished with, "Not often do you see a chop with so much drama."
Can't Beat the Ladies: Brandon Steven saw himself heads up against Texas resident Beverly Lange. With the action unknown, the board showed
and Lange was all in and at risk with pocket jacks. Steven held the better hand with
and gave the impression that he held a weak kicker. After conversation, deliberation, and even asking Lange if she would show if he folded, Steven folded the better hand. Lange turned over her jacks as the crowd reacted in surprise.
Now well passed the halfway point of the Main Event, Gee remained as the only 2012 Main Event final tablist still in the running for another final table finish. Meanwhile Jaffe managed to run his stack up to fourth on the leader board behind Chris Lindh, Sami Rustom, and Anton Morgenstern.
"Just when you think you've seen it all, tonight happens," McEachern said to close out the broadcast. "What a night of poker."
Tune in Next Week: The next episode will run September 24 and will feature a continuation of Day 5 of the Main Event. If you happen to miss it, check back right here on PokerNews for a full recap of the action. You can check out the full TV schedule by clicking here.
Get all the latest PokerNews updates on your social media outlets. Follow us on Twitter and find us on both Facebook and Google+!