PKR Pro Patty Beaumier: "Poker Is An Incredible Human Adventure"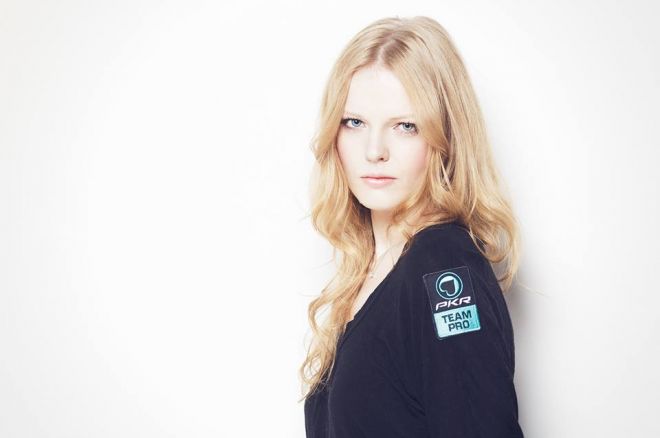 Young, reserved and yet extremely determined in poker as in life, Team PKR Pro Patty "BabyTes" Beaumier is one of those players who can successfully hide their strong ambitions behind an effective poker face and stay under the media's radar.
Although you may not often hear the name of this 26-year old player from Angers, France, Beaumier has managed march her way to her goals and masters degree in law at the Sorbonne University, a masters in journalism at Paris' Superior School of Journalism, and a sponsorship with PKR.
Although her adventure at the High Roller event of the 2015 French Poker Series (FPS) in Deauville has not been as successful as she hoped, it still gave her the chance to touch base with the core of France's poker community and to discover the windy region of Normandy.
"I have never been to Deauville before, but I am afraid I won't get the chance to see much this time," Beaumier said after she was sent to the rail in QQ vs AK battle shortly after the beginning of the event's second day. "I came here yesterday at 2 p.m. and I am already leaving, less 24 hours later. I didn't even have time to see the sea," she continued.
Left with some time to spare before she could hop on a train and get on her two-hour trip to Paris, Beaumier sat down with PokerNews to talk about her passion for journalism, the recent terrorist attack at Charlie Hebdo, and the strange atmosphere that the Parisian poker world lives in since the closure of the Aviation Club de France (ACF) and the Cercle Cadet.
PokerNews: Let's begin by talking about poker in Paris and the closure of the ACF and the Cercle Cadet. What do you think happened there? Why did France's authorities decide to hit poker world so hard?
Beaumier: To tell you the truth, people don't know much about what is going on there, even if it's reasonable to say that something is probably happening behind the scenes.
Rumors say that the ACF and the Cadet were closed because a big group may be trying to open a brick-and-mortar casino in Paris. In this sense, the closure of the two rooms would be functional to the project.
What kind of consequences did this have on the game? Is everyone heading to the Barrière casino in Enghien-les-Bains now?
That one is still there, but once the police raided and closed the ACF and the Cadet, everyone moved to the Cercle Clichy in Montmartre, which has an authorization to operate for one more year.
I used to play there also before all that happened, and I can tell you that we have never had as many players as we do now. These days, you can have even 50 people on the waiting list to sit at the room's cash games.
The closure of the ACF meant also that in Paris there is no longer a place for the high stakes games, and I know that the Cercle Clichy is getting ready to host some high stake games too now.
In 2015, one cannot talk about Paris without thinking about what happened on Jan. 7 at Charlie Hebdo and about the scar that the episode has left on all of us here in Europe. I know you got very emotionally involved in it. Do you mind to share with me how did that make you feel?
It has been horrible. Right when that happened, I was on the phone with my dad and I was telling him that I was considering to apply for a job at Charlie Hebdo. I've loved that magazine since I was a kid — I used to have their front pages in my bedroom — and now that I am a journalist I would really like the opportunity to work there.
Then, it all happened very quickly. First, I received a notification on my phone that said something about a shooting at the magazine's office. Then, as I live close to the street where that happened, I started to hear the sound of police cars all around me. So, I ended my phone conversation and I turned on the TV - I simply couldn't believe it. I was shocked.
The names started to appear on the screen. Cabu, Charb, Honoré, Wolinski, Tignous - they were all dead. I didn't even know what to think. I kept asking myself, "is this Paris or is this Iraq?"
Right after that, people in Paris went out and gathered in place de la Republique to show unity and to stand against that horrible attack. I went there too, and I have to tell you that it was something truly enormous.
I have seen that on TV, and I have to admit that it did look like a very powerful and impressive reaction. However, I couldn't help to ask myself if I would have joined that or not. Let's face, if there ever was a dangerous place to be at in Paris on Jan. 7 - that one was exactly the gathering place de la Republique.
I agree, and I did ask myself if it wouldn't be simply too dangerous for me to go there. Some of my friends didn't join me because they were too afraid to be there. But then, I realized that this fear was exactly what those terrorists wanted to create.
They wanted us to be afraid, they wanted us to limit our own lives - and that's not what I want. You see, somehow I think I had no other choice than to take the risk and go out, stay with all those other people in the street and show them that I am not going to let those terrorists win this.
What impressed me, is that my family supported my choice. I know that my mother is usually worried about me being alone in Paris, but that day, when I told them that I was going to join those thousands of people in place de la Republique, she supported me. She told me to go there.
For how tragic that has been, what happened at Charlie Hebdo, is deeply connected to politics, and this keeps me thinking about the real deal between politics and poker.
After Olivier Busquet and Dan Colman showed up at final table of the High Roller at the EPT Barcelona wearing two pro-Palestine t-shirts there has been a lot of talks about poker and politics. Now, let's put this into perspective: how comfortable would you be to discuss politics and the attack at Charlie Hebdo while playing some poker?
From my own experience, I have to say that politics come up very rarely at the poker table. Even better, it never happened to me before January's attack at the magazine.
A few days after that, I overheard a conversation between some players at the Cercle Clichy, and that made me seriously angry because they said a lot of wrong facts about the magazine.
To answer to your question, no I don't think politics belong at the poker table and I don't think it should be a part of the table-talk.
Unless someone decides to play dirty. If you get angry when you overhear someone who expresses views that you think are wrong, I believe one could easily use politics to tilt you. What if I'd just sit at the table with you and tell you that the guys at Charlie Hebdo should have seen that coming after they have published way too many irreverent articles?
Oh, there would be no talk there, trust me. I would not discuss that with you, I would simply slap you in the face. (laughs)
Thank you. On a completely different note, you mentioned that your mother is worried about you being alone in Paris. I guess the fact that you also play poker doesn't help, does it?
My mother doesn't like that I play poker and she's extremely worried about it. Yet, things got better over time, especially after she understood that I don't lose money when I play, I win it.
When I tell her that I am at a tournament or that I went to play at a club, she's not happy - not even when I win something. She keeps telling me that she doesn't want me to play too much poker. She asks me to slow down.
I know that she's worried about me wasting my money on the game and about the poker world in general. But that's only because she doesn't know much about it.
One's reasonable fear, however, could be that you'd lose touch with the value of money because of the game. After all, the longer you play, the more you see money coming and going at an impressive pace. Do you think this could ever happen to you?
No, definitely not. We have never had money issues in my family, but my parents taught me the value of it, and this is something that I think I'll never lose.
When I go to play a cash game and I put €300 on the table, I know how much money that is and I know that for a student like me that's a lot of money. I could never play or lose sums that I don't think I can afford.
How do you do that, then? Do you set goals and limits?
Yes, and I must say I set more limits than goals. My goal is to win always a little more, and there's no real roof for that. As for the limits, I always try to set the maximum that I could afford to lose before I start to play.
I know that you don't play as much poker as you used to, especially since you got a stage at France's audio-visual production company Yemaya. What about when you will have to take a decision about your life - do you see your future to be in poker or in journalism?
I thought a lot about this and I have realized that my life isn't in poker, my life is in journalism. Poker is a hobby for me but don't get me wrong - I don't plan to quit the game at all. I just think I can be a full-time journalist who plays poker in the evening or during the weekend, and not vice versa.
In a way, poker can also help me as a journalist - as over the years I had the chance to meet an incredible amount of great people thanks to this game.
I love how poker gives me the possibility to get in touch with people who come from different backgrounds and with a lot of stories to tell, people that I would have never met in different circumstances. This game is an incredible human adventure.
Considering that I know how much you like the game, and seen how many times you have mentioned your passion for journalism during this interview, I can't help to wonder where does this come from
I think that my idea to become a journalist came in the very same moment I discovered that there are horrible things happening around us that no one simply talks about.
I remember years ago I spoke to someone who had just been to the Belgian Congo. He told me about newborns being victims of unspeakable physical tortures only because some tribes were at war. After that, I simply couldn't stop to think that no one knew about that, that no one cared about that and that no one was doing anything about that.
It has been listening to stories like this one that I have made my choice. The only way to change things you don't like, is to do something, to change them - and, in this case, the only way to change what I don't like, is for me to become a journalist and report on what others don't.
Yet, I understand that I may have a very naive idea of journalism. I like to believe that a free press is what allows democracy to function, I like to believe that the role of press and journalism is a fundamental one in a democracy.
I am convinced that the duty of a journalist is not only to tell people what happens around them, it is to empower people by giving them the keys to understand what happens around them. I may be wrong in this, but for me a journalist is not someone who simply reports information, a journalist is a pedagogue.
Get all the latest PokerNews updates on your social media outlets. Follow us on Twitter and find us on both Facebook and Google+!