History of WSOP Europe, 2007 to Present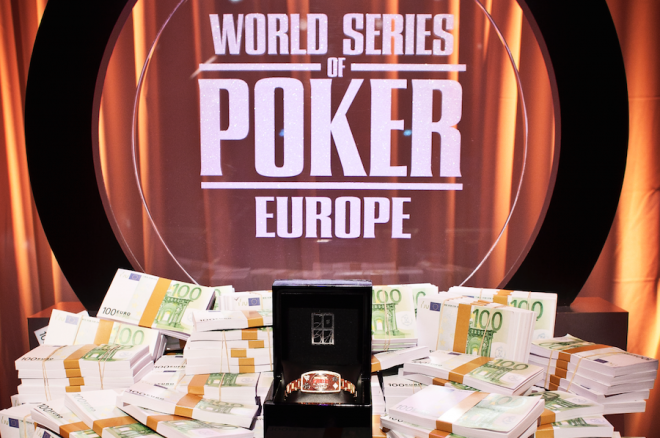 As 2015 hits its final month, another year of poker is almost complete. It's been a great year on the felt, and plenty of big events added new winners to the record books. One of those events was the World Series of Poker Europe after completing its eighth installment.
While the European gold bracelet festival often sits in the shadows of the WSOP in Las Vegas, it's a very prestigious event in its own right; one that's seen the likes of John Juanda, Phil Hellmuth, and Daniel Negreanu win gold. This year, Kevin MacPhee become the "King of Berlin" when he won the €10,450 Main Event to €883,000.
The WSOP first began awarding gold bracelets in Europe in 2007. That year, in the first half of September, the first WSOP Europe festival was born and three bracelets were awarded at The Casino at the Empire in the heart of London, UK. That venue remained the home of WSOP Europe until 2011, when the decision was made to not only change venues, but to change countries altogether. That year, WSOP Europe was held Majestic Barrière Cannes and the Le Croisette Casino Barrière in Cannes, France.
Cannes played host to the series in 2011 and 2012, but another venue change was in store for the 2013 festival. Although it remained in France, WSOP Europe changed its home to Casino Barriere in Enghien-les-Bains.
For 2014, another change was in store, with the WSOP opting to alter the plan of attack for its international events. Instead of hosting both a WSOP Europe and a WSOP Asia-Pacific festival within the same year, the two international events would alternate years. In 2014, there was only a WSOP Asia-Pacific festival and no WSOP Europe festival, and then in 2015 it was flip-flopped. That wasn't the only change, either, as the 2015 WSOP Europe again hopped countries, moving to Berlin, Germany, to be hosted at Spielbank Casino.
2007 — Obrestad's Youth Preveails
It all started with the £2,500 H.O.R.S.E. tournament that attracted 105 entries. Thomas Bihl became the first player to win a gold bracelet outside of Las Vegas when he took down the event for £70,875, defeating Jen Harman in heads-up play. The final table was chock full of well known poker players, with Kirk Morrison (3rd), Chris Ferguson (4th), Alex Kravchenko (5th), Yuval Bronshtein (6th), Joe Beevers (7th), and Gary Jones (8th) all placing in the top eight.
The other two events of the opening festival in Europe were the £5,000 Pot-Limit Omaha and the £10,000 Main Event events.
In the PLO event, Italy's Dario Alioto earned the gold bracelet and £234,390 when he topped a field of 165 entries. Also finishing at the final table were Tony G (3rd), Sherkhan Farnood (6th), and Andy Bloch (8th).
In the Main Event — Europe's version of "the grand daddy of them all" — Annette Obrestad shocked the world when she became the youngest gold bracelet winner in the history of the game at 18 years and 364 days old. "Annette_15," as she was commonly known for her online poker prowess, defeated a field of 362 entries to take home the top prize of £1 million. Obrestad defeated John Tabatabai in second place.
2008 — Juanda Wins Fourth Gold Bracelet
In 2008, the WSOP added a fourth gold bracelet event to the series in the form of the £1,500 No-Limit Hold'em tournament that opened the festival the following year. That tournament proved to be the largest gold bracelet event on European soil when it attracted 410 entries, and Jesper Hougaard won it for £144,218. Hougaard's win allowed him to become the first player in WSOP history to win two gold bracelets in the same year, but on opposite sides of the pond. He won a $1,500 No-Limit Hold'em event in Vegas that summer. Yevgeniy Timoshenko (3rd), Neil Channing (4th), and Adam Junglen (6th) all reached the final table.
In the second event of 2008, Farnood returned to another WSOP Europe final table, but this time emerged victorious in the £2,500 H.O.R.S.E. tournament, topping a field of 110 entries to win £76,999. Howard Lederer (3rd), Mark Gregorich (5th), Phil Ivey (6th), and Jeff Lisandro (7th) reached the final table.
In the £5,000 Pot-Limit Omaha event, another player was returning to a WSOP Europe final table after falling short the year before — Theo Jorgensen. Jorgensen finished atop the pack, defeating a field of 165 entries and winning £218,626. Jorgensen bested Sorel Mizzi in heads-up play, while Erik Friberg (4th), Max Pescatori (5th), Chris Ferguson (7th), and Jason Mercier (8th) also made the final table.
In the final event that year, the £10,000 Main Event drew the same amount of entries as the first year of the competition. The top prize was £868,800, and earning the title was none other than Juanda. Ivan Demidov finished third and had made the final table in the interim during the WSOP Main Event in Las Vegas, where he made the first-ever November Nine. Negreanu (5th) and Scott Fischman (6th) also reached the final table.
2009 — Shulman Defeats Negreanu
After increasing the number of events from 2007 (3) to 2008 (4), the WSOP opted to retain the same number of events in 2009 as it held the year prior, but with modification. The £1,500 No-Limit Hold'em and £2,500 H.O.R.S.E. events were exchanged for £1,000 No-Limit Hold'em and £2,500 Pot-Limit Hold'em/Omaha events.
The £1,500 No-Limit Hold'em event opened the series and attracted 608 entries. When it was all said and done, J.P. Kelly was the last player standing to win £136,803. Kelly's win was extra special because, like Hougaard before him, Kelly had previously won a WSOP gold bracelet in Vegas that summer.
In the £2,500 Pot-Limit Hold'em/Omaha, 158 entries were tallied, with Erik Cajelais emerging victorious to win the £104,677 top prize. Cajelais defeated Mats Gavatin in heads-up play at a final table that also included Men Nguyen (4th - £35,412), Chris Bjorin (6th - £20,106), Hoyt Corkins (7th - £15,302), and Howard Lederer (9th - £9,117).
Lederer then reached his second final table of this year's WSOP Europe when he made the final nine in the £5,000 Pot-Limit Omaha tournament. Lederer wound up finishing runner-up to Jani Vilmunen for £126,134. Vilmunen earned £204,048 for the win. Ross Boatman (4th - £60,030), Roberto Romanello (7th - £29,830), and Robert Williamson III (9th - £17,772) also placed at the final table.
Then in the £10,000 Main Event, Barry Shulman topped Daniel Negreanu to win £801,603. Negreanu took home £495,589. Praz Bansi (3rd - £360,887), Jason Mercier (4th - £267,267), Chris Bjorin (6th - £150,267), Antoine Saout (7th - £114,228), Matt Hawrilenko (8th - £87,074), and James Akenhead (9th - £66,533) also reached the final table.
In similar fashion to what Demidov did the year before them by reaching the WSOP Europe Main Event final table in the interim of the November Nine, Saout and Akenhead achieved the same feat, as they both made the final table of the 2009 WSOP Main Event.
2010 — Bord Scores Big On Home Turf
For the 2010 edition of WSOP Europe, tour officials opted to add a fifth event to the schedule and work in some different events.
First up on the slate was the £2,650 Six-Handed No-Limit Hold'em. This event attracted 244 entries and generated a prize pool of £610,000. Winning the event and earning his first piece of WSOP gold was none other than Phil Laak. Lack earned £170,802 for the win and defeated Andrew Pantling in heads-up play. Pantling earned £105,506. Chris Bjorin (3rd - £70,473) and David Peters (4th - £48,202) also reached the final table.
The £5,250 Pot-Limit Omaha returned once again and attracted a field of 120 entries. Winning the event for his fifth WSOP gold bracelet was Jeff Lisandro, as he took home £159,514 after beating Joe Serock (2nd - £98,262). While Jeff Madsen (4th - £52,542), John Racener (5th - £39,486), and Felipe Ramos (7th - £23,478) all reached the final table, it was the finishes of Willie Tan (3rd - £71,184) and Bjorin (9th - £14,916) that really turned heads, as both reached their second final table of the series in just two events.
The third event of the festival was the £1,075 No-Limit Hold'em affair, and all eyes were on JP Kelly when the final table was reached. The previous year, Kelly won this event and now found himself with a very good shot at going back to back. As it turned out, Kelly found himself heads up with Scott Shelley for the title. Ultimately, though, Kelly fell short and earned £82,854 for his second-place finish. Shelley earned the win, his first gold bracelet, and £133,857 in prize money. The event drew 582 entries.
Leading into the 2010 WSOP Europe, there was a lot of excitement around the brand new £10,350 No-Limit Hold'em High Roller Heads-Up event. Although many weren't sure of what to expect for numbers, there was no doubt that all of the big names in poker would be on hand for this one. After a great turnout for the event saw big names Ram Vaswani, Andrew Feldman, Daniel Negreanu, Kevin Eyster, Huck Seed, and Neil Channing reach the final eight, it was icing on the cake when Gus Hansen earned his first WSOP gold bracelet by finishing on top of Jim Collopy in the finals. Hansen earned £288,409, and Collopy took £178,211 for second place. This event drew 103 entries.
The finale was none other than the £10,350 Main Event, this year drawing in 346 entries and generating a £3.46 million prize pool. Although the final table was somewhat void of big names, Roland de Wolfe (4th - £278,945) and Dan Fleyshman (7th - £118,643) did reach the final nine. Heads-up play involved eventual winner James Bord and Fabrizio Baldassari, with the former being supported by a large rail of fellow Brits hat trampled through the audience barrier when Bord earned the £830,401 top prize. Baldassari took £513,049 for second.
2011 — Fox Rocks
After 2010, the WSOP jumped ship from London and relocated WSOP Europe to Cannes. In anticipation of a large French poker community excited about the move, two events were added to the schedule and seven gold bracelets were given out. Several big names grabbed jewelry and the field sizes were large.
Guillaume Humbert won the opening €2,680 Six-Handed No-Limit Hold'em event for €215,999. He topped a field of 360 entries and beat out Azusa Maeda in second place (€133,471).
The second event was a big one, with 771 entries in the €1,090 No-Limit Hold'em tournament. Australian Andrew Hinrichsen was a long way from home, but he found his way to the top to earn gold and €148,030. Also reaching the final table were Roberto Romanello (5th - €37,874) and John Eames (7th - €22,449).
The big, bad €5,300 Pot-Limit Omaha tournament was next up, and it drew 180 entries with a packed final table. Ramzi Jelassi (3rd - €105,937), Sam Trickett (4th - €77,642), Erich Kollmann (7th - €33,922), Sam Chartier (8th - €26,610), and Eoghan O'Dea (9th - €21,221) all reached the final table, but it was Steve Billirakis winning his second WSOP gold bracelet and €238,140 in prize money.
A brand new event on the WSOP Europe schedule, the €3,200 No-Limit Hold'em Shootout event attracted 258 entries. American pro Tristan Wade earned the victory, €182,048, and his first gold bracelet when he defeated Canadian Mike Watson in heads-up play. Watson earned €112,526.
Then, the €10,400 Split-Format No-Limit Hold'em event drew a lot of attention as it took the place of the No-Limit Hold'em High Roller Heads-Up that was on the schedule the year before. This event drew 125 entries and was won by one of the biggest names in poker, Michael "The Grinder" Mizrachi. Mizrachi earned his second gold bracelet and €336,008 in prize money. Another Canadian, Shawn Buchanan, finished in second place for €207,624.
The sixth event of the series was the €1,620 Six-Handed Pot-Limit Omaha tournament. This was the last event before capping it all off with the €10,400 Main Event, but it attracted a nice field of 339 entries. The final table was rather dry in terms of big names, but that didn't deter Philippe Boucher from reaching WSOP glory when he won the event for €124,584.
Finally, it was time for the record-setting €10,400 Main Event. This event proved the largest WSOP Europe Main Event field in history, and it was the largest by a wide margin with 593 entries. A prize pool of nearly €5.7 million was generated, and a big €1.4 million was awarded to the winner. The player left standing when the dust had settled was Elio Fox, a solid American poker player with a lot of online poker experience. Fox defeated a final table that included Chris Moorman (2nd - €800,000), Moritz Kranich (3rd - €550,000), Brian Roberts (4th - €400,000), Dermot Blain (5th - €275,000), Buchanan (6th - €200,000), Jake Cody (7th - €150,000), and Max Silver (8th - €115,000).
2012 — Hellmuth Wins Number 13
The move to France proved successful enough that the WSOP decided to fire up essentially the same schedule at the same venue for 2012. This decision may have cost the WSOP some money, as registration numbers were down across the board. As usual, plenty of big names made deep runs, and in the end, one of the true superstars of the game took the final bracelet home.
It was a mostly anonymous bunch advancing to the final table of the €2,700 Six-Max No-Limit Hold'em event after 227 players entered. The most accomplished player to make it was Roberto Romanello, but he went down in fifth place (€31,925). Tunisia's Imed Mahmoud was the last one standing and took down €147,099 and the first bracelet of the fall.
In a portent of things to come, a poker superstar claimed gold in the €1,100 No-Limit Hold'em event, as Antonio "The Magician" Esfandiari topped a field of 626, easily the biggest of the series. He added €126,207 to his coffers. It wasn't as big as his legendary One Drop win earlier in the year, but it was his third and most recent bracelet.
Two Frenchmen with vastly different resumes snagged the next two bracelets. Roger Hairabedian, one of France's top five tournament money winners, bested a 97-player field in the €5,300 Pot-Limit Omaha event for €142,590. That final table notably featured Joe Hachem (6th - €25,490) and Jason Mercier (9th - €12,245). Then, Giovanni Rosadoni won the €3,250 No-Limit Hold'em Shootout for €107,614 after beating tough American Dan O'Brien (€66,503) heads up. That one drew 141 runners.
After that, Jon Aguiar won the €10,450 Mixed Max event for €258,047 over a 96-player field, with Hairabedian nearly making it a double-gold series but finishing third (€86,087). Francisco Santos followed up with a win against 205 other players in the €1,650 Six-Max Pot-Limit Omaha tournament for €83,275.
The grand finale of the series, the €10,450 Main Event, proved one to remember as the great Hellmuth captured his 13th bracelet in a field of 420 runners. He had no shortage of tough opponents to battle through as he had to get pastScott Seiver (10th - €66,528), Timothy Adams (9th - €66,528), Jason Mercier (8th - €84,672), Christopher Brammer (5th - €207,648)), and Joseph Cheong (€292,320) before besting Ukraine's Sergii Baranov (€632,592) heads up to pocket €1,022,376.
2013 — 19-Year-Old Mateos Breaks Out
Would a change of venue and a revamped schedule that included a high roller event refresh the numbers back to 2012 levels? The WSOP decided to give it a shot by relocating from Cannes to Enghien-les-Bains, just north of Paris. The series would prove to be a showcase of top pros as a slew took down bracelets, starting with Jackie Glazier, who got €21,850 in a small field of 65 in the €1,100 Ladies Event. Swedish player Henrik Johansson then took down the€1,100 No-Limit Hold'em Reentry for €129,700 after beating a healthy field of 659. Then, Darko Stojanovic (€188,160) made it two straight years as a runner-up at WSOP Europe for O'Brien (€116,620) by beating him to end the €5,300 Mixed Max No-Limit Hold'em.
Former November Niner Jeremy Ausmus captured his first and to date only bracelet in the€1,650 Pot-Limit Omaha event, which drew 184 players and paid €70,324 up top. Finland's Juha Helppi (2nd - €43,441), Germany's Jan Peter Jachtmann (3rd - €31,367), and Ausmus' fellow American Jason Mercier (4th - €23,036) found themselves barely missing out on gold.
Then, Roger Hairabedian once again defended home turf and made it two straight years with a WSOPE bracelet. He won a new €2,200 No-Limit Hold'em event that drew 337 entries for €148,820. He had to topple a true titan heads up in Erik Seidel (€92,003), as well as top players Erwann Pecheux (5th - €37,052), Mike Watson (6th - €28,683), and Sam Greenwood (7th - €22,258) at the final table. American Noah Schwartz then denied France a second straight bracelet by beating Ludovic Lacay (€64,600) heads up for the €3,250 Mixed Max Pot-Limit Omaha for €104,580.
In the €10,450 Main Event, which drew 375, a star would be born as young Spaniard Adrian Mateos grabbed a cool €1,000,000 for defeating top French player Fabrice Soulier (€610,000) heads up. The final table continued many accomplished players, including Dominik Nitsche (3rd - €400,000), Ravi Raghavan (5th - €176,000), Benjamin Spindler (6th - €126,000), Shannon Shorr (8th - €77,500), andDaniel Steinberg (9th - €59,500). Mateos, of course, has gone on to become the second biggest tournament winner in Spain's history already at the tender age of 21.
Just like the previous year, a poker icon finished things off in style, this time with Daniel Negreanu winning the fan favorite €25,600 High Roller for €725,000. The field had just 80 players but numerous crushers reach the final table, including Philipp Gruissem (3rd - €250,000), David Peters (4th - €150,500), Timothy Adams (5th - €100,600), Scott Seiver (6th - €74,600), Jason Koon (7th - €63,500) and the aforementioned Seidel (8th - €55,400).
2015 — MacPhee Is "King of Berlin"
After ceding the spotlight to the Asia-Pacific region in 2014, Europe was set to once again host the foreign iteration of the WSOP in 2015. As a slew of young German stars continued taking over the poker world, the WSOP decided their home country would be a fine option for another relocation and moved the event to Spielbank Casino in Berlin. The number of bracelets increased once more, this time going all the way up to 10.
English star Stephen Chidwick's long quest for a bracelet continued to come up empty as he finished fourth in the €2,200 Six-Max No-Limit Hold'em opening event for €32,600. Makarios Avramidis of Greece ended up taking that one down for €105,000 to kick the series off.
After the success of The Colossus in Las Vegas, the WSOP decided to hold a similar tournament in Berlin with a €550 event dubbed The Oktoberfest. As expected, the turnout was large as 2,144 entered, and Dietrich Fast won it in his home country for €157,749, denying John Gale (€97,804) a third bracelet and second of the year heads up.
Then came a few new events. The €3,250 Eight-Handed Pot-Limit Omaha was won by Englishman Richard Gryko for €126,345 over a field of 161. Canadian star Mike Leah got second for €78,150. Another Las Vegas hit, the Monster Stack, was ported to Europe for a buy-in of €1,650, and American Ryan Hefter came out on top there for €176,205 against a sizable field of 580. A few superstars made the final table of €2,200 8-Game, but it was Uruguay's Alex Komaromi (€65,740) coming out on top over the likes of Scott Clements (2nd - €40,645), Jonathan Duhamel (4th - €21,065), and Shaun Deeb (5th - €15,235).
Greek players continued to shine as Pavlos Xantopoulos bested a field of 256 for €182,510 in the €3,250 No-Limit Hold'em. The €550 Pot-Limit Omaha event was far smaller than its hold'em counterpart but still drew a healthy 503, and England's Barny Boatman shipped his second career bracelet for €54,725. A turbo event was also added at a price point of €1,100, and Georgios Sotiropoulos made it three bracelets for Greece. He pocketed €112,133 for beating a field of 546.
After that, it was €10,450 Main Event time, and the first one on German soil drew 313. Longtime American pro Kevin MacPhee topped a field of 313 for a first-place prize of €883,000. Other notables to advance to the final table included JC Alvarado (3rd - €315,000), Andrew Lichtenberger (4th - €225,000), and Erik Seidel (7th - €100,000).
The €25,600 High Roller made another appearance to cap off the festival, and 64 players ponied up the hefty entry. Timothy Adams got to the final table for the second straight time but busted seventh for a €81,420 min-cash. Former Main Event champJonathan Duhamel won the biggest buy-in of the summer in theOne Drop and repeated the trick in Europe for €554,395. The rest of the final table cashers in order from second to sixth: Davidi Kitai (€342,620), Mustapha Kanit (€227,145), Samuel Chartier (€160,775), Christoph Vogelsang (€121,020), and Fedor Holz (€96,625).
Want to stay atop all the latest in the poker world? If so, make sure to get PokerNews updates on your social media outlets. Follow us on Twitter and find us on both Facebook and Google+!