Players on the Move: The Lion, the Wolfpack and The Comeback Kid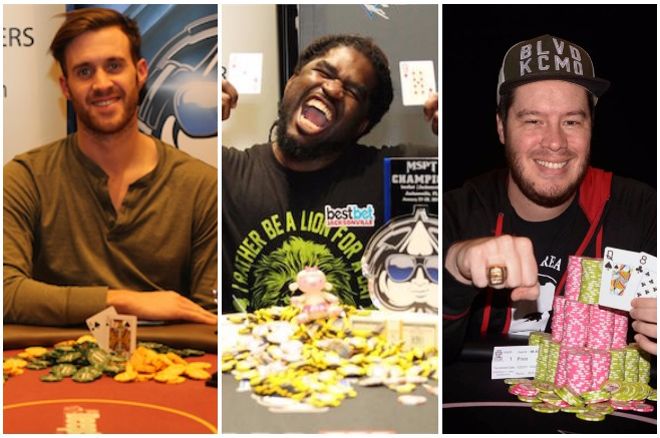 Big money, big cash, big hardware. These are some of the things every player hopes to achieve when plunking down a buy-in for a major poker tournament.
With an unending tournament scene, sometimes it's difficult to keep up with some of the players who have stood out at the tables.
PokerNews takes a look at some players who have stood out in recent months, those who may have had a big breakthrough, are on an upward swing, accomplished something nice in poker or are even on a nice comeback. These are some players who are on the move…and hoping to keep it that way.
THE COMEBACK KID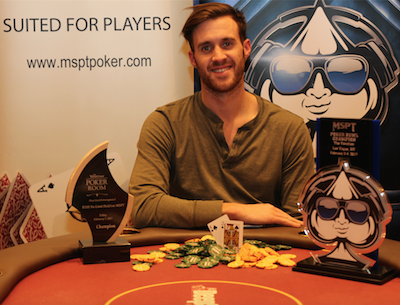 Name: Jordan Young
Age: 30
Occupation: Poker professional
Hometown: Muskegon, Michigan
Current location: Las Vegas, Nevada
Twitter: @Jymaster11
Three years ago Jordan Young was on the verge of quitting poker altogether. He was living and playing online in Mexico. He was thousands of miles away from friends and family, poker was no fun and he was losing money. Admitted the truth to himself wasn't easy. He just wasn't good enough, didn't know how to adjust his game and was considering moving on.
"I was waking up everyday doing the same thing, day after day thinking that today it was going to work; I was lying to myself," he said. "The poker landscape is changing rapidly at the moment and if I hadn't learned how important it was to study away from the table, I'd be doing something else for a living right now."
And study he did; the approach has led to some major results. Young now takes a completely cerebral approach to the game he loves. Poker friends and acquaintances helped him improve his game in recent years. He shares a house with a few guys including Matt Berkey, who plays in one of the biggest cash games in the world at the ARIA. Young attributes some his success to discussing hands with his friend and roommate.
Berkey is also the founder of the Solve For Why poker training academy along with Christian Soto. Young has helped with the project and credits it as a new, more efficient way to improve his game. Young said his discussions and work with Berkey in reinvigorating his love of the game.
"Having someone to talk strategy with at his elite level is extremely helpful," he said. "He thinks about the game much differently than anyone I've ever spoken with before and the effect it has had on improving my game has been massive. I've always been a firm believer that teaching others is the best way to learn so the academy has helped improve my game a great deal as well."
That new approach has translated to success on the felt including a recent breakthrough victory in the 691-entry $1,100 Main Event at the Mid-Stakes Poker Tour's Venetian Poker Bowl.
"That's when I knew I needed to make a change because this is a game I really do love."
Young notched the biggest win of his career for $117,381 and was relieved to see his hard work paying off. Adding to his run in the event? He only fired one bullet in the re-entry tournament for the win.
Despite his reservations about the game only a few short years ago, Young did achieve a few smaller scores earlier in his career including a nice $52,275 in 2012 for winning a $1,070 buy-in event at the L.A. Poker Classic. Over the past 12 months, Young said he's profited over $500,000 in live and online tournaments and is now transitioning to live cash games.
"Traveling out of the country to play online was starting to become so strenuous and I wasn't enjoying myself while I was playing poker at all," Young said. "That's when I knew I needed to make a change because this is a game I really do love."
He said that the importance of studying is the one piece of advice he wished he'd had at the beginning of his career.
"Volume is great and all, but analyzing and answering questions away from the table saves a lot of time compared to the trial and error approach I previously used," he said.
Away from the poker tables, Young can often be found on the golf course. The independence of the game is a lot like poker, he said, with a player solely responsible for his own decisions and determining the outcome. Poker has an extra element of adjusting to other players for those decisions.
"Poker is such a great game because of the varying ways you're able to play the game" he said. "I love all of the little intricacies involved in the game. Poker is such a great game because it has very little to do with the cards you're dealt. Poker is so much more of a people game than a card game and that's what I love most about it."
The MSPT win brought his career tournament total to $440,000. He'll be looking to build on his recent success now and this summer at the WSOP.
"The atmosphere is electric for 40 days straight and there's just no other place like it," Young said of the scene at the Rio. "I wake up every morning in June and it feels like Christmas."
THE LION ROARS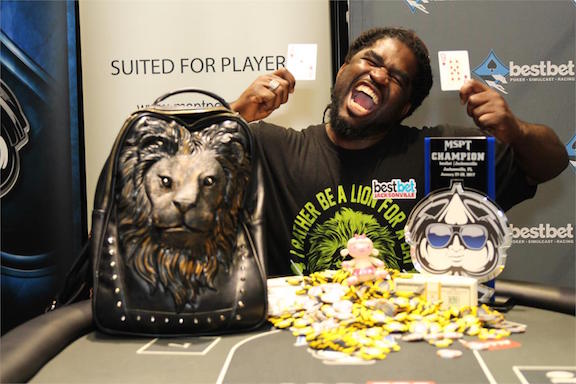 Name: Jermaine "The Lion" Gerlin
Age: 39
Occupation: Father/poker professional
Hometown: Miami, Florida
Current location: Jacksonville, Florida
Twitter: None
A lion looking for a meal can be dangerous. And Jermaine "Lion" Gerlin had been hungry for some success at the poker felt. With his run of recent success, he satisfied that hunger, but he's looking for more.
"I attribute my success to jealousy and the hunger to win," Gerlin said. "I got tired of watching my friends doing so well and seeing players who I felt I was better than advance further than me. That's when I got really hungry to do better."
Lion has certainly been on the hunt. Gerlin has been a dominating force at the table recently. In January, he shipped the 392-entry MSPT Jacksonville $1,100 Main Event for $94,310. In September, he also topped a field of 316 entries in the the Heartland Poker Tour Daytona Beach $1,650 Main Event for $106,732.
A few years ago, a friend gave Gerlin his unique nickname when he began growing his hair long. The name stuck.
"I had gold tips at the end of my locks," he said. "He said I look like a lion. Ever since then I've been called 'Lion.' Most people don't even know my real name. 'Well,' I'll say, 'Lion is my real name.'"
After some cashes in smaller buy in tournaments earlier in his poker career, Gerlin spoke with a friend, David Jackson, about how to improve his game. Within a week, he saw some results beginning with the WPT bestbet Jacksonville bounty tournament series in the fall of 2015. He made three final tables and then added a runner-up finish in a regular bestbet tournament for $6,666.
"Just that little moment in that one hand, you can say you're better than the best guy in the world."
In March 2016, he added a fourth-place finish in the $1,100 MSPT Jacksonville Main Event for $32,062 and then notched his first win at a $350 bestbet Jacksonville recurring tournament for $25,907.
While many players first became fans of poker after seeing Chris Moneymaker win the WSOP in 2003, it was Robert Varkonyi's 2002 win for a cool $2 million that made Gerlin take notice of the opportunities at big money in the game. He's become a regular on the Florida poker scene. What does he love about the game?
"The feel of living on the edge without falling," he said. "Every hand is a competition to win. And just that little moment in that one hand, you can say you're better than the best guy in the world."
Lion's goals now include cashing at the WSOP and looking to win more in 2016 than he did last year ($208,000). The MSPT win certainly is a nice start to that goal, but he still feels he has work to do on his game.
"To improve my game I'm going to have to study more and blend my style to how the table is playing," he said.
Away from the poker scene, Lion loves spending time with his cubs/kids: Ziza, 3, and Shaniya, 7, (aka Cubby Cub and Nana). With the cash from his last win, Gerlin is looking to buy a new house for his family/pride so Ziza and Shaniya "can play in their own backyard."
And this big cat has no plans to slow down at the tables, adding, "Look out poker world, the lion is coming and he is starving to win."
RUNNING WITH THE WOLFPACK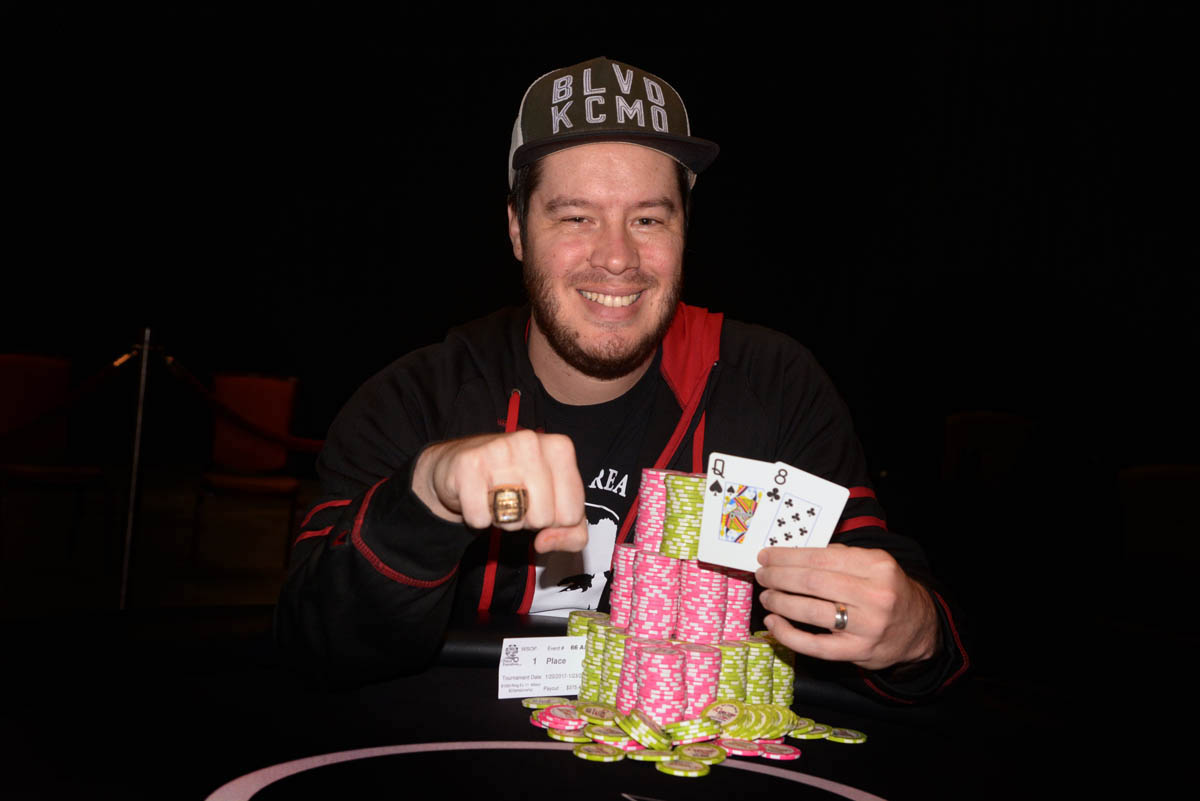 Name: Grant Hinkle
Age: 36
Occupation: Governance, risk and compliance management consultant
Hometown/current location: Overland Park, Kansas
Twitter: @GrantHinkle
Grant Hinkle is one half of the poker-playing Hinkle brothers and there is no shortage of poker talent in this family. While his brother Blair Hinkle may grab much of the headlines as the family pro, Grant has found his way to the winner's circle of late as well.
"Obviously, having a brother that plays for a living and is one of the top tournament players in the world is a big advantage," he said. "I can always ask advice for a situation that I was stumped on and give his opinion a lot of weight."
In the last few months, Grant achieved the two biggest cashes of his career since winning a WSOP bracelet in 2008 in a $1,500 no limit hold'em event for $831,279. After a few years of ups and downs, he's been on a tear. First came a nice final table finish at Oklahoma's WinStar River Series, where he took fifth for $207,669.
Then in January, Grant notched another huge Oklahoma payday, winning the $1,675 WSOP-C Choctaw Main Event for $375,427. This is quite a run for someone who only plays part-time and works a full-time job. He credits some of that success with a group of the Hinkles' friends known as the "KC Wolfpack," who all have similar interests and play poker.
"At this point, there aren't as many poker strategy discussions as much as arguments about other random things that life throws at us," he said.
While the poker discussions may have slowed down among the group, the success on the felt has not. Along with Grant's nice finishes, James Mackey won the WPT-Choctaw Main Event in August for $666,758, Blair Hinkle won the HPT Thunder Valley in October for $223,411, and Matthew Donaldson won the HPT St. Charles in November for $132,917.
"I can remember walking around the table as a kid and checking out what everybody was holding."
The Wolfpack also has had some other final tables along the way.
The Hinkles grew up in a competitive, card-playing family. Their father played in a neighborhood game that rotated to different hosts.
"I can remember walking around the table as a kid and checking out what everybody was holding," Grant said. "I started playing more seriously after watching the Chris Moneymaker run in the WSOP Main Event. I deposited 50 bucks online and played limit hold'em there while also looking for local hold'em tournaments in Kansas City to build my bankroll."
Hinkle spends quite a bit of time playing in his hometown area of Kansas City, but wishes there were more major tournament circuits that would visit. He finds poker similar to life: challenging, always evolving, accentuating one's strengths, exposing a player's weaknesses, and, of course, not always fair. With a young family and full-time job, his poker tournament schedule is typically limited to Kansas City major tournaments that fall on a weekend so he can drive to them. He also usually plays the first week of the WSOP and the Main Event.
Away from poker, Hinkle says he tries to "enjoy all that life has to offer." That includes family, friends, work, music, local sports teams, food, wine, art and travel.
"I am also interested in learning about human consciousness and our universe," he said. "One unchecked bucket list item is to travel to space either by commercial flight or space elevator – #AllTheWayUp."
This year, Hinkle has set some high goals: a New Year's resolution to win another WSOP bracelet and final table the Main Event.
"I realize those are unlikely to be fulfilled, but I figure most people fail on their New Year's resolutions so I might as well set a high goal and fall short versus failing on something mundane," Grant said.
Do you have an idea for a Player on the Move? Email seanchaffin@sbcglobal.net.
Lead images courtesy of the MSPT and the WSOP
Everybody needs an account at one of these online poker rooms! They're the biggest, the best, and we get you the best poker bonuses. Check out our online poker section for details on all the online poker rooms around.