Poker Players on the Move: The Surfer, The Senior Statesman, and The Buzzsaw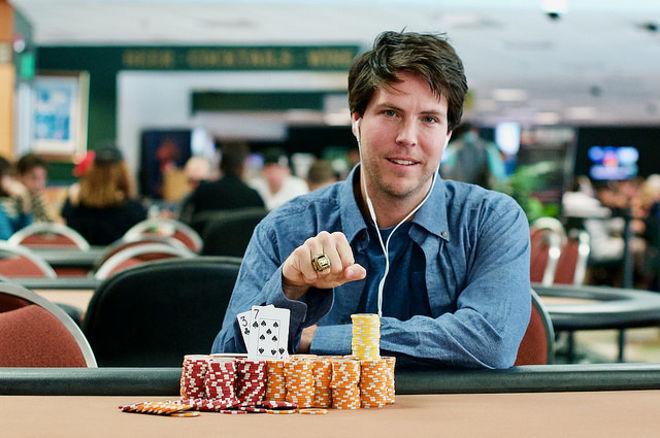 Success in poker comes from deep thought, plenty of practice, and well-timed plays. A little luck here or there helps also. PokerNews looks at some players who have commanded the spotlight in recent months. These are some players who are on the move … and hoping to keep it that way.
The Surfer
Name: Max Young
Age: 32
Occupation: Poker player
Hometown: Seaside, Oregon
Living now: On the road
It's been a huge year for Max Young -- 2017 brought his first six-figure scores. The first of these brought some special memories -- and not just at the felt. Young (picture above c/o WSOP.com) gets special motivation from his mother, a situation that puts things into perspective.
"I got a lot of inspiration from my mom who valiantly fought terminal cancer without ever complaining," he says. "She inspired me to keep pushing no matter how difficult the task seemed."
In August, Young notched his first six-figure score at the Parx Casino in Bensalem, Penn.
"The crazy thing is I wasn't even supposed to be there," he says. "I was visiting my parents and had a flight back to Oregon that I decided not to get on because my mom wasn't doing well. I wasn't sure how long she would be around."
Young stayed and snuck away to the Parx to try to make a few bucks.
"I felt in the zone in that tournament, it just seemed like it was meant to be," he says. "I got to bring that trophy home to my mom and share that win with her, which felt so good because she always believed in me and wanted to see me succeed."
Young played the tournament of his life, winning the $1,600 No Limit Hold'em Big Stax for $120,930 -- a victory that will stay with him forever. He gave his mother the trophy on the last day she was coherent before passing away two days later.
Growing up, Young was always into games -- beginning with Monopoly and Risk and then backgammon and chess. When one sport piqued his interest, he poured all his energy into it. As a young tennis player, he hung out at the courts all day, challenging anyone to a match. If no one was around, he'd hit balls against the backboard for hours.
After surfing for the first time, however, tennis didn't matter anymore.
"If there was any ripple on the ocean I'd spend all day at the beach," he says. "I'd come home and go to bed thinking about it, dream about it all night, and then wake up thinking about it."
"I got a lot of inspiration from my mom who valiantly fought terminal cancer without ever complaining."
Poker didn't enter the mix until he went to the University of California-Santa Cruz where he majored in business management. He was awful at first, but sponged everything he could from better players -- again pouring his energy into the game.
That work paid off. He has more than $500,000 in tournament winnings since jumping into tournament poker in 2011. However, 2017 has been special. He started his year off winning his first WSOP-C ring in February in West Palm Beach, Fla., for $13,944 in the $365 No Limit Hold'em 6-Max. More final table appearances followed, including a runner-up finish in March at the WSOP-C stop in Council Bluffs, Iowa, for $24,584.
Along with poker, surfing remains an abiding passion. While Young has found success at the tables, including his most recent win in November in the Main Event at the WSOP-C Lake Tahoe for $147,699, the ocean will always be his playground.
"I'm basically on the road full time at this point, if it's not for poker then it's for surfing or something else fun," he says. "I love surfing first and foremost and pretty much everything else that has to do with the ocean."
When not catching waves, Young also enjoys snowboarding, mountain biking, golf, and tennis. He's also done some poker coaching and as his bankroll grows, Young invests his winnings and hopes to get involved with real estate.
With some nice wins under his belt and a new year approaching, Young aims to keep improving and increase his win-rate year over year. Making enough money and having a good life balance are important.
"I'm really thankful to be a part of the poker community in Portland and Seaside," he says. "I've made such great friends there and had so much support from my peers and family through all the ups and downs. I think it's a different feel than coming from a bigger city, I just feel like all the players around there want to see me succeed, which is really nice."
The Senior Statesman
Name: Ed Sebesta
Age: 74
Occupation: Retired
Hometown: Iowa Colony, Texas
Living now: Richmond, Texas
For Ed Sebesta, winning at poker isn't about his own success. He's playing for something bigger -- the memory of his son Andrew Sebesta. After graduating from Notre Dame University with degrees in chemical engineering and history, Andrew entered the seminary to become a Catholic priest with the Congregation of Holy Cross Order.
The order founded the university, and Andrew was officially ordained as a priest, but passed away in 2012 from a brain tumor at 39.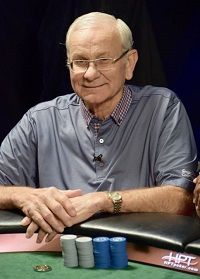 "We are supporters of the Congregation of Holy Cross because they do good work and took good care of our son while he had the brain tumor for seven years," Ed says. "In 2016, I decided I didn't need to make money from my poker playing retirement hobby as my partner and I had sold our successful RV business in 2010. Starting in late 2016, I made a commitment to myself that I would donate my net winnings from poker tournaments to the Congregation of Holy Cross, which I plan to continue doing."
Ed began tournament poker a little later in life than most. A cousin introduced him to casino poker and he was hooked. He began playing in small tournaments and loved the challenge and atmosphere. Bigger tournaments followed.
"A golfing friend convinced me that the WSOP senior tournament was fun," he says.
In 2014, he finished 293rd for $2,270. He says 2015 was a bad year, but he soon found his place on the Heartland Poker Tour.
"I came in 12th in the HPT Main Event in Kansas City in 2016, which got me more interested in playing tournaments," he says.
After that, Ed began working on improving his game and 2017 has been a good year with three final tables and three other cashes in HPT Main Events. He is third in the tour's Player of the Year race, and has scored more than $109,000 at HPT events this year. To what does he attribute his success?
"Studying game and having little fear since poker is just retirement hobby," he says.
Growing up, Ed worked hard on his family's farm and performed well in school. Along with poker, he enjoys golf and traveling. What's next?
"To just have fun," he says. "I would like to have a deep run in a WSOP event. I have lots to learn about tournament poker. I hope that I can improve and eliminate my biggest mistakes."
The Buzzsaw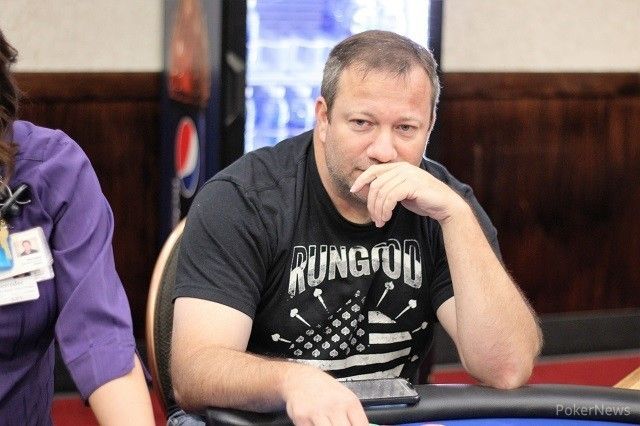 Name: Daniel Lowery
Age: 43
Occupation: Sawmill owner
Hometown: Peter Pender, Arkansas
Twitter: @danmflowery
To Dan Lowery, poker gets a bad rap. Many don't understand the hard work and discipline needed to be successful. He should know. Lowery has more than $1.4 million in tournament winnings, including six WSOP Circuit rings.
"People always refer to me as 'the gambler,'" he says. "They don't understand that for people who are successful at it, it's a business. My wife and I pinch pennies when we are on the road. We hook up meals in the hotel, look for the cheapest deals or comps on rooms. We stay away from all casino games. Sure, there are those players that have all the vices of gambling and drinking. And those players generally stay broke."
Treating poker as a business seems fitting for this businessman. Away from the poker tour, Lowery owns and manages a sawmill -- a job that he loves. Those poker winnings have come in handy for the business. That includes his most recent winnings of $258,784 after taking down the WSOP-C Choctaw Casino Main Event in Oklahoma on Nov. 10.
"We've been expanding our sawmill with poker winnings over the past year or so," he says. "We've added lots of new equipment and property, and looking at a partnership in some trucking as well. We're always looking at new ways to make more money."
Lowery knows a thing or two about cutting down the competition. He won another ring in October at the WSOP-C Lake Tahoe in a $365 No Limit Hold'em event for $14,096 and also had a runner-up finish for $15,458. He has several wins and final table appearances in 2016 and 2017.
"I've been much more focused in the last year and a half," he says. "My wife Krista and I had traveled for poker off and on for about four years before she got pregnant with my son Gus. After he was born, I took about six months off from playing. When I have gone to play since then, everything I've played has just gone my way. The last year I've played about one-third of the volume I did when we traveled before. It's been that perfect balance that's let me stay focused I believe."
The road to serious poker came after Lowery went through a divorce. He sought out a new social setting and poker fit well. He had played poker with friends as a teenager and had dabbled some online.
"Sure, there are those players that have all the vices of gambling and drinking. And those players generally stay broke."
"For me, poker is a way to compete," he says. "I've always been competitive and getting to play against a large field of other players is a great way to fulfill that itch to win. Obviously the majority of the time you don't win a tourney that you enter, but you can always get satisfaction by getting to play a hand perfectly, or taking home more money than you started with. At the end of the day, poker is a game that I love. And any day on the felt is just another day to feel alive!"
Growing up, Lowery describes himself as "a little rebellious." He had a nice upbringing, but strayed a bit. He didn't take advantage in numerous opportunities because of basketball, track, and academics.
"I was blessed with all of it and just threw it all away," he says. "It took me a while to recover and truly grow up, but I'm happy with who I am today."
Away from poker, Lowery loves doing things with his children. Along with the baby Gus, he is father to Christian, 20, Jenna, 17, and Reagan, 12. He loves basketball, fishing, and anything having to do with the outdoors.
In recent months, Lowery has been able to complete a few of his poker goals. His lifelong goal for the WSOP-C was to win three rings along with a main event, a non-Hold'em ring, and a casino championship.
"I just need to win a non-Hold'em ring to complete my WSOP-C goals," he says. "I'd also like to win another mid-major like a RUNGOOD Main, HPT, MSPT, or WPTDS Main. I've played very little at the WSOP, but I'd like to play 10-15 events each of the next three years and see if I can win a bracelet."
Everybody needs an account at one of these online poker rooms! They're the biggest, the best, and we get you the best poker bonuses. Check out our online poker section for details on all the online poker rooms around.