Top 10 Stories of 2017, #2: John Hesp Reignites Poker Excitement During WSOP Main Event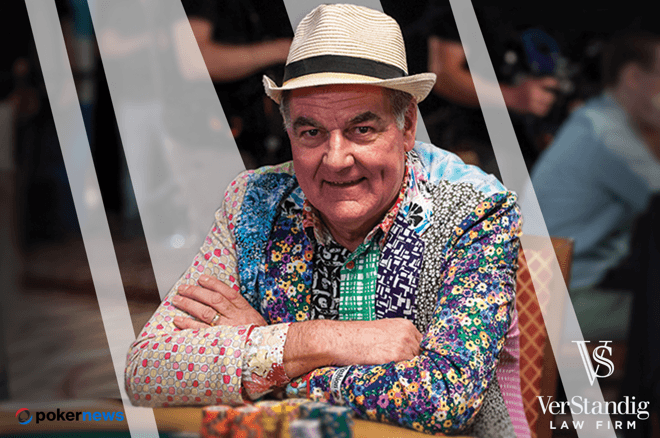 This year's Top Stories are brought to you by the VerStandig Law Firm, LLC. Combining a keen understanding of the gaming world and an equally keen understanding of the law, Mac VerStandig and his colleagues are devoted to fighting on behalf of the poker community and its members.
Every year thousands of poker players from all walks of life and a wide variety of backgrounds and experience make up the field at the World Series of Poker Main Event. While the enormous prize pool and prestige associated with poker's "Super Bowl" always attracts attention, it's also the one tournament each year guaranteed to produce interesting stories and colorful characters.
The 2017 World Series of Poker Main Event was no exception, and while Scott Blumstein's run to the title and $8.15 million first prize was exciting to follow, many would agree the story of fourth-place finisher John Hesp of Bridlington, England stood out the most.
So, too, did Hesp's psychedelic crazy-quilt clothing and Panama-style hat stand out in the Rio All-Suite Hotel and Casino's tournament rooms packed with thousands of hopefuls yearning last July to become part of poker history.
Here was a character no one could miss.
An Item on the "Bucket List"
A 64-year-old recreational player from the small seaport town of Bridlington, England, Hesp trip to the play the WSOP Main Event was one of those "bucket list" items he aimed to check off his list after playing the game earnestly but mostly for fun over the previous two decades.
"I am to poker what Donald Trump is to politics — an amateur," Hesp joked to PokerNews during his tournament run, alluding to the then-ongoing presidential campaign.
With four children and seven grandchildren, Hesp had arrived at a self-described "semi-retirement" with a management team largely taking care of running his company that rents caravan vacation homes.
Prior to traveling to Vegas for his first ever WSOP event, Hesp's most recent tournament experience had come in a regular weekly tournament at his home poker room at the Napoleons Casino & Restaurant in Hull (near Bridlington), the hometown of 2017 Poker Hall of Fame inductee Dave "Devilfish" Ulliott.
At Napoleons he'd earned a handful of tiny cashes in the £10 rebuy tournament, the largest being worth £785 for his lone win.
Then in the spring he'd asked his wife if it were okay for him to go to Vegas to play the Main Event, and with her blessing he and a Bridlington friend made the trip. From another friend he'd borrow a few of the multi-colored shirts and jacket, items worn by his friend on a previous Vegas excursion.
Perhaps, thought Hesp, they might bring him a little luck.
A Final Table Run
Hesp persevered on Day 1, doubling his stack and making it through to the second day right in the middle of the pack of thousands. He continued to accumulated through Days 2, 3, and 4, after which he found himself hovering just outside the top 100 with 297 remaining.
By the third day Hesp's friend had to travel back to Bridlington, but it wasn't long after that the caravan salesman had unwittingly picked up his own caravan, a bandwagon onto which increasing numbers of poker fans were jumping the deeper Hesp's magical mystery tournament lasted.
"It's unbelievable, it's indescribable," Hesp would tell PokerNews. "I tried to get some sleep... and my phone's going ping-ping-ping as I get messages coming from all over the world — China, Russia, South America. I'm thinking, 'Who are these people wanting to get connected with me from all over the world.' Something's happened... it just looks as though I've become an international poker celebrity in the span of 48 hours. How did that happen?"
A fantastic fifth day saw him come back for Day 6 with a mind-bogglingly big stack of more than 20 million — well above the average and sixth-best out of the last 27.
It was before Day 6 he found himself trying to articulate what the ride had been like to that point, marveling at it all as much as anyone.
"I started out thinking of making it to 1,000," he said, a goal which would have earned him a spot in the top 1,084 to guarantee at least a $15,000 payday. That said, cashing had never been a primary goal.
"It wasn't about the money at all," he said. "I'm lucky enough to be financially secure and so that wasn't it. I just wanted to get to 1,000. Then when I did, I thought about getting to 500... then 100...."
Then 27... and then... incredibly... nine.
How Far Can Hesp Go?
Not only did he make the final table, but with over 85 million in chips he was in second position, one of the two big stacks (by far) of anyone left along with eventual winner Blumstein.
Hesp's final table appearance continued a recent trend of older players joining those in their 20s and 30s typically comprising the Main Event's final nine. In 2016 it was 50-year-old Cliff Josephy carrying the chip lead to the final table before finishing third, and the year before both third-place finisher Neil Blumenfield (aged 61) and seventh-place finisher Pierre Neuville (aged 72) were part of the final group.
But no one Hesp's age had won the WSOP Main Event since the very beginning in the early 1970s when Johnny Moss took three titles in five years while in his 60s. Could Hesp do it? Poker fans were curious to find out.
Between PokerNews' coverage of every hand and the ongoing broadcasts on ESPN and PokerGO, all of the action and Hesp's play were being covered more closely than ever.
Among those watching were many new to poker, enthralled and inspired by the amateur's success. Meanwhile Hesp's wife and family were able to make the trip as well to see in person how much longer the dream would last.
During the final table's first hours Hesp used his big stack to keep opponents on their heels, accumulating enough to rush into the chip lead and create some distance between himself and Blumstein, with the chase pack still far behind.
It was then a dramatic confrontation between the big stacks went Blumstein's way, with the latter flopping a set of aces, Hesp turning top two pair (aces and tens), and all the chips going in with Hesp already drawing dead.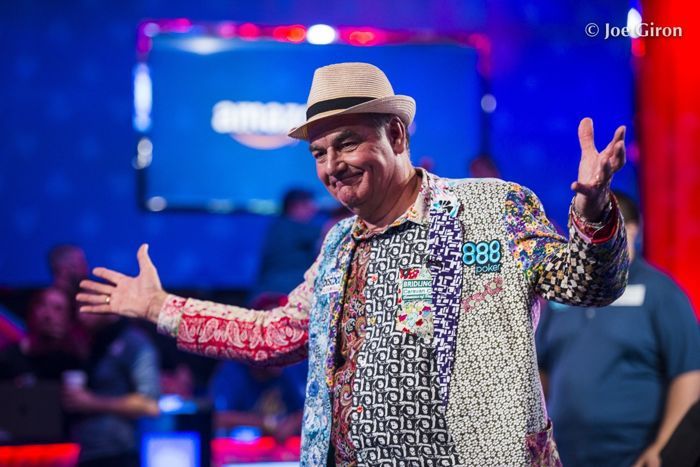 Knocked back to the lower half of the counts, Hesp gamely carried on before finally falling in fourth in a hand versus eventual third-place finisher Benjamin Pollak. His final prize — $2.6 million.
Speaking after his knockout, a still excited Hesp proudly reaffirmed his continued status as a recreational player for whom the fun of the game was the primary attraction.
"You don't have to have lots of money to be rich in life, and I was rich in life before I came here, and I'm even richer now without the money."
Back to Bridlington
After his remarkable summer vacation, Hesp returned home to Bridlington, banking most of his winnings after indulging in a vacation for himself and his wife. There was a party for him at Napoleons, and even talk of plans from a UK-based company to make a movie based on his life.
That said, as Hesp himself reiterated back in Las Vegas, he's "just a Bridlington man," and while obviously comfortable in the spotlight isn't necessarily one to seek it.
Indeed, as if to underscore Hesp's point about poker being played for fun first and money second, Hesp has already gone back to Napoleons to earn another cash in his favorite Sunday rebuy — one worth about 1/10,000th what he made at the WSOP.
He's the star of one of the most memorable poker stories of the year, and the owner of one of the most unusual Hendon Mob entries you're ever going to see.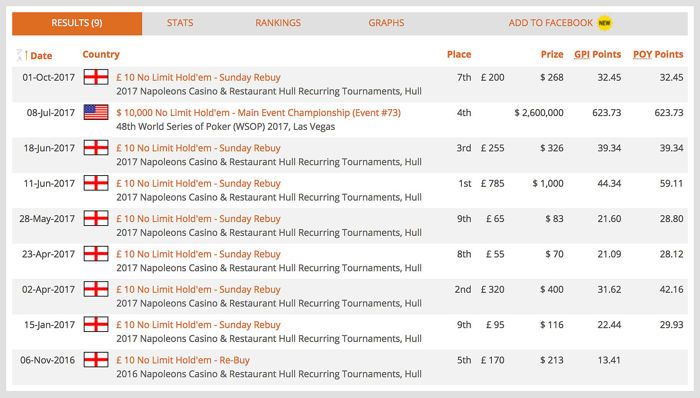 The VerStandig Law Firm, LLC represents poker professionals, sports bettors and advantage players across the United States. The firm assists clients in connection with legal issues including personal LLC formation and operation, tax planning that focuses on gaming deductions and exemptions, casino disputes, and personal matters spanning from divorce to criminal dust-ups.
Be sure to complete your PokerNews experience by checking out an overview of our mobile and tablet apps here. Stay on top of the poker world from your phone with our mobile iOS and Android app, or fire up our iPad app on your tablet. You can also update your own chip counts from poker tournaments around the world with MyStack on both Android and iOS.