Daniel Negreanu Supports Bans, 'Seat Me' System to Fight Scripting
Play the word association game with "Daniel Negreanu" and "fish" probably isn't the first word to spring to mind to describe poker's all-time tournament money leader.
Evidently, that's the case for at least five people though, as the popular PokerStars Team Pro revealed in a recent video blog. The whole thing is worth a watch — it's embedded above — but what PokerNews wanted to highlight was Negreanu's rant against the current state of online poker cash games and the rampant use of seating scripts that has infested them.
Negreanu's tale begins with a desire to get in some hands at $50/$100 six-max on PokerStars to work on some concepts he's recently been studying with his poker coaches. He put in two sessions, he said, lasting a total of about 500 hands.
Both times, he chose empty tables at which to sit, where he expected to wait for some regulars to sit in and give him action. As soon he sat down, he said, regulars filled the other five seats in the games "within three-quarters of a second."
What is Seat Scripting?
How does such a thing occur?
For the uninitiated, it's not because five regs hovered over their mouses eagerly awaiting a fish sitting at the table Negreanu happened to choose. The use of "seat scripts" allows players to instantly sit at what the software deems to be a profitable table. Those with the best and fastest scripts will beat everyone else to the punch in getting the best tables and snatch up the money from recreational players before any of their rival sharks can do the same.
"I don't see, five years from now, a viability for nosebleeds" Negreanu
PokerStars has been talking about banning the use of scripts since at least 2014, but it seems little has changed.
Negreanu turned the tables on the would-be sharks, taking them for about $40,000 by his estimation, but the whole process left him a bit disturbed by the state of online cash games.
"As soon as I hit the sit out button, oddly enough, everyone else seemed to have to quit at the exact same time," he said with a smile. "What are the odds? If I was a 'fun' player, that type of environment wouldn't be something I'd want to come back to."
Cause for a Ban?
Joe Ingram outlined that very scenario in his own recent rant on the subject. Like Negreanu, he feels strongly that this environment is a massive turn-off for recreational players.
"Eventually, what are you gonna do?" he said "You're going to give up trying to play. It's just sad, it really is. There's no end in sight for this."
Ingram went on to challenge Negreanu and PokerStars as a whole to affect change in the poker economy and come up with creative solutions to move past this ugly practice.
While Negreanu and Ingram fired a few potshots at each other, they both had common ground in their favored approach to the situation.
"Ban these parasitical guys who do nothing but bumhunt, seat script, and instantly sit out" Ingram
"Ban them entirely, and if you find people are using them, you can temporarily ban their accounts, fully ban their accounts," Negreanu said. "Just the threat of it will alleviate the situation."
Ingram's take was even stronger.
"Ban these parasitical guys who do nothing but bumhunt, seat script, and instantly sit out," he said. "Get them out. Find a way to incentivize and reward those players who are willing to play."
Ingram also suggested players could be separated into different pools based on their approaches to game selection. Those who wanted to seat script and instantly sit out could be segregated into one pool, he said, and those who wanted to compete and create a "positive environment" could be in another.
While a blanket ban is an enticing prospect for recreational players, and could potentially lead to an uptick in the online poker economy, sites have had trouble legislating seat scripts in the past. Both Ingram and Negreanu pointed out a simple "see-and-report" system should be sufficient to ferret out most script users.
PokerStars' Solution?
Negreanu also highlighted PokerStars' experimental "Seat Me" system. Seat Me first appeared in select PokerStars markets in early 2017. It's a system designed to mimic live poker seating, where players simply choose a game and a stake and are automatically seated without knowing which players are sitting at which tables.
PokerStars rolled out Seat Me for the Southern Europe shared liquidity market, one of the first strong signs that the company is pleased with the results of the test run and may expand its use.
Negreanu hinted that Seat Me could soon become the norm if fighting against seat scripts remains a priority.
"Moving to that format will essentially make seat scripting no longer a viable tool," he said.
Unless entities like PokerStars vigilantly look to eradicate this practice, both Negreanu and Ingram worry for the long-term health of online poker cash games.
Negreanu pointed out that the incredible level of expertise attained by the top no-limit players has already made the high stakes landscape something of a barren wasteland. Having been around the game for decades now, the Canadian superstar has seen games and formats wax and wane in popularity, and he believes the highest stakes online games are on the cusp of extinction.
"I don't see, five years from now, a viability for nosebleeds," he said.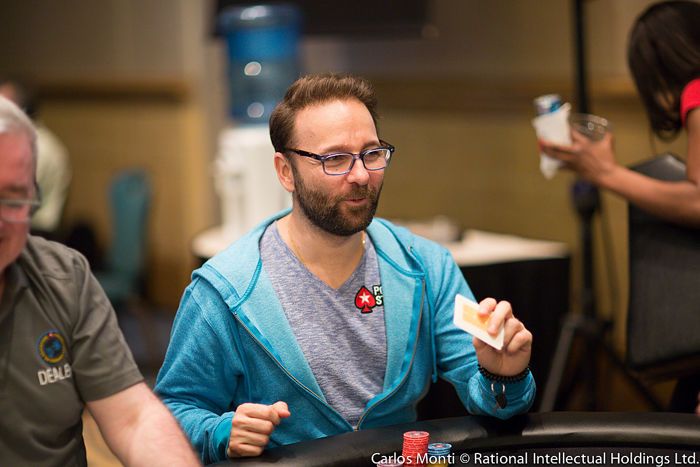 The Stars Group owns a majority share in iBus Media.