2018 WSOP Event 15: Andrey Zhigalov Wins $1,500 H.O.R.S.E. for $202,787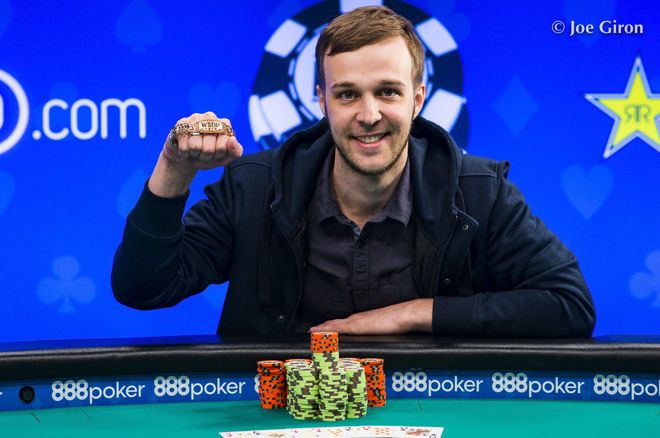 After a long and grueling Day 3 with over 14 hours of poker, it was a quick end to Day 4 with Andrey Zhigalov capturing his first WSOP gold bracelet in Event #15: $1,500 H.O.R.S.E. for $202,787. Zhigalov defeated Timothy Frazin in heads-up action that took over three hours on Day 3, and just around 20 minutes on Day 4.
Final Table Results
| Place | Player | Country | Prize (USD) |
| --- | --- | --- | --- |
| 1st | Andrey Zhigalov | Russia | $202,787 |
| 2nd | Timothy Frazin | United States | $125,336 |
| 3rd | Bradley Smith | Canada | $87,769 |
| 4th | Matt Woodward | United States | $62,379 |
| 5th | Nicholas Derke | United States | $45,006 |
| 6th | Sandeep Vasudevan | United States | $32,971 |
| 7th | Scott Clements | United States | $24,531 |
| 8th | JW Smith | United States | $18,541 |
Zhigalov came into the tournament with a little over $350,000 in career tournament earnings with his largest cash coming at least year's WSOP $10,000 Razz event. It seems fitting as Zhigalov mentioned that Razz is one of his best games: "I think Razz is one of my strongest games. I won a lot of chips playing that, which made up for my losing hands in stud."
"I won a lot of chips playing Razz, which made up for my losing hands in Stud."
The Russian poker player, who still holds another job outside of poker, said he's been dreaming of this moment since he was 16. The now-29-year-old said he's overly excited about his accomplishment. "I was excited to make Day 2, then I got excited to make Day 3, and then here I was on Day 4."
It was Zhigalov's choice to come back for another day, rested and refreshed, rather than playing one more level last night. "I was exhausted yesterday. It was difficult to concentrate with sweat dripping off your forehead in the Amazon Room," speaking to the lack of air conditioning throughout the Rio Convention Center at the time.
Zhigalov has been traveling to the WSOP in Las Vegas for four or five years now and says it is his best opportunity to play the mixed games he loves. "I usually only play limit mixed games. When I play hold'em and look down at two cards, I think 'Where are my other cards?' Two cards is kind of boring." This was Zhigalov's 16th WSOP cash, with only two of them coming in hold'em games.
Day 3 Action
The day began with a full three tables, 24 players total, and it didn't take long for the short stacks to start busting out. It was a relatively quick pace, considering the limit format of the tournament. Brian Hastings was looking to capture his fourth WSOP gold bracelet but fell short, bowing out in 15th place for $7,120.
"I was excited to make Day 2, then I got excited to make Day 3, and then here I was on Day 4."
Another poker pro, Ismael Bojang, was in search of his first WSOP title to add to his already-substantial resume and was poised to do so after a good start. However, Bojang went card dead after the first couple of levels and would see his tournament end in ninth place, taking home $14,240. That set the stage for the official final table of eight.
Final Table
Frazin, Bradley Smith, and Matt Woodward were all fighting for the chip lead when the final table began and feasted on the short stacks. The blinds got the best of JW Smith, as he was unable to get anything going all day, but still managed to ladder his way onto the final table. He eventually succumbed to the red-hot Woodward in the game of razz. Smith made a seven low, but Woodward held a bike to eliminate Smith in eighth place.
That left Scott Clements on the short stack who managed to find a triple-up at one point, but it still wasn't enough to help him build up a stack. Clements was the last remaining player to have won a WSOP bracelet, but he was unable to add to his collection. In Omaha hi-lo, Clements turned two pair but was rivered by the trips of Zhigalov, finishing in seventh place.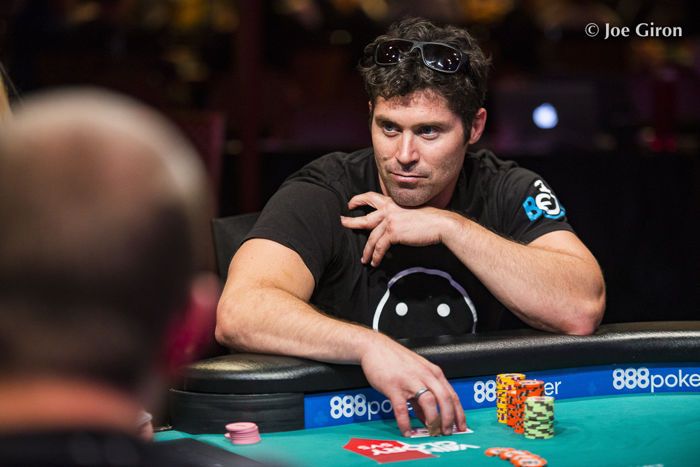 The shorter stacks continued to drop out, and the big stacks continued to get larger. Next up on the totem pole was Sandeep Vasudevan who ran out a pair of kings against Nicholas Derke's trip jacks in the game of stud. Just moments after the dinner break, Derke was the next to fall after running into a couple of big hands, including Bradley Smith's full house in Omaha hi-lo.
Zhigalov entered four-handed play on the short stack, and it seemed inevitable that he would be the next to leave the tournament area. However, after getting all of his chips in the middle with the worst hand heading to the river twice, he managed to spike a key card to earn two double-ups.
Meanwhile, Woodward's stack was getting smaller as the blinds kept increasing. After losing a big Razz hand, Woodward was all in on third street in stud against two players. It would be Smith to score another knockout when he rivered two pair, leaving just three players remaining.
During four-handed play, Frazin built himself a massive chip lead, holding around 3,000,000 chips at one point with each of his opponents still in the six-figure numbers. He continued to hold a large lead in three-handed action, but it was Zhigalov who started to turn the tables. He built his stack to nearly 2,000,000 chips before putting Smith to the test for his remaining 280,000 in stud hi-lo. Zhigalov made two pair, tens and deuces, while Smith could only muster sevens and sixes, leaving just two players to fight for the title.
When heads-up action began, it was Frazin holding a commanding lead with over 4,000,000 chips. He continued to hold the lead throughout the first couple of levels with Zhigalov even being all in at one point. Zhigalov managed to hit a five-outer on the turn in hold'em to score a double-up, and that was the beginning of an epic comeback. The chip stacks started to level out near the end of Day 3 with the chip lead swaying back and forth.
When play concluded for the night, Zhigalov held around 60% of the chips in play. After a good night's sleep, Zhigalov came out in full force on Day 4, winning pot after pot and opening up an insurmountable lead. In the last hand of the tournament, Frazin was all in for just over 300,000 on third street of razz. The two hands were tabled with Zhigalov picking up the best hand on fourth street and never looking back.