2018 WSOP Event 36: Farhintaj Bonyadi Wins Event $1,000 Super Seniors ($311,451)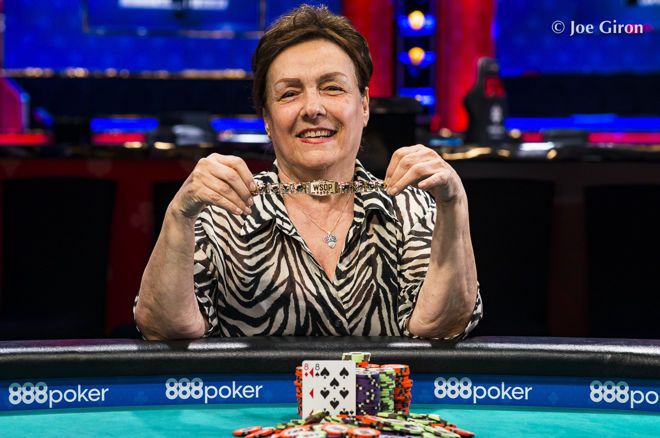 Event #36: $1,000 Super Seniors No-Limit Hold'em is a wrap, and after two full levels of the unscheduled fourth day of play, Farhintaj Bonyadi defeated Robert Beach heads-up to walk away with the victory and $311,451.
Along with her first bracelet, Bonyadi becomes the first female to win a bracelet event of the summer. Bonyadi and her son, Farzad "Freddy" Bonyadi, also become the first mother-son duo to win WSOP gold, Farzad with three bracelets to his credit.
Official Event #36 Final Table Results
| Place | Player | Country | Prize |
| --- | --- | --- | --- |
| 1 | Farhintaj Bonyadi | United States | $311,451 |
| 2 | Robert Beach | United States | $192,397 |
| 3 | Paul W Lee | United States | $140,273 |
| 4 | Linda Iwaniak | United Kingdom | $103,215 |
| 5 | Russell Sutton | Canada | $76,655 |
| 6 | Alan Denkenson | United States | $57,465 |
| 7 | Charles Thompson | United States | $43,489 |
| 8 | Neil Henley | United States | $33,227 |
| 9 | Bill Fogel | United States | $25,633 |
"She wants to catch me now," her son joked after watching mom close it out.
"I'm just so so happy," Farhintaj said of finally getting a victory after finishing runner-up in Rio Daily Deepstacks in 2012 and 2016 for her two previous best scores of $35,992 and $27,097, respectively.
While the more experienced poker-playing son did provide some advice, he emphasized, "She did it all on her own."
"I told her to play patiently when she was short and she did it," Farzad said. "I think she played masterfully today."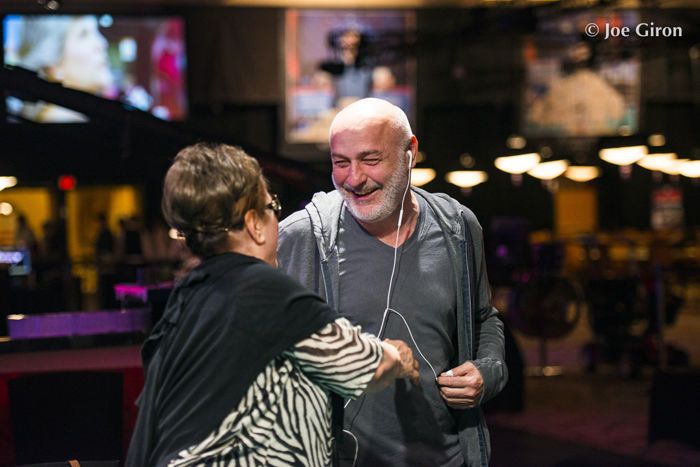 Bonyadi came into the day facing a 4.5:1 chip deficit, but that didn't stop her from fighting back. Both players appeared to adopt a small ball preflop strategy with most flops occurring in limped pots. However, Bonyadi began to put more pressure on, betting several flops and taking pots uncontested.
She closed the gap to just over 2:1 and turned up more post-flop aggression, including working in some flop check-raises that were usually met with folds. Then, after making a couple hands that got value, including a turned straight with six-four and two pair with queen-nine, Bonyadi won a few more pots and suddenly held the lead.
She extended her lead with continued post-flop aggression with bets and flop raises that worked out, and in the final hand, Beach completed and called a raise from Bonyadi. She then check-raised the 6♦4♦7♣ flop from 600,000 to 1.2 million and got a call from Beach. She led 600,000 on the 3♠ turn and shoved on the 5♥ river that put a straight on the board.
Beach made the call for his remaining 2,450,000 but was staring at Bonyadi's pocket eights for the higher straight, his 9♠7♠ playing the board. Beach may have been let down to miss out on the bracelet, but he's likely happy with the $192,397 consolation prize that dwarfs his previous tournament earnings of just over $5,000.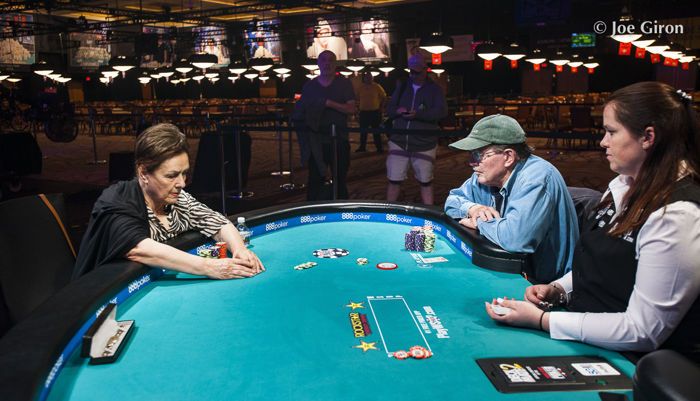 Super Senior Action
The $1,000 buy-in Super Seniors drew 2,191 entries, creating a total prize pool of $1,971,900 that was divided amongst the 329 top finishers. The money was reached on Day 2, with the majority of payouts going out that day and 43 returning.
Some players to bust in the money short of the final table were Sam Grizzle (32nd place - $8,120), bracelet winners Michael Moore (125th Place - $2,209), Konstantin Puchkov (180th place - $1,972) and Gary Benson (230th place - $1,780), and Swedish poker icon and two-time bracelet winner Chris Bjorin (263rd place - $1,625).
The final table was reached just four levels into Day 3, and it was two-time bracelet winner Steve Zolotow who bubbled the official final table. With 16 left, Zolotow doubled up Bonyadi when he called her late position shove with ace-king but couldn't beat her jack-nine suited that rivered two pair.
The last of it went to Beach after the two got in stacks, Zolotow in a dominating position with ace-king against ace-queen. Beach found a queen on the flop though that sent Zolotow out in tenth ($19,968), putting an end to his run for bracelet number three.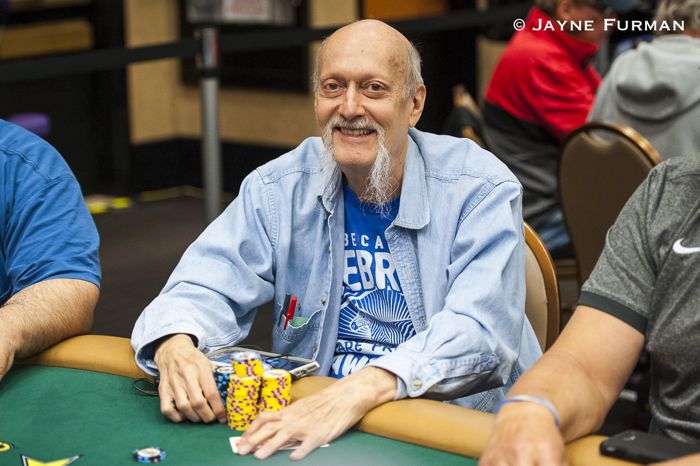 Final Table Eliminations
Bill Fogel was the first final table casualty, running his pocket sevens into Neil Henley's nines. The next two out would suffer a similar fate, running pairs into bigger ones and finding no help from the board.
Henley got all his chips in with tens, only to run into the aces of Linda Iwaniak and then, Charles Thompson's sevens fell to Bonyadi's eights.
Famed sports bettor Alan Denkenson was next out, getting it in ahead with ace-king against Beach's ace-eight. An eight on the flop shot Beach into the lead and Denkenson couldn't find a king and he was forced to settle for sixth place.
Russell Sutton then got in his short stack with pocket tens over a raise from Bonyadi. She made the call with king-queen and spiked a queen to send Sutton packing in fifth.
Iwaniak became the fourth-place finisher after raising with pocket tens and getting calls from both blinds. She shoved on the Q♥2♠2♦ flop, only to be snapped off by Paul Lee, who held eight-deuce suited in the big blind for trips. Iwaniak couldn't catch up and she was the first player in the tournament to collect a six-figure payday.
Lee was the short stack three-handed and took a big hit with pocket queens that were no good against Beach's ace-jack suited after he spiked trip jacks on the flop. The turn double-paired the board and Lee couldn't get away on the river, calling a check-raise. He dwindled for a while and got in the remainder with queen-ten in the small blind against Beach's king-seven.
A king on the flop ended things for Lee, who went out in third place. Beach started heads-up with a 3:1 chip advantage. Despite chipping up here and there in the 61 hands they played before bagging and returning for Day 4, Bonyadi finished the night down 4.5:1 in chips.
After a night's rest and two hour-long levels of play on Wednesday though, Bonyadi walked away with the win that represented bracelet number four for the mother and son duo.
Continued coverage of the World Series of Poker continues right here at PokerNews, so don't miss out on the action.