2018 WSOP Event 31: Steven Albini Wins $1,500 Stud to Deny Jeff Lisandro 7th Bracelet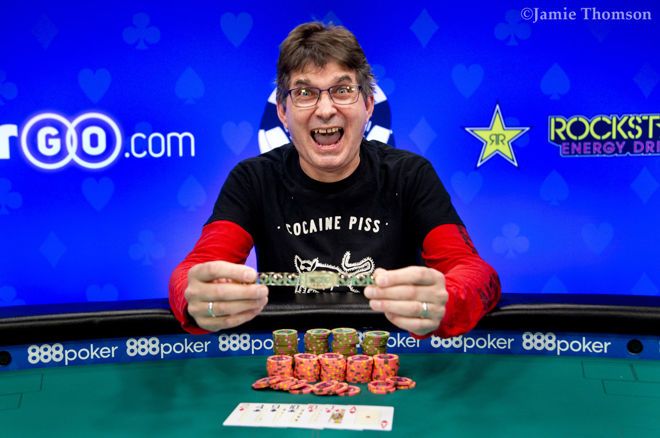 The $1,500 Stud event found its champion at the 2018 World Series of Poker and what a climactic finale it was. Chicago's Steven Albini, a music industry veteran, emerged victorious after outlasting incredibly experienced competition including two six-time bracelet winners. Albini takes home his first gold and the $105,629 top-prize.
"I've been playing stud my whole life. I love it, so I'm very comfortable playing stud. And I ran pretty f***ing good as well," Albini said.
While he called himself a mediocre player, Albini proved that he can successfully measure his skills with the heavyweights. Albini conquered a heads-up match against as tough of an opponent as it gets. He topped six-time bracelet winner Jeff Lisandro, one of the all-time greats who has been decorated in stud events multiple times.
Event #31: $1,500 Stud final table results:
| Position | Player | Country | Prize |
| --- | --- | --- | --- |
| 1 | Steven Albini | United States | $105,629 |
| 2 | Jeff Lisandro | Australia | $65,282 |
| 3 | Katherine Fleck | United States | $43,765 |
| 4 | Chris Ferguson | United States | $29,999 |
| 5 | Frankie O'Dell | United States | $21,035 |
| 6 | Paul Sexton | United States | $15,096 |
| 7 | Michael Moore | United States | $11,095 |
| 8 | Esther Rossi | United States | $8,355 |
The final duel started with a practically even chip-spread. A two-hour battle followed with Albini and Lisandro switching the lead back and forth. Albini had a slow start to the heads-up as Lisandro was on the better side of board runouts. Lisandro was getting closer to becoming the first non-American player to win seven bracelets, but Albini had a tough skin. He bounced back, took over the lead and eventually finished Lisandro off, denying his historic coronation.
"I don't have that much heads-up stud experience," Albini admitted. However, he had an excellent mentor in former Poker Players' Championship winner Matt Ashton. "He and I had some conversation about what raising ranges would look like. I was using the sort of thumbnail version of his heads-up stud game strategy."
Networking has been Albini's advantage through endless years of playing poker. "There's a very active mixed game community in Chicago," Albini said, crediting Brandon Shack-Harris, Eric Rodawig and Matt Grapenthien for his development as a player. "Stud has been popular forever in Chicago. It's one of the places where people actively choose to play stud."
To find a city where stud games are pulsing isn't easy these days and Albini is grateful for the opportunity he's been given. Now he converted his amassed knowledge into engraving his name among the poker greats.
"I owe an awful lot of my own development as a player to my peer group, to my group of friends," Albini said.
Albini wasn't scared of a final table competition that involved three multiple WSOP winners including last year's Player of the Year Chris Ferguson.
Ferguson was a huge leader at the first stage, but a key hand towards the end of the fourth level saw Albini bite into his stack and take over the chip lead. Albini's board looked like a flush but he made a full house against Ferguson's ace-high flush in an inflated pot that saw Ferguson three-bet on the river.
"There was a hand that we played on Day 2 when he rivered aces full with a board that was very similar. In that hand, he whiffed a check-raise on the river. The way the hand played out was almost identical," Albini revealed. The dynamics of the previous confrontation convinced him to just call as he saw no value in four-betting, thinking that Ferguson wouldn't call with worse.
Ferguson was eventually coolered one more time and bowed out in fourth place. He was soon followed to the rail by Katherine Fleck who managed to outlast Ferguson in a battle of short stacks, laddering to the bronze place.
The final table also featured two-time bracelet winner Frankie O'Dell who came with the shortest stack. O'Dell kept successfully doubling and sailed through to fifth place for $21,035, finishing ahead of Paul Sexton (6th for 15,096), Michael Moore (7th for $11,095), Esther Rossi (8th for $8,355) and Stephen Rivers (9th for $6,451).