2018 WSOP Event 24: Michael Addamo Wins Event #24: $2,620 MARATHON No-Limit Hold'em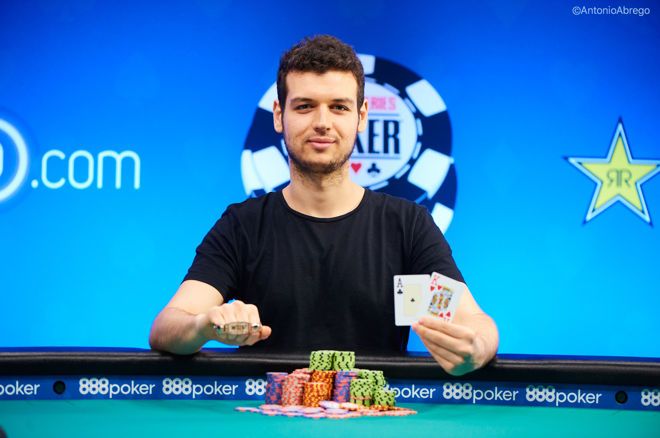 The marathon is finally over and just as those brave enough to run those things can probably attest, it's a relief. Five long days of 100-minute blind levels came to a close and Australia's Michael Addamo was able to claim his first gold bracelet in Event #24: $2,620 THE MARATHON No-Limit Hold'em, along with his best live cash by more than three times.
The Australian, who recently relocated to Thailand when online poker was banned in his home country, won $653,581 for outlasting the field of 1,637 runners. He adds that to his already more than $1.3 million in live earnings plus plenty of online success.
After getting through some seriously tough competition with the likes of 2014 WSOP Main Event champ Martin Jacobson, bracelet winner and WPT champ Taylor Paur and Belgium's Bart Lybaert from five-handed on, Addamo had to face off against recreational player Mark Sleet. It was an interesting battle with underdog Sleet giving Addamo a run for his money.
"He was mixing it up, trying to put me to the test, like opening big sizes, doing all sorts of different things, trying to get me off my normal game. I think I adjusted ok but yeah, who knows," Addamo said of the heads-up.
Official Final Table Results
| Place | Player | Country | Prize (USD) |
| --- | --- | --- | --- |
| 1 | Michael Addamo | Australia | $653,581 |
| 2 | Mark Sleet | United States | $403,870 |
| 3 | Bart Lybaert | Belgium | $290,315 |
| 4 | Taylor Paur | United States | $210,995 |
| 5 | Martin Jacobson | Sweden | $155,062 |
| 6 | Ying Chan | Hong Kong | $115,244 |
| 7 | Anton Morgenstern | Germany | $86,631 |
| 8 | Cate Hall | United States | $65,875 |
| 9 | Ihar Soika | Belarus | $50,678 |
Final Table Action
The final day of the marathon saw a talent-packed nine players returning on Friday to play down to a winner on the Brasilia Twitch stage. It was a deep-stacked final with only three players between 20 and 40 big blinds: Cate Hall, Ying Chan and Anton Morgenstern. Everyone else started the day with at least 96 big blinds.
In the first level of play, Ihar Soika, playing in his second final table of the series, busted in ninth place. It was a tough hand where he turned eights full with pocket eights, running it smack dab into the top boat flopped by start-of-day chip leader Sleet, who held pocket kings in the hole.
Hall remained patient as one of the short stacks early, and eventually got the rest in with pocket tens but ran them into Addamo's queens. The board ran out with quad fives and Addamo's queen kicker played to send Hall to the rail in eighth place.
No stranger to big final tables at the WSOP, Anton Morgenstern was next to go. He slipped into the danger zone and got it in with pocket fives when folded to him in middle position. Unfortunately for him, Jacobson called with a bit less, but had him crushed with pocket jacks. Morgenstern couldn't catch up and he had to settle for seventh when he busted with his last crumbs the very next hand.
Chan, who clung to a short stack for a long while, shoved right around ten big blinds with king-three in the small blind. Addamo woke up with queens again and called, finding a queen on the flop to seal Chan's fate in sixth place.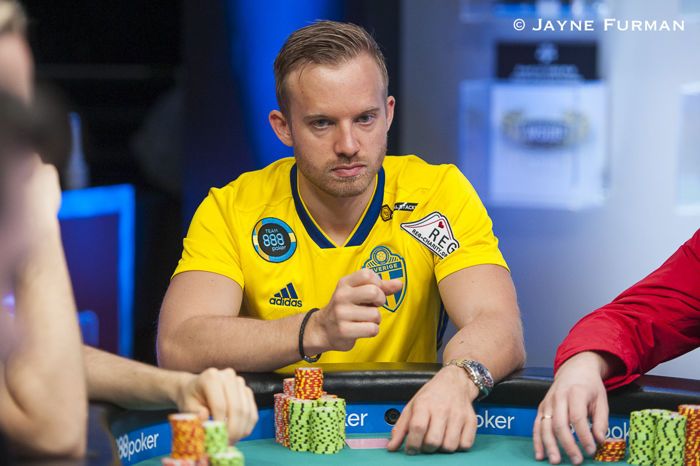 Jacobson had a rollercoaster of a day, starting out as one of the big stacks with 147 big blinds, but bleeding off after a series of losing pots. The big blow came when he doubled up Paur with king-queen suited from the small blind against Paur's ace-king in the big blind.
The 2014 Main Event champ hung around, though, slowly building, and found kings against Paur's queens to double up with five left. Jacobson slipped a bit again before getting all his chips in with pocket jacks, calling Lybaert's four-bet shove from the cutoff, but he was staring right at pocket aces. An ace on the flop gave Lybaert a set, and Jacobson couldn't complete the runner-runner for Broadway. The Swede finished in fifth place.
Paur, despite taking some hits, stayed near the top of the counts for much of the day, until he ran into a cooler of a hand against Addamo. Paur raised under the gun with pocket sixes and called Addamo's three-bet. He then called down on a board of 6♣8♣K♥7♦Q♣, the last barrel being for the rest of his stack. His bottom set was no good against Addamo's 10♥9♥ for a turned straight, and Paur was out in fourth.
Down to Three
That left three deep-stacked contestants with the Belgian Lybaert leading the way. He, Sleet and Addamo were all willing to mix it up and play a lot of pots, and plenty of clashes ensued. Lybaert started running away with it with well-timed aggression working out, but shortly after dinner, the tables turned.
Addamo started rising with the help of a few check-raises against Lybaert that got through. Then, Lybaert doubled up Sleet after calling a check-raise, a turn bet and his river shove on an eight-high board holding eight-seven, but was no good against Sleet's ten-eight for a better kicker.
Four hands later, these two got it in again, this time on the flop and it was Lybaert at risk, and behind. After defending K♦4♦ in the big blind, Lybaert saw a flop of K♣7♦5♦ against Sleet. Lybaert check-raised and called Sleet's three-bet jam, needing a diamond or a four to best Sleet's king-ten. He didn't find either to make him the third-place finisher.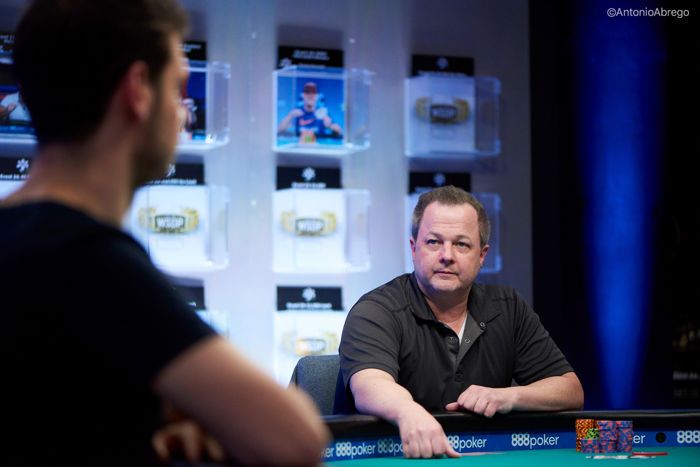 Sleet went into heads-up with Addamo with a sizable lead and soon had him on the ropes. Addamo was ahead when the chips went in with 10♦9♥ on 10♥4♦2♦, but Sleet held Q♦J♦ with plenty of outs. He found one of them on the J♥ turn, but the miracle 10♠ river saved Addamo and brought him back to life.
Pretty soon, Addamo was in the lead and after trading pots for a while, Addamo began to extend his lead more comfortably. The two were playing big pots, and eventually, they got all the chips in preflop on a coin flip, Addamo holding ace-king and Sleet with pocket sevens. A king on the flop was all Addamo needed to lock up the win, with Sleet finishing runner-up.