WSOP Day 19: Michael Mizrachi, Phil Ivey Lead Poker Players Championship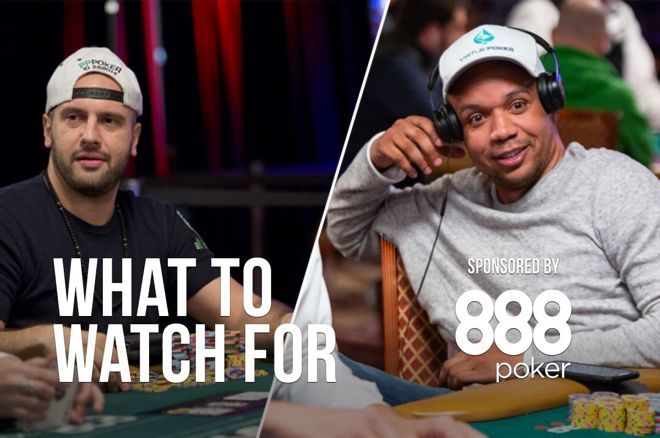 As players return to the Rio for the third day in the $50,000 Poker Players Championship, Michael Mizrachi leads the pack and is looking for a repeat performance in an event he's already won twice (in 2010 and 2012). Phil Ivey, Shaun Deeb, and Eli Elezra are also among the chip leaders.
The Seniors Championship has whittled its massive field down to only 101 players returning on Sunday. The Super Seniors event also kicks off on Sunday and James Moore, who amazingly won this event the last two years, is expected to be in the field and aiming for No. 3.
---
[URL="https://www.pokernews.com/tours/wsop/2018-wsop/event-6-giant/" target="_blank"]Event #11: PLO GIANT - $365 Pot-Limit Omaha[/URL]
This is the third Sunday in this multi-flight event with Day 1 starting flights spread out over June 3, 10, 17, 24, and July 1.
Pete Arroyos led the field after the first flight with 1,757,000 chips. Out of 423 entries, only 19 remained to advance.
Two-time bracelet winner Randy Holland led the second flight after bagging 1,445,000 chips. The second flight featured 523 entries – with only 31 advancing on to Day 2 on July 2.
The event allows for unlimited re-entry and payouts start on Day 1. Players begin with 25,000 in chips and blind levels are 20 minutes on Day 1 and 40 minutes on Days 2 and 3. The gigantic Omaha gets started at 7 p.m. Get your fix by following the live updates here.
---
[URL="https://www.pokernews.com/tours/wsop/2018-wsop/event-32-seniors/" target="_blank"]Event #32: $1,000 Seniors No-Limit Hold'em[/URL]
After a record-setting field of 5,919 entries and a $5,327,100 prize pool, 101 remain going into Sunday's Day 3 and a shot at the first-place prize of $662,983 and the bracelet.
Ronald Bishop takes the lead into Day 3 with 1,086,000 in chips after winning a massive pot with quad tens against pocket aces in the final level of the day. He's followed by Frank Berry (1,017,000), Bill Stabler (808,000, Marc Lome (756,000), and Richard Munro (739,000).
Other notables surviving include Dennis Otto (632,000), William Wilkinson (604,000), and Jean-Paul Pasqualini (782,000). The oldest player in the Day 2 field was 83-year-old Andreas Dassopoulos, who advances with a chip stack of 145,000. Larry Wright also moves on after turning a chip stack worth just three big blinds into a Day 3 bag worth 204,000.
The tournament restarts at 11 a.m. and PokerNews will follow it all with plenty of live updates. While this was initially scheduled as a 3-day affair, it's safe to say that, like last year, a fourth day will be added to the schedule.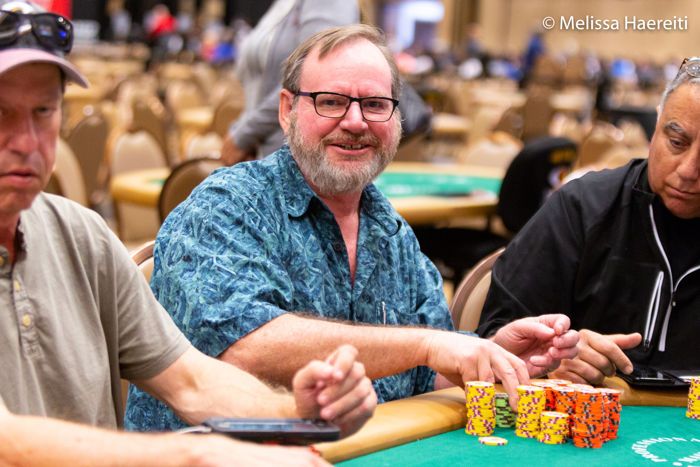 ---
[URL="https://www.pokernews.com/tours/wsop/2018-wsop/event-33-50000-poker-players-championship/" target="_blank"]Event #33: $50,000 Poker Players Championship[/URL]
Registration closed after four levels of play on Day 2, and this event attracted a total of 87 entries with 42 returning on Sunday.
There were 10 more entries on Saturday for a total prize pool of $4.2 million and the winner will take home $1,239,126 first prize, a bracelet, and the David "Chip" Reese Memorial Trophy.
Leading the field is Michael Mizrachi (1,274,000 chips), who won this event in 2010 and 2012 and is looking for his fourth bracelet.
Getting there certainly won't be easy in this field and right behind Mizrachi are Phil Ivey (1,131,000), Shaun Deeb (933,000), Eli Elezra (917,000), and Dan Smith (901,500).
Previous champions Mike Gorodinsky (519,000), Elior Sion (344,000), Brian Rast (304,500), and John Hennigan (289,000) are also still in contention along with Jean-Robert Bellande (716,000), Justin Bonomo (712,500), Ben Yu (678,500), and Daniel Negreanu (422,000).
Bellande was happy to be advancing after some tough hands.
Considering that I likely ran nut-flush into @NickSchulman str. Flush and I lost max w rolled 7s vs @ikepoker rolle… https://t.co/TaKivglbUA

— Jean-Robert Bellande (@BrokeLivingJRB)
This five-day event picks back up at 2 p.m. for Day 3. Follow along with PokerNews for all the live updates. Don't miss a hand.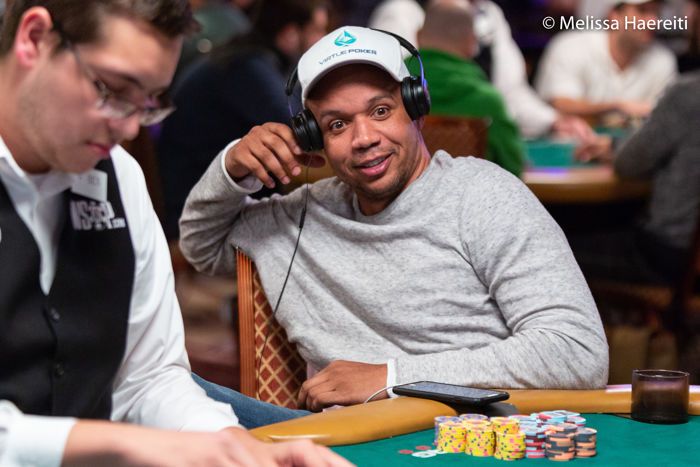 ---
[URL="https://www.pokernews.com/tours/wsop/2018-wsop/event-34-double-stack/" target="_blank"]Event #34: $1,000 DOUBLE STACK No-Limit Hold'em[/URL]
The first flight in this event blasted off on Saturday with 2,387 entries and 533 returning on Monday for Day 2 action. The second Day 1 starting flight in this four-day event kicks off on Sunday and should attract a nice field.
Brian Yoon took the chip lead with 233,600 after the first flight followed by Phuoc Nguyen (165,000), Michael Delvecchio III (161,700), Darrin Oremba (159,000), Thomas Zanot (158,200), and Anthony Spinella (145,000).
The Day 1B flight kicks off at 11 a.m. and PokerNews will have all the double-stacking fun. Click here to follow along.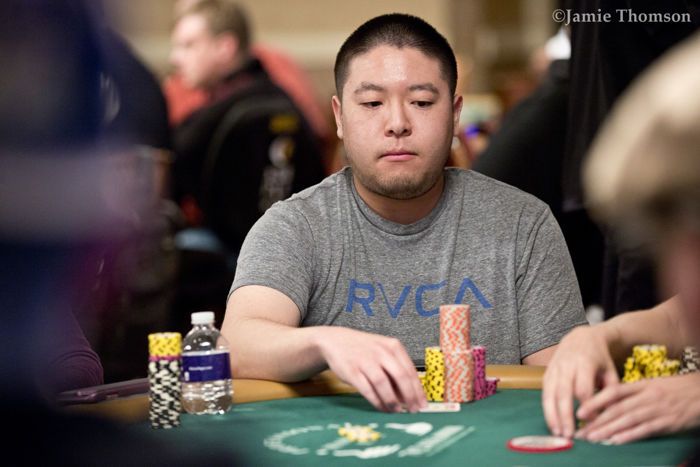 ---
[URL="https://www.pokernews.com/tours/wsop/2018-wsop/event-35-mixed-omaha/" target="_blank"]Event #35: Mixed $1,500 Pot-Limit Omaha Hi-Lo 8 or Better; Omaha Hi-Lo 8 or Better; Big O (5-Card PLO/8)[/URL]
This was the perfect event for fans of all forms of Omaha and brought out 751 entries with only 225 players returning for Day 2.
Peter Nett bagged as chip leader with 91,450, followed by Matt Woodward (82,425), and Ammon Warner (80,350).
Others still alive include Mike Ross (77,875), Dylan Wilkerson (46,525), Joao Simao (42,500), David Bach (34,800), Barry Greenstein (34,050), Carol Fuchs (33,300), and Phil Hellmuth (27,000).
First place will take home the bracelet and $211,781 and the second day begins at 2 p.m. Check back to PokerNews for all the mixed Omaha live updates.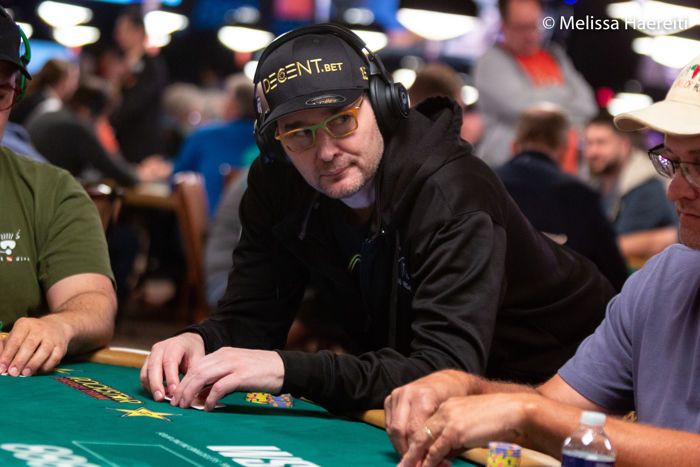 ---
[URL="https://www.pokernews.com/tours/wsop/2018-wsop/event-36-super-seniors/" target="_blank"]Event #36: $1,000 Super Seniors No-Limit Hold'em[/URL]
With the Senior Championship getting closer to the final table and breaking records for attendance, another seniors event is set to begin on Sunday in the Rio – this one for those 60 and over. The three-day event starts at 10 a.m. with 60-minute levels. Players receive 5,000 starting chips and are allowed one re-entry.
Last year's champion was James Moore, from New Hope, Pa., who took home $259,230. That's an impressive feat in an event that featured 1,720 entries, but Moore also won the same event in 2016. That tournament featured 1,476 entries and he took home $230,626. A practicing physician, Moore is expected to attempt the three-peat. PokerNews will have all the action and see how this two-time champ progresses.

---
WATCH: How Did Your Favorite Poker Players Get Their Nicknames?
---
Sean Chaffin is a freelance writer in Crandall, Texas. His work appears in numerous websites and publications. Follow him on Twitter @PokerTraditions. He is also the host of the True Gambling Stories podcast, available on iTunes, Google Play, TuneIn Radio, Spotify, Stitcher, PokerNews.com, HoldemRadio.com, and TrueGamblingStories.com.