PSPC Winner Ramon Colillas is the Newest Face of Team PokerStars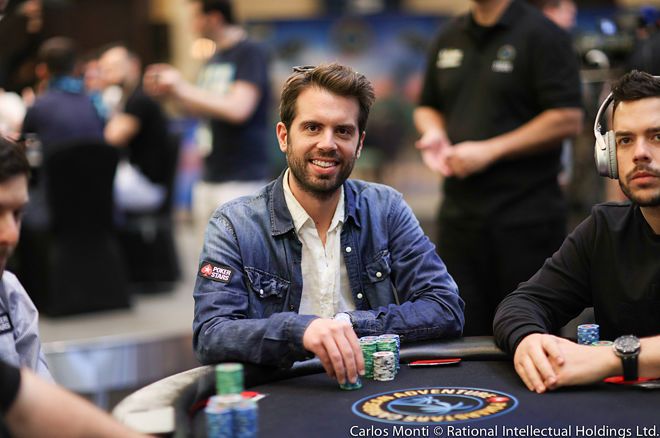 Table Of Contents
Ramon Colillas has become a household name in the poker world in short order, going from relatively unknown online and live grinder in Spain to Platinum Pass winner to champion of the PokerStars Players No-Limit Hold'em Championship in the Bahamas in January. Now, Colillas is PokerStars' 5.1 million-dollar man.
"I have fulfilled another dream," Colillas told PokerStars media. "Champion of Spain, champion of the PSPC and now representative of the best poker room. Can you ask for more?"
Following in the footsteps of an icon he watched on TV growing up, Colillas now gets to join Chris Moneymaker in sporting the red spade at live events. He tweeted after the win that one of the best moments was when the original Moneymaker told Colillas he can now call him "Ramon Moneymaker."
Uno de los mejores momentos fué cuando Chris Moneymaker me dice: "Te puedo llamar de nombre Ramon Fabricadinero" # https://t.co/pzvZ4awecY

— Ramon Colillas (@Mr__Boxes)
"I am honored to join Daniel Negreanu, Chris [Moneymaker] and all the members of Team PokerStars who I have admired as a fan for a very long time," Colillas said.
A Poker Journey Comes Full Circle
Colillas earned his Platinum Pass by coming out on top of a year-long leaderboard in the Campeonato Espana de Poker (CEP) series that held stops across Spain. Colillas got on the board early by winning the Barcelona stop, but the race came down to the final event in Peralada where he outlasted the other two players who were clearly in the hunt.
Colillas parlayed that freeroll into the win of a lifetime, and needless to say, PokerStars was over the moon about one of their 320 pass winners coming out on top of the biggest $25K buy-in tournament field in history. While the poker site seems to be moving away from streamer partnerships – as we saw last week with the departure of Jeff Gross and Jaime Staples – this may indicate the direction they're moving in for Team PokerStars.
"The tournament was just the start. Now I'm more excited about this than even winning in the Bahamas."
"Ramón's journey is the stuff of legends and his humility, spirit and personality perfectly reflect the aspirations we see among young poker players around the world," said PokerStars Director of Poker Marketing Eric Hollreiser. "Ramón is a great representative of the next generation of poker players and we're delighted to welcome him as an ambassador for PokerStars."
The 30-year-old Colillas, fresh off the biggest victory of his life, fulfilled another dream in patching on with PokerStars.
"When you start in poker you always think about Team Pro, and wonder whether you could ever get there," Collilas said. "I was still savoring the PSPC win and suddenly this opportunity came in. This is what you always dream of. The tournament was just the start. Now I'm more excited about this than even winning in the Bahamas."
Colillas is currently participating in his first live event as an official member of Team PokerStars, and it's the very stop that got him rolling toward his Platinum Pass one year ago. The new season of the CEP has just kicked off in Barcelona and Colillas has returned, this time with the spotlight shining down on him. He's already made Day 2 in his first event as an ambassador, the CEP High Roller.
Primer torneo como embajador de @PokerStarsSpain @PokerStars el HR del @CEP_Poker. Ayer pasé a dia 2 con unas 30bb… https://t.co/nhWF1to5Gc

— Ramon Colillas (@Mr__Boxes)
Life as a PokerStars Ambassador
After the CEP stop, Colillas will hop on the European Poker Tour (EPT), confirmed to attend events in Sochi, Monte Carlo and then the EPT Open in Madrid. Colillas will be representing PokerStars at the WSOP in Las Vegas during the summer and will be back in Barcelona for the EPT in August.
Colillas is riding the wave and embracing the limelight that is sure to follow him for years to come.
"I know I am going to be the center of attention and the rest of the players at the table will know me," he said. "That gives me a little bit more pressure, but it will motivate me to learn to adapt.
"To be able to travel, to experience cultures and people, that's what I really like about live poker."
The Stars Group owns a majority shareholding in iBus Media.