Top 10 Stories of 2019: Craziness in the WSOP Main Event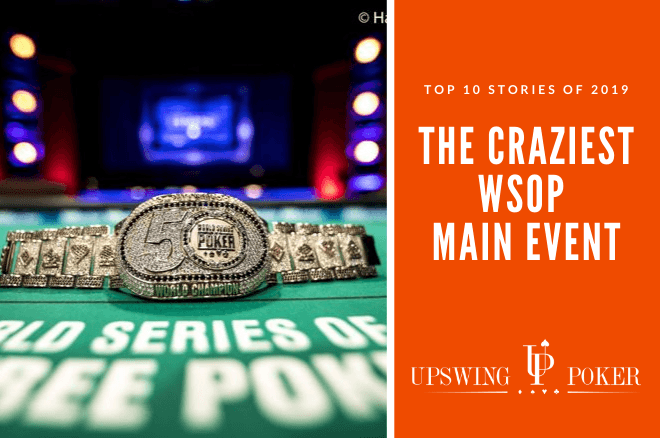 This year's Top Stories are brought to you by Upswing Poker. Find free articles, quizzes, and resources that will help you take your game to the next level now on upswingpoker.com.
---
No event in poker can create a signature, memorable moment quite like the World Series of Poker Main Event.
There's something about the stage, the stakes and the one-of-a-kind nature of the world championship of poker that creates a lasting impression. There have been spectacular moments like Chris Moneymaker bluffing Sammy Farha, heartbreaking like Matt Affleck taking a life-changing beat and confrontational like Prahlad Friedman and Jeff Lisandro fighting over the infamous missing ante.
The 2019 WSOP Main Event was especially memorable, but not because of moments like any of the above. The memorable moments were...mostly just really weird.
But they stand out nonetheless, and they left an impression all their own, making the 2019 Main Event one of the stories of the year due to several flashpoint moments.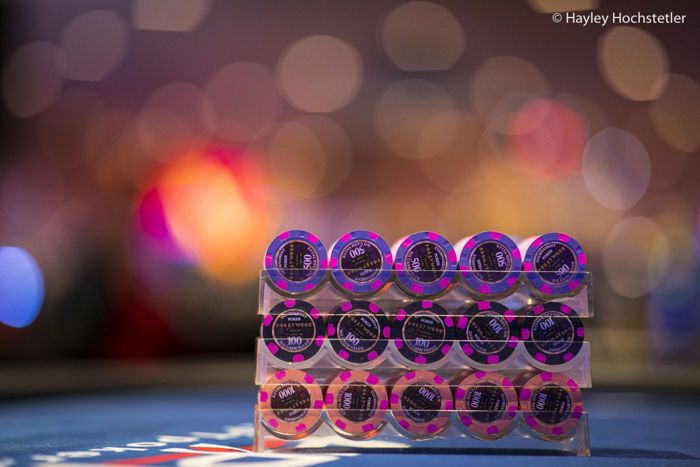 Day 1c — The Craziest Day in WSOP History?
Two starting flights in, and business appeared to be going as usual in the 2019 Main Event. Cards flew and chips clatter in a familiar rhythm in the Rio as Day 1c began, with thousands of starry-eyed players dreaming seven-figure dreams.
It didn't take long for normalcy to erode. Level 1 of the WSOP Main Event, typically the calmest waters in the entirety of tournament poker, instead brought the first squall in a tempest.
Belligerent Belianin Booted
Georgii Belianin isn't a player who stands out. Quiet and unobtrusive, Belianin was a regular but under-the-radar presence at many a mixed-game event at the WSOP in recent years. At least a few reporters often found themselves asking Belianin for his name despite having covered him deep in several events.
Of all the players in the event, he'd have been one of the last choices as the player to cause a massive ruckus.
Yet, that's exactly what developed on Day 1c.
About an hour into the event, Belianin took a seat in Brasilia Red. Not his seat, as the dealer reportedly admonished him for parking in Seat 6 rather than Seat 5.
Tom Peterson, in Seat 4, reported to PokerNews that he immediately knew Belianin was drunk after getting a whiff of him.
Belianin apparently won one of the first pots he played, worth only a few chips. When the dealer pushed him the pot, Belianin grinned and raked in his absent neighbor's stack as well.
Joking or not, taking another player's chips without fairly winning them in a pot is no laughing matter. Jack Effel, VP of the WSOP, marched over to the table himself and disqualified Belianin from the event, escorting him off the premises.
"If you break the rules and take chips you're not going to be allowed to play in the tournament."
"Here's the thing, you're playing the Main Event, you can't touch other player's chips," Effel told PokerNews at the time. "The chips that you have in front of you are the ones that belong to you, you shouldn't be touching chips that don't belong to you. Plain and simple."
It's unknown if Belianin will be allowed back to the WSOP, but Effel hinted it would be within reason to bar him permanently.
"If you break the rules and take chips you're not going to be allowed to play in the tournament and you can face all consequences as a result of being disqualified from the tournament per our rules," he said.
To his credit, Belianin didn't try to hide from his actions, instead taking full responsibility in a series of tweets. He admitted he was staggeringly drunk after an all-night bender in the cash games, and he apologized and swore it would never happen again.
Strauss Sacked After Stripping
Just after the Belianin incident, an even wilder scene unfolded in Pavilion. At Table 317, Ken Strauss absolutely lost his mind.
"I'm all in blind, everybody!" Strauss yelled, pacing away from his table and turning in a circle while covering his eyes. "Look, I'm all in blind!"
He then pulled down his basketball shorts and raised his arms to the heavens, exposing himself to everyone in the room willing to look his way.
Strauss' queen-three offsuit was indeed face up, and action was on Patrick Eskandar. Holding pocket fives, he was a favorite over Strauss' hand but still had a limper to act behind him.
Not content to wait out Eskandar's decision, Strauss calmly untied both shoes. One he chucked off to the side and the other he tossed toward the table, where it bounced between Eskandar and the dealer.
Disqualifications are "pretty much an annual occurrence" during the Main Event."
Eskandar recoiled and opted to give up his hand. The limper mucked as well but it mattered not as Strauss wouldn't drag the pot nor any more chips, for that matter. Tournament staff removed him from play and sent his stack to join Belianin's in chip jail somewhere.
According to WSOP VP of Corporate Communications Seth Palansky, disqualifications are "pretty much an annual occurrence" during the Main Event.
"What was unusual about this year's was how they were both very early on Day 1 play," he said. "With such a large field, the law of averages suggests there will always be a few issues. Both of this year's issues were related to a player not being of sound mind. One was mental health related, while the other involved alcohol."
Further incidents would indeed reveal Strauss as an individual with serious mental health problems.
Mother Nature Chimes in
A couple of poker players losing their minds is one thing, but those incidents were likely only seen by players at nearby tables and those sampling viral videos on social media. What happened next was felt, quite literally, by all of the players at the WSOP.
An earthquake with magnitude of 7.1 — the largest to hit the state in 20 years — rocked Ridgecrest, California, and the aftershocks reached all the way to Las Vegas some 200 miles away.
Some panicked players fled their tables, while others, naturally, stuck around to film the aftermath.
WSOP organizers opted to commence dinner break 40 minutes early. Add it to the list of "bizarre occurrences" complicating things for organizers over the years, Palansky said.
"That adds a layer of difficulty for us, because we have full production coverage and live television windows to hit, etc.," he said. "Doing the right thing is always our guiding principle so wasn't too hard to get the powers that be together and put the tournament on extended break to sort it out. That's a common technique we utilize – extended breaks – to give us the time and space to address the matters at hand."
Near-Record Turnout
Just as notable as the earthquake was the sheer volume of players there to experience it. A record number of players, in fact.
The 4,879 entries logged on Day 1c made it the largest starting flight in the history of the Main Event, far surpassing the 4,571 who showed up for the previous year's 1c flight. The Day 1c entry count alone was nearly double the number of players Greg Raymer bested in the entire event in 2004.
Unlike previous years, the WSOP allowed players to register until the start of Day 2. When the last entry was logged and the final count tallied, a massive field of 8,569 had turned up — a jump of 8.8% year-over-year.
That ranked second in Main Event history after 2006, the last year before U.S. legislation began cracking down on the industry and, by extension, the number of seats available online.
Top Five Main Event Fields
| Entries | Year | Prize pool |
| --- | --- | --- |
| 8,773 | 2006 | $82,512,162 |
| 8,569 | 2019 | $80,548,600 |
| 7,319 | 2010 | $68,798,600 |
| 7,221 | 2017 | $67,877,400 |
| 6,865 | 2011 | $64,531,000 |
"The Main Event remains so special," Palansky said. "Where else can you make 1,000 times your money in 10 days? Where else can you have an 8000-1 shot at winning a lottery-type payout? The WSOP Main Event is truly the last slice of Americana where if you can dream it, you can achieve it."
Palansky noted the Main Event success was just a continuation of the overall massive numbers drawn by the Series in 2019.
"I don't care what business you are in, but when overall attendance grow increases more than 50%, it is a great year," he said.
Dealer Error, Subsequent Effel Reaction Causes Uproar
While there was plenty of buzz both positive and negative from happenings early in the 2019 WSOP Main Event, the late stage of the tournament brought its own massive story.
Italian star and high roller regular Dario Sammartino advanced to the final two tables, and with 11 players left, he had one of the biggest stacks. Thanks to his usual great play and intimidating stare, he undoubtedly ranked as one of the favorites even with Hossein Ensan racing away in terms of chip count.
On the 102nd hand of the secondary table, though, he hit a speed bump when he opened with pocket tens and faced a sizable shove of 22.2 million from British upstart Nick Marchington, at 400,000/800,000/800,000.
Sammartino asked for a count and the dealer cut the stacks and quoted him just over 17 million. Thinking he was calling a little more than 20 big blinds, Sammartino didn't hesitate to push out a stack of calling chips.
Unfortunately, the dealer had miscounted Marchington's stack and shorted him by 5 million. At more than six big blinds, that could significantly change the math around Sammartino's decision. Sammartino asked for a ruling and the supervisor said the call would stand. As the dealer spread an eight-high flop, Sammartino asked for a higher ruling.
Effel backed the tournament supervisor's decision, and the rulebook indeed backed Effel.
"Poker is a game of alert, continuous observation," reads the WSOP rule governing the situation. "It is the caller's responsibility to determine the correct amount of an opponent's bet before calling, regardless of what is stated by the dealer or participants. If a caller requests a count but receives incorrect information from the dealer or participants, then places that amount in the pot, the caller is assumed to accept the full correct action & is subject to the correct wager or all-in amount."
Sammartino continued to plead his case but Effel wasn't having it. He put his foot down, saying the ruling was final, and he made a flippant comment as he turned to leave the area.
"You're calling 17, you're calling 22," he said.
An incredulous Sammartino reacted with disbelief.
"He really say this?" he asked. "He really say this? I call 17, I call 22? Oh my God, guys. Oh, my God. Oh, my God."
"You're calling 17, you're calling 22."
Poker players watching around the world reacted with mostly displeasure. Many opined that Effel's comments were out of line and borderline needling, whether intended that way or not. Sammartino's tablemates, particularly Alex Livingston, certainly let it be known after the hand played out — Marchington held and collected a full double — that they felt Sammartino had been wronged.
Though Effel reportedly returned and apologized, nobody came out ahead by the end of the ordeal aside from Marchington due to his massive equity jump. A highly competent dealer had made a high-profile mistake, a top member of WSOP brass had irritated a number of players and Sammartino found himself out a sizable chunk of chips simply due to trusting a chip count from said dealer, who would be correct in the vast majority of cases — else she'd not find herself dealing the final two tables of the Main Event.
Fortunately for Sammartino, he recovered to post a second-place finish, but the enduring memory for many will be him walking away from the table, hands on his head, repeating Effel's words in disbelief.
Thanks to this and other bizarre occurrences in the 2019 WSOP Main Event, it will remain one to remember for years to come.
---
Upswing Poker's resources will help you take your game to the next level, no matter how much or how little poker you've played. Take a poker quiz now to challenge and improve your poker skills for free.