Top 10 Stories of 2019: partypoker Bans HUDs to Provide Players a 'Safe Environment'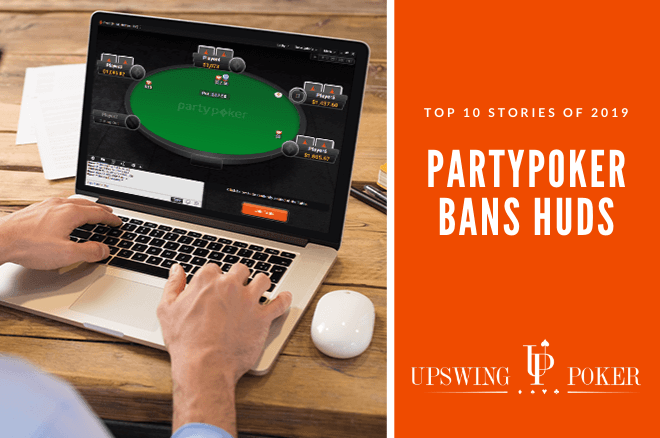 partypoker created waves in the online poker world with sweeping changes to its poker software in 2019.
The biggest update came in June when partypoker released an update forcing players to change their screennames along with the removal of country flags next to the player names.
This was part of a bigger ecology change that according to the partypoker Blog were "designed to level the playing field at partypoker following player feedback, allowing players of all levels to start afresh with a 'clean slate' in an effort to make the site a safer, fairer place to play."
"With this release, we are making changes to our software that will prevent third-party tracking tools from working."
Along with the screenname changes came a prohibition on most third-party software with the exception of partycaption and StackAndTile. Players caught using any other program are subjected to harsh penalties including having their accounts closed while also forfeiting funds in their accounts which will be redistributed.
This meant that HUDs (Heads Up Displays) and poker tracking databases were banned.
partypoker Managing Director Tom Waters shared how the forced screenname changes would allow players a 'fresh start.'
"This client update is one of a number of initiatives that we are working on in order to provide players with a safe environment where they can play online poker," said Waters.
"With this release, we are making changes to our software that will prevent third-party tracking tools from working. We want our players to have a fresh start and therefore we are asking all players to select a new alias so that all third-party tool tracking is lost for all our players."
partypoker slightly backtracked at the end of the year on the latter part announcing that they would allow hand histories to be downloaded after games were completed. The hand histories would list opponents as anonymous thus allowing players to study their own game without having detailed information on their opponents they simply didn't get while observing their play at the tables.
This doesn't mean that players without a poker tracking database can't review any of their play.
partypoker launched the Hand History Office to allow recent hands can be replayed via a mini-dashboard. Some of the information included in the dashboard are hole cards, community cards, and the pot size on current cash game tables, tournament tables, and Fast Forward pooled tables.
Three months of information is stored and allows players to review cash game and tournament hands from the past three months with extensive data points provided.
Filters for the date range, pot size, and hole cards will facilitate players finding a hand to review, although all opponents' names will be anonymous.
Other changes during this release were player notes reset from scratch, which makes sense considering the forced screenname changes, and the introduction of a four-color deck.
While many players applauded the changes made by partypoker, some hard-core grinders felt this would limit the number of tables they could play at once without the assistance of a HUD.
A bigger concern was raised about player oversight. The impression by many is that players report many of the problems by detecting issues through their poker tracking database.
Even with the recent concession of hands histories being available for download the possibility of detecting long-term patterns is more difficult considering that opponent's names are anonymized.
PokerNews' Sarah Herring interviewed Dusk Till Dawn Managing Director and partner of partypoker Rob Yong in a live Q & A about the changes back in June where one of the topics addressed was about player oversight into detecting bots, collusion, and other forms of cheating.
"When players report bots, cheats, and collusion, it's not always because they have been looking at hand histories," said Yong. "It's often the feel, they suspect, or someone has told them something. Let's just dispel the fact that hand histories are the golden way of catching cheating."
Yong went on to say that players are a very small part of the equation in catching cheating.
"When we look at our stats where people reported 11 bots we are in a situation where we are already investigated 10 out of 11," said Yong. "So the actual player poker and players reporting people I'm sorry to say isn't a massive benefit to partypoker anymore."
Yong elaborated further that players don't see the complete picture even if they have access to full hand histories.
"I don't see how players can actually think that they can be in a better situation to catch cheating and collusion when they see a very small part of the game," said Yong. "They see their own hand histories. Our risk detection department sees every hand, has the full history on the player, a full KYC on the player."
"If you say to me 'do you think players are going to be a massive benefit to catching bots and cheats in the future,'" asked Yong to himself. "I would say 'yes they will still report them.' However, with respect to hand histories, I don't think there will be a big difference."
partypoker has made other changes to its software throughout the year and successfully hosted the partypoker MILLION Online with a massive $20 million guarantee for the biggest tournament of the year.
It is too early to tell whether the changes partypoker made will increase their market share against their competitors including the industry leader PokerStars but it is likely that the changes will help the recreational player play on a more level playing field against the professional players.