Industry Insiders: Get to Know Golden Nugget Graveyard Shift Manager Mike Godfrey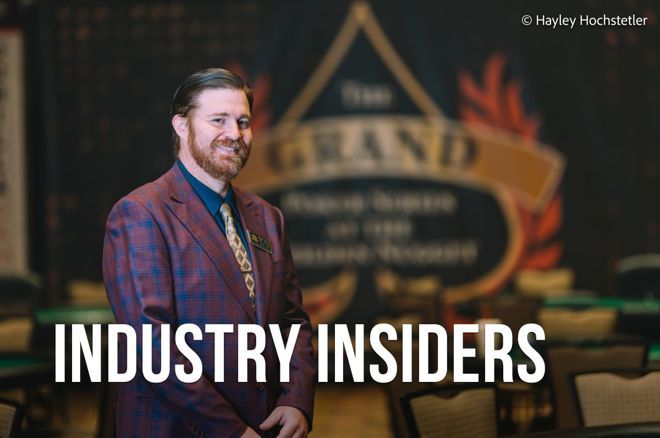 Table Of Contents
This weekend, the PokerNews Cup $1,100 buy-in, $1,000,000 GTD Main Event is playing out at at Golden Nugget Las Vegas.
The PokerNews Cup is part of the Golden Nugget 14th Annual Grand Poker Series, which features 81 events and offers over $3 million in guaranteed prize money from May 31-July 3. The tournament, which runs June 24-28, will be live reported here on PokerNews, and there will also be a live streamed feature table on Day 2 as well as final table action on Tuesday's Day 3 finale.
As part of PokerNews' continuing Industry Insiders series, we caught up with Golden Nugget's graveyard poker shift manager Mike Godfrey, who this summer is serving as Tournament Manager and Administrator for Grand Poker Series under Andy Rich, who we previously featured in his own Industry Insiders profile here.
More Than 13 Years in the Business
Godfrey, 37, graduated from UNLV with a degree in American History and is a proud husband as well as a father of two children.
"I have worked in the poker industry for 13+ years and have been playing since I moved into town when I was 21," Godfrey told PokerNews. "I was hired as a dealer for my first job at the Joker's Wild Casino. I quickly moved on to the Mirage where I learned that I would work more hours if I learned to be a supervisor and in return was mentored by one of the all-time greatest in Mark Gershof."
From there he was hired as a tournament manager at the Golden Nugget in November 2014.
"I was lucky to be hired by the Golden Nugget as a tournament manager and from there I took over the graveyard shift and am lucky enough to still be manning that post for seven years. My mentor, Mark Getshof, knew the acting manager at the time and put in a good word for me. It must have been an incredible one because I was hired on the spot and have pushed myself every day to be worthy of that recommendation still."
When he started, Godfrey oversaw little nightly tournament 5-6 days a week. The priority was simple – turn a two-table tournament into a six-table tournament. Within three months, he did exactly that and their daily events soon became a popular attraction.
"After working my first Grand Poker Series with Andy Rich at the helm of operations we learned that the mission became even larger — turn GPS into a tournament destination for pokers players of all buy in ranges and demographics," Godfrey shared. "I was turned into a shift manager on graveyard where we were struggling, and the goal became to change the direction of how late night poker was handled at the Golden Nugget. With the help of my team of dealers we have made that shift into a thriving place for poker."
He added: "The theme for the goals across the goal was simple – build. Make things better, keep things fun, and make the world of poker great for everybody involved."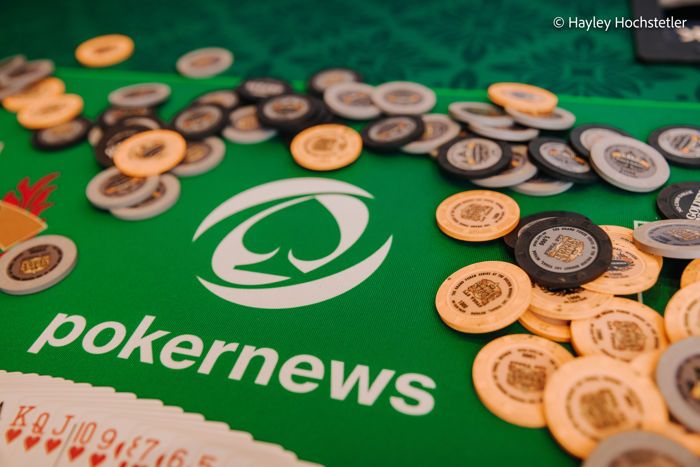 When asked to share his favorite story from his time at Golden Nugget, Godfrey didn't hesitate.
"My favorite story of all time was when I attempted to train our supervisor Jarod Diaz. I say attempted, because an hour into the shift my wife called saying my daughter was about to be born. I thank Jarod to this day for being the natural talent and pillar of excellence that he is, because all I could think to do was tap him on the shoulder and say, 'My daughter is being born, good luck!' and after notifying the casino manager was running out of that room like a flash."
5 Things to Know About the $1M GTD 2022 PokerNews Cup at Golden Nugget
What Makes Golden Nugget Special
For Godfrey, it's the people, both on and off the felt, that make the Golden Nugget such a special place to work.
"The closeness that our staff has made it possible for one of the most comfortable and supportive atmospheres in the world. That in turn rubs off on our local customer base who appreciate how well taken care of they are by our staff."
Godfrey is also proud of the fact that he and his colleagues were able to take care of their customers and workers after COVID-19 wreaked havoc on Vegas casinos.
"My point of pride was being one of the original rooms to open up after the pandemic. That point in time could have been the nail in the coffin for poker throughout the country. I told our staff that first night, and reminded them for months thereafter, that our hard work and determination would set up for the future openings of more rooms. Our success in turn would save the jobs of so many others throughout this city. Trust me when I say that the most miserable years of our lives, but our core strength has been to rally around each other as a staff like a family would. So, we kept pushing and grinding along until we finally saw the light out of that tunnel and now we're back to having poker being fun again."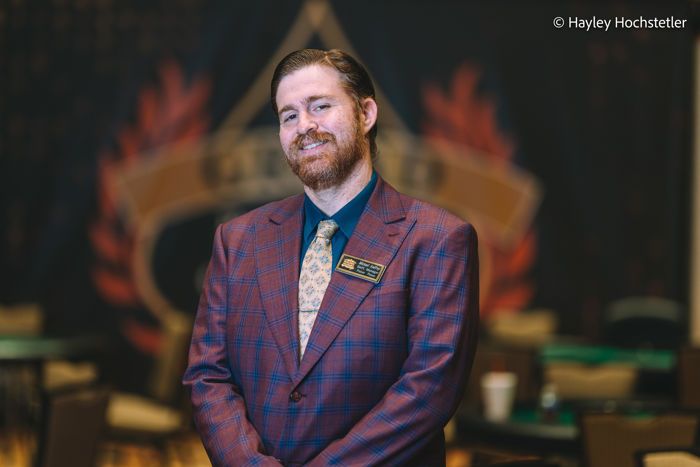 The Golden Nugget has developed a reputation as a fun place to play thanks in no small part to several popular features including:
Double high-hand jackpots. $3-$6 limit players who hit quads have a chance to win up to $1,198 bonus.
No-limit cash games have no cap on the buy-in, which creates some fantastic action.
They're the last poker room in Las Vegas where $100 bills still play on the table.
They have a progressive Bad Beat Jackpot that pays out the entire table if somebody loses with 1uad deuces or better. The Bad Beat Jackpot starts at $10,000 and grows daily until it is hit and re-sets.
For more information on Golden Nugget check out the PokerNews room review here.
Check the BRAVO app or call the Poker Room direct for an up-to-date Bad Beat Jackpot amount at (702) 386-8383. As a 24K Select Member you will earn $2 an hour in comps while you play in our cash games. The comps can be used at any Golden Nugget Las Vegas restaurant, as well as any Landry's restaurant nationwide.
More Industry Insider Profiles
Here's a Brief History of the PokerNews Cup
Executive Editor US, PokerNews Podcast co-host & 2013 WSOP Bracelet Winner.