$10,000 Main Event
Day 1b Completed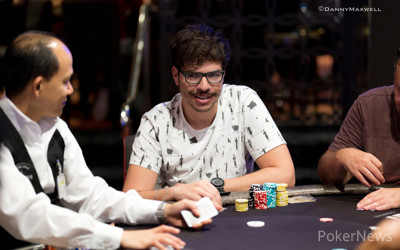 Another day done and dusted in the Crown Poker Room as Aussie Millions Day 1b is now in the books. We saw 184 players pull up seats throughout the seven levels of play today to take our running total up to 396 – ahead of the 387 that were in contention at the same time last year. With the final Day 1 flight tomorrow, time will tell if the 732-player field from 2016 can be eclipsed.
Today was host to another showcase of exciting poker action and when all was said and done it was birthday boy Mustapha Kanit who emerged on top with 215,000. When the clock ticked past midnight Kanit's birthday began and a mountain of chips seemed fitting as the perfect gift.
Kanit dominated his table today, picking off attempted bluffs and finding value in all the right spots. The Italian superstar has over $8.5 million in live cashes to his name and finds himself in a great position to add to that impressive total here this week.
Joining Kanit for Day 2 come Wednesday will be Rhys Jones who bagged up 159,800 by the conclusion of play. Fortune favoured Jones straight out the gate as he delivered the first knock-out blow in Level 1. In an unequivocally sick hand Jones sent a tablemate packing to establish himself as an early chip leader here on Day 1b. All of the chips went in on the turn with the board showing
. Jones had flopped a full house with pocket eights but found himself behind on the turn to his opponent's pocket jacks. Looking like all hope was lost Jones found the miracle case eight on the river to secure himself the monster pot and rocket to the lead.
Also still in the hunt from today's batch are Andrew Hinrichsen (105,600), Jeff Rossiter (94,000), Billy Argyros (85,700), Ryan D'Angelo (68,400), Dario Sammartino (68,300), Alex Lynskey (62,200), Terrence Chan (58,900), Tyron Krost (48,500), Ryan Otto (45,000), Didier Guerin (44,700), Michael Kane (39,000), Melanie Weisner (24,400), Jarred Graham (22,000), Darryll Fish (18,000), Michael Addamo (12,100) and Liam O'Rourke (8,300).
While these lucky players secured themselves a seat on Day 2, many others fell by the wayside. Perhaps the most recognizable face in Australian Poker, 2005 WSOP Main Event champion Joe Hachem, was felted in Level 5. He got his short stack in preflop with ace-king against the pocket jacks of Andrew Hinrichsen but failed to improve.
Also sent hurtling to the rail was 2015 November Niner Federico Butteroni who was hit by a cold deck versus Michael Kane. Holding
Butteroni found the last of it in the middle with the board reading
. That was no good against Kane's
, however, and Butteroni couldn't find a five on the end to keep his tournament alive.
For today's survivors though it's a day of respite tomorrow as a new group of players try their luck in the final flight on Day 1c. As always we'll be back with all your live coverage needs so be sure to join us from 12:30pm local time to catch all the action!
Only three more hands remain on Day 1b.
Tyron Krost raised from the cutoff before the player in the big blind reraised to 4,800. Krost called.
The flop came
and both players checked.
The turn brought the
and the big blind fired out 6,100 after thinking about his decision for a minute. Krost obliged moments later.
The
completed the board and the action checked to Krost who reached for his chips and splashed out 9,000. His opponent didnt wait to long to muck his hand and give up on the pot.
| | | | | | |
| --- | --- | --- | --- | --- | --- |
| Tyron Krost | | | | 45,300 | 10,300 |
The action went three-handed to a flop of
and Alex Lynskey was first to speak in the small blind. He checked to James Rann in the big blind who checked it over to Michael Kane in the cutoff. Kane fired for 1,200 but Lynskey played back at him for 4,400.
Rann thought about it before folding and with Kane sticking around the dealer turned the
. Lynskey gave up the betting lead with a check and Kane bet just 3,000. Despite the relatively small sizing Lynskey threw his hand away.
Kane tabled
for only ace-high and Lynskey laughed as the pot was pushed Kane's way.
| | | | | | |
| --- | --- | --- | --- | --- | --- |
| Alex Lynskey | | | | 54,000 | -17,000 |
| Michael Kane | | | | 43,000 | 500 |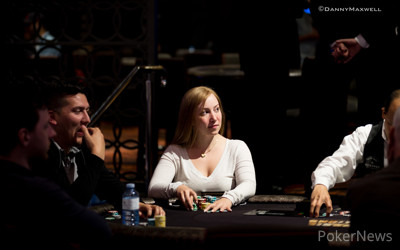 Melanie Weisner raised to 1,500 from the cutoff and was called by Rhys Jones in the big blind.
The flop came
and Jones led out for 1,500. Weisner called.
Both players then checked the
on the turn as well as the
on the river.
Jones rolled over
for ten high but was bested by Weisner who flipped over
[4v] for ace high.
| | | | | | |
| --- | --- | --- | --- | --- | --- |
| Rhys Jones | | | | 185,000 | 55,000 |
| Melanie Weisner | | | | 32,000 | 5,000 |
Mustapha Kanit

Winamax Team Pro

215,000
60,000

Ben Lai

204,700

Koray Aldemir

189,500

Samuel Ingham

160,100

Rhys Jones

159,800
29,800

Tyler Jam Mckendry

150,600

Xen Xenofontos

143,000

Najeem Ajez

133,900

Jarryd Godena

133,300

Tobias Hausen

130,500

James Rann

125,200

Patrick Crivell

124,200
14,200

David Dong Ming Yan

123,800

Michael Tchong

119,400

Ricardo Jardim

116,000

Tobias Ziegler

115,900

Yuri Dzivielevski

partypoker Ambassador

114,000

Hamish Raymo Crawshaw

112,100

Pascal Pflock

111,400
-3,600

Brayden Jinks

110,900

James Ballas

110,000

Sam Higgs

107,900

Robert Lieu

107,200

Anthony Aston

107,200

Jacek Ladny

106,100
Level:

7
Blinds:

300/600
Ante:

100
The remaining players in today's field are on their last 15-minute break of the evening.
We arrived at the table to find just over 20,000 already in the pot and the board showing
[Removed:17] was all in with
and had taken down the pot with a full house against Weisner who sat behind
for two pair.
The dealer counted out Yan's all in which totalled 28,700 and gathered the necessary chips from Weisner's stack before pushing the whole pot to Yan.
| | | | | | |
| --- | --- | --- | --- | --- | --- |
| [Removed:17] | | | | 80,000 | 38,000 |
| Melanie Weisner | | | | 21,000 | -19,000 |