Vincent "Wonky" Wan Wins 2020 Aussie Millions Main Event (A$1,318,000)

Level 34 : 150,000/300,000, 300,000 ante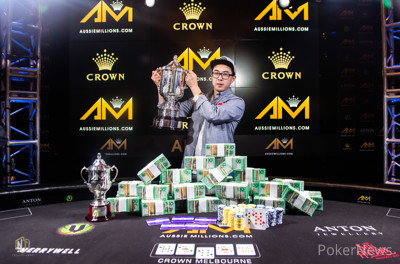 Vincent Wan has won the 2020 Aussie Millions Main Event, defeating heads-up opponent Ngoc Tai Hoang to win A$1,318,000 after a marathon 414-hand day that spanned a total of 15 hours.
Known as "Wonky", Wan is well-known here at Crown Casino in Melbourne for winning two six-figure Royal Flush Jackpots, but now has his first seven-figure score in what was by far the biggest cash of his career.
Runner-up Hoang came into the day as the short stack, missed the first 15 minutes of play and had to deal with being branded "the worst player" by Wan during three-handed deal negotiations, but now has the honour of winning the single largest score by a Vietnamese player in poker history as he also took home A$1,318,000.
Following the deal that saw eventual third-place finisher Gareth Pepper guaranteed A$1,000,000, both Hoang and Wan embarked on a lacklustre heads-up battle that spanned over four and a half hours.
Wan eventually got it in bad three times in quick succession to double twice and then close out the match just before 4 a.m. local time.
2020 Aussie Millions Main Event Final Table Results
| Place | Name | Country | Payout (in AUD) | Payout (in USD) |
| --- | --- | --- | --- | --- |
| 1 | Vincent Wan | Australia | A$1,318,000* | $907,196* |
| 2 | Ngoc Tai Hoang | Vietnam | A$1,318,000* | $907,196* |
| 3 | Gareth Pepper | New Zealand | A$1,000,000* | $688,312* |
| 4 | Nino Ullmann | Germany | A$480,160 | $330,501 |
| 5 | Erik Seidel | United States | A$378,660 | $260,637 |
| 6 | Oliver Weis | Germany | A$307,820 | $211,877 |
| 7 | Nicolas Malo | Canada | A$240,080 | $165,250 |
*denotes three-handed deal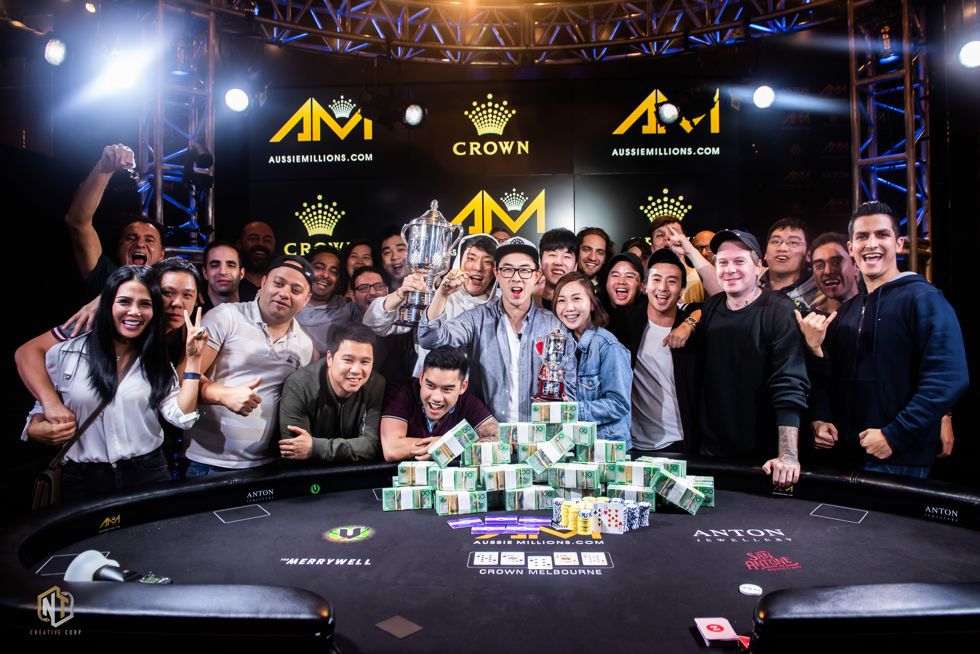 Winner's Reaction
"It's destiny boys! Destiny!"
Those were the words that Wan told his rail after the second of three late doubles that saw him run out winner. Just minutes later, Wan struggled to describe the emotions he was feeling.
"I'm lost for words," Wan told Aussie Millions Tournament Director Joel Williams. "I'm just tripping out at the moment. I was just wanting to min-cash at one point so I'm struggling; I'm just delirious at the moment.
"I can't believe my luck. Thank you to all the other players. Basically it's ten years of my life just grinding and working and trying to get here. I can't believe I did it.
"I've had a love-hate relationship with this place, but everyone during the tournament was amazing. It was stressful, but I've had a great time."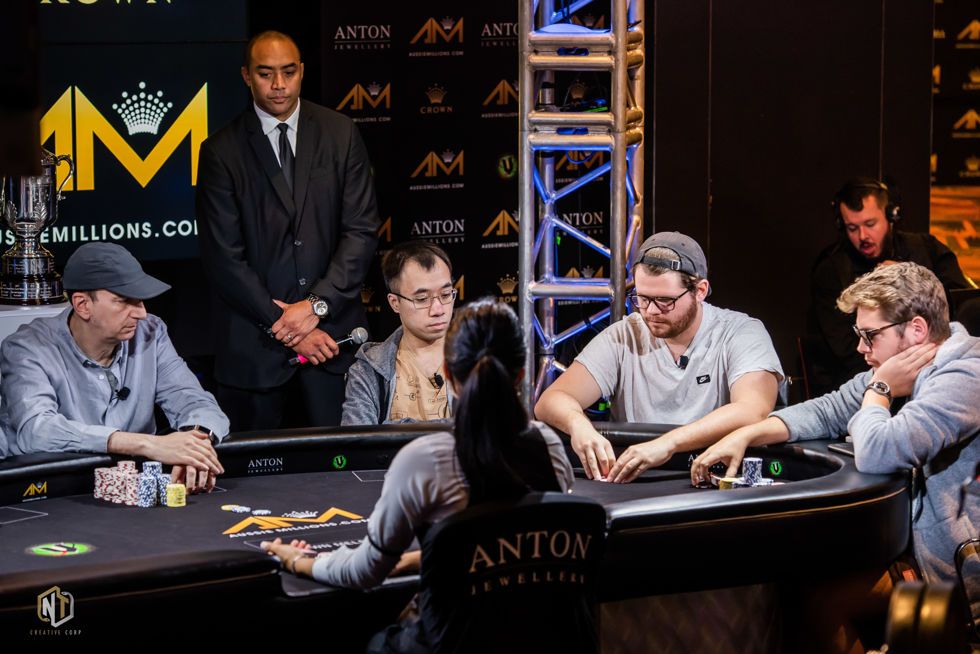 Considering the length of the final table - 414 hands in total - it's hard to remember the start of the day, but the seven-handed final table started with six players after eventual runner-up Ngoc Tai Hoang missed the start of play and arrived 15 minutes late. By the time he arrived, eventual winner Vincent Wan, who started the day third in chips, had moved into the lead after winning an early pot against overnight chip leader Nino Ullmann.
Wan's chip lead didn't last long, with Ullmann quickly moving back in front, just before the first all-in confrontation of the final table. With both Ullmann and Hoang holding ace-king, the hand looked to be heading for a chip. That was until the Vietnamese went runner-runner to make a flush to double up.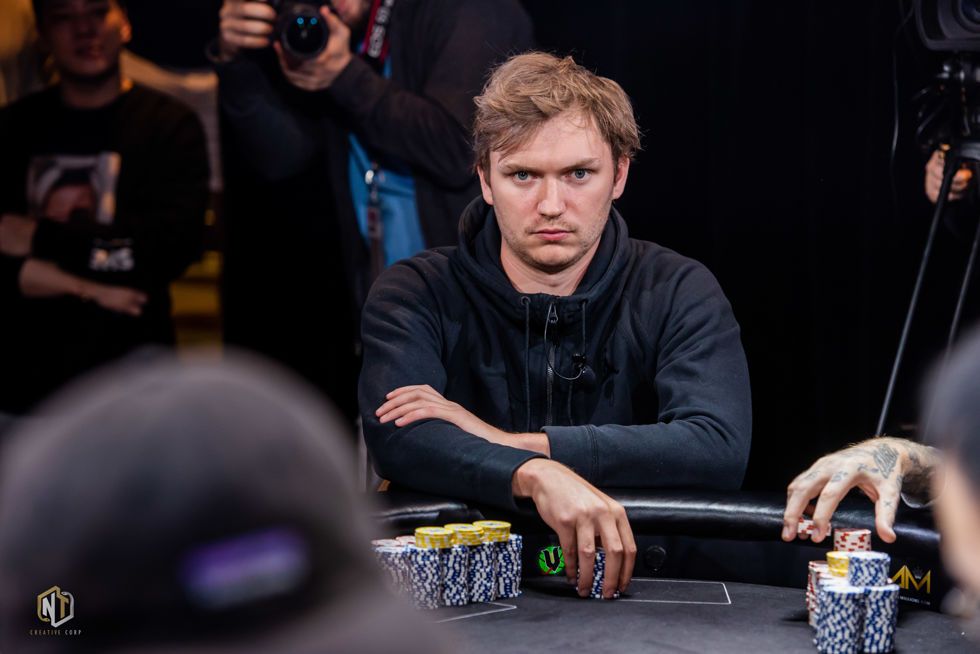 By the first break, it was still Ullmann in front, and when play resumed he was responsible for the first elimination of the play, eliminating Nicolas Malo in seventh place. Malo flopped a pair and an open-ended straight draw, but Ullmann had flopped the nut straight to send his opponent to the rail.
A short while later, Oliver Weis, who began the day second in chips and failed to get anything going at the final table, would bow next, getting it in dominated against Gareth Pepper to bow out in sixth place.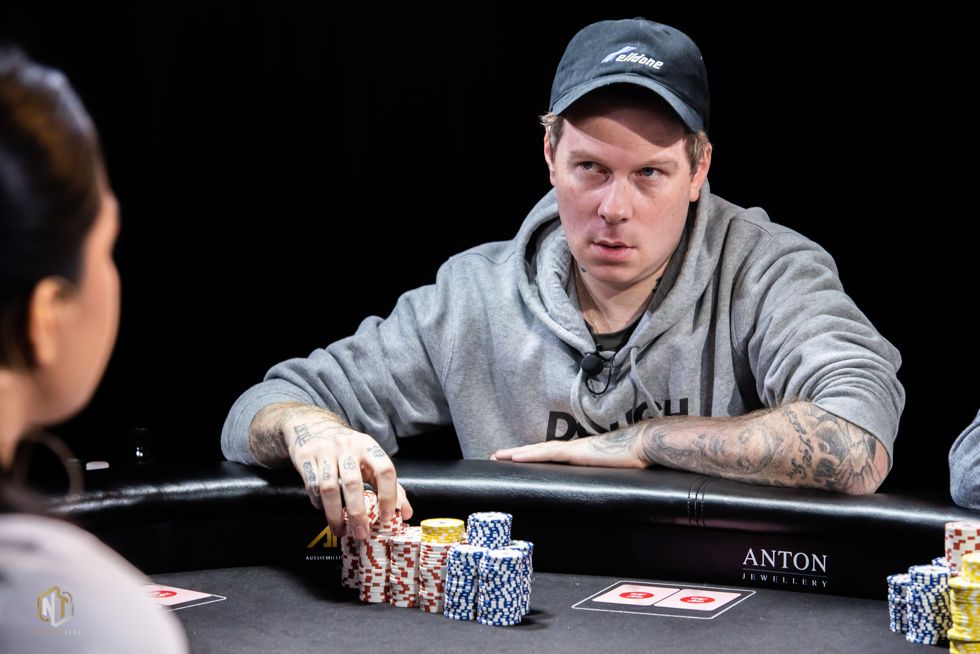 Pepper was really starting to get something going, and scooped a big pot against Ullmann to move into the lead. Wan also took advantage of the German's stumble, also taking chips off Ullmann after he tried to bluff the river with just queen high and was picked off.
This sent Ullmann to the bottom of the counts, but he would double through Hoang shortly thereafter, and by dinner break was nestled in a group of four behind Pepper.
Pepper Leads at Dinner Break
| Seat | Player | Country | Chip Count | Big Blinds |
| --- | --- | --- | --- | --- |
| 1 | Nino Ullmann | Germany | 4,045,000 | 25 |
| 2 | Gareth Pepper | New Zealand | 10,130,000 | 63 |
| 3 | Vincent Wan | Australia | 4,010,000 | 25 |
| 4 | Erik Seidel | United States | 3,685,000 | 23 |
| 5 | Ngoc Tai Hoang | Vietnam | 2,840,000 | 18 |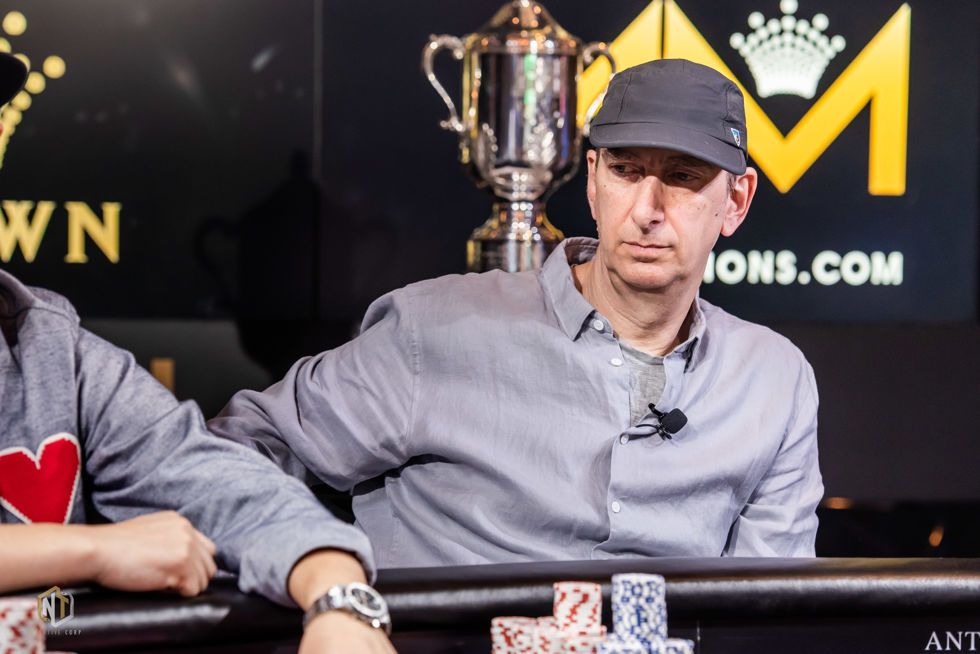 Another of those players grouped behind the chip leader was Erik Seidel. The American was down to 18 big blinds, before three-bet shoving with ace-ten only to run into the ace-jack of Wan.
It was another outstanding result for Seidel who still sits second in the Crown Melbourne all-time money list. It also means that Seidel has now final-tabled a $10,000+ No-Limit Hold'em Main Event in each of the past five decades.
| Decade | Year | Event | Field | Position | Payout (USD) |
| --- | --- | --- | --- | --- | --- |
| 1980s | 1988 | WSOP Main Event | 167 | 2nd | $280,000 |
| 1990s | 1999 | WSOP Main Event | 393 | 4th | $279,500 |
| 2000s | 2008 | Aussie Millions Main Event | 780 | 2nd | $879,028 |
| 2010s | 2015 | WSOPE Main Event | 313 | 7th | $113,428 |
| 2020s | 2020 | Aussie Millions Main Event | 820 | 5th | $260,637 |
Four-handed it was Wan who took control, with just under half the chips in play before Hoang eliminated Ullmann in fourth place. Ullmann got it in good with two pair against the queens of Hoang, but the board paired to hand Hoang the best hand. The players then looked at the numbers and quickly agreed on the following amendments to the initial ICM deal that was offered.
Three-Handed Deal Agreed
| Name | Country | Chip Counts | ICM Deal | Deal Agreed |
| --- | --- | --- | --- | --- |
| Ngoc Tai Hoang | Vietnam | 10,515,000 | $1,341,392 | $1,318,000 |
| Vincent Wan | Australia | 9,880,000 | $1,314,128 | $1,318,000 |
| Gareth Pepper | New Zealand | 4,215,000 | $973,003 | $1,000,000 |
The trio played on for the title, ANTON Jewellery bracelet and Aussie Millions trophy, in what was a tumultuous short-handed affair. Pepper and Hoang would trade doubles, each already assured of a seven-figure payout, with Pepper doubling through Hoang again for good measure.
However, it wasn't enough to stop Pepper exiting in third place shoving blind from the small blind only to get picked off by Wan who woke up with an ace.
It took three and a half hours before the first all-in and call between the final two players, with both players opting for a passive and low-risk strategy to heads-up play which saw almost nothing but small pots, and very little pivotal moments.
Final Stages
With fatigue setting in for both players and early-morning railbirds alike, there were three quick hands that saw Wan move from a 7:1 underdog to take down the tournament.
Ace-nine against ace-queen? Flop a nine. Ace-ten against ace-queen? River a ten. Finally, and for the third all-in in a row, Wan got it in bad once more and flopped a nine and faded a flush draw to secure victory and eliminate a visibly shaken Hoang in second place.
That concludes the PokerNews live coverage from the 2020 Aussie Millions. We hope you have enjoyed following the updates from this year's Main Event and all the High Roller Challenge events. If you've missed any of the action, why not click on one of the links below to check out the live updates from these events or previous Aussie Millions tournaments.
2020 Aussie Millions Live Reporting
| Event | Field | Prizepool | Winner | Payout (AUD) | Payout (USD) | Recap |
| --- | --- | --- | --- | --- | --- | --- |
| A$25,000 Pot-Limit Omaha Challenge | 59 | A$1,416,000 | Jorryt van Hoof | A$467,280 | US$322,400 | Recap |
| A$25,000 Challenge | 169 | A$4,056,000 | Farid Jattin | A$983,646* | US$678,900* | Recap |
| A$50,000 Challenge | 82 | A$3,977,000 | Michael Addamo | A$1,073,790 | US$738,234 | Recap |
| A$100,000 Challenge | 54 | A$5,292,000 | Kahle Burns | A$1,746,360 | US$1,198,300 | Recap |
*denotes headsup deal
Former Aussie Millions Main Event Winners (1998-2020)
| Year | Entries | Prize Pool | Winner | Country | First Prize |
| --- | --- | --- | --- | --- | --- |
| 1998 | 74 | A$74,000 | Alex Horowitz | Australia | A$25,900 |
| 1999 | 109 | A$109,000 | Milo Nadalin | Australia | A$38,150 |
| 2000 | 109 | A$173,500 | Leo Boxell | Australia | A$65,225 |
| 2001 | 101 | A$151,500 | Sam Korman | Australia | A$53,025 |
| 2002 | 66 | A$330,000 | John Maver | Australia | A$150,000 |
| 2003 | 122 | A$1,220,000 | Peter Costa | United Kingdom | A$394,870 |
| 2004 | 133 | A$1,330,000 | Tony Bloom | United Kingdom | A$426,500 |
| 2005 | 263 | A$2,630,000 | Jamil Dia | New Zealand | A$1,000,000 |
| 2006 | 418 | A$4,180,000 | Lee Nelson | New Zealand | A$1,295,800 |
| 2007 | 747 | A$7,470,000 | Gus Hansen | Denmark | A$1,500,000 |
| 2008 | 780 | A$7,758,500 | Alexander Kostritsyn | Russia | A$1,650,000 |
| 2009 | 681 | A$6,810,000 | Stewart Scott | Australia | A$2,000,000 |
| 2010 | 746 | A$7,460,000 | Tyron Krost | Australia | A$2,000,000 |
| 2011 | 721 | A$7,210,000 | David Gorr | Australia | A$2,000,000 |
| 2012 | 659 | A$6,590,000 | Oliver Speidel | Australia | A$1,600,000 |
| 2013 | 629 | A$6,290,000 | Mervin Chan | Malaysia | A$1,600,000 |
| 2014 | 668 | A$6,680,000 | Ami Barer | Canada | A$1,600,000 |
| 2015 | 648 | A$6,480,000 | Manny Stavropoulos | Australia | A$1,385,500 |
| 2016 | 732 | A$7,320,000 | Ari Engel | Canada | A$1,600,000 |
| 2017 | 725 | A$7,250,000 | Shurane Vijayaram | Australia | A$1,600,000 |
| 2018 | 800 | A$8,000,000 | Toby Lewis | United Kingdom | A$1,458,198 |
| 2019 | 822 | A$8,220,000 | Bryn Kenney | United States | A$1,272,598 |
| 2020 | 820 | A$8,200,000 | Vincent Wan | Australia | A$1,318,000 |