Main Event
Day 4 Completed
| | | | | | |
| --- | --- | --- | --- | --- | --- |
| Nicolas Yunis | | | | 2,281,000 | 501,000 |
| Rupert Elder | | | | 1,894,000 | -6,000 |
| Luigi Pignataro | | | | 1,796,000 | -104,000 |
| Max Lykov | | | PokerStars | 1,722,000 | 122,000 |
| Joe Cada | | | | 1,619,000 | 419,000 |
| Nicola Grieco | | | | 1,615,000 | 565,000 |
| Andrew Teng | | | | 1,600,000 | -300,000 |
| Massimiliano Manigrasso | | | | 1,560,000 | 416,000 |
| Diego Bolzoni | | | | 1,552,000 | 34,000 |
| Max Heinzelmann | | | | 1,445,000 | 495,000 |
| Roberto Spada | | | | 1,400,000 | -200,000 |
| Costantino Russo | | | | 1,237,000 | 411,000 |
| Luca Cavecchi | | | | 1,224,000 | 725,000 |
| Marco Bognanni | | | | 1,211,000 | 529,000 |
| Fabrizio Cataldi | | | | 1,198,000 | -202,000 |
| Xuan Liu | | | | 1,187,000 | -313,000 |
| Antonino Venneri | | | | 1,055,000 | 255,000 |
| Kamal Choraria | | | | 949,000 | -206,000 |
| Luciano Longhitano | | | | 823,000 | -37,000 |
| David Lichentin | | | | 765,000 | 176,000 |
| Freddy Darakjian | | | | 500,000 | -320,000 |
| Nicola Boldini | | | | 430,000 | -590,000 |
| Marco Fabbrini | | | | 263,000 | -387,000 |
| Francesco De Vivo | | | | 155,000 | -204,000 |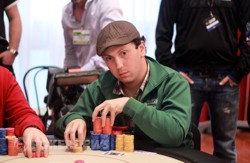 With 60 players returning today, it was always going to be a short day, but we have outdone ourselves here - we're out before sundown.
Leading our final 24 into the penultimate day is Norwegian resident and sole Chilean national remaining in the field Nicolas Yunis. Yunis came back today in joint second place and soon took the lead when overnight chip leader Roberto Spada lost a chunk of his chips to Rupert Elder, and then lost some more doubling up Luca Cavecchi.
A little behind Yunis are young Brits Rupert Elder and Andrew Teng; fellow countryman Kamal Choraria is somewhat behind them towards the bottom of the chip counts. It's been a fantastic year for Britain at the EPT, and we could yet see our fourth British winner this season.
Also still in with decent shots at the title, although somewhat reduced from their earlier big stacks and now only slightly above average, are Team PokerStars Pros Max Lykov and Joe Cada. Below average, but still in an excellent position to make his second consecutive EPT final table, is 20 year old EPT Berlin runner up Max Heinzelmann.
We'll be back at noon to play down to a final table. Until then, we and all the remaining runners are heading out into the still sunny San Remo evening to fuel ourselves for a big Day 5. Get some rest. It's going to be good.
Right at the business end of the tournament you have got to have some balls to make the hero calls. It seems Marco Bognanni and Nicolo Grieco know exactly where there's are!
Marco Bognanni - HERO!
On a board of
with Massimiliano Manigrasso seated in the big blind and Bognanni on the button, Manigrasso check-called a 70,000 flop bet by Bognanni. The dealer gave us a
turn and both players checked. On the
river Manigrasso bet 130,000 and Bognanni called with Queen high and it turned out to be the winning hand.
Nicolo Grieco - HERO!
Nicolo Boldini bet 80,000 on the button and Grieco defended his small blind.
Flop:
Both players checked.
Turn:
The fourth club and Grieco check-called a 80,000 Boldini bet.
River:
Grieco checked again and Boldini bet 180,000 and Grieco snapped him off with
. Boldini showed the bluff
.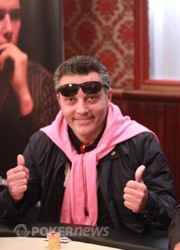 Antonio Russo will not be coming back tomorrow for the penultimate day of EPT San Remo. The Italian was knocked out by Antonino Venneri after both had pushed all in preflop.
Venneri:

Russo:
The board came
and Russo screamed, "Running sixes!" but the
turn meant Russo needed a queen just to chop.
"Queen queen queen queen queen queen," shouted Russo but it was all in vain, the
came on the river and the Italians embraced. The last 24 players are now bagging and tagging their chips.
Rupert Elder opened to 60,000 preflop before Roberto Spada made it 160,000 from the cutoff. Luca Cavecchi then tanked for two minutes before moving all in for around 450,000. Elder quickly folded but Spada called just as fast.
Spada:
which had Cavecchi rolling his eyes skywards as...
Cavecchi:
The board came
and Cavecchi escaped from a bad spot to double up and nearly reach the million chip mark.
Francesco De Vivo has doubled up his paltry stack with
managing to outdraw Max Heinzelmann's
in a blind on blind battle when the board came
.
We're still on 25 players.
Nobody in the tournament really envies Antonio Russo - he is our extreme short stack right now. He was in fact so short just a few minutes ago that even after doubling through Luigi Pignataro, he is still the statistically unlikeliest player to make Day 5 - he's at 150,000 or five big blinds after the double up.
Russo:

Pignataro:
Board:
Joe Cada checked the turn of an
board before calling 114,000 from Yo-Yoer Of The Day Max Heinzelmann. He checked again on the
river and this time faced a bet of 215,000. Again, he called, but he was soon mucking his hand and counting out the chips to hand over to his opponent when Heinzelmann turned over
for the rivered straight.
Cada is down to 1.2 million, around the average.
Level:

24
Blinds:

15,000/30,000
Ante:

3,000