Event Info
| | |
| --- | --- |
| Buy-in | 100 CAD |
| Prize Pool | 500,000 CAD |
| Players | 3,341 |
Level Info
| | |
| --- | --- |
| Level | 39 |
| Blinds | 800,000 / 160,000 |
| Ante | 200,000 |
Canadian Grand Prix
Day 3 Completed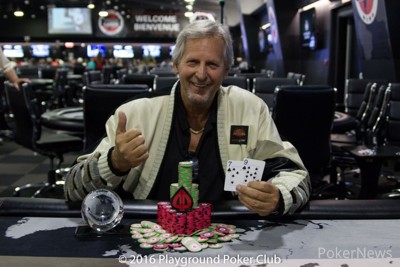 Richard Figiel is the winner of the partypoker $500,000 Guarantee Canadian Grand Prix at Playground Poker Club. He took the top spot earning $49,385, in a field of 3,341 players who qualified in both live and online Day 1 flights.
The event was a $109 tournament with a massive guarantee and over 50 starting flights. Players also had the option to buy in directly to Day 2 and start with 50 big blinds for $1,100. Figiel did just that, but only after he had played four of the starting flights. He didn't know that until he was heading out the door, but decided to come back on Day 2 and rolled that $1,100 into almost $50,000.
Day 3 started with 46 players returning and Dimitri Tchakarov leading the way. Figiel was one of the top five stacks entering the day. Figiel made the final table as the chip leader and would go on to win the tournament after making a deal six-handed, then winning the $10,000 left on top. Below is a breakdown of the payouts for the final table.
| Place | Name | Payout (CAD) |
| --- | --- | --- |
| 1 | Richard Figiel | $49,385 |
| 2 | Paul Mohorea | $30,165 |
| 3 | Richard Monreau | $37,655 |
| 4 | Neil Macleod | $34,945 |
| 5 | Kegan Cummings | $37,160 |
| 6 | Karla Leduc | $32,780 |
| 7 | Daniel Dagenais | $10,300 |
| 8 | Adam Cader | $7,800 |
| 9 | Mark Sloane | $5,970 |
| 10 | Sofian Boulila | $4,630 |
The first player eliminated from the final ten was Sofiane Boulila. He was busted by Richard Monreau when Monreau hit a flush to beat Boulila's pair.
Then, Mark Sloane was also eliminated by Monreau. Monreau made a full house with
and eliminated Sloane who got all in preflop with
. Monreau kept it up, eliminating Adam Cader next with queens and making a full house against Cader's trips with an ace.
Finally, someone else started knocking players out and it was Kegan Cummings who sent Daniel Dagenais home in seventh place. Dagenais had lost most of his stack when he was part of a hand that tripled up Karla Leduc, and was all in the next hand with ten-high. Cummings had
and won the hand to eliminate Dagenais.
At this point, Monreau had 30,000,000 chips and was about to run away with the first prize, but after a series of double ups and lay downs, the stacks got close to even. At this point, the six players decided to make a deal. They were about to just end the tournament with a chop, but decided to take a little out of each players prize and play for an extra $10,000.
An interesting side note is that two of the players, Karla Leduc and Neil MacLeod each had a golden chip. This was part of a partypoker promotion and if either of those players had won the tournament, the chip would have been good for an addiontal $50,000 added to the first place prize. When the players decided instead to make a deal where each player got at least $30,000, the golden chip was void and the remaining prize would stay at only $10,000.
They agreed and play sped to a finish. Karla Leduc was first to go when she was eliminated by Richard Monreau, who went four cards to a straight to beat the pocket kings Leduc held.
Then Kegan Cummings got all in with pocket kings, but Richard Figiel hit an ace to knock him out. The next hand, Figiel knocked out Neil MacLeod, who had an ace with a lower kicker against Figiel's
.
Figiel then knocked out the other Richard with pocket fives against queen-six. Monreau failed to connect with the board and was eliminated in third. After a short heads up match, Paul Mohorea was eliminated when Figiel shoved the turn and Mohorea called with two pair. Figiel had flopped trips and would stay ahead to win the tournament and snag the extra $10,000 as well as the World Cup of Cards trophy.
PokerNews will be here throughout the festival, bringing you all the news, updates, and photos. Follow @pokernews on Twitter for live updates, Periscope broadcasts, and more. Also, follow PokerNews on Facebook and Instagram.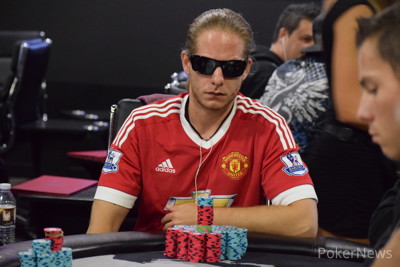 After Richard Figiel limped in, Paul Mohorea raised to 4.6M. Figiel made the call and the two seen a flop of
. Mohorea check-called a bet of 2.0M from Figiel and the
fell on the turn. Mohorea checked and Figiel jammed all-in. Mohorea tanked for just a moment before making the call, putting himself at risk.
Mohorea:

Figiel:
Mohorea was drawing very slim and when the
dropped on the river, the tournament was over.
Level:

39
Blinds:

800,000/160,000
Ante:

200,000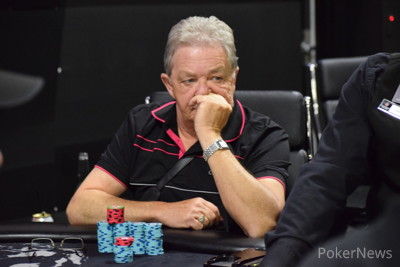 With a board reading
, Richard Moreau bet 3.5M, Richard Figiel raised to 9.0M, Moreau three-bet shoved all-in, and Figiel called putting Moreau at risk.
Moreau:

Figiel:
Figiel was ahead and needed to fade a ton of Moreau's outs. the turn and river came —
, and Moreau was eliminated in third.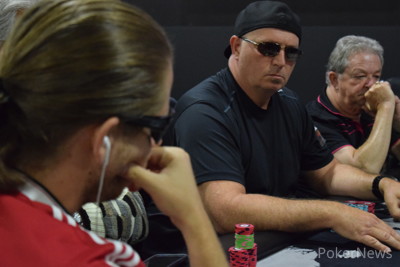 Neil Macleod was eliminated immediately after Kegan Cummings when Richard Figiel shoved all in from the small blind and Macleod called.
Macleod had
and Figiel had
again. The same hand he eliminated Cummings with.
The board ran out
and Macleod was eliminated.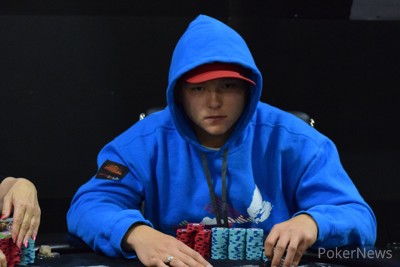 Kegan Cummings was eliminated shortly after Karla Leduc. He got all in with
against the
of Richard Figiel.
The board ran out
and Cummings was eliminated. As part of the deal the players made six-handed, Cummings took home $31,160.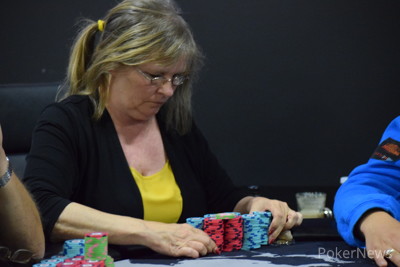 Karla Leduc was eliminated by Richard Monreau after he shoved the button with
and Leduc called with
.
The board ran out [jcth6d8d9] and Leduc was eliminated in 6th place. She took home $32,780 as part of the six-way deal the players made earlier.
Level:

38
Blinds:

600,000/1,200,000
Ante:

200,000
The players have chopped up the prize pool based on ICM numbers. They will play on for $10,000 and a trophy to the eventual champ. For Neil MacLeod and Karla Leduc however, this means their Golden Chip is now out of play and the $50,000 they could have won for capturing the title is gone.
| Name | Prize (CAD) |
| --- | --- |
| Paul Mohorea | $30,165 |
| Richard Figiel | $39,385 |
| Neil MacLeod | $34,945 |
| Richard Moreau | $37,655 |
| Karla Leduc | $32,780 |
| Kegan Cummings | $37,160 |