Event #17: $1,500 No-Limit Hold'em 6-Handed
Day: 1
Event #17: $1,500 No-Limit Hold'em 6-Handed
Day 1 Completed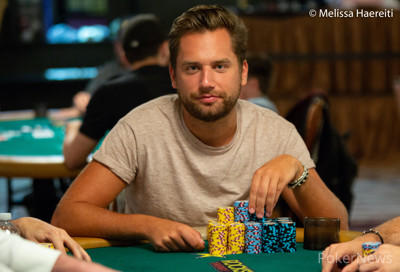 On Day 1 of Event #17: $1,500 No-Limit Hold'em 6-Handed, Belgian player Bart Lybaert moved quickly from starting stack to 50,000 and proceeded to climb steadily throughout the rest of the day to bag 181,000 and the chip lead.
The payouts were also confirmed, with 250 players in the money. A min-cash will be worth $2,249 and the money bubble is expected to burst early on Day 2, with just 264 players bagging chips.
Other big stacks include Thomas Muehloecker (145,300), Alexandro Tricarico (143,900), Victor Figueroa (127,200), Chris Aiello (122,000), and Matt Silva (116,500).
Notables through to Day 2 include multiple bracelet-winners Mark Radoja (91,700), Adrian Mateos (79,000), Barry Greenstein (43,300), and Jeff Madsen (36,300), along with former Main Event champion Martin Jacobson (70,000).
If last year was anything to go by, a big field was expected on Day 1. Although it didn't eclipse last year's mark, the 1,663 player field was spread across three rooms at the Rio All-Suite Hotel and Casino in Las Vegas.
Defending champion Anthony Marquez was in action early on, but wouldn't make as much of an impact on proceedings this year, as he was eliminated during Day 1.
Everyone from bracelet winners to WSOP Main Event champions joined the field, but it was Lybaert who shot into the chip lead early on after flopping the nut flush and getting paid on all three streets.
There were already 1,200 entrants by the first break of the day, and more players would join the field including Cary Katz, Dominik Nitsche, David Peters, Ben Keeline, Heidi May, and Ryan Laplante.
All these players would fall during Day 1's play, along with Andre Akkari, Fabrice Soulier, Steven van Zadelhoff, Chris Moorman, Ana Marquez, Ryan D'Angelo, Alex Foxen, Thomas Boivin, Ari Engel, Niall Farrell, and Michael Gathy.
Lybaert still lead at the dinner break, and as they returned no less than 42 bracelets joined the field, in the form of Phil Hellmuth, Phil Ivey, Chris Ferguson, Ben Yu, Bryn Kenney, Barry Greenstein, and Steven Wolansky. Ferguson and Ivey would bust fairly quickly, both unable to build up a stack from just 12.5 big blinds in the penultimate level of the night.
As the night drew to a close, Lybaert remained as the big stack but was pushed all the way by Muehloecker and Tricarico. The tournament resumes on Friday in Amazon Orange at 12pm, with play just 14 eliminations off the money.
Stay tuned to PokerNews for all the live updates from the 2018 World Series of Poker.
Player
Chips
Progress

Bart Lybaert

181,200

5,200

Thomas Muehloecker

145,300

15,300

Alexandro Tricarico

143,900

-6,100

Victor Figueroa

127,000

7,000

Felix Bleiker

124,400

124,400

Christopher Aiello

121,000

121,000

Enio Bozzano

120,000

120,000

Kainalu Mccue-Unciano

119,900

119,900

Jason Brin

110,800

110,800

Matthew Silva

110,500

110,500

Fadi Hamad

108,600

108,600

Scott Stewart

107,700

107,700

James Hutton

104,500

104,500

Luke Graham

103,300

103,300

Brian Kearney

100,700

100,700

Maher Achour

98,000

98,000

Jake Schwartz

96,000

96,000

Alexandre Reard

95,300

15,300

Sebastien Comel

95,200

95,200

Mark Radoja

91,700

-8,300

John Oneal

91,500

91,500

Antonio Barbato

90,600

90,600

Andrew Yim

90,000

90,000

Adrian Buckley

88,900

88,900

Dimitry Agrachov

88,600

88,600
Players are beginning to bag up their chips at the end of Day 1. Stay tuned for a full recap of Day 1's action.
Level 10 : 400/800, 100 ante
After a player opened for 1,800, the button pushed all in for 17,000 and Mark Radoja in small blind called. The initial raiser folded.
With
Radoja has the ascendancy against his opponent's
. A jack high flop fell and Radoja eliminated his opponent.
Level 10 : 400/800, 100 ante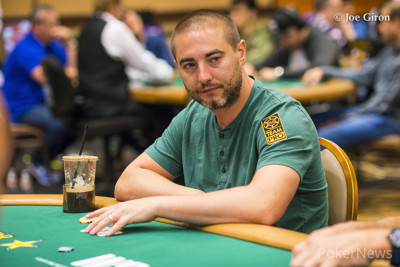 Chance Kornuth opened to 1,700 and both Thomas Muehloecker (button) and Barry Greenstein (big blind) called.
They all checked on the
flop. On the
turn, Kornuth bet 2,400 after Greenstein checked one more time, and Muhlocker folded. Greenstein raised it to 7,000 with 13,100 left behind, and Kornuth eventually called.
The river brought the
and Greenstein moved all-in. After a long tank Kornuth ended up calling and mucked his hand after Greenstein tabled
for trips.
Player
Chips
Progress

Barry Greenstein

58,000

38,000

Chance Kornuth

57,000

-23,000
There was a three-way all in between Kristen Bicknell and two other players. Bicknell was the big stack against two much shorter ones, but wasn't in good shape.
Kristen Bicknell:

Player 1:
- all in for 7,500
Player 2:
- all in for 2,700
The board ran out
with Player 1 scooping, sending the second player to the rail and leaving Bicknell with around ten big blinds.
A short while late she got
in against an opponent's
with the board coming
and she was eliminated.
Player
Chips
Progress

Dimitar Danchev

90,000

90,000

Adam Hendrix

70,000

41,000

Sadan Turker

55,000

20,000

Pierre Calamusa

47,000

32,000

Brent Hanks

35,000

35,000

Artem Metalidi

30,000

-21,000

Christian Harder

30,000

5,000

Mike Ross

30,000

30,000

Aditya Agarwal

30,000

-23,000

Ivan Deyra

29,000

-21,000

Kristen Bicknell

25,000

-24,000

Barry Greenstein

20,000

2,000

Damien Hupé

20,000

-7,000

Tom Hall

19,000

15,000

Fraser MacIntyre

15,000

2,000

Tony Cousineau

10,000

-10,000
Player
Chips
Progress

Noah Schwartz

160,000

90,000

Bart Lybaert

155,000

10,000

Thomas Muehloecker

130,000

-10,000

Sergio Aido

92,000

19,000

Harrison Gimbel

80,000

74,000

Mark Radoja

80,000

50,000

Chance Kornuth

80,000

24,000

Adrian Mateos

80,000

-4,000

Alexandre Reard

80,000

25,000

Martin Jacobson

50,000

5,000

Shannon Shorr

42,000

8,000

Gaelle Baumann

40,000

3,000

Fernando Brito

34,000

4,000

Tom Marchese

29,000

21,500

Kane Kalas

15,000

15,000

Joe McKeehen

15,000

-20,000

Steven Wolansky

12,000

-3,000

Matt Berkey

10,000

-13,000
Level: 10
Blinds: 400/800
Ante: 100