2008 WSOP 'November Nine' Focus: Darus Suharto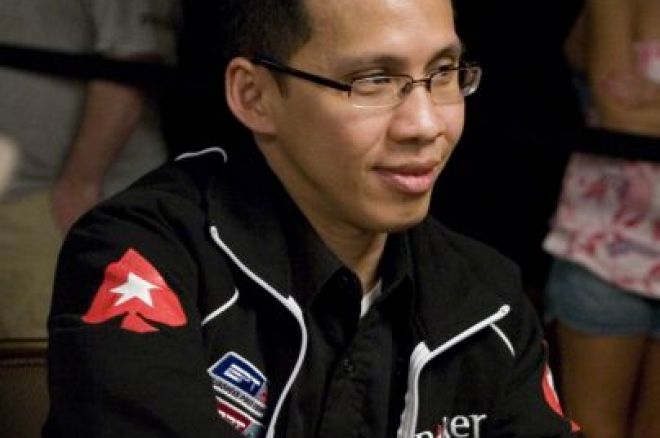 An accountant by day, 39-year-old Darus Suharto has been playing poker recreationally for about three years. After only a year of playing, Suharto qualified through an online satellite for free entry into the 2006 WSOP Main Event, where he cashed, finishing in 448th place out of approximately 8,700 players for $26,389. This year, Suharto again qualified for his seat to the big show by winning an online satellite, an $80 one on Poker Stars that led to a $650 satellite and then to the Main Event. But this time, Suharto made it all the way to the final table. With a guaranteed payday of at least $900,000, this accountant has already received an excellent return on his $80 investment.
Suharto was born in Indonesia and moved with his family when he was younger to Toronto, Canada where he still lives. He works as the Associate Director, Internal Audit, at York University. He attended both York University and the University of Central Arkansas as an undergraduate, and then earned an MBA from Indiana University. He serves as the Chair of Academic Relations of the Institute of Internal Auditors ("IIA") – Toronto Chapter, a volunteer position serving this professional association.
Prior to joining York University, Suharto was an Audit Manager at the accounting firm Deloitte & Touche. Suharto knows his numbers. He is both a certified general accountant (CGA) and a certified internal auditor (CIA); to achieve those certifications, he had to show mastery of a range of subjects including accounting, administration, law, finance, and management.
He is self-proclaimed amateur and describes poker as his number one hobby. In a previous interview with PokerNews, Suharto described his cash in 2006 to be his proudest poker accomplishment because he was "a donkey at that time." One thing Suharto doesn't call himself is a gambler. He's been an accountant for 13 years and so far has no plans to leave his job, which he says he loves. He plays poker for fun and wants to keep it fun.
Suharto started playing poker in college in live games, again just for fun, but for the past three years he's played primarily over the internet, after being introduced to online poker by a friend. He plays primarily on the weekends, logging about 15 hours a week. While in Las Vegas for the World Series, he played some live games at Caesars Palace, but did not play in any other Series event. At the table, Suharto is friendly and quiet and, if one accepts the "accountant" stereotype, is reported to play a tight, disciplined game.
Suharto finished Day 1b with 39,675 in chips, putting him in the bottom half of the survivors. On Day 2, he chipped up to a more than respectable 129,400 and was up to 420,500 by the end of Day 3. He finished Day 4 in 15th place among the remaining 189 competitors. Suharto had a bit of a setback on Day 5, surviving to the next day with just over a million in chips, putting him near the bottom of the pack. But Day 6 was a better day for him as he more than quadrupled up. Along the way, he eliminated Craig Stein (pocket queens vs. A-J) and Peter Neff (A-J over A-9) and chipped up at the expense of Chris Klodnicki.
Going into Day7, Suharto was 15th out of the remaining 27 players, with just over 4.5 million in chips. He lost one million in an early hand against Dennis Phillips without a showdown; but then got it back from Klodnicki who raised, then mucked after Suharto reraised all in.
Suharto continued to be aggressive, and slowly built his stack up. He knocked out Aaron Gordon in 24th place and Toni Judet in 22nd, moving up to 13.8 million. But after losing a few hands, he was down to just seven million. He doubled up at the expense of Joe Bishop (pocket kings vs. A-Q), then took over a million off of Chino Rheem with an aggressive reraise. By the time the tenth and last player was eliminated, Suharto was sitting in fifth place with 14,520,000 in chips.
Suharto will go into the final table tied with Ylon Schwartz for fifth place in chips, with that 14,520,000. In 2003, a mild-mannered accountant parlayed a Poker Stars satellite win into a WSOP Main Event win. Will Darus Suharto – mild-mannered accountant who earned his way to the Main Event through a Poker Stars satellite — become this year's Chris Moneymaker? Only time will tell.
Darus took time out from his busy schedule to check in with PokerNews about his run at the WSOP and about poker in general. Here's what he had to say:
PokerNews: Darus, you've come to the Main Event as an online qualifier two of the last three years. Has winning a seat in this manner been a major focus of your poker play, or was it more a case of fortunate circumstance?
Darus Suharto: I'm just a recreational player, so it's really not my main objective. Playing poker, I just want to play well, and to play the Main Event of the WSOP is absolutely thrilling for a recreational player like me. Being able to run this far – I don't know what to say, it's unbelievable. About my poker objectives, when I started playing poker, I started playing in 2005. I played seriously starting in 2005 and I began playing on Poker Stars. I just wanted to be able to pay off my mortgage. That was my main objective!
PN: Toronto has produced a number of very good, high-profile players. Have those players been role models or someone to look up to as played?
Suharto: Well, Daniel Negreanu absolutely. Everybody loves him. He's in a different league than other pros. I love Daniel – his manners at the table – he's very good. He makes things live. He's an entertainter and a model as a poker player. Absolutely. I look up to him. His style, the way he plays, and my style are absolutely different. First, you cannot compare [me] to Daniel Negreanu!
PN: Many online qualifying events also feature large fields, like the WSOP Main Event. For you, how are the two similar, and how are they different?
Suharto: Online it's harder because people tend to gamble a lot more, showing me their A-Q or A-J, while live, people tend to play more careful. II like the live structure; you can take your time, you don't have to rush things, and you can lay down a big hand and still manage to go deep. Online, because the structures are faster, you have to gamble a lot. However, because I have a job, I can't really play a lot of live tournaments. Actually, the 2008 Main Event is my second biggest tournament!
PN: You're setting quite a high bar others to try to follow!
Suharto: I'm glad if that's being a model for others. Basically what I'm trying to portray to other players out there, those people play for fun just like me. I play basically on the weekend, 15 to 20 hours a week mostly. Poker is an exciting game! Anybody can win. Hopefully I can inspire others. Definitely, Chris Moneymaker already did that one. But, if I can win, it will be a boost for online poker players.
PN: Were you to go on to win the Main Event, you wouldn't be the first accountant to do so in this manner. Did Chris Moneymaker's win in 2003 have any influence on your decision to pursue the game?
Suharto: I've got to be honest with you. When I began playing in 2005, I didn't know anything about the WSOP. I didn't know anything about Moneymaker. I joined Poker Stars, and saw this "WSOP". I asked, "What is this WSOP?" So I researched the WSOP, and saw it was, like, the biggest tournament. I just tried to satellite and I won the seat, and people said stuff about this Chris Moneymaker. So I looked up this Chris Moneymaker, and I went "Oh my gosh, he turned $39 into $2.5 million." Wow, you know? It gave me hope, and he was an accountant – you want to hear something funny about it? I met Chris Moneymaker at EPT London. He talked to me, and I said, "Hey Chris, I'm an accountant," and he said, "Oh you're the other accountant at the final table!" We got to talk, and he asked me if I worked for an accounting firm, and I said, "Yes, I actually worked for Deloitte and Touche for three years." The funny thing is, he said he actually worked for Deloitte and Touche as well... for three years. "Oh my God," I said. "We're brothers!"
PN: You've professed that you love your accounting career, and that you have no plans of leaving that profession. But could you really turn down the riches and celebrity that a Main Event title could offer?
Suharto: You know, $9 million is a lot of money. Absolutely, I don't have to worry about my bills any more. I love my job, especially the people I work with – they are wonderful people. I've got to be honest – it's a very good job, a very good place. At the same time, if I had the money, do I really want to get up in the morning and go to work? I don't know. let's see what happens and I'll make up mind later on. (*laughs*)
PN: The concept of coaching regarding the November Nine players has been frequently discussed. What are your thoughts on retaining coaches to prepare for the final?
Suharto: I personally think that I can always learn from someone else, from anybody else, especially the pro that has a lot of experience. Coaching, there's nothing wrong with that. It could only help you out. It doesn't mean that I have to follow whatever the coach is going to tell me. It doesn't. I mean, I have my own style. I'm a member of Poker Xfactor. I'm going to work with Eric Lynch. I watch the videos. I use the hand anaylzer. I load my hands and go through my hand history to see what I could better. In working with Lynch, we're going to be brainstorming my play, and it'll be a good thing.
PN: How has becoming one of the "November Nine" changed your life?
Suharto: I flew from Las Vegas on July 16th, and arrived here [in Toronto] on July 17th. I went back straight to work, and I've been working for the last two months – I didn't play poker at all. Beginning in the last three weeks, I've taken four or five weeks just to prepare myself. That's what I've done so far.
Here's Darus in a recent video interview with PokerNews:
Ed note: Poker Stars bonus code stars600 provides you with the great 100% up to $600 first deposit bonus. Use it when registering to Poker Stars and you will become eligible for all the great PokerNews promotions on the world's largest online poker room.