The Nightly Turbo: Shannon Shorr Conquers an FTOPS event, Tony G's Take on Viktor Blom and More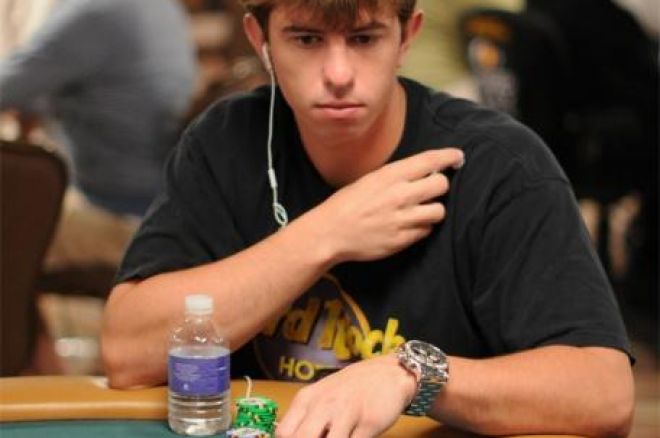 In Case You Missed It
TheEuropean Poker Tour Grand Final is down to the final eight. Want to know who's in the running for €1.7 million grand prize? Find out here.
The World Series of Poker Circuit in Las Vegas has wrapped up. It was a "Lucky" Lichtenberger who took the title.Check out the recap.
The UIGEA is a little over a month away from going into effect, but there could be some hope for online poker in New Jersey. Want to know what we mean? Click this.
Remember that challenge Tom "durrrr" Dwan posed a little over a year ago? You know, the one Patrik Antonius and a few others accepted. Well, PA and durrrr played a bit more of the challenge recently. Will it ever be done? Find out the score in this update.
Good Game, Little Buddy
Much has been said of Tony G's relationship with Isildur1 since he invited him to play in the Party Poker Big Game, only to have Isildur1 back out. Well, during that whole debacle, G mentioned he had confirmation that Isildur1 would be in Monte Carlo.
We have not seen anybody dressed in a Full Tilt Ninja avatar outfit, but Viktor Blom who many have linked to the mysterious Swedish online player has been in Monte Carlo. In fact, Blom had the pleasure of being seated at the same table with Tony G during the high-roller event, and G had some words on Mr. Blom's play: "Viktor has talent but he is really raw. He's not a favorite in MTT events. He has a long way to go to even be near the top and have a fighting chance in MTTs."
Blom, much like Isildur1, had a rollercoaster of a day running his stack to the top of the leaderboard before busting late in the day when his jacks ran into pocket kings. G had this little secret he wanted to share with Blom before he closed his blog, "Pssst…Vik, it's a huge event, you can fold jacks to the tightest player at the table. On ya bike son!"
Read Tony G's entire blog post at TonyGPoker.com.
Win a WSOP Seat with 888!
Want to go to the 2010 World Series of Poker? Wondering how to get there? You could always win your seat through the PokerNews freerolls on 888 Poker.
If you sign up for an 888 Poker account or have previously signed up for one, you're eligible for four freerolls throughout May, the last one being a one for a $16,000 WSOP package. You have to make sure you earn the required points though.
May 20: $1,000 freeroll - must have earned 20 points
May 21: $3,000 freeroll - must have earned 50 points
May 22: $5,000 freeroll - must have earned 80 points
May 23: $16,000 WSOP Package ($15k Main Event package + $1k cash added) freeroll - must have earned 200 points
Not only that, but 888 is giving you 8 ways to win one of 88 packages to the WSOP, as well. There are 41 Main Event packages up for grabs and 47 packages available for Event #54.
Find out more here.
Lucky Lichtenberger
Lynn Gilmartin caught up with Andrew "luckychewy" Lichtenberger just after his five-and-a-half-hour heads up battle at the World Series of Poker Circuit in Las Vegas. He talks about winning his first live tournament, the upcoming WSOP, and more.
Follow us on Twitter for up-to-the-minute news.
Another Stick Up?
The Seneca Niagra poker room was the scene of the crime earlier this week as a man walked up to the poker room cashier's counter and demanded "three stacks of hundred-dollar bills," and also lifted up his shirt to insinuate that he had a gun.
According to the Cake Poker Blog, the gentleman seemed to have prior knowledge of the card room because when one of the cashiers mentioned they did not have that much money, the gentleman pointed to a drawer and said "It's in there."
The man escaped the scene, oddly enough, on a small BMX bike.
Read more at CakePoker.com
Shannon Shorrs Up A Win
The Full Tilt Online Poker Series is headed toward the finish line. There have been 21 events played so far and there are nine left on the schedule. Shannon Shorr scored a nice win Thursday night as did a few other players. Earlier this week, we brought you the results of Event #1 through #15. Here's what has happened since then.
"Hyena08" won the Huck Seed hosted $200 + $16 buy-in 7-Game event that had 741 players enter and a $150,000 guarantee. In Event 17, the $200 + $16 no-limit hold'em cashout event, 1,491 players hit the virtual felt and "PrtyPsux" won. Just 877 players entered Event 18. The $1,000,000 guaranteed $300 + $22 no-limit hold'em 6-max rebuy event hosted by Steve Zolotow, paid out $213,500 for first, and that money and a gold jersey went to Shannon "BLUFFforRENT" Shorr. "IDreamOfZiig" took $97,853 in Event 19 and Events 20 and 21 went to "maxxscam" and "DrMcBoy" respectively.
There's still time to win a gold jersey. Sign up for a Full Tilt Poker account today.