The Nightly Turbo: WPT Barcelona, a New Eatery at Hard Rock, and More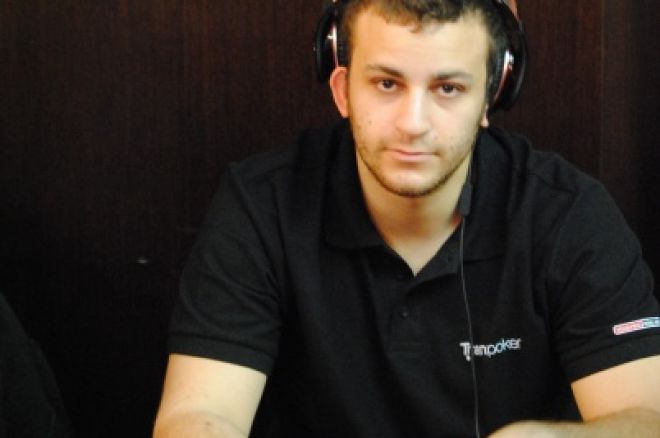 Tonight's Nightly Turbo brings you final table action in New Orleans, updates from WPT Barcelona, a new place to get grub in Las Vegas, and more.
In Case You Missed It
The PokerStars.net Asia Pacific Poker Tour Macau is in full swing after its second Day 1 flight. Check out our recap of Day 1b.
The World Poker Tour returned to Paris for the first time in quite a while this month, and we've got some initial reactions on the event. Read them here.
The World Team Poker event kicked off today at the Golden Nugget in Las Vegas. If you can't make it downtown to watch, you can catch all the action on the tube. FSN will broadcast the event later this year.
The high-stakes action over on Full Tilt Poker was fast and furious earlier this week with some players losing, some winning, and some coming out of hibernation. The Online Railbird Report has all you need to know.
A hearing was held today in the Ways and Means Committee to discuss proposed tax laws related to Internet gambling. Find out how it went here.
Perfect Post-Tourney Munchies at the Hard Rock
As we told you last week, Team PokerNews will be calling the Hard Rock Hotel & Casino its official home for the 2010 World Series of Poker. Well, in addition to the great poker room it has, Hard Rock also has a slew of great spots to eat and drink.
Johnny Smalls has just opened at the Hard Rock and it's sure to become the go-to spot for late night eats and tasty treats. The menu includes a variety of plates you can share from five varieties of sliders to magic mushroom pizzas and, of course, alligator bites and grilled PB&J sandwiches.
Check out the full menu at HardRockHotel.com, and if you'd like to join us for the summer use this special booking code (CEPKNEW) for $69 room rates during the week, and $179 rates on weekends.
World Poker Tour Barcelona Gets Underway
After a successful trip to Paris, the World Poker Tour is now in Barcelona for the WPT Spanish Championship presented by PartyPoker. Among those playing Day 1a are Mihai Manole, Sorel Mizzi, Leo Margets, Antoine Saout, Irish Open champion James Mitchell, Manuel Cuberos, Juan Manuel Pastor, Frank Blumlein, Per Linde and Cayetano Garcia.
PartyPoker has sent over 40 qualifiers to this event; 24 are in line to win an extra $1 million if they win the event. An extra $500,000 goes to the winner and the other $500,000 is split among the other qualifiers.
For updates and video check out PartyPoker's live blog here.
Final Table in The Big Easy
The last WSOP Circuit event before the World Series of Poker invades Las Vegas is down to a final table in New Orleans.
Just over 150 players ponied up the $5,000 buy-in, creating a $756,000 payout. Last year's champ, Jean "Prince" Gaspard, bubbled the final table, finishing in tenth place.
The final is under way as we go to print, but the chip counts to start the day were as follows:
1. Benjamin Keiley - 889,500
2. Edward Corrado - 576,000
3. Chander Jain - 522,000
4. William Beasley - 446,500
5. Fred Berger - 298,500
6. Joel Merwick - 262,000
7. Jacob Naquin - 183,500
8. Fernando Perez - 127,500
9. Jared Ingles - 126,000
WSOP.com will have full results and video tomorrow morning.
Been Wondering Where Isildur1's Been?
The poker community has turned into a pretty creative place with seemingly new Photoshop threads popping up daily on TwoPlusTwo. Well, this time, someone has taken the already classic viral Hitler video that's been redone a million times, and, well, redone it again.
It's an instant classic in our opinion, and one of the best lines was saved for last. Enjoy!
PartyPoker $16,000 WSOP Race
PartyPoker wants to get you to the 2010 World Series of Poker in Las Vegas this summer. Qualification has begun for the $16,000 WSOP Dream Package promotion on PartyPoker. You have until May 31 to earn as many PartyPoker Points as you can and make it to one of the top 100 spots on our Point Race leaderboard. If you qualify for the June 10 freeroll, a $14,000 WSOP package is up for grabs. There will also be $2,000 added to the prize pool and distributed as per PartyPoker's standard payout.
Wait! It gets better. PartyPoker is giving you $25 just for opening an account. There's no deposit required! And you have a shot at another free $25 if you earn the the points to release it from your bonus account.
There are so many amazing promotions running on PartyPoker that you'd be silly not to sign up.
Your Facebook page can use another friend, so add us, and follow us on Twitter for up-to-the-minute news.