The PokerStars.net Million Dollar Challenge: Carmenlita Cothron Goes 3-0 En Route to $100,000 Win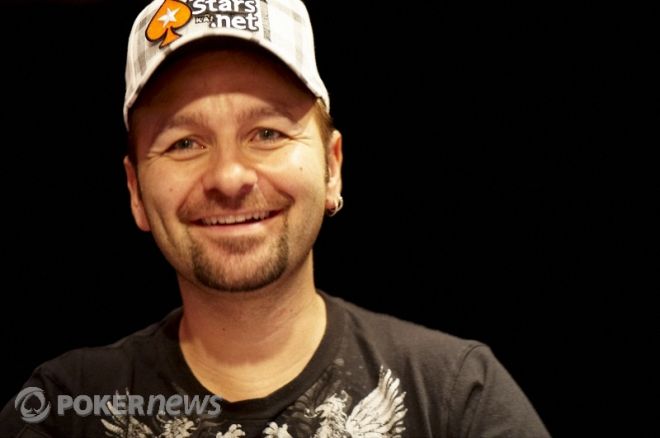 This week's episode of the PokerStars.net Million Dollar Challenge gave us our first $100,000 winner of Season 2. Carmenlita Cothron, a sign-language interpreter from Silver Spring, Md. won all three of her heads-up matches, punching her ticket to the season-ending $1,000,000 freeroll. Cothron also works with deaf children and believes that her ability to read body language and pick up nonverbal cues gives her an edge at the poker table where she spends almost every night of the week playing tournaments. Our first clue that she was an experienced player? Her deft ability with chip tricks, even with long purple-painted fingernails.
How it works: The PokerStars Million Dollar Challenge has three rounds of play. In Round 1, the challenger plays heads-up against a celebrity or professional athlete. Daniel Negreanu is on hand at the table, and although he can give the challenger advice, he cannot see her hole cards. In Round 1, the challenger also gets one time out when she can pause the action and have a private strategy session with Negreanu. A Round 1 win earns the challenger a trip to the Bahamas.
In Round 2, the challenger faces a Team PokerStars Pro. This time, Negreanu coaches the challenger from an isolation booth where he can see the board cards and her hole cards. The Team Pro, however, has two opportunities to push a button and invoke the "Dome of Silence," cutting off the challenger's communication with Negreanu for the rest of the hand. If the challenger beats the Team Pro, she wins $25,000 and is faced with a choice — keep the money or play heads-up against Negreanu for $100,000. If she beats Negreanu, not only does she win $100,000, but she gets a seat at the season-ending final table where $1 million will be up for grabs. If Negreanu wins, he gets $10,000 for the charity of his choice.
He's a man who can close: This week's celebrity challenger was NFL hall-of-famer John Elway, famous for turning a record 47 games around in the fourth quarter during his career. Elway was playing for his eponymous foundation, which benefits wounded war veterans. Our own Elaine Chaivarlis (who is also quite the football fan) had the opportunity to sit down with Elway before the show was taped — check out her interview In the Green Room with John Elway.
First pot to Cothron: Cothron opened for 1,600 with
on the button and Elway defended his big blind with
. Both players checked the
flop. The
on the turn paired both players, and Elway led out for 3,000. Cothron hemmed and hawed a bit before deciding to call. It went check-check on the river, and Cothron's kicker played, earning her the pot.
Quote of the week: "What's the sign for 'can I get your number?'" — Daniel Negreanu, eyeing the gorgeous brunette dealer.
Elway makes a great read: Cothron limped her button with
, Elway raised to 2,800 with pocket queens and she made the call. Elway held an overpair on the
flop while Cothron had a gutshot straight draw. Elway led out for 4,000, and saying she "had to see one more card," Cothran called. The turn was her gin card, the
, which made her a jack-high straight. Elway checked and Cothron immediately shipped the rest of her stack in the middle. Elway made a good read and was able to let go of his queens.
Time-out!: Cothron limped in with
, and Elway checked his option with
. Both players got a piece of the
flop — Cothron with bottom pair and Elway with middle pair. Elway bet 2,000 and Cothron called. When the turn came the
, Elway bet 5,000 and Cothron called her time-out. Over in the isolation booth, Negreanu told her to fold because he perceived Elway's turn bet to be quite strong. He also advised her to slow down her betting actions a bit, like when she snap-shoved after turning a straight. She returned to the stage and conceded the pot to Elway.
An ugly chop: Cothron got a little crafty and limped in with
. Elway checked his option with
. Elway passed the
flop over to Cothron, who bet 4,000. Elway moved all-in for 17,200, Cothron wishing she hadn't already used up her time-out. Negreanu told her to go with her gut and she made the call.
"You had to call! You have a monster hand! What a cooler," Negreanu said as the cards went on their backs. Cothron hit one of her outs on the turn, the
falling to counterfeit Elway's two pair. A king or a queen would spit the pot while one of the two remaining deuces would save Elway. It was a chop, as the
fell on the river.
Cothron defeats Elway: Cothron limped in with
, Elway shoved with
and Cothron went into the tank. Negreanu let her know she was getting 2-1 to call and she decided to look him up. Cothron made the sign for "ace" as the board ran out
and locked up the win, as well as a trip to the Bahamas.
Enter Moneymaker: In Round 2, Cothron took on Chris Moneymaker. Their crucial hand came when Cothron opened for a min-raise with
and Moneymaker defended his big blind with
. Cothron bet 1,600 on the
flop and Moneymaker called. The
fell on the turn and Cothron bet another 4,000 and Moneymaker shoved for his last 19,600, invoking the "dome of silence."
"I think you hit that ten, but I really like this hand. I'm gonna call," Cothron said.
Negreanu congratulated her on a great call and the
won her the pot, leaving Moneymaker on 5,600 to her 34,400.
Moneymaker moved all-in on the next hand holding
, and Cothron snap-called with
. Although Negreanu said he wouldn't have made that move, it turned out she had Moneymaker dominated. The flop was
and although Moneymaker picked up straight draw with the
on turn, the river blanked out with the
and Cothran won $25,000.
Cothron goes for the gold: Cothron decided to risk her $25,000 payday and play Negreanu heads-up for $100,000.
"Even though I think he knows me pretty well now, I've gotta take him down," she said.
Daniel defeated: Cothron opened
for 2,000 on the button and Negreanu called with
in the big blind. Negreanu paired his nine on the
flop and checked over to Cothron, who made a 4,000 continuation bet. Negreanu raised to 8,000, leaving himself 9,200 behind. Nevertheless, Cothron made the call with only queen high, half the chips in play now in the middle. Cothron hit top pair on the turn when the
fell. Negreanu immediately moved all-in and she made the call.
"I love you Daniel, I respect you so much, but you gotta go down!" she said as she awaited the river card. It was the
and Cothron burst into happy tears, giving Negreanu a huge hug.
"I've worked for this so long, my kids are going to be so happy. This isn't only going to help me, it's going to help a lot of people," Cothron said. With her victory, she also punched her ticket to play for $1 million in the season-ending Grand Final.
Think you'd kill it on the Million Dollar Challenge? Sign up for a PokerStars account today.