The Nightly Turbo: Antonius Opens Up About FTP, NHL All-Star Endorses Poker, and More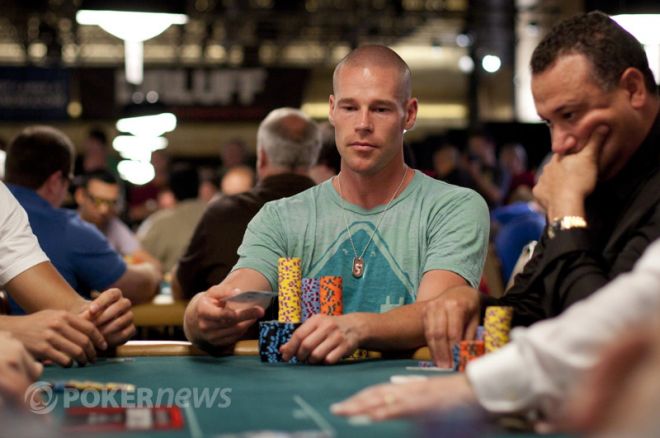 Aside from playing a few major events in Las Vegas and Australia, Patrik Antonius has been virtually absent from the tournament circuit over the past year. But the high-stakes legend has returned for the World Series of Poker Europe in Cannes, and people are wondering where he stands in regard to the downfall of Full Tilt Poker. In this edition of the Nightly Turbo, we bring you Patrik's latest comments about Full Tilt, an NHL goalie endorsing an online poker site, and more.
In Case You Missed It
The poker world lost a popular television program last week, but learned that the upcoming 2011 WSOP Main Event Final Table will be aired in near-real time by ESPN. In our latest Five Thoughts piece, we discuss the November Nine broadcast, the loss of the NBC National Heads-Up Poker Championship, and more.
Thinking about moving out of the United States to continue playing online poker? Chad Holloway takes a close look at Toronto and what it has to offer poker players.
The World Series of Poker Europe has been breaking records in Cannes this year. Find out why we think the move to France has been such a success.
The WSOPE Main Event was closing in on the bubble Monday night. Read about all the action from Cannes in our daily WSOPE recap.
But How Much Did He Lose?
A recent interview featuring former Team Full Tilt member Patrik Antonius has generated speculation within the community about how much money Antonius could potentially lose from the site in the wake of Black Friday.
While in Cannes for the World Series of Poker Europe, Antonius told PokerTube that he would end up being one of the biggest losers if Full Tilt went down, saying that he had "a lot of money stuck there."
Antonius was an employee of the site but was also one of its most prominent high-stakes players. He raked in several million-dollar pots while playing at the highest stakes available and is generally regarded as one of the biggest winners ever on the site.
However, upon seeing the interview, TwoPlusTwo moderator Noah Stephens-Davidowitz claimed on TwoPlusTwo that Antonius has less than $100 in his Full Tilt Poker account and could even owe the company a "smallish" amount. We're not sure how he knows Antonius' account balance though.
"(Patrik Antonius) is not a U.S. resident, so he had 2.5 months to get his money off the site. I don't know if that's what happened, but it seems reasonable to assume," Stephens-Davidowitz said.
A representative for Antonius then told Finnish site Pokerisivut.com that most of Patrik's losses are related to outstanding debts with players, and that Antonius still has "a significant financial interest in Full Tilt Poker."
We'll have more on this story as it develops. In the meantime, check out the PokerTube interview with Antonius. We'd normally embed the video here, but we don't like when things auto-play.
NHL Star Endorses Online Poker Room
Vancouver Canucks goaltender Roberto Luongo is the latest sports star to endorse an online poker site. Luongo has signed a sponsorship deal with a government-owned online poker site in British Columbia, and was recently seen shooting commercial ads for the poker room PlayNow.com.
Luongo, who guided the Canucks to the Stanley Cup finals last year, has been a poker enthusiast for a long time. In 2009, the netminder competed in the PokerStars.net NHL Charity Shootout during the World Series of Poker in Las Vegas. He, along with NHL stars Alex Ovechkin and Jeremy Roenick, got a chance to rub elbows with some of the best players in the poker world.
"It's poker, it's one of my passions," he told CBC News on Monday. "It's a great endorsement and this site is licensed by the government and so it's really exciting for me."
His ties to online poker haven't come without criticism, though. Candace Plattor, a psychological counselor who specializes in addictions, told CBC News that Luongo is endorsing something "potentially dangerous" and that he is not serving as an appropriate role model for fans, specifically young children.
"I'm very disappointed that he would do this," Plattor said. "I think he doesn't have his facts. I think he might have made a really poor choice."
Read the full story at CBC News.
William Hill Walkout
Around 200 employees of William Hill walked out of the company's support center in Israel in protest this week amid rumors that the company would be moving operations from Tel Aviv to the United Kingdom or Gibraltar.
Reports circled over the weekend that William Hill executives flew to Israel for "peace talks" to prevent the strike action which could potentially damage the company's online gambling business operations. Tel Aviv handles nearly all of the marketing and customer relations operations for William Hill, and employees have grown increasingly concerned about their jobs.
A statement from William Hill, however, said there is "no intention" of relocating its sales and marketing teams.
Read more from our report earlier today at PokerNews.com.
PartyPoker on the Mac
In exciting news for Apple users,PartyPoker has launched a real-money downloadable client that is compatible with the Mac operating system. The downloadable software is an upgrade from a limited Flash browser version that has been available to Mac users.
The new client has more features than the Flash-only version and will continue to add options that are already in place on the Windows version. The software release comes just in time as PartyPoker's Pokerfest kicks off in less than a week.
Check out PartyPoker.com for more information.
Tony G Cashes In
On Monday, we told you that Tony G had placed a $20,000 bet (at 5-to-1 odds) on himself to cash in the World Series of Poker Europe Main Event. On Tuesday, with the elimination of bubble boy Barry Greenstein, Tony G secured his place in the money, and delivered a message to Matchbook.com sponsored pro and defending WSOPE Main Event champ James Bord.
With his $100,000 payday (plus another €20,000 for cashing) locked up, Tony G's focus now centers on the €1.4 million prize for first place in the WSOPE Main Event. You can follow his progress live here at PokerNews.
Are you following PokerNews on Twitter? Like us on Facebook while you're at it, and sign up for the newsletter. You know you want to.