Inside Gaming: Genting Invades New York City; Sands & Wynn Rely on Asia for Q3 Growth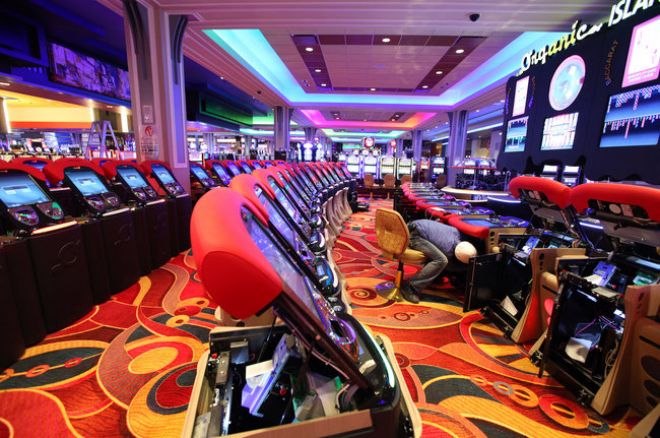 It's been a crazy week in the gaming industry. After you are caught up on the deal between brick-and-mortar behemoth MGM and online gaming giant bwin.Party and the latest episode in the Full Tilt soap opera, check out what else has been happening. Genting began its takeover of the U.S. gaming market with the opening of New York City's first casino, complete with baccarat-dealing robots and an indoor Times Square. And the Sands and the Wynn both benefited from strong revenue growth at their Asian properties.
Genting Opens New York City's First Casino
Genting Bhd. began its U.S. invasion on Friday with the opening of New York City's first casino alongside Queens' Aqueduct racetrack. Genting, known for its massive developments in Asia, is making its presence felt in North America for the first time. Genting New York invested $830 million to build Resorts World Casino New York. Genting Americas is also lobbying hard for the right to develop a $3.8 billion Las Vegas-style mega-resort in Miami.
Genting is using Aqueduct to introduce itself to America with as much flash as possible. It's hard to make a gaming floor with a Times Square theme even flashier than the real deal, but Genting did its best. It has to compete, after all, since people can take the subway from the actual Times Square directly to the casino to make their own comparisons. "We are very focused on delivering a showcase property," Michael Speller, president of the new Resorts World, told Bloomberg.
Genting expects the new 190,000-square-foot New York property to generate $800 million in revenue next year. "We have estimates of about $5 billion in gaming revenue leaving the New York state, going out to [Connecticut, Pennsylvania, and New Jersey] every year. We think we'll recapture a good portion of that," Speller said.
Unlike the casinos in the surrounding states, the Queens property only has electronic table games. Genting is lobbying New York state legislators to legalize table games after the 2012 elections. Resorts World opened with 205 electronic table games and close to 5,000 video lottery terminals. Among the electronic games are high-tech baccarat tables where robotic dealers shuffle and deal real cards. This seems like effective legislation to us. At least it helps to reduce the robot unemployment rate.
The state government estimates it will collect around $470 million tax revenue, $350 million of which will go toward education. The rest is earmarked to support Aqueduct's racing operations. Resorts World only opened the first section of its casino on Friday. The more upscale second floor, which includes a casino and pricey restaurants with a Park Avenue theme, will open in December. On Friday, 15,000 people packed the casino to capacity for the grand opening, leaving another 5,000 waiting in line outside.
New York passed legislation in 2001 allowing nine racetracks to add slot machines and video lottery terminals. The other eight tracks generate around $600 million in revenue sharing for New York, but deals to develop Aqueduct never materialized. In early 2010, the state inspector general overturned the latest deal after finding that state politicians had manipulated the bidding process to award the contract to a politically connected local group. The bidding began again in September 2010, and Genting sealed the deal by offering the state a $380 million upfront fee. Can't wait to see what Genting offers Florida.
The New York Times has more reactions to the new casino.
Sands Gloats over Record Returns in Asia; Wynn also Helped by Macau Growth
Las Vegas Sands and Wynn Resorts gave investors a rare reason to celebrate when they announced stronger than expected third-quarter returns from their Asian casino-resorts. Sands CEO Sheldon Adelson enjoyed the news by thumbing his nose at analysts who doubted him. Steve Wynn, on the other hand, celebrated by shipping $12.8 million worth of Qing Dynasty vases to Macau to display in the Wynn's lobby.
The good financial news came at the end of a rough month for both companies. Even with the price bumps that came from the positive announcements, Wynn Resorts' stock fell 10.52 percent in October, and Sands stock dropped by 5.74 percent. The price declines were largely caused by the market's concern that the Chinese economy is contracting, a trend that could influence Macau's growth in the longer term but hasn't hurt the gaming mecca yet. Macau gaming operators' total revenue in October was 42 percent higher than revenue from the same month in 2010.
The Sands booked a 110 percent increase in third-quarter net income year over year, recording $353 million in 2011 and $168 million in 2010. In a conference call with investors, Adelson said he would send "egg-wiping face towels" to the analysts who doubted his projections for Macau and Singapore. He joked that he needed to wipe the egg off of his face, too, because even he underestimated the true potential of the Asian market. The Sands will bring online another 1,800 hotel rooms in Macau's Cotai Strip over the next several months.
Thanks to strong occupancy rates and a growing baccarat hold, the Sands' Las Vegas strip properties, the Venetian and Palazzo, increased revenue by 19.5 percent over the third quarter of 2010. Adelson said the board of directors is considering a steady dividend policy. As owner of more than half of the shares, Adelson wouldn't mind that at all. "I know my wife would like to see dividends. So would my children," he said. "Maybe I'll be able to get a new plane or something bigger than the boat I have."
With dividends that size, who knows what kind of art Steve Wynn would buy. He spent $12.8 million on four Qing Dynasty vases in July. The Queen of England owns the only other comparable set in the world. Wynn held a ceremony on Monday to unveil his vases' new homes in the lobby of the Wynn Macau. "This is in continuation of our policy of adding to the cultural enrichment of our community here in Macau," Wynn said.
And the community of Macau seriously added to Wynn's third-quarter returns. Wynn Resorts' net revenues grew by 30 percent year over year, rescued by a 41.7 percent increase in Wynn Macau revenues. Wynn Las Vegas' net casino revenues fell by 8.3 percent, a trend that could take a chunk out of Wynn's vase fund.
For more on the Sands third-quarter numbers, check out VegasInc.com and Bloomberg. BusinessWire has all the data for the Wynn.
Follow PokerNews on Twitter for up-to-the-minute news.
*Photo courtesy of forum.skyscraperpage.com