Mori Eskandani and David Tuchman Discuss 2011 WSOP Main Event Broadcast on ESPN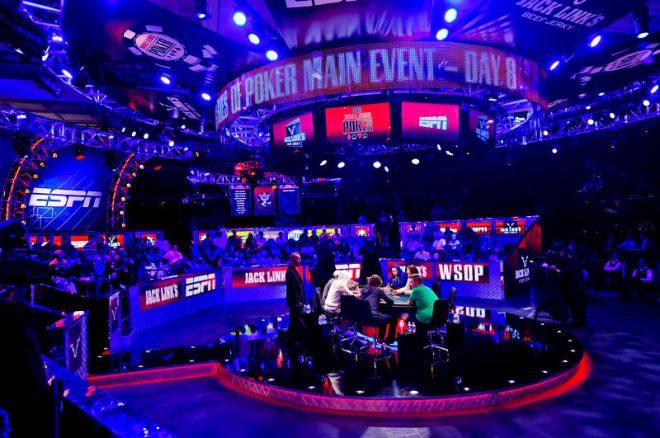 November is here with a vengeance, and after months of waiting, it's time to settle the score at the World Series of Poker Main Event. The stage is set for the 2011 November Nine, and this year's coverage will feature some exciting changes for the viewers at home. As always, PokerNews will have a ringside seat for the action, but those who'd like watch from their couches, as well, will be able to spectate like never before.
With the help of Poker PROductions, the ESPN family of networks will be streaming every hand of the WSOP final table — with hole cards — on a 15-minute delay. (It should be noted that hole cards will only be revealed after the conclusion of the hand.)
On Sunday, Nov. 6, the mother ship lands in the Penn & Teller Theater, and the November Nine will take their seats in front of what figures to be poker's largest televised audience. The Poker PROductions' president, Mori Eskandani assured us that the setup will draw the same reaction as it did the first time it appeared in the Amazon Room in May.
"It's going to make the theater look a little small," he said. And everyone is going to be watching.
The cards will go in the air at 1515 EST (1915 GMT) on Sunday; the entire session will be broadcast on ESPN2 and ESPN3 beginning at 1530 EST (1930 GMT). You can even watch on your computer or iPad through the WatchESPN app.
The final three players will return again on Tuesday Nov. 8, and the flagship network will be picking up the coverage. From 2100 EST (0100 GMT) until a winner is crowned, there will be a near-live broadcast on both ESPN and ESPN3.
The play-by-play duties will be handled by Lon McEachern, Norman Chad, and Antonio Esfandiari, but things might go for a while. "I don't think they're going to put us through the wringer the whole way," McEachern said. It looks like Phil Hellmuth and David Tuchman will tally a couple of relief appearances, as needed.
In the past, reaction to near-live broadcasts has been gushing, and the game is taking another step forward this weekend. Never before has poker's biggest event been showcased in such an accessible way. "It's unprecedented," Tuchman told PokerNews. "We're going to have so many eyes on us. Everybody in poker will be watching, but not just that. Everybody at ESPN, everybody with a passing interest in poker. This is the Super Bowl of our industry."
Eskandani feels the same way, but his excitement is tempered with some pretty enormous pressure. While Tuchman gets a padded armchair in the booth, it's Eskandani on the headset making sure all the cameras are in focus.
"Obviously, there's no room for error," he said. "You have to get it right the first time. A lot of things are going through your head that you don't want to go wrong, and you don't have a moment of rest. When that bell rings, every poker fan, every poker room in the world is going to be watching."
In talking with Eskandani and Tuchman, their passion for the November Nine is immediately evident. And frankly, we're getting pretty antsy in anticipation, too. "I love this excitement," Tuchman said. "The building up and the waiting for it. We get to really know these players."
Eskandani added simply, "It's the kind of game that creates heroes."
Find out who will emerge as 2011's biggest hero by tuning into PokerNews on Sunday for live coverage from our team on the rail. Following our November Nine Twitter list is a good idea, too!