Inside Gaming: LV Monorail Bankruptcy Progress, New Nugget, and Flav's Vegas Venture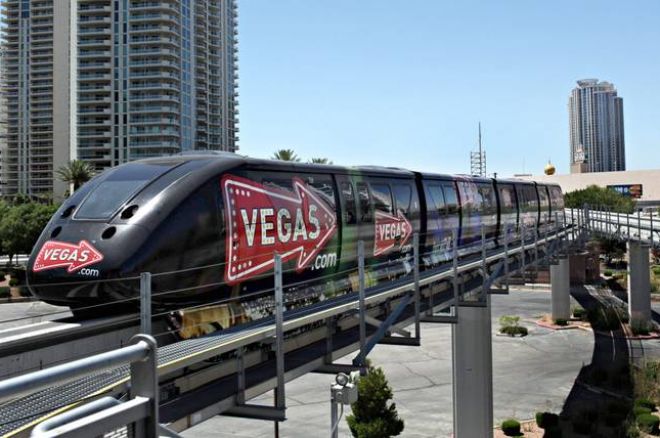 First, get caught up on the major online gaming business news of the week. Bally Technologies partnered with Aristocrat Technologies to develop a third-party platform for online poker operators, Shuffle Master bought the OnGame Network from bwin.party, Ray Bitar made his first public statement since Black Friday, and another firm may be interested in buying Full Tilt. Got all that? Good. Now time to read about how little the owners of the Las Vegas Monorail want to pay to settle their enormous debts, how much Landry's is investing in a new Golden Nugget in Biloxi, and how Flavor Flav is putting his own bizarre spin on a celebrity-owned Vegas restaurant. Yeah boy!
LV Monorail Bankruptcy Plan Approved for Vote
Every visitor to Las Vegas sees the monorail gliding on a 3.9-mile track between properties on the Strip. But apparently, not every visitor pays to ride it. The Las Vegas Monorail Co., which operates the driverless transport system from the now-closed Sahara to the MGM Grand, is in debt large enough to land on the list of giant Vegas figures that the monorail recording talks about to riders over and over and over again.
The company, which owes $451.4 million to priority bondholders, proposed a bankruptcy exit plan that pays creditors $13 million to settle that debt. Monorail won approval on Wednesday to seek a creditor vote on the proposal. Under the plan, nonpriority bondholders will not receive any of the $207.2 million they are owed.
U.S. Bankruptcy Court Judge Bruce Markell approved a vote on Monorail's second reorganization plan after rejecting a plan proposed in November. The company's first plan called for taking on new debt to pay creditors $44.5 million but was ruled unfeasible. "We heard what the court said," Monorail attorney Gerald Gordon said.
The Las Vegas Monorail has struggled along with the rest of the city during the economic downturn. With a new free monorail connecting Aria, the Bellagio, and Monte Carlo and another connecting Luxor, Mandalay Bay, and Excaliber, visitors don't need to pay for the novelty of a monorail ride. People looking for convenient transportation have been deterred by early closing times and high per-ride prices that make cab rides more cost effective for several people traveling together. Adding to the monorail's troubles, the company estimates that the closing of the Sahara cost it $800 million in lost business.
Markell will take into consideration creditors' votes on the new reorganization plan when he rules on it in April. Las Vegas Monorail says it hopes it will be able to win grants to expand and possibly connect its Strip route with Las Vegas' McCarran International Airport.
Bloomberg has all the bankruptcy details.
Landry's Bringing Golden Nugget Brand to Biloxi
Landry's Inc., owner of the Golden Nugget casino chain, announced plans on Monday to add a new Golden Nugget location in Biloxi, Mississippi, to the existing properties in Las Vegas, Laughlin, and Atlantic City. Golden Nugget Biloxi, a subsidiary of Landry's, will buy the 720-room Isle Casino Hotel for $45 million and remodel and expand it to mirror other Golden Nugget locations.
"We've been looking at Biloxi for years and want to be a major player in the South," Landry's CEO Tilman Fertitta said. Landry's is based in Houston, Texas.
The Isle's makeover will include Golden Nugget staples such as a Chart House restaurant and Morton's Steakhouse, and an H2O Resort Pool and Lounge, as well as room renovations, a spa, a new showroom, and most importantly, a new poker room. Fertitta said the remodel will begin in the fall and finish by 2013. He estimated that after renovation, the property will be worth $400 million.
Landry's acquired the Las Vegas and Laughlin Golden Nuggets in 2005 and spent $300 million to upgrade the flagship Las Vegas location. The company bought the Trump Marina Hotel & Casino in Atlantic City in May for $38 million and invested another $150 million to transform it into a Golden Nugget. Those renovations will end next month. Landry's deal with Isle of Capri Casinos is expected to close in four to six months, pending gaming approval.
The Houston Chronicle breaks down the deal.
Flavor Flav Set to Open Las Vegas Chicken Joint
Las Vegas is about to get a new weapon in its fight to become the culinary capital of America. Flavor Flav's House of Flavor Restaurant will open March 15 a few miles from the strip. Flav, whose real name is William Jonathan Dayton, lives in the Las Vegas Valley. He owns the restaurant independently, according to a press release, which described the venture as, "a celebrity-centric Las Vegas take out restaurant with a quick-service menu specializing in specialty recipe soul food." No Pumpkin on the menu, but it does feature fried chicken and red velvet waffles.
Flav, who attended culinary school in the 1970s before finding fame as a rapper-turned-reality-star, was in discussions last May to open a restaurant and gift shop at the Riviera, but he was arrested on a series of outstanding misdemeanor traffic warrants during the talks, and a deal was never reached. He opened a chicken restaurant in Iowa in Jan. 2011, but it closed four months later amid a dispute between Flav and his business partner.
Read VegasInc.com for proof we're not making this up.
*Photo courtesy of the Las Vegas Sun
Follow PokerNews on Twitter for up-to-the-minute news.