PokerNews' 2013 World Series of Poker All-Star Team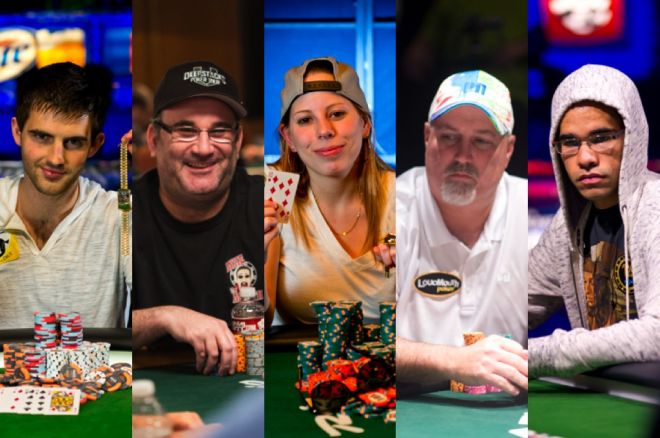 The Major League Baseball (MLB) All-Star Game takes place on Tuesday, July 16, and the excitement of that annual ballgame has inspired us at PokerNews to put together our own team aptly called the 2013 World Series of Poker All-Star Team. Now this team isn't simply the top nine on the 2013 WSOP Player of the Year Leaderboard, though admittedly that'd make for a great team, but rather nine players we feel round out a complete roster, from no-limit hold'em tournaments to mixed games and attributes both on and off the felt.
Usually this list would be comprised of big names like Phil Ivey and Phil Hellmuth, but 2013 was an off year for both those players. That allowed for other players to steal the spotlight, like a mixed-game specialist from Liverpool, a former Player of the Year and a young woman that epitomizes what it means to be an East Coast grinder.
In no particular order, here's our list of the top nine all-stars from the 2013 WSOP:
#9: Circuit Grinder—Bryan Campanello or Jonathan Taylor
This spot could go to one of three WSOP Circuit regulars: Jonathan Taylor for his win in Event #14: $1,500 No-Limit Hold'em; Bryan Campanello for taking down Event #33: $2,500 Seven-Card Razz; or Loni Harwood for her incredible summer, which included a winning her first gold bracelet. Since Harwood makes the team below, that really leaves Taylor and Campanello.
Prior to the summer, Taylor notched nine cashes on the WSOP Circuit, which included two gold rings and double qualifying for the National Championship—once for winning the Horseshoe Southern Indiana Casino Championship and once for winning the $1,675 Main Event at The Lodge Casino for $138,938. While rings are nice, bracelets are better as Taylor found out when he won his first back on June 6. It also came with a hefty $454,424 payday.
Like Taylor, Campanello had success at the WSOP Circuit The Lodge Casino stop when he won a ring. Just 12 days after his friend captured gold, Campanello did the same in a game he wasn't overly familiar with—Razz.
The two could be switch hitters in this category, but in our book Campanello would get the start simply for the fact that he became the youngest winner ever of the Razz event, a tournament considered to be dominated by older players.
No matter who makes the team, the point is the WSOP Circuit produces quality players that can compete in the big leagues.
#8: Online Pro—Ben "Bttech86" Tollerene
Admittedly, Ben "Bttech86" Tollerene didn't do anything result-wise at the 2013 WSOP to warrant a spot on the team, but the way he handled himself in Event #22: $1,500 Pot-Limit Omaha exemplified what a poker player should be—respectful, calm and classy. It happened when the tournament staff "lost" Tollerene's stack after a dinner break. It took them quite awhile to rectify the situation, and while many players would have flipped out, Tollerene was patient. You can read about the entire situation by clicking here.
Tollerene, who literally wins and loses hundreds of thousands of dollars a day online, even gave a rare interview to PokerNews after the debacle:
#7: Mixed-Games Specialist—Tom Schneider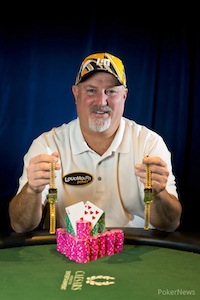 In 2007, Tom Schneider cashed three times at the WSOP for $416,829. That included two bracelet wins—Event #5 $2,500 Omaha/Seven Card Stud Hi-Low-8 or Better and Event #46 $1,000 Seven Card Stud Hi-Low-8 or Better—and a fourth-place finish in Event #16 $2,500 H.O.R.S.E. on his way to winning 2007 WSOP Player of the Year honors. Schneider made a name for himself in the poker world, but over the next five years he slowly fell out of the spotlight. Heck, he was even featured in our popular Where Are They Now? series just prior to the 2013 WSOP.
Perhaps that lit a fire under him because he let us, and the entire poker world for that matter, know that he was still a contender. He did so by racking up seven cashes and capturing two more bracelets. What's more amazing, the two new bracelets both came in H.O.R.S.E. tournaments just one week apart. The first was on June 7 in Event #15 $1,500 H.O.R.S.E. for $258,960 and the other on June 15 in Event #29 $5,000 H.O.R.S.E. for $318,955.
It's worth noting that Schneider, who should forever be called the "H.O.R.S.E. Whisperer," had a much better year than in 2007 but is still seventh on the 2013 WSOP POY Leader Board. Even so, we now know where you are sir... among the 34 players that have captured four or more bracelets (only Schneider, Phil Ivey and Jeff Lisandro have won four bracelets in the last six years). Job well done!
For more on Schneider, check out this interview he did with PokerNews after his second win.
#6: Consistency—Dan Kelly
One of the biggest stories of the 2013 WSOP the first half of June was the incredible run of Dan Kelly, who seemed to notch a cash every other day. The fact that he managed eight cashes in the first 29 events was simply incredible. It looked as if he was going to set a record for most cashes in a summer, but unfortunately his momentum slowed as he failed to cash on the latter half of the schedule. Even so, Kelly was a beast for awhile and had many dubbing him the Player of the Year even though he was never in the points lead.
Here's a look at Dan Kelly's 2013 WSOP results: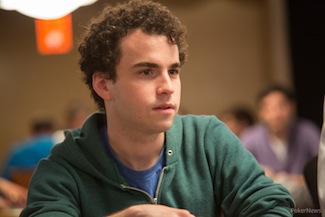 | Date | Event | Place | Prize |
| --- | --- | --- | --- |
| 5/29/13 | Event #2 $5,000 NLHE Eight Handed | 6th | $83,532 |
| 6/1/13 | Event #6 $1,500 Millionaire Maker | 5th | $302,104 |
| 6/6/13 | Event #14 $1,500 NLHE | 180th | $2,774 |
| 6/7/13 | Event #15 $1,500 H.O.R.S.E. | 16th | $8,378 |
| 6/9/13 | Event #19 $5,000 Pot-Limit Hold'em | 12th | $16,011 |
| 6/11/13 | Event #21 $3,000 NLHE Six Handed | 10th | $33,090 |
| 6/13/13 | Event #25 $5,000 Omaha Hi-Low Split-8 or Better | 20th | $9,741 |
| 6/15/13 | Event #29 $5,000 H.O.R.S.E. | 17th | $10,304 |
#5: Female Player—Loni Harwood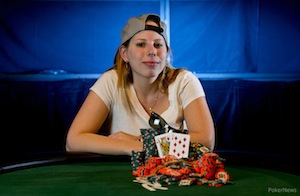 If you have one of the most impressive runs by a woman in WSOP history, you're going to earn a spot on the all-star team. That's exactly what 23-year-old Loni Harwood, a professional poker player from Staten Island, New York, did this summer. Just prior to the Main Event, Harwood defeated 2,541 players to win Event #60: $1,500 No-Limit Hold'em for $609,017 and her first career gold bracelet.
It was her sixth cash of the summer, which included a sixth-place finish in Event #31: $1,500 Pot-Limit Omaha and fourth in Event #53: $1,500 NLHE. To top it all off, Harwood also tied Cyndy Violette's 2005 record for most final table appearances by a female in a single series.
Here are some other interesting facts about Harwood's summer:
She now holds the record for the largest payday awarded to a woman in a Las Vegas WSOP event.
Jumped to the No. 8 spot on the all-time WSOP money list for women.
The $874,698 she won was the most a woman has ever earned at a single WSOP in Las Vegas.
Her bracelet win put her in third third place in the current WSOP Player of the Year race behind Matthew Ashton and Daniel Negreanu.
Harwood's bracelet win put her alongside Dana Castaneda, who won a bracelet earlier in the summer, as the only women since Annette Obrestad to have won an open-field no limit hold'em event.
"It's pretty unbelievable that I was out here last year and thought there was no way I could win a tournament, especially if I only played five," Harwood said in an interview with PokerNews' Pamela Maldonado. "When I lost in all five tournaments, I pretty much just hung out the rest of the summer and played cash games. This year, now that I went from $0 to $800,000, I feel it is so humbling. It's so I mean I can't even put the words together to say what I truly feel. I think that is the answer. I can't think of what to say or how to say it but I'll let my emotions do the talking. I'm here with tears in my eyes because this summer has been the greatest, most overwhelming, unbelievable experience of my life. I couldn't be more grateful."
#4: Staying Power—Jeremy Ausmus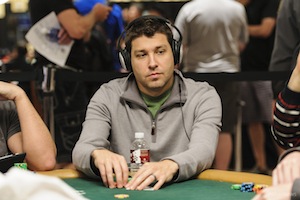 Everyone always wonders how the Main Event finalist from the year before will fair at the WSOP. This year no Octo-Niner did as well as Jeremy Ausmus, and it wasn't even close. While defending champ Greg Merson barely played anything, last year's fifth-place finisher was busy grinding away.
Ausmus got off to a good start even before he got to Vegas when he finished eight in the Southern Comfort 100 Proof WSOP National Championship in New Orleans. From there, he went on to cash eight times at the 2013 WSOP including third in Event #27 $3,000 Mixed Max - No Limit Hold'em for $132,748 and 12th in Event #47 $111,111 One Drop High Rollers for $308,622.
Ausmus, who obtained a bachelors degree from Colorado State University, is a father, so his motivation is to support his family. He's disciplined, focused, and mark our words, will be a force to be reckoned with in the poker world for years to come.
#3: Old-School Veteran—Mike "The Mouth" Matusow
Matusow was fresh off his win in the NBC National Heads-Up Poker Championship, a victory he rated as the highlight of his poker career, so he came into the summer with a great deal of confidence. It paid off too when he won Event #13: $5,000 Seven-Card Stud Hi-Low 8-or-Better for $266,503 and his fourth gold bracelet.
He's called "The Mouth" for a reason, so we'll let him tell the story:
#2: End Boss—Anthony Gregg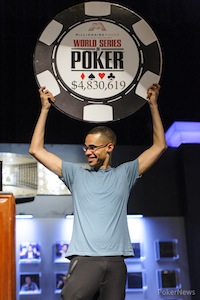 Is there a better nickname in the poker world than "End Boss"? We think not. What it refers to is the villain you might encounter at the last level of a video game, such as Bowser in Super Mario Bros. or the Tyrant in Resident Evil. In poker, that man could very well be Anthony Gregg as Chris Klodnicki found out in Event #47 $111,111 One Drop High Rollers No-Limit Hold'em. Gregg ended up defeating Klodnicki to top the 166-player field and win the $4,830,619 first-place prize, not to mention the gold bracelet.
Gregg also defeated Antonio Esfandiari at the final table. "The Magician" won the $1,111,111 buy-in event the year before and was the big story headed into the final table, but Gregg rose to the occasion. Gregg, who is well known in the poker community, barely cracked a smile after the win, and in a total end-boss move, immediately jumped into the Event #52: $25,000 No-Limit Hold'em (Six Handed), which he had late registered the night before. Gregg didn't do much in that event, but he was soon trying his luck in the Little One for One Drop event. He busted that too but took time to poke fun at himself:
Just busted from my first ever one drop event and to be honest I'm completely devastated.

— Anthony Gregg (@wwwBTHEREcom)
#1: Breakout Star of the Year—Matthew Ashton
Prior to this summer, Matthew Ashton had four WSOP cashes including a sixth-place finish in the 2011 Event #37 $10,000 H.O.R.S.E. Championship for $101,813. Even so, it wasn't until this summer that he exploded onto the poker scene by making four final tables and winning the $50,000 Poker Players Championship. What's more, he currently leads the 2013 WSOP Player of the Year race, a title that would secure his spot in poker history.
Ashton's summer got off to a quick start when he finished third in Event #5 $2,500 Omaha/Seven Card Stud Hi-Low 8-or Better for $86,437. A week later, Ashton was at another final table, this time squaring off against Mike "The Mouth" Matusow for the bracelet in Event #13: Seven Card Stud Hi-Low Split-8 of Better. Even though he held a sizable chip lead at one point, Ashton ended up losing that battle and walked away with a $164,700 consolation prize.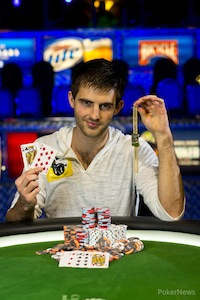 Fast forward one more week and Ashton was at his third final table, ultimately finishing seventh in Event #23 $2,500 Seven Card Stud for $18,266. His summer could have ended right there and would have been considered a rousing success, but one of the game's most prestigious tournaments—the $50,000 Poker Players' Championship—was yet to be held.
As previously mentioned, Ashton won that event by defeating a tough final table that included Jonathan Duhamel (8th - $207,630), Minh Ly (6th - $309,830), David Benyamine (4th - $497,122), John Hennigan (3rd - $686,568) and Don Nguyen (2nd - $1,096,254). Ashton, who started playing poker in 2003, took home $1,774,089 for that victory and found that the fourth time was the charm for a WSOP bracelet.
Even though he could finish as the 2013 WSOP POY, Ashton isn't going to let it alter his plan; in fact, he still intends to skip next year's WSOP in order to attend the World Cup in Rio. That may seem shocking to some, but it's not so strange for Ashton, who quit poker for ten months in 2012 in order to visit 30 countries around the world.
If you were putting together your own all-star team from the 2013 WSOP, who would you choose and why? Let us know either on Twitter @PokerNews of in the comments section below.